Abstract
Melaleucaeae is the second largest angiosperm tribe in Australia containing more than 330 species. Most Melaleuca species are endemic to Australia and are found in a wide variety of habitats. The Melaleuca leucadendra complex, including M. leucadendra, M. quinquenervia and M. viridiflora, are dominant components of the tropical and sub-tropical biota of Australia. All three species are known to be susceptible to Austropuccinia psidii (myrtle rust), which was first detected in Australia in 2010 and is now widespread in the eastern states and the Northern Territory. In this study we examined variability in susceptibility to A. psidii within populations of M. quinquenervia, M. leucadendra and M. viridiflora using in-vitro assessments of seedlings from provenances across the native range of the three species. We identified wide variation in susceptibility to A. psidii between M. quinquenervia, M. leucadendra and M. viridiflora, among provenances within these species as well as within provenances. Further studies on larger populations of these Melaleuca species addressing the long-term impacts of repeated infection in native ecosystems are needed to not only help predict but also limit impact. Regaining lost genetic diversity within some of these species populations may require human intervention.
This is a preview of subscription content, log in to check access.
Access options
Buy single article
Instant access to the full article PDF.
US$ 39.95
Price includes VAT for USA
Subscribe to journal
Immediate online access to all issues from 2019. Subscription will auto renew annually.
US$ 99
This is the net price. Taxes to be calculated in checkout.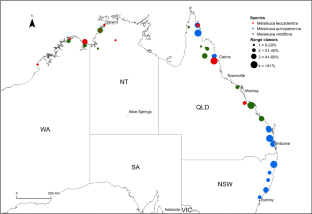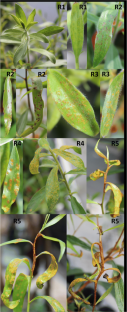 References
Barlow BA (1986) Contributions to a revision of Melaleuca (Myrtaceae):1-3. Brunonia 9:163–177

Berthon K, Esperon-Rodriguez M, Beaumont LJ, Carnegie AJ, Leishman MR (2018) Assessment and prioritisation of plant species at risk from myrtle rust (Austropuccinia psidii) under current and future climates in Australia. Biol Conserv 218:154–162

Boland DJ, Brooker MIH, Chippendale GM, Hall N, Hyland BPM, Johnston RD, Kleinig DA, McDonald MW, Turner JD (2006) Forest Trees of Australia 5th edition, Ed. CSIRO Publishing, Boland DJ

Brophy JJ, Craven LA, Doran JC (2013) Melaleucas their botany, essential oils and uses. Webb M, editor. Australian Centre for International Agricultural Research, Canberra

Butcher PA, Doran JC, Slee MU (1994) Intraspecific variation in leaf oils of Melaleuca alternifolia (Myrtaceae). Biochem Syst Ecol 22:419–430

Carnegie AJ (2015) First report of Puccinia psidii (myrtle rust) in Eucalyptus plantations in Australia. Plant Dis 99:161

Carnegie AJ, Lidbetter JR (2012) Rapidly expanding host range of Puccinia psidii sensu lato in Australia. Australas Plant Pathol 41:13–29

Carnegie AJ, Lidbetter JR, Walker J, Horwood M A, Tesoriero L, Glen M. Priest MJ, 2010. Uredo rangelii, a taxon in the guava rust complex, newly recorded on Myrtaceae in Australia. Australas Plant Pathol 39, 463–466

Carnegie AJ, Kathuria A, Pegg GS, Entwistle P, Nagel M, Giblin FR (2016) Environmental impact of the invasive rust Puccinia psidii on Australian native Myrtaceae. Biol Invasions 18:127–144

Cook LG, Morris DC, Edwards RD, Crisp MD (2008) Reticulate evolution in the natural range of the invasive wetland tree species Melaleuca quinquenervia. Mol Phylogenet Evol 47:506–522

Craven LA (2006) New combinations in Melaleuca for Australian species of Callistemon (Myrtaceae). Novon 16:468–475

Dianese JC, Moraes TS, de A, Silva AR (1984) Response of Eucalyptus species to field infection by Puccinia psidii. Plant Dis 68:314–316

Eby P (1995) The biology and management of flying foxes in NSW. Hurstville, NSW: National Parks & Wildlife Service

Edwards RD, Craven LA, Crisp MD, Cook LG (2010) Melaleuca revisited: cpDNA and morphological data confirm that Melaleuca L. (Myrtaceae) is not monophyletic. Taxon 59:744–754

Elliot RW, Jones DL, Blake T (1993) Encyclopaedia of Australian plants suitable for cultivation, V6 - K-M. Lothian Press, Port Melbourne, p 359

Giblin F, Carnegie AJ, 2014. Puccinia psidii (myrtle rust) - Global host list. Available at: http://www.anpc.asn.au/resources/Myrtle_Rust.html (Accessed March 2018)

Grover DR, Slater PJ (1994) Conservation value to birds of remnants of Melaleuca forests in suburban Brisbane. Wildl Res 21:433–444

Hsieh J, Chuah A, Patel HR, Sandhu KS, Foley WJ, Kulheim C (2018) Transcriptome profiling of Melaleuca quinquenervia challenged by myrtle rust reveals differences in defense responses among resistant individuals. Phytopathology 108:495–509

Joyce K (2005) Wetland management profile – coastal and subcoastal tree swamps. Queensland wetlands program (updated 2010). QWP 2010(07):29113

Junghans DT, Alfenas AC, Maffia LA (2003) Escala de notas quantificacao da ferrugem em Eucalyptus. Fitopatol Bras 28:184–188

Laroche FB (1999) Melaleuca management plan. Florida Exotic Pest Plant Council. http://www.fleppc.org/Manage_Plans/mplan. Accessed 28 Jun 2018

Lee DJ, Brawner JT, Pegg GS (2015) Screening Eucalyptus cloeziana and E. argophloia populations for resistance to Puccinia psidii. Plant Dis 99:71–79

Lepschi BJ (1993) Food of some birds in eastern new South Wales: additions to Barker & Vestjens. Emu – Austral Ornithology 93:195–199

McJannet D (2008) Water table and transpiration dynamics in a seasonally inundated Melaleuca quinquenervia forest, North Queensland, Australia. Hydrol Process 22:3079–3090

Morin L, Aveyard R, Lidbetter JR, Wilson PG (2012) Investigating the host-range of the rust fungus Puccinia psidii sensu lato across tribes of the family Myrtaceae present in Australia. PLoS One 7

Pegg GS, Perry S, Carnegie AJ, Ireland K, Giblin F (2012) Understanding myrtle rust epidemiology and host specificity to determine disease impact in Australia Cooperative Research Centre for National Plant Biosecurity Report CRC70186. (http://legacy.crcplantbiosecurity.com.au/publications/npb1893.html)

Pegg GS, Giblin FR, McTaggart AR, Guymer GP, Taylor H, Ireland KB, Shivas RG, Perry S (2014) Puccinia psidii in Queensland, Australia: disease symptoms, distribution and impact. Plant Pathol 63:1005–1021

Pegg G, Taylor T, Entwistle P, Guymer G, Giblin F, Carnegie A, Sarrocco S (2017) Impact of Austropuccinia psidii (myrtle rust) on Myrtaceae-rich wet sclerophyll forests in south east Queensland. PLOS ONE 12(11):e0188058

Pegg G, Carnegie A, Giblin F, Perry S (2018) Managing myrtle rust in Australia Cooperative Research Centre for National Plant Biosecurity Report CRC2063. http://www.pbcrc.com.au/sites/default/files/managedfiles/2063%20Final%20Report%20CRC%202063%20Pegg%20etal%202017.pdf

Rayachhetry MB, Elliot ML, Van TK (1997) Natural epiphytotic of a rust fungus (Puccinia psidii) on Melaleuca quinquenervia in Florida. Plant Dis 81:831

Rayamajhi MB, Pratt PD, Center TD, Thai K. Van (2010) Insects and a pathogen suppress Melaleuca quinquenervia cut-stump regrowth. Biol Control 53:1–8

Rayamajhi MB, Van TK, Pratt PD, Center TD (2006) Interactive association between Puccinia psidii and Oxyops vitiosa, two introduced natural enemies of Melaleuca quinquenervia in Florida. Biol Control 37:56–67

Sandhu KS, Park RF (2013) Genetic basis of pathogenicity in Uredo rangelii. In: National Myrtle Rust Transition to Management (T2M) program. Plant health Australia Myrtlerust.net.au

Shepherd M, Wood R, Raymond C, Rose T, Entwistle P, Baker G (2015) Upland tea tree, an underexplored resource in the domestication of Melaleuca alternifolia. Acta Hortic (1101):119–126. https://doi.org/10.17660/ActaHortic.2015.1101.18

Turner CE, Center TD, Burrows DW, Buckingham GR (1998) Ecology and management of Melaleuca quinquenervia, an invader of wetlands in Florida, USA. Wetl Ecol Manag 5:165–178

Westaway JO (2016) The pathogen Myrtle rust (Puccinia psidii) in the northern territory: first detection, new host and potential impacts. North Territ Nat 27:13–28

Winderlich S & Woinarski J (eds) 2014. Kakadu National Park Landscape SymposiaSeries. Symposium 7: conservation of threatened species, 26–27 march 2013, Bowali visitor Centre, Kakadu national park. Internal Report 623, June, Supervising Scientist, Darwin
Acknowledgements
The authors would like to acknowledge the support of the Australian Government's Cooperative Research Centres Program and Matthew Nagal for producing Fig. 1.
About this article
Cite this article
Pegg, G.S., Lee, D.J. & Carnegie, A.J. Predicting impact of Austropuccinia psidii on populations of broad leaved Melaleuca species in Australia. Australasian Plant Pathol. 47, 421–430 (2018). https://doi.org/10.1007/s13313-018-0574-8
Received:

Accepted:

Published:

Issue Date:
Keywords
Myrtle rust; environmental impact

Invasive species

Biodiversity