Abstract
The polyphagous shot hole borer (PSHB), an ambrosia beetle (Coleoptera: Curculeonidae: Scolytinae) native to Asia, together with its fungal symbiont Fusarium euwallaceae, has emerged as an important invasive pest killing avocado and other trees in Israel and the United States. The PSHB is one of three cryptic species in the Euwallacea fornicatus species complex, the taxonomy of which remains to be resolved. The surge in the global spread of invasive forest pests such as the PSHB has led to the development of programmes utilising sentinel tree plantings to record new host-pest interactions. During routine surveys of tree health in botanical gardens of South Africa undertaken as part of a sentinel project, an ambrosia beetle/fungal associate was detected damaging Platanus x acerifolia (London Plane) in the KwaZulu-Natal National Botanical Gardens, Pietermaritzburg. Identification of the beetle by sequencing part of the mitochondrial cytochrome oxidase c subunit 1 (COI) gene confirmed its identity as PSHB, and specifically one of the invasive haplotypes of the beetle. The associated fungus F. euwallaceae was identified based on phylogenetic analysis of elongation factor (EF 1-α) sequences. Koch's postulates have confirmed the pathogenicity of fungal isolates to P. x acerifolia. This is the first report of PSHB and its fungal symbiont causing Fusarium dieback in South Africa. This report also represents the first verified case of a damaging invasive forest pest detected in a sentinel planting project, highlighting the importance of such studies. Given the potential impact these species present to urban trees, native biodiversity and agriculture, both the PSHB and its fungal symbiont should be included in invasive species regulations in South Africa.
Access options
Buy single article
Instant access to the full article PDF.
US$ 39.95
Tax calculation will be finalised during checkout.
Subscribe to journal
Immediate online access to all issues from 2019. Subscription will auto renew annually.
US$ 79
Tax calculation will be finalised during checkout.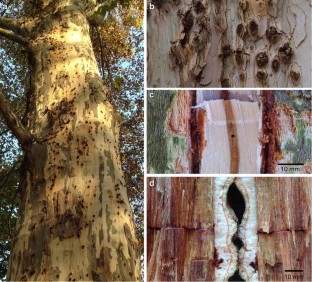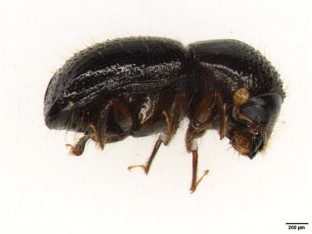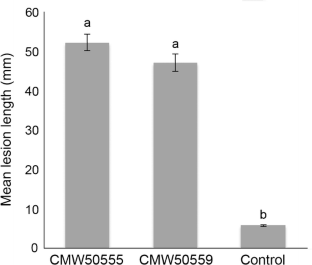 References
Barham E (2016) The unique role of sentinel trees, botanic gardens and arboreta in safeguarding global plant health. Plant Biosyst -Int J Dealing Aspects Plant Biol 150(3):377–380. https://doi.org/10.1080/11263504.2016.1179231

Brasier CM (2008) The biosecurity threat to the UK and global environment from international trade in plants. Plant Pathol 57(5):792–808. https://doi.org/10.1111/j.1365-3059.2008.01886.x

Britton K, White P, Kramer A, Hudler G (2010) A new approach to stopping the spread of invasive insects and pathogens: early dection and rapid response via a global network of sentinel plantings. N Z J For Sci 40:109–114

Burgess TI, Wingfield MJ (2017) Pathogens on the move: a 100-year global experiment with planted eucalypts. Bioscience 67 (1). doi:https://doi.org/10.1093/biosci/biw146

Duong TA, de Beer ZW, Wingfield BD, Wingfield MJ (2012) Phylogeny and taxonomy of species in the Grosmannia serpens complex. Mycologia 104(3):715–732

Duong TA, de Beer ZW, Wingfield BD, Wingfield MJ (2013) Characterization of the mating-type genes in Leptographium procerum and Leptographium profanum. Fungal Biol 117(6):411–421. https://doi.org/10.1016/j.funbio.2013.04.005

Eschen R, Roques A, Santini A (2015) Taxonomic dissimilarity in patterns of interception and establishment of alien arthropods, nematodes and pathogens affecting woody plants in Europe. Divers Distrib 21(1):36–45. https://doi.org/10.1111/ddi.12267

Eskalen A, Gonzalez A, Wang DH, Twizeyimana M, Mayorquin JS, Lynch SC (2012) First report of a Fusarium sp. and its vector tea shot hole borer (Euwallacea fornicatus) causing Fusarium Dieback on avocado in California. Plant Dis 96(7):1070. https://doi.org/10.1094/PDIS-03-12-0276-PDN

Eskalen A, Stouthamer R, Lynch SC, Rugman-Jones PF, Twizeyimana M, Gonzalez A, Thibault T (2013) Host range of Fusarium dieback and its ambrosia beetle (Coleoptera: Scolytinae) Vector in Southern California. Plant Dis 97(7):938–951. https://doi.org/10.1094/PDIS-11-12-1026-RE

Hebert PDN, Cywinska A, Ball SL, deWaard JR (2003) Biological identifications through DNA barcodes. Proc R Soc Lond Ser B Biol Sci 270(1512):313–321. https://doi.org/10.1098/rspb.2002.2218

Katoh K, Standley DM (2013) MAFFT multiple sequence alignment software version 7: improvements in performance and usability. Mol Biol Evol 30(4):772–780. https://doi.org/10.1093/molbev/mst010

Kumar S, Stecher G, Tamura K (2016) MEGA7: Molecular Evolutionary Genetics Analysis Version 7.0 for bigger datasets. Mol Biol Evol 33(7):1870–1874. https://doi.org/10.1093/molbev/msw054

Liebhold AM, Brockerhoff EG, Garrett LJ, Parke JL, Britton KO (2012) Live plant imports: the major pathway for forest insect and pathogen invasions of the US. Front Ecol Environ 10(3):135–143. https://doi.org/10.1890/110198

Lynch SC, Twizeyimana M, Mayorquin JS, Wang DH, Na F, Kayim M, Kasson MT, Thu PQ, Bateman C, Rugman-Jones P, Hulcr J, Stouthamer R, Eskalen A (2016) Identification, pathogenicity and abundance of Paracremonium pembeum sp. nov. and Graphium euwallaceae sp. nov.—two newly discovered mycangial associates of the polyphagous shot hole borer (Euwallacea sp.) in California. Mycologia 108(2):313–329. https://doi.org/10.3852/15-063

Mendel Z, Protasov A, Sharon M, Zveibil A, Yehuda SB, O'Donnell K, Rabaglia R, Wysoki M, Freeman S (2012) An Asian ambrosia beetle Euwallacea fornicatus and its novel symbiotic fungus Fusarium sp. pose a serious threat to the Israeli avocado industry. Phytoparasitica 40(3):235–238. https://doi.org/10.1007/s12600-012-0223-7

Mendel Z, Protasov A, Maoz Y, Maymon M, Miller G, Elazar M, Freeman S (2017) The role of Euwallacea nr. fornicatus (Coleoptera: Scolytinae) in the wilt syndrome of avocado trees in Israel. Phytoparasitica 45(3):341–359. https://doi.org/10.1007/s12600-017-0598-6

O'Donnell K, Sutton DA, Rinaldi MG, Sarver BAJ, Balajee SA, Schroers H-J, Summerbell RC, Robert VARG, Crous PW, Zhang N, Aoki T, Jung K, Park J, Lee Y-H, Kang S, Park B, Geiser DM (2010) Internet-accessible DNA sequence database for identifying fusaria from human and animal infections. J Clin Microbiol 48(10):3708–3718. https://doi.org/10.1128/jcm.00989-10

O'Donnell K, Sink S, Libeskind-Hadas R, Hulcr J, Kasson MT, Ploetz RC, Konkol JL, Ploetz JN, Carrillo D, Campbell A, Duncan RE, Liyanage PNH, Eskalen A, Na F, Geiser DM, Bateman C, Freeman S, Mendel Z, Sharon M, Aoki T, Cossé AA, Rooney AP (2015) Discordant phylogenies suggest repeated host shifts in the Fusarium–Euwallacea ambrosia beetle mutualism. Fungal Genet Biol 82:277–290. https://doi.org/10.1016/j.fgb.2014.10.014

Paap T, Burgess TI, Wingfield MJ (2017) Urban trees: bridge-heads for forest pest invasions and sentinels for early detection. Biol Invasions. https://doi.org/10.1007/s10530-017-1595-x

Rabaglia RJ, Dole SA, Cognato AI (2006) Review of American Xyleborina (Coleoptera: Curculionidae: Scolytinae) occurring north of Mexico, with an illustrated key. Ann Entomol Soc Am 99(6):1034–1056. https://doi.org/10.1603/0013-8746(2006)99[1034:ROAXCC]2.0.CO;2

Roques A, J-t F, Courtial B, Y-z Z, Yart A, Auger-Rozenberg M-A, Denux O, Kenis M, Baker R, J-h S (2015) Planting sentinel European trees in eastern asia as a novel method to identify potential insect pest invaders. PLoS One 10(5):e0120864. https://doi.org/10.1371/journal.pone.0120864

Santini A, Ghelardini L, De Pace C, Desprez-Loustau ML, Capretti P, Chandelier A, Cech T, Chira D, Diamandis S, Gaitniekis T, Hantula J, Holdenrieder O, Jankovsky L, Jung T, Jurc D, Kirisits T, Kunca A, Lygis V, Malecka M, Marcais B, Schmitz S, Schumacher J, Solheim H, Solla A, Szabò I, Tsopelas P, Vannini A, Vettraino AM, Webber J, Woodward S, Stenlid J (2013) Biogeographical patterns and determinants of invasion by forest pathogens in Europe. New Phytol 197(1):238–250. https://doi.org/10.1111/j.1469-8137.2012.04364.x

Stouthamer R, Rugman-Jones P, Thu PQ, Eskalen A, Thibault T, Hulcr J, Wang L-J, Jordal BH, Chen C-Y, Cooperband M, Lin C-S, Kamata N, Lu S-S, Masuya H, Mendel Z, Rabaglia R, Sanguansub S, Shih H-H, Sittichaya W, Zong S (2017) Tracing the origin of a cryptic invader: phylogeography of the Euwallacea fornicatus (Coleoptera: Curculionidae: Scolytinae) species complex. Agric For Entomol. https://doi.org/10.1111/afe.12215

Tomoshevich M, Kirichenko N, Holmes K, Kenis M (2013) Foliar fungal pathogens of European woody plants in Siberia: an early warning of potential threats? For Pathol 43(5):345–359. https://doi.org/10.1111/efp.12036

Tubby KV, Webber JF (2010) Pests and diseases threatening urban trees under a changing climate. Forestry 83(4):451–459. https://doi.org/10.1093/forestry/cpq027

Umeda C, Eskalen A, Paine TD (2016) Polyphagous Shot Hole Borer and Fusarium Dieback in California. In: Paine TD, Lieutier F (eds) Insects and diseases of mediterranean forest systems. Springer International Publishing, Cham, pp 757–767. https://doi.org/10.1007/978-3-319-24744-1_26

Vettraino A, Roques A, Yart A, Fan JT, Sun JH, Vannini A (2015) Sentinel trees as a tool to forecast invasions of alien plant pathogens. PLoS One 10(3):15. https://doi.org/10.1371/journal.pone.0120571

Wingfield MJ, Brockerhoff EG, Wingfield BD, Slippers B (2015) Planted forest health: the need for a global strategy. Science 349(6250):832–836. https://doi.org/10.1126/science.aac6674
Acknowledgements
This work was supported by the South African National Department of Environment Affairs, through the South African National Biodiversity Institute's Invasive Species Programme. We thank the KZN National Botanical Gardens for allowing us to undertake the survey and we thank Samantha Bush for photographing the beetle.
Electronic supplementary material
Maximum Likelihood tree derived from elongation factor 1-α (EF) sequences showing identity of South African Fusarium euwallaceae isolates. The analysis involved 96 nucleotide sequences. There was a total of 688 positions in the final dataset. Isolate numbers of sequences produced in the present study are in bold type. Species numbers for unnamed species are as designated by O'Donnell et al. (2015). Support values above the branches are from 1000 bootstraps. (PDF 101 kb)
Maximum Likelihood tree derived from cytochrome oxidase c subunit 1 (COI) sequences showing phylogenetic placement of South African Euwallacea beetles (in blue) in the E. fornicatus species complex as defined by Stouthamer et al. (2017). Invasive haplotypes are printed in bold type. The analysis involved 76 nucleotide sequences. There was a total of 402 positions in the final dataset. Support values above the branches are from 1000 bootstraps. PSHB: polyphagous shot hole borer; KSHB: Kuroshio shot hole borer; TSHB: tea shot hole borer. (PDF 102 kb)
About this article
Cite this article
Paap, T., de Beer, Z.W., Migliorini, D. et al. The polyphagous shot hole borer (PSHB) and its fungal symbiont Fusarium euwallaceae: a new invasion in South Africa. Australasian Plant Pathol. 47, 231–237 (2018). https://doi.org/10.1007/s13313-018-0545-0
Received:

Accepted:

Published:

Issue Date:
Keywords
Invasive pest

Fusarium dieback

Euwallacea nr. fornicatus

International Plant Sentinel Network