Abstract
A high-throughput and reliable method to screen field pea germplasm for bacterial blight resistance was developed. The method uses spray inoculation of seedlings in small pots with a bacterial suspension followed by incubation in a glasshouse. This is less laborious compared to previous stab-inoculation methods, and takes less than 1 month (c.a. 25–27 days) from seed sowing to disease assessment. It uses a surfactant to achieve good coverage of bacterial suspension and required leaf wetness for progression of the disease. Disease symptoms in the glasshouse were similar to those observed in field, and data were highly correlated with those from field experiments. The method was validated using individual and combination of isolates of Pseudomonas syringae pathovars pisi and/or syringae to test their ability to effectively differentiate between resistant and susceptible pea genotypes. Screening of diverse field pea landraces and wild relatives using present screening method has identified potentially new sources of resistance to P. syringae pvs pisi and syringae. The developed method is being used to evaluate bacterial blight resistance within the Australian field pea breeding program.
Access options
Buy single article
Instant access to the full article PDF.
US$ 39.95
Tax calculation will be finalised during checkout.
Subscribe to journal
Immediate online access to all issues from 2019. Subscription will auto renew annually.
US$ 79
Tax calculation will be finalised during checkout.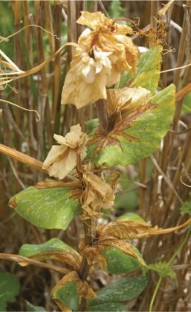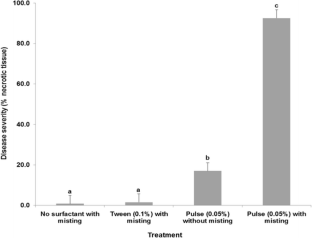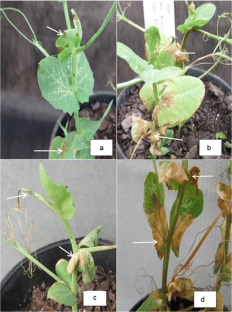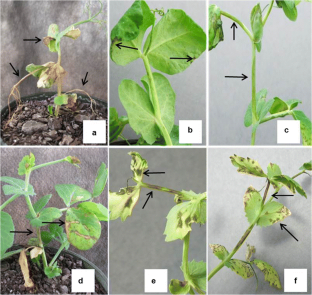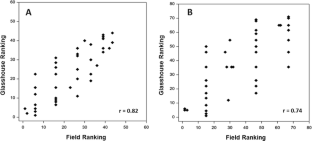 References
Arnold DL, Athey-Pollard A, Gibbon MJ, Taylor JD, Vivian A (1996) Specific oligonucleotide primers for the identification of Pseudomonas syringae pv. pisi yield one of two possible DNA fragments by PCR amplification: evidence for phylogenetic divergence. Physiol Mol Plant Pathol 49:233–245

Bevan JR, Taylor JD, Crute IR, Hunter PJ, Vivian A (1995) Genetics of specific resistance in pea (Pisum sativum) cultivars to seven races of Pseudomonas syringae pv. pisi. Plant Pathol 44:98–108

Braun-Kiewnick A, Sands DC (2001) Gram-negative bacteria. In: Schaad NW, Jones JB, Chun W (eds) Laboratory guide for identification of plant pathogenic bacteria, 3rd edn. APS Press, St Paul, pp 84–120

Bultreys A, Gheysen I (1999) Biological and molecular detection of toxic lipodepsipeptide-producing Pseudomonas syringae strains and PCR identification in plants. Appl Environ Microbiol 65:1904–1909

Elvira-Recuenco M, Taylor JD (2001) Resistance to bacterial blight (Pseudomonas syringae pv. pisi) in Spanish pea (Pisum sativum) landraces. Euphytica 118:305–311

Elvira-Recuenco M, Bevan JR, Taylor JD (2003) Differential responses to pea bacterial blight in stems, leaves and pods under glasshouse and field conditions. Eur J Plant Pathol 109:555–564

Fahy PC, Lloyd AB (1983) Pseudomonas: the fluorescent pseudomonads. In: Fahy PC, Persley GJ (eds) Plant bacterial diseases: a diagnostic guide. Academic Press Australia, Sydney, pp 141–188

Field RJ, Bishop NG (1988) Promotion of stomatal infiltration of glyphosate by an organosilicone surfactant reduces the critical rainfall period. Pestic Sci 24:55–62

Hirano SS, Upper CD (2000) Bacteria in the leaf ecosystem with emphasis on Pseudomonas syringae-a pathogen, ice nucleus, and epiphyte. Microbiol Mol Biol Rev 64:624–653

Hollaway K (2013) Victorian winter crop summary 2013. Department of Primary Industries Grain Services, Melbourne

Hollaway GJ, Bretag TW (1995) Occurrence and distribution of races of Pseudomonas syringae pv. pisi in Australia and their specificity towards various field pea (Pisum sativum) cultivars. Aust J Exp Agric 35:629–632

Hollaway GJ, Bretag TW, Price TV (2007) The epidemiology and management of bacterial blight (Pseudomonas syringae pv. pisi) of field pea (Pisum sativum) in Australia: a review. Aust J Agric Res 58:1086–1099

Jenkins L, Matthews P, Haskins B, Hertek K, Brooke G, Armstrong E, McCaffery D Lane G (2005) Field pea: western NSW planting guide - NSW- depart of primary industries, pp 8

Katagiri F, Thilmony R, He SY (2002) The Arabidopsis thaliana-Pseudomonas syringae interaction. In: Somerville C, Meyerowitz E (eds) The Arabidopsis Book, e0039. pp 1–39. doi:10.1199/tab.0039

King EO, Ward MK, Raney DE (1954) Two simple media for the demonstration of pyocyanin and fluorescin. J Lab Clin Med 44:301–307

Knott CM (1987) A key for the stages of development of the pea (Pisum sativum). Ann Appl Biol 111:233–244

Martín-Sanz A, Palomo J, Pérez de la Vega M, Caminero C (2011a) Identification of pathovars and races of Pseudomonas syringae, the main causal agent of bacterial disease in pea in North-Central Spain, and the search for disease resistance. Eur J Plant Pathol 129:57–69

Martín-Sanz A, Pérez de la Vega M, Caminero C (2011b) Resistance to Pseudomonas syringae in a collection of pea germplasm under field and controlled conditions. Plant Pathol 61:375–387

Martín-Sanz A, Palomo JL, Pérez de la Vega M, Caminero C (2012) Characterization of Pseudomonas syringae pv. syringae isolates associated with bacterial blight in Lathyrus spp. and sources of resistance. Eur J Plant Pathol 134(1):205–216

Navarro F, Skroch P, Jung G, Nienhuis J (2007) Quantiative trait loci associated with bacterial brown spot in Phaseolus vulgaris L. Crop Sci 47:1344–1353

Olsen M, Lopetinsky K, Winchell W, Sauchuk C (2004) Land rolling guidelines for pulse crops in western Canada - agrifacts (Agdex 142/21-1).Alberta Agriculture, Food and Rural Development, pp 5

Richardson HJ, Hollaway GJ (2011) Bacterial blight caused by Pseudomonas syringae pv. syringae shown to be an important disease of field pea in south eastern Australia. Australas Plant Pathol 40:260–268

Roberts SJ, Phelps K, McKeown BM, Heath MC, Cockerell V (1995) Effect of pea bacterial blight (Pseudomonas syringae pv. pisi) on the yield of spring sown combining peas (Pisum sativum). Ann Appl Biol 126:61–73

Schmit J, Taylor JD, Roberts SJ (1993) Sources of resistance to pea bacterial blight (Pseudomonas syringae pv. pisi) in pea germplasm. Proc 6th Inter Cong Plant Pathol, Montreal, p 180

Sorensen KN, Kim K-H, Takemoto JY (1998) PCR detection of cyclic lipodepsinonapeptide-producing Pseudomonas syringae pv. syringae and similarity of strains. Appl Environ Microbiol 64:226–230

Stevens PJG (1993) Organosilicone surfactants as adjuvants for agrochemicals. Pestic Sci 38:103–122

Taylor JD, Bevan JR, Crute IR, Reader SL (1989) Genetic relationship between races of Pseudomonas syringae pv. pisi and cultivars of Pisum sativum. Plant Pathol 38:364–375

Uppalapati SR, Ishiga Y, Wangdi T, Urbanczyk-Wochniak E, Ishiga T, Mysore KS, Bender CL (2008) Pathogenicity of Pseudomonas syringae pv. tomato on tomato seedlings: phenotypic and gene expression analyses of the virulence function of coronatine. Mol Plant Microbe Interact 21:383–395

Zidack NK, Backman PA, Shaw JJ (1992) Promotion of bacterial infection of leaves by an organosilicone surfactant: implications for biological weed control. Biol Control 2:111–117
Acknowledgments
Funding was provided by the Department of Economic Development, Jobs, Transport and Resources and the Grains Research and Development Corporation (Project DAV00117). Our sincere thanks are to Dr Michael Materne for securing funding for this project and Dr T. Leonforte for initial contribution to this study. We are grateful to Drs Trevor Bretag, Garry Rosewarne and Tony Slater for careful review and kind comments. Technical assistance by Mr Alistair Smith is also acknowledged.
Additional information
M. S. Rodda and P. Kant contributed equally to this work.
About this article
Cite this article
Rodda, M.S., Kant, P., Lindbeck, K.D. et al. A high-throughput glasshouse based screening method to evaluate bacterial blight resistance in field pea (Pisum sativum). Australasian Plant Pathol. 44, 515–526 (2015). https://doi.org/10.1007/s13313-015-0374-3
Received:

Accepted:

Published:

Issue Date:
Keywords
Disease screening

Pathovars

Inoculation method

Pulse® penetrant

Resistance

Pseudomonas syringae