Abstract
Honey bees (Apis mellifera) have been implicated in the spread of the fire blight pathogen (Erwinia amylovora), and may transmit other bacterial plant pathogens in the process of pollinating crops. Furthermore, the movement of hives from one orchard to another could spread plant diseases over large distances. We investigated whether honey bees might play a role in the transmission of different pathovars of Pseudomonas syringae. We detected live P. syringae pv. actinidiae (Psa), a pathogen of kiwifruit (Actinidia spp.), on caged bees in hives 6 days after the bees were inoculated with Psa, and recorded up to 1.8 × 104 colony forming units of Psa on honey bees foraging naturally on flowers of Psa-infected vines. P. syringae pv. syringae (PssSmr), a pathogen with a wide host range, was spread to untreated bees in a hive within 24 h following the introduction of foragers doused in PssSmr-contaminated pollen and was still detected on bees 9 days later. PssSmr was found on caged bees in hives 6 d after they were inoculated and PssSmr survived in hives for at least 14 days. These results demonstrate that P. syringae can survive in beehives and spread within a hive, which broadens the applicability of results from studies of E. amylovora and supports recommendations for a stand down period before moving beehives from a contaminated to a non-contaminated orchard.
This is a preview of subscription content, log in to check access.
Access options
Buy single article
Instant access to the full article PDF.
US$ 39.95
Price includes VAT for USA
Subscribe to journal
Immediate online access to all issues from 2019. Subscription will auto renew annually.
US$ 99
This is the net price. Taxes to be calculated in checkout.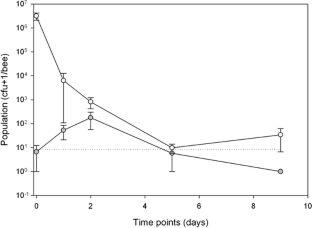 References
Alexandrova M, Cimini B, Bazzi C, Carpana E, Massi S, Sabatini AG (2002a) The role of honeybees in spreading Erwinia amylovora. Acta Horticult 590:55–60

Alexandrova M, Porrini C, Bazzi C, Carpana E, Bigliardi M, Sabatini AG (2002b) Erwinia amylovora longevity in beehives, beehive products and honeybees. Acta Horticult 590:201–205

Beekman M, Ratnieks FLW (2000) Long-range foraging by the honey-bee, Apis mellifera L. Funct Ecol 14:490–496

Costa G, Testolin R, Vizzotto G (1993) Kiwifruit pollination: an unbiased estimate of wind and bee contribution. New Zeal J Crop Hort 21:189–195

Craig JL, Stewart AM, Pomeroy N, Heath A, Goodwin R (1988) A review of kiwifruit pollination: where to next? N Z J Exp Agric 16:385–399

Gallelli A, Talocci S, L'Aurora A, Loreti S (2011) Detection of Pseudomonas syringae pv. actinidiae, causal agent of bacterial canker of kiwifruit, from symptomless fruits and twigs, and from pollen. Phytopathol Mediterr 50:462–472

Goodwin R, McBrydie H, Taylor M (2013) Wind and honey bee pollination of kiwifruit (Actinidia chinensis 'Hort16A'). N Z J Bot 51:229–240

Gossard H (1916) Is the hive a center for distributing Fire Blight? Is aphid honey dew a medium for spreading blight? J Econ Entomol 9:59

Johnson KB, Stockwell VO, Burgett DM, Sugar D, Loper JE (1993) Dispersal of Erwinia amylovora and Pseudomonas fluorescens by honey bees from hives to apple and pear blossoms. Phytopathology 83:478–484

King EO, Ward MK, Raney DE (1954) Two simple media for the demonstration of pyocyanin and fluorescin. J Lab Clin Med 44:301–307

Koh YJ, Nou IS (2002) DNA markers for identification of Pseudomonas syringae pv. actinidiae. Mol Cell 13:309–314

McArt SH, Koch H, Irwin RE, Adler LS (2014) Arranging the bouquet of disease: floral traits and the transmission of plant and animal pathogens. Ecol Lett. doi:10.1111/ele.12257, published online 16

Nuclo RL, Johnson KB, Stockwell VO, Sugar D (1998) Secondary colonization of pear blossoms by two bacterial antagonists of the fire blight pathogen. Plant Dis 82:661–668

Rees-George J, Vanneste JL, Cornish DA, Pushparajah IPS, Yu J, Templeton MD, Everett KR (2010) Detection of Pseudomonas syringae pv. actinidiae using polymerase chain reaction (PCR) primers based on the 16S-23S rDNA intertranscribed spacer region and comparison with PCR primers based on other gene regions. Plant Pathol 59:453–464

Rikkerink E, Andersen M, Rees-George J, Cui W, Vanneste JL, Templeton M (2011) Development of a rapid tool for the molecular characterisation of Psa haplotypes. Plant Food Res Rep 6361:31

Stefani E, Giovanardi D (2011) Dissemination of Pseudomonas syringae pv. actinidiae through pollen and its epiphytic life on leaves and fruits. Phytopathol Mediterr 50:489–496

Vanneste J, Giovanardi D, Yu J, Cornish D, Kay C, Spinelli F, Stefani E (2011) Detection of Pseudomonas syringae pv. actinidiae in kiwifruit pollen samples. N Z Plant Prot 64:246–251

Vanneste JL, Yu J, Cornish DA, Tanner DJ, Windner R, Chapman JR, Taylor RK, Mackay J, Dowlut S (2013) Identification, virulence and distribution of two biovars of Pseudomonas syringae pv. actinidiae in New Zealand. Plant Dis 97:708–719

Walker R, Rossall S, Asher MJC (2004) Comparison of application methods to prolong the survival of potential biocontrol bacteria on stored sugar-beet seed. J Appl Microbiol 97:293–305
Acknowledgments
The authors wish to acknowledge and thank Zespri Group Limited and Kiwifruit Vine Health for their support of this work. This research was funded through research contracts VI1255 and VI1334-30-D from ZESPRI Group Ltd. Janet Yu, Bridgette Moffat, Crystal Felman, Nicola Mauchline, Deirdre Cornish, Frank Parry, Warren Yorston and Annette Ah Chee assisted with the experiments and data collection. We wish to thank Arnon Dag and Michelle Taylor for comments on an early version of this manuscript.
Electronic supplementary material
Below is the link to the electronic supplementary material.
About this article
Cite this article
Pattemore, D.E., Goodwin, R.M., McBrydie, H.M. et al. Evidence of the role of honey bees (Apis mellifera) as vectors of the bacterial plant pathogen Pseudomonas syringae . Australasian Plant Pathol. 43, 571–575 (2014). https://doi.org/10.1007/s13313-014-0306-7
Received:

Accepted:

Published:

Issue Date:
Keywords
Disease vectors

Pollination

Beehives

Actinidia spp
Pseudomonas syringae pv. actinidiae
Pseudomonas syringae pv. syringae