Abstract
The reason for the high prevalence of the Alternaria arborescens species group compared to other species groups associated with leaf blotch of apple in Australia is not well understood. In order to determine if A. arborescens has a biological fitness advantage over the other species groups, this study compared the mycelial growth rate, fecundity and competitive spore production attributes of three isolates of each of four Alternaria species groups and examined the relationship between saprophytic and pathogenic fitness traits. Overall, this study revealed that the fitness attributes of the Alternaria isolates are significantly different among and within each of the species groups and suggests a strong relationship exists between high aggressive isolates and fast mycelial growth rate. A possible trade-off between fecundity and mycelial growth rate and contribution of mycelial growth rate in host invasion processes and factors that contribute to prevalence of the Alternaria species groups associated with leaf blotch and fruit spot of apple in Australia are discussed.
This is a preview of subscription content, log in to check access.
Access options
Buy single article
Instant access to the full article PDF.
US$ 39.95
Price includes VAT for USA
Subscribe to journal
Immediate online access to all issues from 2019. Subscription will auto renew annually.
US$ 99
This is the net price. Taxes to be calculated in checkout.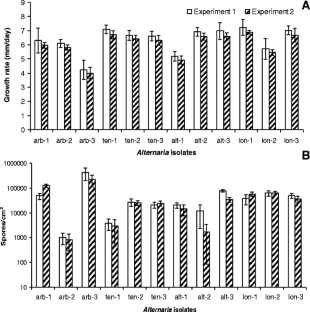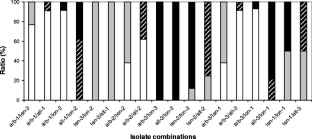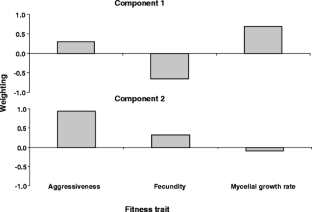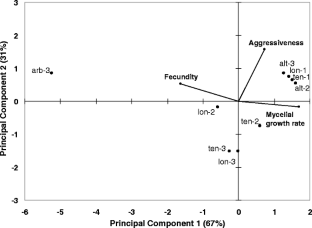 References
Andersen B, Kroger E, Roberts RG (2002) Chemical and morphological segregation of Alternaria arborescens, A. infectoria and A. tenuissima species-groups. Mycol Res 106(2):170–182

Andrew M, Peever TL, Pryor BM (2009) An expanded multilocus phylogeny does not resolve morphological species within the small-spored Alternaria species complex. Mycologia 101(1):95–109

Ansari NA, Khan MW, Muheet A (1989) Effect of some factors on growth and sporulation of Alternaria brassicae causing alternaria blight of rapeseed and mustard. Acta Bot Ind 17(1):49–53

Badawy MEI, Rabea EI (2013) Preparation and antimicrobial activity of O-(benzoyl) chitosan derivatives against some plant pathogens. Afr J Microbiol Res 7(20):2259–2268

Bulajic A, Filajdic N, Babovic M, Sutton TB (1996) First report of Alternaria mali on apples in Yugoslavia. Plant Dis 80(6):709

de Oliveira EN, de Melo IS, Franco TT (2012) Changes in hyphal morphology due to chitosan treatment in some fungal species. Braz Arch Biol Technol 55(5):637–646

Filajdic N, Sutton TB (1991) Identification and distribution of Alternaria mali on apples in North Carolina and susceptibility of different varieties of apples to Alternaria blotch. Plant Dis 75(10):1045–1048

Gagkaeva TY, Levitin MM (2000) Identification of the pathogen causing leaf spots on apple trees in Krasnodar province orchards. Mikol Fitopatol 34(3):58

Greco M, Patriarca A, Terminiello L, Fernandez Pinto V, Pose G (2012) Toxigenic Alternaria species from Argentinean blueberries. Int J Food Microbiol 154(3):187–191

Harteveld DOC, Akinsanmi OA, Drenth A (2013) Multiple Alternaria species groups are associated with leaf blotch and fruit spot diseases of apple in Australia. Plant Pathol 62(2):289–297

Horlock CM (2006) Management of Alternaria leaf and fruit spot in apples. Final report project AP02011. Horticulture Australia Limited, Sydney, p 76

Johnson RD, Johnson L, Itoh Y, Kodama M, Otani H, Kahmoto K (2000) Cloning and characterization of a cyclic peptide synthetase gene from Alternaria alternata apple pathotype whose product is involved in AM-toxin synthesis and pathogenicity. Mol Plant-Microbe Interact 13(7):742–753

Karaoglanidis GS, Luo Y, Michailides TJ (2011) Competitive ability and fitness of Alternaria alternata isolates resistant to QoI fungicides. Plant Dis 95(2):178–182

Kohmoto K, Khan ID, Renbutsu Y, Taniguchi T, Nishimura S (1976) Multiple host specific toxins of Alternaria mali and their effect on permeability of host cells. Physiol Plant Pathol 8(2):141–153

Lawrence DP, Gannibal PB, Peever TL, Pryor BM (2013) The sections of Alternaria: formalizing species-group concepts. Mycologia 105(3):530–546

Leach JE, Cruz CMV, Bai JF, Leung H (2001) Pathogen fitness penalty as a predictor of durability of disease resistance genes. Annu Rev Phytopathol 39:187–224

Li Y, Aldwinckle HS, Sutton T, Tsuge T, Kang G, Cong P, Cheng Z (2013) Interactions of apple and the Alternaria alternata apple pathotype. Crit Rev Plant Sci 32(3):141–150

Logrieco A, Moretti A, Solfrizzo M (2009) Alternaria toxins and plant diseases: an overview of origin, occurrence and risks. World Mycotoxin J 2(2):129–140

Moya-Elizondo EA, Rew LJ, Jacobsen BJ, Hogg AC, Dyer AT (2011) Distribution and prevalence of Fusarium crown rot and common root rot pathogens of wheat in Montana. Plant Dis 95(9):1099–1108

Nelson RR (1979) The evolution of parasitic fitness. In: Horsfall JG, Cowling EB (eds) Plant disease. An advanced treatise. Vol. IV How pathogens induce disease. Academic Press Inc, New York, pp 23–46

Ozgonen H, Karaca G (2006) First report of Alternaria mali causing necrotic leaf spot of apples in Turkey. Plant Pathol 55(4):578

Pringle A, Taylor JW (2002) The fitness of filamentous fungi. Trends Microbiol 10(10):474–481

Pryor BM, Michailides TJ (2002) Morphological, pathogenic, and molecular characterization of Alternaria isolates associated with Alternaria late blight of pistachio. Phytopathology 92(4):406–416

Roberts RG, Bischoff JF, Reymond ST (2012) Differential gene expression in Alternaria gaisen exposed to dark and light. Mycol Prog 11(2):373–382

Rotem J (1994) The genus Alternaria: Biology, epidemiology, and pathogenicity. American Phytopathological Society (APS) Press, St. Paul, p 326

Rotondo F, Collina M, Brunelli A, Pryor BM (2012) Comparison of Alternaria spp. collected in Italy from apple with A. mali and other AM-toxin producing strains. Phytopathology 102(12):1130–1142

Sawamura K (1972) Studies on apple Alternaria blotch caused by Alternaria mali Roberts. Bulletin of the Faculty of Agriculture, Hirosaki University (18), 152–235

Simmons EG (2007) Alternaria. An identification manual. CBS fungal biodiversity centre, Utrecht, p 775

Singh P (2000) Influence of radiations on growth and sporulation of Alternaria porri responsible for onion disease. Adv Plant Sci 13(1):233–236

Stewart JE, Thomas KA, Lawrence CB, Dang H, Pryor BM, Timmer LM, Peever TL (2013) Signatures of recombination in clonal lineages of the citrus brown spot pathogen, Alternaria alternata sensu lato. Phytopathology 103(7):741–749

Takai S (1980) Relationship of the production of the toxin, cerato-ulmin, to synnemata formation, pathogenicity, mycelial habit and growth of Ceratocystis ulmi isolates. J Bot 58(6):658–662

Tunali B, Obanor F, Erginbas G, Westecott RA, Nicol J, Chakraborty S (2012) Fitness of three Fusarium pathogens of wheat. Fems Microbiol Ecol 81(3):596–609
Acknowledgments
These experiments were funded by Horticulture Australia Limited (Project 06007) with levies from Australian apple and pear growers.
About this article
Cite this article
Harteveld, D.O.C., Akinsanmi, O.A., Becker, M.F. et al. Comparative fitness of Alternaria species causing leaf blotch and fruit spot of apple in Australia. Australasian Plant Pathol. 43, 495–501 (2014). https://doi.org/10.1007/s13313-014-0297-4
Received:

Accepted:

Published:

Issue Date:
Keywords
Apple

Alternaria

Leaf blotch

Fruit spot

Fitness