Abstract
Many banana producing regions around the world experience climate variability as a result of seasonal rainfall and temperature conditions, which result in sub-optimal conditions for banana production. This can create periods of plant stress which impact on plant growth, development and yields. Furthermore, diseases such as Fusarium wilt caused by Fusarium oxysporum f. sp. cubense, can become more predominant following periods of environmental stress, particularly for many culturally significant cultivars such as Ducasse (synonym Pisang Awak) (Musa ABB). The aim of this experiment was to determine if expression of symptoms of Fusarium wilt of bananas in a susceptible cultivar could be explained by environmental conditions, and if soil management could reduce the impact of the disease and increase production. An experiment was established in an abandoned commercial field of Ducasse bananas with a high incidence of Fusarium wilt. Vegetated ground cover was maintained around the base of banana plants and compared with plants grown in bare soil for changes in growth, production and disease symptoms. Expression of Fusarium wilt was found to be a function of water stress potential and the heat unit requirement for bananas. The inclusion of vegetative ground cover around the base of the banana plants significantly reduced the severity and incidence of Fusarium wilt by 20 % and altered the periods of symptom development. The growth of bananas and development of the bunch followed the accumulated heat units, with a greater number of bunched plants evident during warmer periods of the year. The weight of bunches harvested in a second crop cycle was increased when banana plants were grown in areas with vegetative ground cover, with fewer losses of plants due to Fusarium wilt.
Access options
Buy single article
Instant access to the full article PDF.
US$ 39.95
Tax calculation will be finalised during checkout.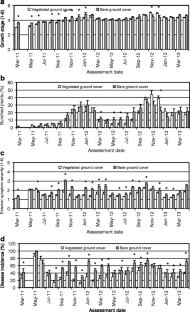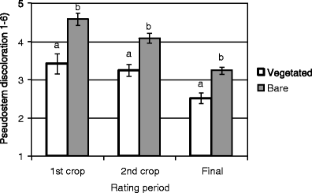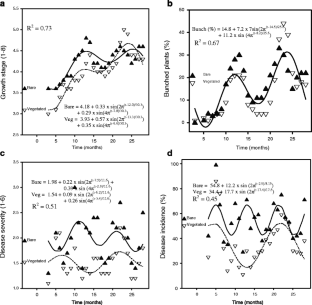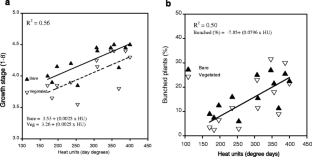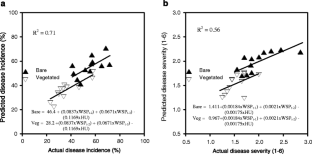 References
Aguilar EA (1998) Response of banana roots to oxygen deficiency and its implications for Fusarium wilt. PhD thesis, University of Western Australia

Aguilar EA, Turner DW, Sivasithamparam K (2000) Fusarium oxysporum f. sp. cubense inoculation and hypoxia alter peroxidase and phenylalanine ammonia lyase activities in nodal roots of banana cultivars (Musa sp.) differing in their susceptibility to Fusarium wilt. Aust J Bot 48:589–596

Beckman CH, Mace ME, Halmos S, McGahan MW (1961) Physical barriers associated with resistance in Fusarium wilt of bananas. Phytopathology 51:507–515

Cannon MG, Smith CD, Murtha GG (1992) Soils of the Cardwell-Tully area, North Queensland. CSIRO, Canberra

Chao CP (2008) Current status of banana R&D in Taiwan. In: Molina AB, Barona MLJ, Sinohin VGO, Generoso JD (eds) Advancing banana and plantain R&D in Asia and the pacific - Vol 14. Proceedings of the 6th BAPNET steering committee, Tiruchirapalli, Tamil Nadu, India. Bioversity International - Asia Pacific, Los Banos

Dong X, Ling N, Wang M, Shen Q, Guo S (2012) Fusaric acid is a crucial factor in the disturbance of leaf water imbalance in Fusarium-infected banana plants. Plant Physiol Biochem 60:171–179

Forsyth LM, Smith LJ, Aitken EAB (2006) Identification and characterization on non-pathogenic Fusarium oxysporum capable of increasing and decreasing Fusarium wilt severity. Mycol Res 110:929–935

Fortescue JA, Turner DW, Romero R (2011) Evidence that banana (Musa spp.), a tropical monocotyledon, has a facultative long-day response to photoperiod. Funct Plant Biol 38:867–878

Fortunato AA, Rodrigues FA, do Nascimento KJT (2012) Physiological and biochemical aspects of the resistance of banana plants to fusarium wilt potentiated by silicon. Phytopathology 102:957–966

Ganry J, Chillet M (2008) Methodology to forecast the harvest date of banana bunches. Fruits 63:371–373

Heslop-Harrison JS, Schwarzacher T (2007) Domestication, genomics and the future for banana. Ann Bot 100:1073–1084

Huang YH, Wang RC, Li CH, Zuo CW, Wei YR, Zhang L, Yi GJ (2012) Control of Fusarium wilt in banana with Chinese leek. Eur J Plant Pathol 134:87–95

Hwang SC, Ko WH (2004) Cavendish banana cultivars resistant to Fusarium wilt acquired through somoclonal variation in Taiwan. Plant Dis 88:580–588

Jie L, Zifeng W, Lixiang C, Hongming T, Patrik I, Zide J, Shining Z (2009) Artificial inoculation of banana tissue culture plantlets with indigenous endophytes originally derived from native banana plants. Biol Control 51:427–434

Li C, Chen S, Zuo C, Sun Q, Ye Q, Yi G, Huang B (2011) The use of GFP-transformed isolates to study infection of banana with Fusarium oxysporum f. sp. cubense race 4. Eur J Plant Pathol 131:327–340

Locke M, Zablotowicz R (2004) Pesticides in soil - benefits and limitations to soil health. In: Schjonning P, Elmholt S, Christensen BT (eds) Managing Soil Quality: Challenges in Modern Agriculture. CAB Internationa, Wallingford, pp 239–260

Molina AB, Fabregar E, Sinohin VG, Yi G, Viljoen A (2009) Recent occurence of Fusarium oxysporum f. sp. cubense tropical race 4 in Asia. Acta Horticult 828:109–116

Moore NY, Bentley S, Pegg KG, Jones DR (1995) Musa disease fact sheet no. 5. In: INIBAP (ed) Fusarium wilt of banana. INIBAP, Montpellier

Ocimati W, Ssekiwoko F, Karamura E, Tinzaara W, Eden-Green S, Blomme G (2013) Systemicity of Xanthomonas campestris pv. musacearum and time to disease expression after inflorescence infection in East African highland and Pisang Awak bananas in Uganda. Plant Pathol 62:777–785

Orjeda G (1998) Evaluation of Musa germplasm to Sigatoka diseases and Fusarium wilt. International Network for Improvement of Banana and Plantain, Montpellier, France

Paul J-Y (2009) The manipulation of apoptosis-related genes to generate resistance to Fusarium wilt and water stress in banana Queensland University of Technology

Pegg KG, Moore NY, Bentley S (1996) Fusarium wilt of banana in Australia: a review. Aust J Agric Res 47:637–650

Peng HX, Sivasithamparam K, Turner DW (1999) Chlamydospore germination and Fusarium wilt of banana plantlets in suppressive and conducive soils are affected by physical and chemical factors. Soil Biol Biochem 31:1363–1374

Ploetz RC (1994) Panama disease: return of the first banana menace. Int J Pest Manag 40:326–336

Ploetz R, Correll J (1988) Vegetative compatibility among races of Fusarium oxysporum f. sp. cubense. Plant Dis 72:325–328

Rasiah RV, Armour JD, Moody PW, Pattison AB, Lindsay S, Florentine S (2009) Characterising and improving the deteriorating trends in soil physical quality under bananas. Aust J Soil Res 47:574–584

Rasiah V, Armour JD, Cogle AL, Florentine SK (2010) Nitrate import and export dynamics in groundwater interacting with surface-water in a wet-tropical environment. Aust J Soil Res 48:361–370

Robinson JC, Galan Sauco V (2010) Bananas and plantains. CAB International, Wallingford

Shen Z, Zhong S, Wang Y, Wang B, Mei X, Li R, Ruan Y, Shen Q (2013) Induced soil microbial suppression of banana fusarium wilt disease using compost and biofertilizers to improve yield and quality. Eur J Soil Biol 57:1–8

Stover RH (1962) Fusarium wilt (Panama Disease) of bananas and other Musa species. The Commonwealth Mycological Insitute, Kew Surrey

Sudarama IM, Suprapta DN (2011) Diversity of soil microorganisms in banana habitats with and without Fusarium wilt symptom. J Int Soc Southeast Asian Agric Sci 17:147–159

Turner DW (1995) The response of the plant to the environment. In: Gowen SR (ed) Bananas and Plantain. Chapman and Hall, London, pp 206–229

Turner DW, Fortescue JA, Thomas DS (2007) Environmental physiology of the bananas (Musa spp.). Braz J Plant Physiol 19:463–484

Wang BB, Yuan J, Zhang J, Shen ZZ, Zhang MX, Li R, Ruan YZ, Shen QR (2013) Effects of novel bioorganic fertilizer produced by Bacillus amyloliquefaciens W19 on antagonism of Fusarium wilt of banana. Biol Fertil Soils 49:435–446

Wardle DA, Bardgett RD, Klironomos JN, Setala H, van der Putten WH, Wall DH (2004) Ecological linkages between aboveground and below ground biota. Science 304:1629–1633
Acknowledgments
This work was funded by the Australian Centre for International Agricultural Research through project Hort/2008/040, with additional support from the Queensland Government through the Department of Agriculture, Fisheries and Forestry. Mr Michael Dunne and Ms. Vicki Kippin-O'Connor are gratefully acknowledged for allowing this work to be conducted on their properties and the contribution they have made to ensure the experiment reached a conclusion. Thanks are also given to colleagues Dr. Leanne Forsyth, Mr. Sebastian Recabarren, Mr Wayne O'Neill and Mr. Stewart Lindsay for their technical assistance and expert knowledge.
About this article
Cite this article
Pattison, A., Wright, C., Kukulies, T. et al. Ground cover management alters development of Fusarium wilt symptoms in Ducasse bananas. Australasian Plant Pathol. 43, 465–476 (2014). https://doi.org/10.1007/s13313-014-0296-5
Received:

Accepted:

Published:

Issue Date:
Keywords
Disease suppression

Disease symptoms

Fusarium oxysporum f.sp. cubense
Musa sp

Panama disease

Plant stress

Soil management