Abstract
Yellow midribs of sugarcane leaves are a typical symptom of Leaf yellows which was found in Africa, Cuba and India, caused by Western-X disease phytoplasma. Yellow midrib symptoms were found in sugarcane in Thailand, too. Leaves with yellow midrib symptoms were collected in plantations in Northeast, Southeast and Central Thailand and tested for phytoplasma. The symptomatic leaves and often also non-symptomatic, green leaves of sugarcane from all three regions contained phytoplasma of the Sugarcane white leaf phytoplasma type, which is a member of the Rice yellow dwarf group. No Western-X disease phytoplasma was found in the samples. It is concluded that yellow midrib symptoms in Thailand sugarcane are not caused by the Leaf yellows phytoplasma, but are an early symptomatic stage of White leaf phytoplasma. White leaf phytoplasma is not only confined to the Northeast of Thailand from where it had been previously reported, but is also prevalent in the other sugarcane regions in Thailand, which calls for a simple, rigorous identification of infected seed cane to eradicate the disease.
Access options
Buy single article
Instant access to the full article PDF.
USD 39.95
Price excludes VAT (USA)
Tax calculation will be finalised during checkout.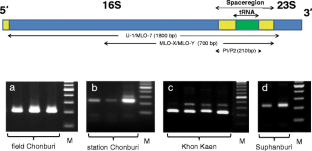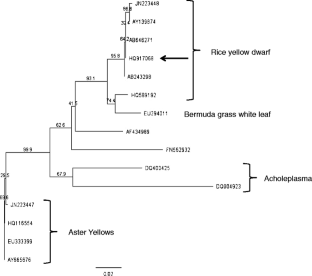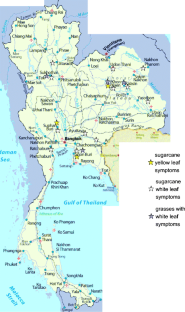 Abbreviations
nPCR:

Nested-PCR

qPCR:

Quantitative PCR

SCWL:

Sugarcane white leaf

SCGS:

Sugarcane grassy shoot

SCGGS:

Sugarcane green grassy shoot
References
Ariyarathna H, Everard J, Karunanayake EH (2007) Diseased sugarcane in Sri Lanka is infected with sugarcane grassy shoot and/or sugarcane white leaf phytoplasma. Australas Plant Dis Notes 2:123–125

Arocha Y, Gonzales L, Peralta EL, Jones P (1999) First report of virus and phytoplasma pathogens associated with yellow leaf syndrome of sugarcane in Cuba. Plant Dis 83:1171

Chen CT, Kusalwong A (2000) White leaf. In: Rott P, Bailey RA, Comstock JC, Croft BJ, Saumtally AS (eds) A guide to sugarcane diseases. CIRAD and ISSCT, Montpellier, pp 231–236

Chona BL, Capoor SP, Varma PM, Seth ML (1960) Grassy shoot disease of sugarcane. Indian Phytopathol 13:37–47

Christensen NM, Nicolaisen M, Hansen M, Schulz A (2004) Distribution of phytoplasmas in infected plants as revealed by real-time PCR and bioimaging. Mol Plant Microbe Interact 17:1175–1184

Cronje CPR, Tymon AM, Jones P, Bailey RA (1998) Association of a phytoplasma with a yellow leaf syndrome of sugarcane in Africa. Ann Appl Biol 133:177–186

Deng S, Hiruki C (1991) Amplification of 16S rRNA genes from culturable and nonculturable Mollicutes. J Microbiol Methods 14:53–61

Fitch MMM, Lehrer AT, Komor E, Moore PH (2001) Elimination of sugarcane yellow leaf virus from infected sugarcane plants by meristem tip culture visualized by tissue blot immunoassay. Plant Pathol 50:676–680

Guindon S, Gascuel O (2003) A simple, fast and accurate algorithm to estimate large phylogenies by maximum likelihood. Syst Biol 52:696–704

Hanboonsong Y, Panyim S, Damak S (2002) Transovarial transmission of sugarcane white leaf phytoplasma in the insect vector Matsumuratettix hiroglyphicus (Matsumura). Insect Mol Biol 11:97–103

Heinrich M, Botti S, Caprara L, Arthofer W, Strommer S, Hanzer V, Katinger H, Bertaccini A, Laimer M (2001) Improved detection methods for fruit tree phytoplasmas. Plant Mol Biol Rep 19:169–179

Kirkpatrick BC, Smart CD, Gardner SL, Gao J-L, Ahrens U, Maurer R, Schneider B, Lorenz K-H, Seemüller E (1994) Phylogenetic relationships of plant pathogenic MLOs established by 16/23S rDNA spacer sequences. IOM Lett 3:228–229

Lee IM, Gundersen-Rindal DE, Davis RE, Bartoszyk IM (1998) Revised classification scheme of phytoplasmas based on RFLP analyses of 16S rRNA and ribosomal protein gene sequences. Int J Syst Bacteriol 48:1153–1169

Lehrer AT, Komor E (2008) Symptom expression of yellow leaf disease in sugarcane cultivars with different degrees of infection by sugarcane yellow leaf virus. Plant Pathol 57:178–189

Lehrer AT, Kusalwong A, Komor E (2008) High incidence of sugarcane yellow leaf virus (SCYLV) in sugar plantations and germplasm collections in Thailand. Australas Plant Dis Notes 3:89–92

Namba S, Oyaizu H, Kato S, Iwanami S, Tsuchizaki T (1993) Phylogenetic diversity of phytopathogenic mycoplasma-like organisms. Int J Syst Evol Microbiol 43:461–467

Sakuanrungsirikul S, Wongwarat T, Srisink S, Theerakulpisut P (2012) Genetic diversity of phytoplasma associated with diseases of sugarcane and some grasses in Thailand based on sequencing analysis of the 16S-23S rRNA intergenic spacer region. Khon Kaen Agric J 40(Supplement 3):231–240

Sarindu N, Clark MF (1993) Antibody production and identity of MLOs associated with sugarcane white leaf disease and Bermuda grass white leaf from Thailand. Plant Pathol 42:396–402

Schenck S, Lehrer AT (2000) Factors affecting the transmission and spread of sugarcane yellow leaf virus. Plant Dis 84:1085–1088

Srivastava S, Singh V, Gupta PS, Sinha OK, Batiha A (2005) Nested PCR assay for detection of sugarcane grassy shoot phytoplasma in the leafhopper vector Deltocephalus vulgaris: a first report. Plant Pathol 55:25–28

Tran-Nguyen L, Blanche KR, Egan B, Gibb KS (2000) Diversity of phytoplasmas in Northern Australian sugarcane and other grasses. Plant Pathol 49:666–669

Visvanathan R (1997) Detection of phytoplasmas associated with grassy shoot disease of sugarcane by ELISA techniques. J Plant Dis Prot 104:9–16

Wongkaew P, Hanboonsong Y, Sirithorn P, Choosal C, Boonkrong S, Tinnangwatanna T, Kitchareonpanya R, Darnak S (1997) Differentiation of phytoplasmas associated with sugarcane and gramineous weed leaf disease and sugarcane grassy shoot disease by RFLP and sequencing. Theor Appl Genet 95:660–663
Acknowledgments
The help in the collection of plant material by Taksina Sansayawichai (Khon Kaen) and Anan Nencharoen (Bang Phra) is very gratefully acknowledged, also the help in qPCR by Tanja Kühnlenz (Universität Bayreuth). The study was financed by Deutsche Forschungsgemeinschaft and Fonds der Chemischen Industrie and by a stipend to Z. S. by the University of Aleppo.
About this article
Cite this article
Soufi, Z., Sakuanrungsirikul, S., Wongwarat, T. et al. Sugarcane yellow leaf symptomatic plants in Thailand are infected by white leaf phytoplasma, not by leaf yellows phytoplasma. Australasian Plant Pathol. 42, 723–729 (2013). https://doi.org/10.1007/s13313-013-0238-7
Received:

Accepted:

Published:

Issue Date:

DOI: https://doi.org/10.1007/s13313-013-0238-7
Keywords