Abstract
Variation in the reaction of cereal cultivars to crown rot caused by Fusarium spp., in particular Fusarium pseudograminearum, was identified over 50 yrs ago, however the parameters and pathways of infection by F. pseudograminearum remain poorly understood. Seedlings of wheat, barley and oat genotypes that differ in susceptibility to crown rot were inoculated with a mixture of F. pseudograminearum isolates. Seedlings were harvested from 7 to 42 days after inoculation and expanded plant parts were rated for severity of visible disease symptoms. Individual leaf sheaths were placed onto nutrient media and fungal colonies emerging from the leaf sheathes were counted to estimate the degree of fungal spread within the host tissue. Significant differences in both the timing and the severity of disease symptoms were observed in the leaf sheath tissues of different host genotypes. Across all genotypes and plant parts examined, the development of visible symptoms closely correlated with the spread of the fungus into that tissue. The degree of infection of the coleoptile and sub-crown internode varied between genotypes, but was unrelated to the putative resistance of the host. In contrast leaf sheath tissues of the susceptible barley cv. Tallon and bread wheat cv. Puseas scored higher disease ratings and consistently showed faster, earlier spread of the fungus into younger tissues than infections of the oat cv. Cleanleaf or the wheat lines 2–49 and CPI 133814. While initial infections usually spread upwards from near the base of the first leaf sheath, the pathogen did not appear to invade younger leaf sheaths only from the base, but rather spread laterally across from older leaf sheaths into younger, subtended leaf sheaths, particularly as disease progressed. Early in the infection of each leaf sheath, disease symptoms in the partially resistant genotypes were less severe than in susceptible genotypes, however as infected leaf sheaths aged, differences between genotypes lessened as disease symptoms approached maximum values. Hence, while visual scoring of disease symptoms on leaf sheaths is a reliable comparative measure of the degree of fungal infection, differences between genotypes in the development of disease symptoms are more reliably assessed using the most recently expanded leaf sheaths.
Access options
Buy single article
Instant access to the full article PDF.
US$ 39.95
Tax calculation will be finalised during checkout.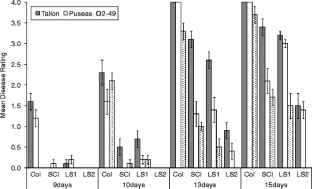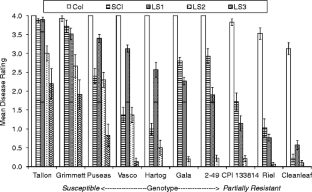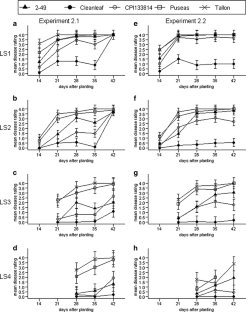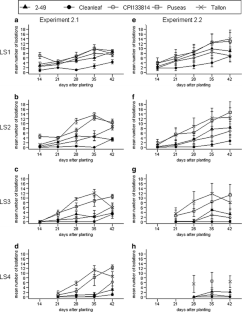 References
Backhouse D, Burgess LW (2002) Climatic analysis of the distribution of Fusarium graminearum. F. pseudograminearum and F. culmorum on cereals in Australia. Australas Plant Pathol 31:321–327

Barnard C (1975) The Form and Structure of Cereals. In: Lazenby A, Matheson EM (eds) Australian Field Crops, Vol 1: Wheat and Other Temperate Cereals. Angus and Robertson Publishers, Sydney, pp 37–57

Bovill WD, Ma W, Ritter K, Collard BCY, Davis M, Wildermuth GB, Sutherland MW (2006) Identification of novel QTL for resistance to crown rot in the doubled haploid wheat population 'W21MMT70' X 'Mendos'. Plant Breeding 125:538–543

Burgess LW, Dodman RL, Pont W, Mayers P (1981) Fusarium diseases of wheat, maize and grain sorghum in eastern Australia. In: Nelson PE, Toussoun TA, Cook RJ (eds) Fusarium: Diseases, Biology, and Taxonomy. University Park and London. The Pennsylvania State University Press, London, pp 64–76

Burgess LW, Backhouse D, Swan LJ, Esdaile RJ (1996) Control of Fusarium crown rot of wheat by late stubble burning and rotation with sorghum. Australas Plant Pathol 25:229–233

Burgess LW, Backhouse D, Summerell BA, Swan LJ (2001) Crown Rot Of Wheat. In: Summerell BA, Leslie JF, Backhouse D, Bryden WL, Burgess LW (eds) Fusarium: Paul E. Nelson Memorial Symposium. The American Phytopathological Society St Paul, Minnesota, pp 271–294

Chaurasia S, Joshi AK, Dhari R, Chand R (1999) Resistance to foliar blight of wheat: a search. Genet Resour Crop Evol 46:469–475

Collard BCY, Grams RA, Bovill WD, Percy CD, Jolley R, Lehmensiek A, Wildermuth GB, Sutherland MW (2005) Development of molecular markers for crown rot resistance in wheat: mapping of QTL's for seedling resistance in '2–49' X 'Janz' population. Plant Breeding 124:532–537

Collard BCY, Jolley R, Bovill WD, Grams RA, Wildermuth GB, Sutherland MW (2006) Confirmation of QTL mapping and marker validation for partial seedling resistance to crown rot in wheat line '2–49'. Aust J Agr Res 57:967–973

DEEDI (2011) Queensland 2011 Wheat Varieties, Grains Research and Development Corporation and the Queensland Department of Employment, Economic Development and Innovation (DEEDI)

Dodman RL, Wildermuth GB (1987) Inoculation methods for assessing resistance in wheat to crown rot caused by Fusarium gramineum Group 1. Aust J Agr Res 38:473–486

Fowler J, Cohen L, Jarvis P (1998) Practical statistics for field biology, 2nd edn. John Wiley and Sons Ltd, Chichester, p 132

Hogg AC, Johnston RH, Dyer AT (2007) Applying real-time quantitative PCR to Fusarium crown rot. Plant Dis 91:1021–1028

Klein TA, Burgess LW, Ellison FW (1989) The incidence of crown rot in wheat, barley and triticale when sown on two dates. Aust J Exp Agric 29:559–563

Knight NL, Sutherland MW (2011) A rapid differential staining technique for Fusarium pseudograminearum in cereal tissues during crown rot infections. Plant Pathol 60:1140–1143

Knight NL, Sutherland MW, Martin A, Herde DJ (2012) Assessment of infection by the crown rot pathogen Fusarium pseudograminearum in wheat seedling tissues using quantitative PCR and a visual discoloration scale. Plant Disease in press.

Liu CJ, Mitter V, Magner T, Ban T, Chakraborty S (2004) Relationships between resistance to Fusarium head blight and crown rot in hexaploid wheat. In: Proceedings of the 4th International Crop Science Congress. Brisbane, Australia

Mitter V, Zhang MC, Liu CJ, Ghosh R, Ghosh M, Chakraborty S (2006) A high-throughput glasshouse bioassay to detect crown rot resistance in wheat germplasm. Plant Pathol 55:1–9

Muthomi JW, Oerke EC, Dehne HW, Mutitu EW (2002) Susceptibility of Kenyan wheat varieties to Head Blight, fungal invasion and deoxynivalenol accumulation inoculated with Fusarium graminearum. J Phytopathol 150:30–36

Nelson KE, Burgess LW (1994) Reaction of Australian cultivars of oats and barley to infection by Fusarium graminearum group 1. Aust J Exp Agric 34:655–658

Purss GS (1966) Studies of varietal resistance to crown rot of wheat caused by Fusarium graminearum Schw. Queensl J Agric Anim Sci 23:476–498

Ribichich KF, Lopez SE, Vegetti AC (2000) Histopathological spikelet changes produced by Fusarium graminearum in susceptible and resistant wheat cultivars. Plant Dis 84:794–802

Smiley RW, Gourlie JA, Easley SA, Patterson LM, Whittaker RG (2005) Crop damage estimates for crown rot of wheat and barley in the Pacific Northwest. Plant Dis 89:595–604

Swan LJ, Backhouse D, Burgess LW (2000) Surface soil moisture and stubble management practice effects on the progress of infection of wheat by Fusarium pseudograminearum. Aust J Exp Agric 40:693–698

VSN International (2002) GenStat for Windows 6th Edition. VSN International, Hemel Hempstead, UK. Web page: GenStat.co.uk

Wallwork H, Butt M, Cheong JPE, Williams KJ (2004) Resistance to crown rot in wheat identified through an improved method for screening adult plants. Australas Plant Pathol 33:1–7

Wildermuth GB, Purss GS (1971) Further sources of field resistance to crown rot (Gibberella zea) of cereals in Queensland. Aust J Exp Agric Anim Hus 11:455–459

Wildermuth GB, McNamara RB (1994) Testing wheat seedlings for resistance to crown rot caused by Fusarium graminearum Group 1. Plant Dis 78:949–953

Wildermuth GB, Thomas GA, Radford BJ, McNamara RB, Kelly A (1997) Crown rot and common root rot in wheat grown under different tillage and stubble treatments in southern Queensland, Australia. Soil Till Res 44:211–224

Wildermuth GB, McNamara RB, Quick JS (2001) Crown depth and susceptibility to crown rot in wheat. Euphytica 122:397–405

Wildermuth GB, McNamara RB, Davis M, Coverdale S (2003) Genetic resistance to Fusarium crown rot in winter cereals. In: Proceedings of the 8th International Congress of Plant Pathology: Solving problems in the real world. Christchurch, New Zealand
Acknowledgements
The authors would like to express their thanks to Kerry Bell (DEEDI, Toowoomba) for assistance with data analysis and presentation, and to Dr Stephen Neate for his critical reading of the manuscript. This study was supported by a Grains Research & Development Corporation PhD Scholarship to CDP.
About this article
Cite this article
Percy, C.D., Wildermuth, G.B. & Sutherland, M.W. Symptom development proceeds at different rates in susceptible and partially resistant cereal seedlings infected with Fusarium pseudograminearum . Australasian Plant Pathol. 41, 621–631 (2012). https://doi.org/10.1007/s13313-012-0146-2
Received:

Accepted:

Published:

Issue Date:
Keywords
Disease resistance

Wheat

Barley

Oats

Crown rot

Disease screening