Abstract
In the northern grain and cotton region of Australia, poor crop growth after long periods of fallow, called 'long-fallow' disorder, is caused by a decline of natural arbuscular-mycorrhizal fungi (AMF). When cotton was grown in large pots containing 22 kg of Vertisol from a field recently harvested from cotton in Central Queensland, plants in pasteurised soil were extremely stunted compared with plants in unpasteurised soil. We tested the hypothesis that this extreme stunting was caused by the absence of AMF and examined whether such stunted plants could recover from subsequent treatment with AMF spores and/or P fertiliser. At 42 days after sowing, the healthy cotton growing in unpasteurised soil had 48% of its root-length colonised with AMF, whereas the stunted cotton had none. After inoculation with AMF spores (6 spores/g soil of Glomus mosseae) and/or application of P fertiliser (50 mg P/kg soil) at 45 days after sowing, the stunted plants commenced to improve about 25 days after treatment, and continued until their total dry matter and seed cotton production equalled that of plants growing in unpasteurised soil with natural AMF. In contrast, non-mycorrhizal cotton grown without P fertiliser remained stunted throughout and produced no bolls and only 1% of the biomass of mycorrhizal cotton. Even with the addition of P fertiliser, non-mycorrhizal cotton produced only 64% of the biomass and 58% of the seed cotton (lint + seed) of mycorrhizal cotton plants. These results show that cotton is highly dependent on AMF for P nutrition and growth in Vertisol (even with high rates of P fertiliser), but can recover from complete lack of AMF and consequent stunting during at least the first 45 days of growth when treated with AMF spores and/or P fertiliser. This corroborates field observations in the northern region that cotton may recover from long-fallow disorder caused by low initial levels of AMF propagules in the soil as the AMF colonisation of its roots increases during the growing season.
Access options
Buy single article
Instant access to the full article PDF.
US$ 39.95
Tax calculation will be finalised during checkout.
Subscribe to journal
Immediate online access to all issues from 2019. Subscription will auto renew annually.
US$ 79
Tax calculation will be finalised during checkout.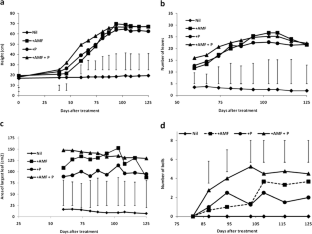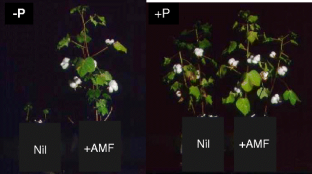 References
Abbott LK, Robson AD (1982) The role of vesicular arbuscular mycorrhizal fungi in agriculture and the selection of fungi for inoculation. Aust J Agr Res 33:389–408

Bowen GD, Rovira AD (1961) Plant growth in irradiated soil. Nature 191:936–937

Butler DG, Cullis BR, Gilmour AR, Gogel BJ (2009) Mixed models for S-language environments: ASReml-R Reference Manual (Version 3), training series QE02001, Queensland Department of Primary Industries

Colwell JD (1963) The estimation of the phosphorus fertilizer requirements of wheat in southern New South Wales by soil analysis. Aust J Exp Agric Anim Hus 3:190–197

Duncan OW (1967) Correction of zinc deficiency in linseed on the Darling Downs, Queensland. Queensl J Agr Anim Sci 24:301–307

Ellis JR (1998) Post flood syndrome and vesicular-arbuscular mycorrhizal fungi. J Prod Agr 11:200–204

Fiske ML, Thompson JP, Clewett TG (1989) Stain tubes—an aid for staining vesicular–arbuscular mycorrhizae (VAM). Australas Plant Pathol 18:24–25

Gerdemann JW, Nicolson (1963) Spores of mycorrhizal Endogone species extracted from soil by wet sieving and decanting. Trans Br Mycol Soc 46:235–244

Giovannetti M, Mosse B (1980) An evaluation of techniques for measuring vesicular arbuscular mycorrhizal infection in roots. New Phytol 84:489–500

Grundon NJ (1987) Hungry crops: a guide to nutrient deficiencies in field crops. Queensland Department of Primary Industries Information Series Q187002, pp. 230–21. Queensland Government, Brisbane

Gryndler M (2000) Interactions of arbuscular mycorrhizal fungi with other soil organisms. Chapter 11. In: Arbuscular mycorrhizas: Physiology and function. Kluwer Academic Publishers, The Netherlands, pp 239–262

Hibberd DE, Ladewig JH, Hunter MN, Blight GW (1990) Responses in cotton yields to nitrogen and phosphorus fertilisers in the Emerald Irrigation Area, central Queensland. Aust J Exp Agric 30:661–667

INVAM (2011) http://invam.caf.wvu.edu

Ijdo M, Cranenbrouck S, Declerck S (2011) Methods for large-scale production of AM fungi: past, present and future. Mycorrhiza 21:1–16

Isbell RF (1996) The Australian soil classification. Revised edition. CSIRO Publishing, Melbourne

Leslie JK, Whitehouse MJ (1965) Investigations on the long fallow disorder. Queensland Wheat Research Institute Annual Report, 1964–1965. pp. 9–10

Leslie JK, Whitehouse MJ (1968) Long fallow disorder. Queensland Wheat Research Institute Annual Report, 1967–1968. p. 46

McDonald RC (1978) Physical and chemical properties of basaltic cracking clay soils, Emerald Irrigation Area. Interim Report. Queensland Department of Primary Industries Occasional Publication

McGee PA, Pattinson GS, Heath RA, Newman CA, Allen SJ (1997) Survival of propagules of arbuscular mycorrhizal fungi in soils in Eastern Australia used to grow cotton. New Phytol 135:773–780

McGee PA, Torrisi V, Pattinson GS (1999) The relationship between density of Glomus mosseae propagules and the initiation and spread of arbuscular mycorhhizas in cotton roots. Mycorrhiza 9:221–225

Menge JA (1984) Inoculum production. Chapter 9. In: Powell C Ll, Bagyaraj DJ (eds) VA Mycorrhizae. CRC Press Inc, Boca Raton Florida, pp 187–203

Monteiro JEBA, Sentelhas PC, Chiavegato EJ, Guiselini C, Santiago AV, Prela A (2005) Estimação da area foliar do algodoeiro por meio de dimensões e massa das folhas. Bragantia, Campinas 64:15–24

Morton JB (1988) Taxonomy of VA mycorrhizal fungi: classification, nomenclature and identification. Mycotaxon 32:267–324

Morton JB, Benny GL (1990) Revised classification of the arbuscular mycorrhizal fungi (Zygomycetes): A new order, Glomales, two new suborders Glomineae and Gigasporineae, and two new families, Acaulopsoraceae and Gigasporaceae, with an emendation of Glomaceae. Mycotaxon 37:471–491

Nehl DB, Allen SJ, Brown JF (1996) Mycorrhizal colonization, root-browning and soil properties associated with a growth disorder of cotton in Australia. Plant Soil 179:171–182

Nehl DB, Allen SJ, Brown JF (1998) Slow arbuscular mycorrhizal colonisation of field-grown cotton caused by environmental conditions in the soil. Mycorrhiza 8:159–167

Pattinson GS, McGee PA (1997) High densities of arbuscular mycorrhizal fungi maintained during long fallows in soils used to grow cotton except when soil is wetted periodically. New Phytol 136:571–580

Phillips JM, Hayman DS (1970) Improved procedures for clearing roots and staining parasitic and vesicular-arbuscular mycorrhizal fungi for rapid assessment of infection. Trans Br Mycol Soc 55:158–161

Plenchette C, Fortin JA, Furlan V (1983) Growth responses of several plant species to mycorrhizae in a soil of moderate P-fertility I. Mycorrhizal dependency under field conditions. Plant Soil 70:199–209

Sutton JC, Barron GL (1972) Population dynamics of Endogone spores in soil. Can J Bot 50:1909–1914

Sylvia DM, Schenck NC (1983) Germination of chlamydospores of three Glomus species as affected by soil matric potential and fungus contamination. Mycologia 75:30–35

Thompson JP (1987) Decline of vesicular arbuscular mycorrhizae in long fallow disorder of field crops and its expression in phosphorus deficiency of sunflower. Aust J Agr Res 38(847):867

Thompson JP (1991) Improving the mycorrhizal conditions of the soil through cultural practices and effects on growth and phosphorus uptake of plants. In: Johansen C, Lee KK, Sahrawat KL (eds) Phosphorus Nutrition of Grain Legumes in the Semi-Arid Tropics. ICRISAT (International Crops Research Institute for the Semi-Arid Tropics) Hyderabad, pp 117–137

Thompson JP (1994a) What is the potential for management of mycorrhizas in agriculture? In: Robson AD, Abbott LK, Malajczuk N (eds) Management of mycorrhizas in agriculture, horticulture and forestry. Kluwer Academic Publishers, The Netherlands, pp 191–200

Thompson JP (1994b) Inoculation with vesicular-arbuscular mycorrhizal fungi from cropped soil overcomes long-fallow disorder of linseed (Linum usitatissimum L.) by improving P and Zn uptake. Soil Biol Biochem 26:1133–1143

Thompson JP (1995) Correction of dual phosphorus and zinc deficiencies of linseed (Linum usitatissimum L.) with cultures of vesicular-arbuscular mycorrhizal fungi. Soil Biol Biochem 28:941–951

Thompson JP, Wildermuth GB (1989) Colonization of crop and pasture species with vesicular-arbuscular mycorrhizal fungi and a negative correlation with root infection by Bipolaris sorokiniana. Can J Bot 67:687–693

VSN International (2010) GenStat for Windows 13th edition. VSN International: Hemel Hempstead, UK. Web page: GenStat.co.uk

Zak JC, McMichael B, Dhillion S, Friese C (1998) Arbuscular-mycorrhizal colonization dynamics of cotton (Gossypium hirsutum L.) growing under several production systems on the Southern High Plains, Texas. Agric Ecosyst Environ 68:245–254
Acknowledgements
We thank J. Kochman for drawing our attention to this cotton stunting and A. Kelly and K. Bell for statistical analysis.
About this article
Cite this article
Thompson, J.P., Seymour, N.P. & Clewett, T.G. Stunted cotton (Gossypium hirsutum L.) fully recovers biomass and yield of seed cotton after delayed root inoculation with spores of an arbuscular mycorrhizal fungus (Glomus mosseae). Australasian Plant Pathol. 41, 431–437 (2012). https://doi.org/10.1007/s13313-012-0137-3
Received:

Accepted:

Published:

Issue Date:
Keywords
Long-fallow disorder

Relative mycorrhizal dependency

Glomus macrocarpum
Glomus etunicatum