Abstract
Rust (caused by Puccinia arachidis) and late leaf spot (LLS, caused by Mycosphaerella berkeleyi) can cause significant yield losses in Australian peanut crops. Until recently, all commercial peanut varieties were highly susceptible to these pathogens, but the new Australian cultivar Sutherland has significantly higher levels of resistance than the older cultivars. Field trials were conducted at two sites in Queensland to (a) confirm the improved resistance of cv. Sutherland over another commercial cultivar, Menzies, (b) study the effects of timing of first spray, spray interval and cultivar on disease severity and yield, and (c) develop a suitable fungicide management program for cv. Sutherland. In the 2006 and 2007 trials, rust and LLS developed slower and had lower final disease ratings and AUDPC values on unsprayed plots of cv. Sutherland than on cv. Menzies. The timing of the first spray is critical in managing both rust and late leaf spot, with the results demonstrating that the first fungicide spray on cv. Sutherland should be applied as soon as rust and LLS are first seen on cv. Menzies. In most trials spray intervals of 14 days or 21 days were suitable to effectively control rust and LLS. In years with low disease pressure, few, if any, fungicide applications will be needed to manage the diseases, but in other years up to four sprays may be necessary.
Access options
Buy single article
Instant access to the full article PDF.
USD 39.95
Price excludes VAT (USA)
Tax calculation will be finalised during checkout.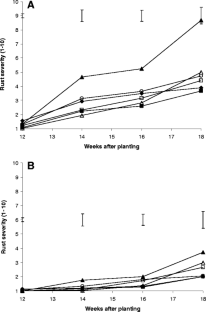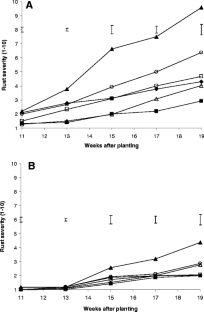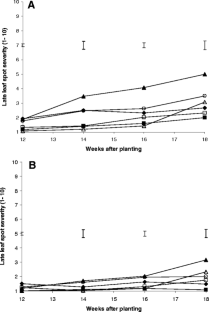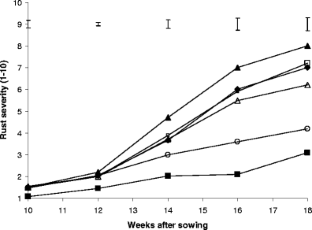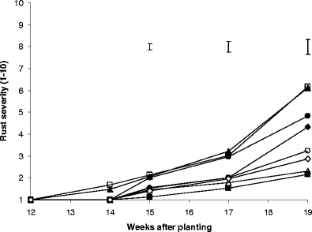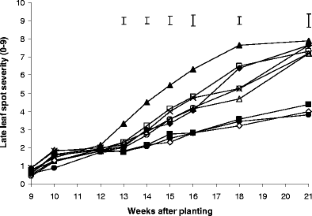 References
Adiver SS, Anahosur KH, Giriraj K (1995) Triazoles for control of foliar disease of groundnut (Arachis hypogaea L.). Karnataka. J Agric Sci 8:65–68

BOM (2011) Climate. Bureau of Meterology. www.bom.gov.au/climate/?averages. Accessed 20 May 2011

Butler DR, Jadhav DR (1991) Requirements of leaf wetness and temperature for infection of groundnut by rust. Plant Pathol 40:395–400

Culbreath AK, Brenneman TB, Bondari K, Reynolds KL, McLean HS (1995) Late leaf spot, southern stem rot, and peanut yield responses to rates of cyproconazole and chlorothalonil applied alone and in combination. Plant Dis 79:1121–1125

Culbreath AK, Kemerait RC Jr, Brenneman TB (2006) Management of early leaf spot of peanut as affected by fungicide and date of spray program initiation. Plant Health Prog. doi:10.1094/PHP-2006-0214-01-RS

Harrison AL (1973) Control of peanut rust alone or in combination with Cercospora leaf spot. Phytopathol 63:668

Jackson CR, Bell M (1969) Diseases of peanut (groundnut) caused by fungi, vol 56. Research Bulletin University of Georgia. College of Agriculture Experiment Stations

Kishore GK, Pande S (2005) Integrated management of late leaf spot and rust diseases of groundnut (Arachis hypogaea L.) with Prosopis juliflora leaf extract and chlorothalonil. Int J Pest Manag 51:327–334

Mallaiah KV, Rao AS (1979) Groundnut rust: factors influencing disease development, sporulation and germination of uredospores. Ind Phytopathol 32:382–388

McCown RL, Hammer GL, Hargreaves JNG, Holzworth DP, Freebairn DM (1996) APSIM: a novel software system for model development, model testing, and simulation in agricultural systems research. Agric Syst 50:255–271

McDonald D, Subrahmanyam P, Gibbons RW, Smith DH (1985) Early and late leaf spots of groundnut. Information Bulletin 21. International Crops Research Institute for the Semi-Arid Tropics, Patancheru

McDonald D, Reddy DVR, Sharma SB, Mehan VK, Subrahmanyam P (1998) Diseases of groundnut. In: Allen DJ, Lenné JM (eds) The pathology of food and pasture legumes. CAB International, Kew, pp 63–124

Mehan VK, Reddy PM, Vidyasagar Rao K, McDonald D (1994) Components of rust resistance in peanut genotypes. Phytopathol 84:1421–1426

Mulder JA, Holliday PH (1974) Mycosphaerella berkeleyii. CMI descriptions of pathogenic fungi and bacteria No. 412. Commonwealth Mycological Institute, Kew

Nevill DJ (1981) Components of resistance to Cercospora arachidicola and Cercosporidium personatum in groundnuts. Ann Appl Biol 99:77–86

Norman JM, Campbell G (1983) Application of a plant-environment model to problems in irrigation. Adv Irrig 2:155–188

Nutter FW Jr, Shokes FM (1995) Management of foliar diseases caused by fungi. In: Melouk HA, Shokes FM (eds) Plant health management. American Phytopathological Society, St Paul, pp 65–74

Rao AS, McDonald D, Reddy DVR (1993) Perpetuation of peanut leaf spot pathogens. Ol Paris 48:77–82

Rideout SL, Brenneman TB, Culbreath AK (2002) Peanut disease management utilizing an in-furrow treatment of azoxystrobin. Plant Health Prog (September):1–9

Robertson MJ, Carberry PS, Huth NI, Turpin JE, Probert ME, Poulton PL, Bell M, Wright GC, Yeates SJ, Brinsmead RB (2002) Simulation of growth and development of diverse legume species in APSIM. Aust J Agric Res 53:429–446

Savary S, Bosc J, Noirot M, Zadoks JC (1988) Peanut rust in West Africa: a new component in a multiple pathosystem. Plant Dis 72:1001–1009

Shokes FM, Gorbet DW, Sanden GE (1982) Effect of planting date and date of spray initiation on control of peanut leaf spots in Florida. Plant Dis 66:574–575

Subrahmanyam P, McDonald D (1983) Rust disease of groundnut. nformation Bulletin no. 13. International Crops Research Institute for the Semi-Arid Tropics, Andhra Pradesh, India

Subrahmanyam P, Moss JP, Rao VR (1983) Resistance to peanut rust in wild Arachis species. Plant Dis 67:209–212

Subrahmanyam P, Williams JH, McDonald D, Gibbons RW (1984) The influence of foliar diseases and their control by selective fungicides on a range of groundnut (Arachis hypogaea L.) genotypes. Ann Appl Biol 104:467–476

Subrahmanyam P, Reddy LJ, Gibbons RW, McDonald D (1985) Peanut rust: a major threat to peanut production in the semiarid tropics. Plant Dis 69:813–819

Subrahmanyam P, McDonald D, Waliyar F, Reddy LJ, Nigam SN, Gibbons RW, Ramanatha Rao V, Sing AK, Pande S, Reddy PM, Subba Rao PV (1995) Screening methods and sources of resistance to rust and late leaf spot of groundnut. Information Bulletin no. 47. International Crops Research Institute for the Semi-Arid Tropics, Andhra Pradesh, India

Sunkad G, Mesta RK, Mahadevareddy (2005) Field efficacy of some fungicides for effective and economical control of major foliar diseases of groundnut. Karnataka J Agric Sci 18:995–997

Vaishnav KA, Patel VA, Dhedhi BM, Kikani BK (1991) Efficacy and economy of different fungicides against rust disease of groundnut. Indian J Mycol Plant Pathol 21:164–165

Wadia KDR, Butler DR (1994) Relationships between temperature and latent periods of rust and leaf-spot diseases of groundnut. Plant Pathol 43:121–129

Wright GC (2008) Peanut varieties on the horizon/peanut R&D highlights from recent USA visit. In: Proceedings of Australian Peanut Conference 2008, Bundaberg, 26–27 August 2008. CD ROM. The State of Queensland, Department of Primary Industrie and Fisheries

Wright GC, Wieck L, Harden P, Baker G (2010) Peanut production guide. Peanut Company of Australia. http://www.pca.com.au/pdfs/growing-peanuts/productionguide.pdf. Accessed 23 November 2010

Wynne JC, Beute MK, Nigam SN (1991) Breeding for disease resistance in peanut (Arachis hypogaea L.). Annu Rev Phytopathol 29:279–303
Acknowledgment
The authors thank the Grains Research and Development Corporation for funding this research, staff at Bundaberg Research Station and Kairi Research Stations for technical assistance and Ms Carole Wright and Ms Susan Fletcher for biometrics support.
About this article
Cite this article
Kelly, L.A., Ryley, M.J., Trevorrow, P.R. et al. Reduced fungicide use on a new Australian peanut cultivar, highly resistant to the late leaf spot and rust pathogens. Australasian Plant Pathol. 41, 359–373 (2012). https://doi.org/10.1007/s13313-012-0132-8
Received:

Accepted:

Published:

Issue Date:

DOI: https://doi.org/10.1007/s13313-012-0132-8
Keywords