Abstract
Pitch canker is a varied and complex disease of Pinus species. Despite the establishment of this disease in many countries, it has been difficult to predict how Fusarium circinatum would behave if introduced into Australia or New Zealand. To understand the potential risk this pathogen poses to the forest industries in Australasia, the process-oriented niche modelling program CLIMEX was used to model the climate suitability for pitch canker establishment using a current climate dataset and three contrasting global climate models (GCMs) under moderate and high CO2 emissions scenarios. Under current climate, the northern coastal areas of New Zealand and the moist periphery of Australia appear climatically suitable for pitch canker. Under all of the climate change scenarios examined it is projected that the potential distribution of pitch canker would expand southwards to include most of the extensive forests presently located in the central North Island of New Zealand and the northern areas of Tasmania. Under current climate these areas appear climatically unsuitable for pitch canker due to excessive cold stress and/or insufficient annual heat sum. The results identify the extent of risk posed to Australasia by F. circinatum and highlight the need for continued efforts to prevent the introduction and establishment of this pathogen in Australasia.
This is a preview of subscription content, log in to check access.
Access options
Buy single article
Instant access to the full article PDF.
US$ 39.95
Price includes VAT for USA
Subscribe to journal
Immediate online access to all issues from 2019. Subscription will auto renew annually.
US$ 99
This is the net price. Taxes to be calculated in checkout.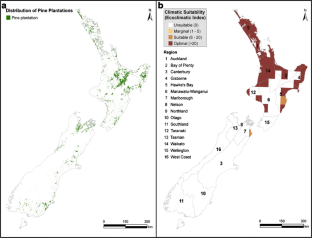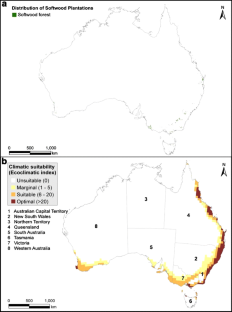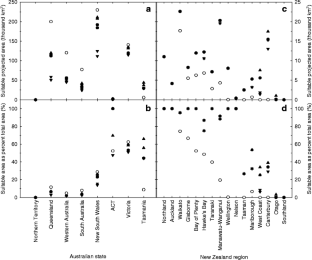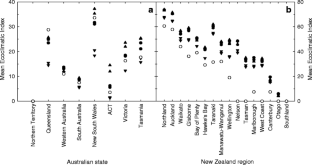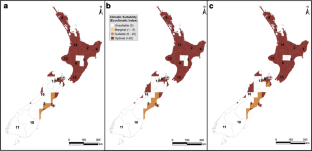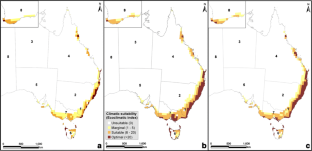 References
AQIS (Australian Quarantine and Inspection Service) (2010) Import Conditions Database. http://www.aqis.gov.au/icon32/asp/homecontent.asp

Bragança H, Diogo E, Moniz F, Amaro P (2009) First report of pitch canker on pines caused by Fusarium circinatum in Portugal. Plant Dis 93:1079

Bulman L (2007) Foliar Diseases of Pine - The New Zealand Experience. In: 'Proceedings of the 54th Annual Western International Forest Disease Work Conference, 2–6 October 2006, Smithers, Canada'. USDA Forest Service, pp 57–60

Bulman L, Ganley RJ, Dick M (2008) Needle diseases of radiata pine in New Zealand. Output 43086. Scion, Rotorua

Carlucci A, Colatruglio L, Frisullo S (2007) First report of pitch canker caused by Fusarium circinatum on Pinus halepensis and P. pinea in Apulia (southern Italy). Plant Dis 91:1683

Cook DC, Matheson AC (2008) An estimate of the potential economic impact of pine pitch canker in Australia. Aust For 71:107–112

Correll JC, Gordon TR, McCain AH, Fox JW, Koehler CS, Wood DL, Schultz EM (1991) Pitch canker in California: pathogenicity, distribution and canker development on Monterey pine (Pinus radiata). Plant Dis 75:676–682

DAFF (Department of Agriculture, Fisheries and Forestry) (2009) Australia's forests at a glance 2009. Data to 2007–08. Australian Government, Bureau of Rural Sciences, Canberra

EPPO (European and Mediterranean Plant Protection Organization) (2004) First report of Gibberella circinata in France. http://archives.eppo.org/EPPOReporting/2006/Rsf-0605.pdf

Fox JW, Wood DL, Koehler CS, O'Keefe ST (1991) Engraver beetles (Scolytidae: Ips species) as vectors of the pitch canker fungus, Fusarium subglutinans. Can Entomol 123:1355–1367

Ganley RJ, Watt MS, Manning L, Iturritxa E (2009) A global climatic risk assessment of pitch canker disease. Can J For Res 39:2246–2256

Gordon TR, Okamoto D, Storer AJ, Wood DL (1998) Susceptibility of five landscape pines to pitch canker disease, caused by Fusarium subglutinans f. sp. pini. HortScience 33:868–871

Gordon TR, Storer AJ, Wood DL (2001) The pitch canker epidemic in California. Plant Dis 85:1128–1139

Green W (2004) The use of 1080 for pest control: A discussion document. Department of Conservation, New Zealand. http://www.doc.govt.nz/Conservation/002~Animal-Pests/001~Control-Methods/010~The-Use-of-1080-for-Pest-Control/050~Why-We-Use-1080-for-Pest-Control/002~Other-impacts-of-possums-on-primary-production.asp

Hodge GR, Dvorak WS (2000) Differential responses of Central American and Mexican pine species and Pinus radiata to infection by the pitch canker fungus. New For 19:241–258

IPCC (2007) Summary for policymakers. In: Solomon S, Qin D, Manning M, Chen Z, Marquis M, Averyt KB, Tignor M, Miller HL (eds) Climate change 2007: the physical science basis. contribution of working group I to the Fourth assessment report of the intergovernmental panel on climate change. Cambridge University Press, Cambridge, United Kingdom and New York, NY, USA

Kelley WD, Williams JC (1982) Incidence of pitch canker among clones of loblolly pine in seed orchards. Plant Dis 66:1171–1173

Kriticos DJ, Alexander NS, Kolomeitz SM (2006) Predicting the potential geographic distribution of weeds in 2080. In: Preston C, Watts JH, Crossman ND (eds) Proceedings of the 15th Australian Weeds Conference, September 2006, Adelaide, Australia, pp 27–34

Landeras E, García P, Fernández Y, Braña M, Fernández-Alonso O, Méndez-Lodos S, Pérez-Sierra A, León M, Abad-Campos P, Berbegal M, Beltrán R, García-Jiménez J, Armengol J (2005) Outbreak of pitch canker caused by Fusarium circinatum on Pinus spp. in Northern Spain. Plant Dis 89:1015

Lee JK, Lee SH, Yang SI, Lee YW (2000) First report of pitch canker disease on Pinus rigida in Korea. Plant Pathol J 16:52–54

MAFBNZ (Ministry of Agriculture and Forestry, Biosecurity New Zealand) (2002) Generic Import Health Standard. http://www.biosecurity.govt.nz/imports/forests/standards/propagable-forest-produce/pinus-spp.htm

Meehl GA, Covey C, Delworth T, Latif M, McAvaney B, Mitchell JFB, Stouffer RJ, Taylor KE (2007) The WCRP CMIP3 multimodel dataset: a new era in climate change research. Bull Am Meteorol Soc 88:1383–1394

Ministry for the Environment (2008) Climate change effects and impacts assessment. A guidance manual for local government in New Zealand 2nd edn. Prepared for the Climate Change Office by Mullan B, Wratt D, Dean S, Hollis M, Allan S, Williams T, Kenny G and the Ministry for the Environment. MFE Publication ME 870. p 149. http://www.mfe.govt.nz/publications/climate/climate-change-effect-impacts-assessments-may08/climate-change-effect-impacts-assessment-may08.pdf

Mitchell TD, Carter TR, Jones PD, Hulme M, New M (2004) A comprehensive set of climate scenarios for Europe and the globe: the observed record (1900–2000) and 16 scenarios (2000–2100). Working Paper 55. University of East Anglia, UK

NZFOA (New Zealand Forest Owners Association) (2009) New Zealand forest industry facts and figures. pp 1–25

National Forest Inventory (2008) Australia's State of the Forest Report. http://adl.brs.gov.au/forestsaustralia/publications/sofr2008.html

Neilsen WA (1981) Effect of simulated browsing on survival and growth of Pinus radiata (D. Don) seedlings. Aust For Res 11:47–53

Romón P, Iturrondobeitia JC, Gibson K, Lindgren BS, Goldarazena A (2007) Quantitative association of bark beetles with pitch canker fungus and effects of verbenone on their semiochemical communication in Monterey pine forests in Northern Spain. Environ Entomol 36:743–750

Stephens AEA, Kriticos DJ, Leriche A (2007) The current and future potential geographic distribution of the Oriental fruit fly, Bactrocera dorsalis, (Diptera: Tephritidae). Bull Entomol Res 97:369–378

Storer AJ, Gordon TR, Clark SL (1998) Association of the pitch canker fungus, Fusarium subglutinans f. sp. pini, with Monterey pine seeds and seedlings in California. Plant Pathol 47:649–656

Storer AJ, Wood DL, Gordon TR (2002) The epidemiology of pitch canker of Monterey pine in California. For Sci 48:694–700

Storer AJ, Gordon TR, Wood DL, Bonello P (1997) Pitch canker disease of pines: current and future impacts. J Forest 95:21–26

Sutherst RW, Maywald GF, Kriticos DJ (2007) CLIMEX version 3: user's guide. Hearne Scientific Software Pty Ltd, pp. 131. http://www.Hearne.com.au

Terralink NZ Ltd (1996) New Zealand land cover database, Wellington, New Zealand

Whetton PH, McInnes KL, Jones RN, Hennessy KJ, Suppiah R, Page CM, Bathols JM, Durack P (2005) Australian climate change projections for impact assessment and policy application: a review. CSIRO Marine and Atmospheric Research Paper 001, Melbourne, Australia. p 33

Wikler KR, Storer AJ, Newman W, Gordon TR, Wood DL (2003) The dynamics of an introduced pathogen in a native Monterey pine (Pinus radiata) forest. For Ecol Manage 179:209–221

Wingfield MJ, Hammerbacher A, Ganley RJ, Steenkamp ET, Gordon TR, Wingfield BD, Coutinho TA (2008) Pitch canker caused by Fusarium circinatum: a growing threat to pine plantations and forests worldwide. Australas Plant Pathol 37:319–334
About this article
Cite this article
Ganley, R.J., Watt, M.S., Kriticos, D.J. et al. Increased risk of pitch canker to Australasia under climate change. Australasian Plant Pathol. 40, 228 (2011). https://doi.org/10.1007/s13313-011-0033-2
Received:

Accepted:

Published:
Keywords
Biosecurity

Fusarium circinatum
Pinus radiata

Radiata pine