Abstract
The fungi associated with tropical leaf speckle diseases of banana (Musa spp. and cultivars) in northern Queensland were examined from fresh leaves and herbarium specimens. Ramichloridium biverticillatum was predominantly found associated with leaves of Cavendish banana (Musa acuminata cv. Cavendish) and a new species, R. ducassei was found associated with dark brown streaks on leaves of Ducasse banana (Musa acuminata x balbisiana cv. Pisang awak). A key is provided for all of the species of Ramichloridum that are known to occur on Musa.
Access options
Buy single article
Instant access to the full article PDF.
US$ 39.95
Tax calculation will be finalised during checkout.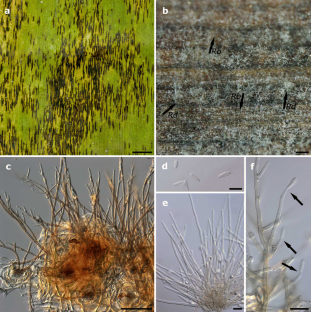 References
Arzanlou M, Groenewald JZ, Gams W, Braun U, Shin H-D, Crous PW (2007) Phylogenetic and morphotaxonomic revision of Ramichloridium and allied genera. Stud Mycol 58:57–93

Crous PW, Summerell BA, Carnegie AJ, Wingfield MJ, Hunter GC, Burgess TI, Andjic V, Barber PA, Groenewald JZ (2009) Unravelling Mycosphaerella: do you believe in genera? Persoonia 23:99–118

de Hoog GS (1977) Rhinocladiella and allied genera. Stud Mycol 15:1–140

Jones RD (2000) Tropical speckle. In: Jones RD (ed) Diseases of banana, abacá and enset. CABI, Wallingford, pp 116–120

Pont W (1960) Three leaf speckle diseases of the banana in Queensland. Qld J Agric Sci 17:271–309

Sunnucks PD, Hales F (1996) Numerous transposed sequences of mitochondrial cytochrome oxidase I-II in aphids of the genus Sitobion (Hemiptera: Aphididae). Mol Biol Evol 13:510–524

White TJ, Bruns TD, Lee S, Taylor J (1990) Amplification and direct sequencing of fungal ribosomal RNA genes for phylogenetics. In: Innis MA, Gelfand DH, Sninsky JJ, White TJ (eds) PCR protocols, a guide to methods and applications. Academic, San Diego, pp 315–322
Acknowledgements
The authors are grateful to Don Barrett (University of Queensland) for providing the Latin diagnoses.
About this article
Cite this article
Shivas, R.G., Grice, K.R.E. & Young, A.J. Ramichloridium spp. on Musa in northern Queensland: introducing Ramichloridium ducassei sp. nov. on leaf streaks of Ducasse banana. Australasian Plant Pathol. 40, 61–65 (2011). https://doi.org/10.1007/s13313-010-0014-x
Received:

Accepted:

Published:

Issue Date:
Keywords
Periconiella musae
Veronaea musae

Taxonomy

New taxa