Abstract
While anecdotal evidence suggests that select 5-hydroxytryptamine 2A (5-HT2A) receptor ligands, including psilocybin, may have long-lasting therapeutic effects after limited dosing in headache disorders, controlled investigations are lacking. In an exploratory double-blind, placebo-controlled, cross-over study, adults with migraine received oral placebo and psilocybin (0.143 mg/kg) in 2 test sessions spaced 2 weeks apart. Subjects maintained headache diaries starting 2 weeks before the first session until 2 weeks after the second session. Physiological and psychological drug effects were monitored during sessions and several follow-up contacts with subjects were carried out to assure safety of study procedures. Ten subjects were included in the final analysis. Over the 2-week period measured after single administration, the reduction in weekly migraine days from baseline was significantly greater after psilocybin (mean, − 1.65 (95% CI: − 2.53 to − 0.77) days/week) than after placebo (− 0.15 (− 1.13 to 0.83) days/week; p = 0.003, t(9) = 4.11). Changes in migraine frequency in the 2 weeks after psilocybin were not correlated with the intensity of acute psychotropic effects during drug administration. Psilocybin was well-tolerated; there were no unexpected or serious adverse events or withdrawals due to adverse events. This exploratory study suggests there is an enduring therapeutic effect in migraine headache after a single administration of psilocybin. The separation of acute psychotropic effects and lasting therapeutic effects is an important finding, urging further investigation into the mechanism underlying the clinical effects of select 5-HT2A receptor compounds in migraine, as well as other neuropsychiatric conditions. Clinicaltrials.gov: NCT03341689
Access options
Buy single article
Instant access to the full article PDF.
US$ 39.95
Tax calculation will be finalised during checkout.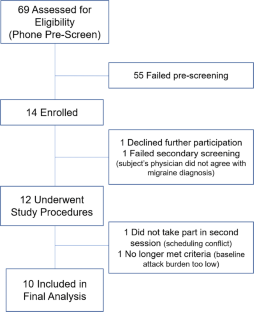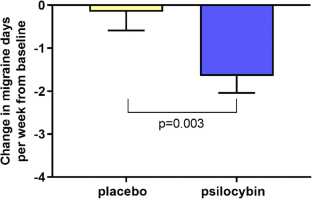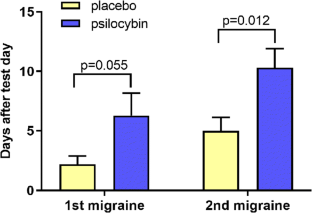 References
1.

Lipton RB, Stewart WF, Diamond S, Diamond ML, Reed M. Prevalence and burden of migraine in the United States: data from the American Migraine Study II. Headache. 2001;41(7):646-657.

2.

Burch R, Rizzoli P, Loder E. The Prevalence and Impact of Migraine and Severe Headache in the United States: Figures and Trends From Government Health Studies. Headache. 2018;58(4):496-505.

3.

GBD Disease and Injury Incidence and Prevalence Collaborators. Global, regional, and national incidence, prevalence, and years lived with disability for 328 diseases and injuries for 195 countries, 1990-2016: a systematic analysis for the Global Burden of Disease Study 2016. Lancet 2017;390(10100):1211-1259.

4.

Hepp Z, Dodick DW, Varon SF, Gillard P, Hansen RN, Devine EB. Adherence to oral migraine-preventive medications among patients with chronic migraine. Cephalalgia 2015;35(6):478-488.

5.

Sewell RA, Gottschalk CH. Problem child is no headache. Headache. 2011;51(2):306; author reply -7.

6.

Andersson M, Persson M, Kjellgren A. Psychoactive substances as a last resort-a qualitative study of self-treatment of migraine and cluster headaches. Harm Reduct J 2017;14(1):60.

7.

Sicuteri F. Prophylactic Treatment of Migraine by Means of Lysergic Acid Derivatives. Triangle 1963;6:116-125.

8.

Schindler EA, Gottschalk CH, Weil MJ, Shapiro RE, Wright DA, Sewell RA. Indoleamine Hallucinogens in Cluster Headache: Results of the Clusterbusters Medication Use Survey. J Psychoactive Drugs 2015;47(5):372-381.

9.

Sewell RA, Halpern JH, Pope HG, Jr. Response of cluster headache to psilocybin and LSD. Neurology. 2006;66(12):1920-1922.

10.

Johnson S, Black QC. Can Psychedelics Alleviate Symptoms of Cluster Headache and Accompanying Mental Health Problems? A Case Report Involving Hawaiian Baby Woodrose. J Psychoactive Drugs 2020;52(4):319-323.

11.

Griffiths RR, Johnson MW, Carducci MA, Umbricht A, Richards WA, Richards BD, et al. Psilocybin produces substantial and sustained decreases in depression and anxiety in patients with life-threatening cancer: A randomized double-blind trial. J Psychopharmacol 2016;30(12):1181-1197.

12.

Carhart-Harris RL, Bolstridge M, Day CMJ, Rucker J, Watts R, Erritzoe DE, et al. Psilocybin with psychological support for treatment-resistant depression: six-month follow-up. Psychopharmacology. 2018;235(2):399-408.

13.

Gasser P, Kirchner K, Passie T. LSD-assisted psychotherapy for anxiety associated with a life-threatening disease: a qualitative study of acute and sustained subjective effects. J Psychopharmacol 2015;29(1):57-68.

14.

Grob CS, Danforth AL, Chopra GS, Hagerty M, McKay CR, Halberstadt AL, et al. Pilot study of psilocybin treatment for anxiety in patients with advanced-stage cancer. Arch Gen Psychiatry 2011;68(1):71-78.

15.

Johnson MW, Garcia-Romeu A, Griffiths RR. Long-term follow-up of psilocybin-facilitated smoking cessation. Am J Drug Alcohol Abuse 2017;43(1):55-60.

16.

Bogenschutz MP, Forcehimes AA, Pommy JA, Wilcox CE, Barbosa PC, Strassman RJ. Psilocybin-assisted treatment for alcohol dependence: a proof-of-concept study. J Psychopharmacol 2015;29(3):289-299.

17.

Garcia-Romeu A, Griffiths RR, Johnson MW. Psilocybin-occasioned mystical experiences in the treatment of tobacco addiction. Curr Drug Abuse Rev 2014;7(3):157-164.

18.

Shirota O, Hakamata W, Goda Y. Concise large-scale synthesis of psilocin and psilocybin, principal hallucinogenic constituents of "Magic Mushroom". J Nat Prod 2003;66(6):885-887.

19.

Headache Classification Committee of the International Headache S. The International Classification of Headache Disorders, 3rd edition (beta version). Cephalalgia 2013;33(9):629-808.

20.

World Medical Association Declaration of Helsinki: ethical principles for medical research involving human subjects. JAMA 2000;284(23):3043-3045.

21.

Studerus E, Kometer M, Hasler F, Vollenweider FX. Acute, subacute and long-term subjective effects of psilocybin in healthy humans: a pooled analysis of experimental studies. J Psychopharmacol 2011;25(11):1434-1452.

22.

Hasler F, Grimberg U, Benz MA, Huber T, Vollenweider FX. Acute psychological and physiological effects of psilocybin in healthy humans: a double-blind, placebo-controlled dose-effect study. Psychopharmacology. 2004;172(2):145-156.

23.

Johnson MW, Sewell RA, Griffiths RR. Psilocybin dose-dependently causes delayed, transient headaches in healthy volunteers. Drug Alcohol Depend 2012;123(1-3):132-140.

24.

Sanches RF, de Lima Osorio F, Dos Santos RG, Macedo LR, Maia-de-Oliveira JP, Wichert-Ana L, et al. Antidepressant Effects of a Single Dose of Ayahuasca in Patients With Recurrent Depression: A SPECT Study. J Clin Psychopharmacol 2016;36(1):77-81.

25.

Krebs TS, Johansen PO. Lysergic acid diethylamide (LSD) for alcoholism: meta-analysis of randomized controlled trials. J Psychopharmacol 2012;26(7):994-1002.

26.

Bogenschutz MP, Podrebarac SK, Duane JH, Amegadzie SS, Malone TC, Owens LT, et al. Clinical Interpretations of Patient Experience in a Trial of Psilocybin-Assisted Psychotherapy for Alcohol Use Disorder. Front Pharmacol 2018;9:100.

27.

Nagy AJ, Gandhi S, Bhola R, Goadsby PJ. Intravenous dihydroergotamine for inpatient management of refractory primary headaches. Neurology. 2011;77(20):1827-1832.

28.

Silberstein SD, McCrory DC. Ergotamine and dihydroergotamine: history, pharmacology, and efficacy. Headache. 2003;43(2):144-166.

29.

Karst M, Halpern JH, Bernateck M, Passie T. The non-hallucinogen 2-bromo-lysergic acid diethylamide as preventative treatment for cluster headache: an open, non-randomized case series. Cephalalgia 2010;30(9):1140-1144.

30.

Szabo A. Psychedelics and Immunomodulation: Novel Approaches and Therapeutic Opportunities. Front Immunol 2015;6:358.

31.

Anderson TR, Andrew RD. Spreading depression: imaging and blockade in the rat neocortical brain slice. J Neurophysiol 2002;88(5):2713-2725.

32.

Kwon YB, Jeong YC, Kwon JK, Son JS, Kim KW. The Antinociceptive Effect of Sigma-1 Receptor Antagonist, BD1047, in a Capsaicin Induced Headache Model in Rats. Korean J Physiol Pharmacol 2009;13(6):425-429.

33.

Conti P, D'Ovidio C, Conti C, Gallenga CE, Lauritano D, Caraffa A, et al. Progression in migraine: Role of mast cells and pro-inflammatory and anti-inflammatory cytokines. Eur J Pharmacol 2019;844:87-94.

34.

Goadsby PJ, Wietecha LA, Dennehy EB, Kuca B, Case MG, Aurora SK, et al. Phase 3 randomized, placebo-controlled, double-blind study of lasmiditan for acute treatment of migraine. Brain J Neurol 2019;142(7):1894-1904.

35.

Li W, Diao X, Chen C, Li C, Zhang Y, Li Y. Changes in hormones of the hypothalamic-pituitary-gonadal axis in migraine patients. J Clin Neurosci 2018;50:165-171.

36.

Schindler EAD, Wallace RM, Sloshower JA, D'Souza DC. Neuroendocrine Associations Underlying the Persistent Therapeutic Effects of Classic Serotonergic Psychedelics. Front Pharmacol 2018;9:177.

37.

Kuypers KPC. Psychedelic medicine: The biology underlying the persisting psychedelic effects. Med Hypotheses 2019;125:21-24.

38.

Johnson M, Richards W, Griffiths R. Human hallucinogen research: guidelines for safety. J Psychopharmacol 2008;22(6):603-620.
Acknowledgments
We thank CH-TAC, LLC, and the Schizophrenia Neuropharmacology Research Group at Yale (SNRGY) for their support of this project. This study was conducted with assistance from VACHS. Any opinions, findings, and conclusions or recommendations expressed in this material are those of the authors and do not necessarily reflect the views of the Department of Veterans Affairs. The nurses of the NSU where this study was conducted, Ms. Angelina Genovese, Elizabeth O'Donnell, and Margaret Dion-Marovitz, as well as Rachel Galvan, PharmD, of the VACHS Investigational Research Pharmacy, are thanked for their excellent support. A vital force in the foundation of this research was the late Dr. Sewell, who was tragically lost to us in 2013 and whom we honor with the publication of this work.
Required Author Forms
Disclosure forms provided by the authors are available with the online version of this article.
Ethics declarations
This exploratory study was registered on clinicaltrials.gov (NCT03341689) and received approvals from the Human Studies Subcommittee of Veterans Affairs Connecticut Healthcare System (VACHS) and the Human Investigations Committee of Yale University. In compliance with the Helsinki Declaration of 1975, as revised in 2000 [20], informed consent was obtained from every subject who participated in the study.
Additional information
Publisher's Note
Springer Nature remains neutral with regard to jurisdictional claims in published maps and institutional affiliations.
R. Andrew Sewell, posthumous (RAS passed away in 2013)
About this article
Cite this article
Schindler, E.A.D., Sewell, R.A., Gottschalk, C.H. et al. Exploratory Controlled Study of the Migraine-Suppressing Effects of Psilocybin. Neurotherapeutics 18, 534–543 (2021). https://doi.org/10.1007/s13311-020-00962-y
Accepted:

Published:

Issue Date:
Key Words
Migraine

headache

preventive treatment

psilocybin

psychedelics