Tumor Vaccines for Malignant Gliomas
Abstract
Despite continued research efforts, glioblastoma multiforme (GBM) remains the deadliest brain tumor. Immunotherapy offers a novel way to treat this disease, the genetic signature of which is not completely elucidated. Additionally, these tumors are known to induce immunosuppression in the surrounding tumor microenvironment via an array of mechanisms, making effective treatment all the more difficult. The immunotherapeutic strategy of using tumor vaccines offers a way to harness the activity of the host immune system to potentially control tumor progression. GBM vaccines can react to a variety of tumor-specific antigens, which can be harvested from the patient's unique pathological condition using selected immunotherapy techniques. This article reviews the rationale behind and development of GBM vaccines, the relevant clinical trials, and the challenges involved in this treatment strategy.
Keywords
Glioma 
Glioblastoma 
Tumor vaccine 
Rindopepimut 
Dendritic cells 
Introduction
Glioblastoma multiforme (GBM) is the most common and aggressive primary brain tumor in adults and is notoriously resistant to conventional therapies. Despite aggressive surgery, concurrent radiotherapy and chemotherapy, the median survival time of the 15,000 patients diagnosed each year is only 14.6 months [1]. The difficulty in treatment is centered in the genetic heterogeneity within the tumor itself, heterogeneity among patients, tumor-induced immunosuppression, limited therapeutic penetration of the blood–brain barrier, and inevitable tumor recurrence. Despite these numerous challenges, progress has been made in the development of GBM therapy, especially in the realm of immunotherapy, and several agents have progressed to clinical trials with varying levels of success. The aim of this review is to discuss the vaccine strategies currently under clinical investigation for the treatment of GBM and to consider the challenges facing this therapeutic approach in the setting of this complex disease.
The term immunotherapy is used to describe a spectrum of therapeutic strategies that use the host's immune system to selectively destroy malignant cells. Passive immunotherapy entails the delivery of monoclonal antibodies directed against specific tumor-associated antigens (TAA) in order to elicit antibody-dependent tumor cell toxicity [2]. Another form of passive immunotherapy is adoptive cell transfer therapy, which consists of the ex vivo culture of effector immune cells followed by their subsequent transfer to the patient. In contrast, active immunotherapy relies upon the body's own immune response and involves vaccination with a tumor-specific antigen in order to activate a host immune response. Vaccination generates tumor-specific effector T cells and, ideally, confers T-cell immunity, which may control tumor recurrence [3, 4].
Vaccines are categorized based on the way antigens are presented to the immune system. With non-cell-based vaccines, patients are directly inoculated with the specific tumor antigen of choice, which, in turn, is presented to host antigen-presenting cells (APCs) to trigger an immune response. Cell-based vaccines consist of APCs [e.g., dendritic cells (DCs)] that are primed with tumor antigens
ex vivo
and reintroduced to the host via vaccination, resulting in antigen presentation and amplification of tumor-specific T-cell responses (Fig. 
1
).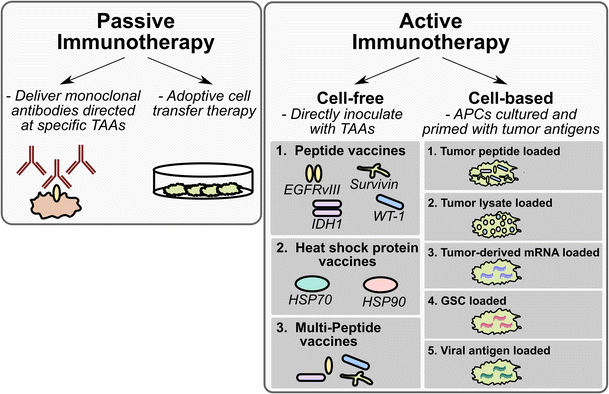 Non-Cell-Based Vaccination
Peptide Vaccines
Peptide vaccines are constructed from peptides 8 to 25 amino acids long that encompass an epitope within an antigenic target, in order to elicit an immune response against neoplastic cells harboring mutant proteins [5]. These peptides are typically linked with carrier proteins to enhance immunogenicity (e.g., tetanus toxoid or keyhole limpet hemocyanin [KLH]) [6, 7]. Additionally, they are often administered with immune-stimulating agents such as Toll-like receptor (TLR) agonists (e.g., lipopolysaccharide) or cytokines [e.g., granulocyte macrophage colony-stimulating factor (GM-CSF), interleukin (IL)-2] to enhance the immune response [8, 9]. Gliomagenesis is associated with aberrant production of several TAAs, which can potentially be used for the development of peptide vaccines. However, the challenge lies in identifying antigens that are tumor specific, homogenously expressed, and sufficiently immunogenic [10]. Of the numerous potential GBM antigenic targets, only a few have met these criteria.
Multipeptide Vaccines
In terms of practicality, peptide vaccines offer several benefits, including ease of manufacturing in mass production, straightforward administration (e.g., intradermal), and limited intervaccine variability [51]. One limitation of several of the peptide vaccines (but not the EGFRvIII peptide) is that they are restricted to the HLA-A 02 haplotype; however, patients with GBM present with a variety of haplotypes, restricting the generalizability of this therapy [52]. One of the reasons a 14-mer was selected for the EGFRvIII peptide vaccine was to allow some degree of antigen processing for presentation in a variety of major histocompatibility complex (MHC) interactions [11]. A second limitation is that only a small subset of patients with GBM will ultimately benefit from targeting a single tumor antigen. Lastly, the primary disadvantage of peptide vaccines, particularly single peptides, is the heterogeneity of antigen expression in GBM [20]. Vaccines targeting a single antigen can lead to the development by the tumor of antigenic loss escape variant cells. This phenomenon was demonstrated in the EGFRvIII vaccine trials when tumor recurred post-CDX-110 vaccination, with 82% of cases demonstrating loss of the target antigen (EGFRvIII) [5]. This indicates that recurrence postvaccination requires an alternate treatment or a combination therapy.
In order to circumvent these issues, multipeptide vaccines that target a variety of tumor antigens have been developed. To identify potentially immunogenic tumor antigens, peptides were eluted from the HLA complex on GBM cells. Using liquid chromatography–mass spectrometry, 3000 peptides were identified, from which a panel was selected based on high tumor but low or absent expression in normal tissues [53]. A subsequent 11-peptide panel designated IMA950 encompasses the following proteins: brevican; chondroitin sulfate proteoglycan 4; fatty acid binding protein 7, brain; insulin-like growth factor 2 mRNA binding protein 3; neuroligin 4, X-linked; neuronal cell adhesion molecule; protein tyrosine phosphatase, receptor-type, Z polypeptide 1; tenascin C; Met proto-oncogene; baculoviral inhibitor of apoptosis protein repeat-containing 5; and hepatitis B virus core antigen. The first phase I/II trial of IMA950 (plus GM-CSF) was completed in 45 patients with newly diagnosed GBM who underwent surgical resection followed by standard therapy. The authors reported a PFS of 74% at 6 months and 31% at 9 months (NCT01222221) [54]. A second phase I study of IMA-950 in combination with cyclophosphamide, GM-CSF, and imiquimod at the National Cancer Institute was terminated secondary to poor accrual (NCT01403285). Additionally, there is a phase I/II trial testing the use of this vaccine in combination with polyinosinic-polycytidylic acid stabilized by lysine and carboxymethylcellulose, a potent vaccine adjuvant shown to promote T-cell differentiation in glioma [55]; however, no results have been posted yet (NCT01920191). IMA950 in combination with polyinosinic-polycytidylic acid stabilized by lysine and carboxymethylcellulose and anti-CD27 is now to be evaluated in patients with low-grade gliomas at University of California, San Francisco (NCT02924038). Of note, it is is also unclear whether the degree of clonotypic T-cell expansion using these types of peptides and adjuvant approaches is sufficient for tumor eradication. SL701 is another recently developed multipeptide vaccine currently being evaluated in clinical trials (NCT07078648). SL-701 consists of 3 peptides corresponding to targets overexpressed in glioma: a highly immunogenic mutant to target survivin, IL-13 receptor α-2, and ephrin A2. Results of this trial are pending.
An alternative approach has been to generate personalized peptide vaccines based on the antigenic profile of individual tumors. One strategy has been to prepare a vaccine from patients' surgically removed tumor tissue along with pooled allogenic antigens from other resected tumors. ERC-1671 (Gliovac) is a multiple peptide vaccine composed of GBM tumor lysates, autologous tumor cells from the patient (generated from resected tumor), and tumor cells from 3 different GBM donors. This vaccine construction is directed to maximize patient exposure to a heterogeneous set of GBM tumor antigens. With exposure to a larger panel of allogeneic and autologous tumor associated antigens, ideally the chance of immune escape by the tumor is decreased. ERC-1671 has shown promising results in clinical evaluation [56, 57]. Administration of ERC 1671 in 9 patients with recurrent GBM, receiving standard chemoradiation and bevacizumab, resulted in increased survival times compared with controls. Specifically, 6-month survival for the patients on Gliovac was 100% versus 33% in the historical control group [57]. Based on these results, a phase II trial is underway to evaluate the safety and clinical efficacy of ERC1671 (in combination with GM-CSF and cyclophosphamide) plus bevacizumab among patients with recurrent GBM (NCT01903330).
Given the efforts of The Cancer Genome Atlas and the increasing widespread availability of both academic and commercial next-generation sequencing, new antigens may be identified or immunotherapies may be better tailored to specific patients. However, one does need to bear in mind that a genetic alteration does not necessarily give rise to an aberrant protein, and even if there is a resulting antigen it does not necessarily mean it is immunogenic or that it can induce sufficient numbers of clonotypic T cells to mediate tumor clearance. The avidity of an antigen influences the clonal dominance of the effector T-cell population [58], and most tumor antigens are unable to generate sufficient antitumor reactivity in physiological effector to target ratios to exert a therapeutic effect [59].
Certainly, peptide vaccines could be considered in combination with immune checkpoint inhibitors. Although this has obvious theoretical appeal, it may prove challenging to implement. For example, although 30% of GBMs have EGFRvIII target expression for rindopepimut/CDX-110 [16], only 6% also have programmed death 1 (PD-1)+ T cells presents within the tumor and 1% have PD ligand 1 (PD-L1) co-expression [60]. Granted, PD-1+ T cells and/or PD-L1 expression may only be enrichment biomarkers for response to immune checkpoint inhibitors and patients can respond in the absence of these biomarkers [61, 62, 63]; nonetheless, these data suggest that this type of combination may only benefit a small minority of patients. High tumor mutational loads have been found to correlate with responses to immune checkpoint inhibitors in other cancers [64, 65, 66, 67, 68], but these levels (12 mutations per megabase) are only seen in < 10% of patients with glioblastoma [69]. Finally, no one has demonstrated that the mechanism of peptide vaccine failure is related to enhanced immune checkpoint expression rather than antigen loss.
Heat Shock Protein Vaccines
Heat shock proteins (HSPs) are chaperone proteins that play an important role in the cellular stress response by preventing protein aggregation and guiding the degradation of misfolded proteins [70]. Certain subsets of HSPs, including HSP70 and HSP90, have been shown to bind tumor antigens in GBM and to simulate both innate and adaptive responses [71]. The HSP–antigen complex undergoes receptor-mediated uptake via CD91 expressed on the APCs. Upon internalization, the complex is processed via proteasomes for loading onto MHC class I molecules for presentation to CD8 cytotoxic T cells. Furthermore, HSP–antigen complexes also bind to macrophages via various receptors (i.e., CD36, CD91, CD40, CD14, TLR2, and TLR4) and stimulate the production of proinflammatory cytokines [72]. HSP vaccination entails purification of HSPs from a patient's resected tumor and subsequent re-administration to the patient in order for HSPs to interact with host APCs and prime effector cells with antigenic peptides [72]. HSPs facilitate the presentation of antigenic peptides to circulating APCs, and an immune response is subsequently elicited when APCs bind to HSPs, endocytose their chaperone proteins, and present these antigenic peptides for targeting T-cell-mediated cytotoxic destruction [73, 74, 75].
The majority of HSP vaccine trials have used HSP–peptide complex-96 (HSPPC-96), comprising antigenic peptides chaperoned by HSP glycoprotein-96 [76, 77]. In a phase I trial consisting of 12 patients with recurrent GBM, treatment with HSP vaccine showed no significant toxicities and demonstrated a tumor-specific immune response in 11 of 12 patients (observed both in the tumor microenvironment and peripheral blood) [78]. In a subsequent single-armed, nonrandomized phase II trial, after surgical resection, 41 patients with recurrent GBM received a dose of HSPPC-96 every week for 4 weeks. Median PFS and overall survival were 19.1 and 42.6 weeks, respectively [79]. A phase II trial of HSPPC-96 in patients with newly diagnosed GBM undergoing standard therapy with chemoradiation has recently been completed and is pending publication (NCT00905060). Additionally, another randomized phase II trial combining HSPPC-96 and bevacizumab in patients with recurrent GBM is also actively recruiting, with an estimated enrollment of 222 patients (NCT01814813).
This treatment strategy is strengthened by its ability to present various types of potentially antigenic proteins during vaccination. HSP vaccines are also potentially capable of stimulating both the innate and adaptive immune system responses through multiple mechanisms. In addition to cytotoxic T cells, HSPs induce macrophages to secrete proinflammatory cytokines, such as tumor necrosis factor-α, GM-CSF, and IL-12, and so on. IL-12 subsequently activates cytotoxic activity in lymphocytes and natural killer cells. HSP complexes are also able to increase production and secretion of nitric oxide in DCs and macrophages. Lastly, HSPs induce immature DCs to undergo maturation [80, 81], which may contribute to a more robust immune response postvaccination. It should be noted that HSP vaccines are limited in that a significant amount of tissue is required to generate the vaccine [72]. This criterion restricts the eligibility of the vaccine to patients undergoing a substantial resection and essentially excludes those simply receiving a stereotactic biopsy. Additionally, the basis for HSP vaccination is subject to criticism because its efficacy has not been substantially validated in preclinical glioma studies, and it has shown limited therapeutic benefit in multiple randomized phase III clinical trials for other advanced malignancies [82, 83].
Cell-Based Vaccination
DC Vaccines
DCs are professional APCs and are the most powerful activators of the cell-mediated immune response. DCs present antigens to naïve T cells after phagocytosis, processing, and presentation in the context of the MHC, triggering antigen-specific CD8
+
and CD4
+
lymphocyte responses. In addition to this, T-cell functionality is augmented by activated DC secretion of proinflammatory cytokines [
84
]. Because of these capabilities, DCs are ideal for vaccine development. In vaccine preparation, DCs are extracted from the patient, cultured
ex vivo
, and loaded with TAAs. These primed DCs are subsequently reintroduced into the patient to facilitate antigen-specific T-cell activation (Fig. 
2
).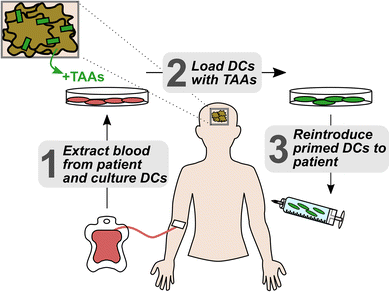 DC vaccines have been studied in GBM [85, 86, 87]. Successful preclinical studies and small clinical studies have generated interest in identifying the optimal molecules to load onto DCs to generate the most robust and tumor-specific response. Although the process of constructing DC vaccines is considerably more laborious than that of peptide vaccines, its greatest advantage lies in its flexibility of being able to provide the DCs with a wide range of stimuli, including peptides, tumor lysates, and cancer stem cells, all of which are tailored to the individual make-up of the tumor.
Conclusion
Tumor vaccines allow the immune system to be directed to a tumor target and, in an appropriate context, could induce a long-term immune response. There are currently multiple clinical trials exploring this treatment platform (Table
1
). Based on the cumulative experience thus far with tumor vaccines, future studies should focus ideally on combining vaccination therapy with conventional therapy, combining vaccines targeting different antigens and potentially other forms of immunotherapies (e.g., checkpoint inhibition, adoptive transfer therapy). Combination therapy may decrease the potential for tumor immunoresistance and escape. Additionally, a more precise understanding of the timing of immunotherapy treatment, along with standardization of vaccination protocols, adjuvants, and methods to monitor patient immune responses are needed. Moreover, the issue of frequent concurrent steroid use in this patient population will also need to be addressed because steroid treatment, which is often needed to reduce intracranial pressure and symptomatology, may undermine the desired immune response [
93
]. The impact of tumor factors on the efficacy of vaccine therapy is also not fully elucidated—especially for low-grade gliomas. Specifically, this includes factors such as tumor site, extent of resection, primary
versus
secondary GBM, and recurrent disease versus initial treatment [
75
]. Overall, vaccine therapy is a treatment strategy with potential but which still requires further optimization.
Table 1
Summary of currently active, clinical trials for glioblastoma multiforme (GBM) vaccine therapy
Trial

Phase

Participants

Treatment

Comment

NCT02010606

I

New and recurrent GBM

DCs pulsed with lysate derived from allogenic GBM stem-like cells + TMZ

• Recruiting

• Optional bevacizumab for patients previously treated with bevacizumab

• Estimated enrollment of 40

NCT02287428

I

Newly diagnosed GBM, MGMT unmethylated

Personalized neoantigen vaccine (NeoVax)

• Recruiting

• Estimated enrollment of 20

NCT01957956

I

Newly diagnosed GBM

Autologous DCs pulsed with tumor lysate + TMZ

• Recruiting

• Estimated enrollment of 25

NCT01808820

I

Recurrent high grade glioma (III/IV)

Autologous DCs + tumor lysate boost + topical imiquimod

• Recruiting

• Postvaccine therapy, tumor lysate boost administered intradermally

• Estimated enrollment of 20

NCT02510950

I

Newly diagnosed GBM

Personalized poly-ICLC peptide vaccine + TMZ

• Recruiting

• Estimated enrollment of 10

NCT02718443

I

Recurrent GBM

VEGFR-2 DNA vaccine VXM01

• Recruiting

• Estimated enrollment of 16

NCT02529072

(AVERT)

I

Recurrent grade III/IV glioma

Autologous DCs loaded with CMV mRNA (pp65-LAMP) + nivolumab

• Recruiting

• Randomized

• Nivolumab pre- and postresection

• Estimated enrollment of 66

NCT02722512

I

Pediatric new/recurrent high-grade gliomas or ependymomas

HSPPC-96

• Recruiting

• Estimated enrollment of 20

NCT02820584

(DENDR-STEM)

I

Recurrent GBM

Autologous DCs loaded with GSCs

• Not yet recruiting

• Estimated enrollment of 20

NCT01967758

I

Recurrent or treated WHO grade III/IV astrocytomas

ADU-623

• Recruiting

• 3 cohorts : escalating vaccine doses

• Each dose followed by antibiotic course

• Estimated enrollment of 38

NCT02454634

I

IDH1R132H-mutated, WHO grade III/IV gliomas

IDH1 peptide vaccine + topical imiquimod

• Recruiting

• Estimated enrollment of 39

NCT02709616

(PERCELLVAC)

I/II

Newly diagnosed GBM

Personalized cellular vaccine

• Recruiting

• Single arm

• Patients preconditioned (Td or imiquimod)

• Estimated enrollment of 20

NCT02808364

(PERCELLVAC2)

I/II

Recurrent GBM

Personalized cellular vaccine

• Recruiting

• 12 vaccines, consisting of autologous tumor cells, DCs, or PBMCs

• Estimated enrollment of 30

NCT02649582

(ADDIT-GLIO)

I/II

Newly diagnosed GBM

Autologous WT1 mRNA-loaded DCs + TMZ

• Recruiting

• Single arm

• Estimated enrollment of 20

NCT01567202

II

Diagnosed GBM

Autologous DCs loaded with GSC antigens + TMZ

• Recruiting

• Randomized, double blinded

• Placebo controlled: saline

• Estimated enrollment of 100

NCT01814813

II

Recurrent GBM

HSPPC-96 + bevacizumab

• Active, not recruiting

• Randomized, nonblinded

• 3 experimental arms: concomitant bevacizumab; bevacizumab at progression; bevacizumab alone

• Estimated enrollment of 90

NCT02455557

II

Survivin-positive newly diagnosed GBM

SurVaxM peptide vaccine + sargramostim + TMZ

• Recruiting

• Single arm

• Estimated enrollment of 50

NCT03014804

II

Recurrent GBM

Autologous DCs pulsed with tumor lysate antigen (DCVax-L) + nivolumab (anti-PD-1)

• Not yet recruiting

• Randomized

• 2 experimental arms: DCVax-L alone versus DCVax-L + nivolumab

• Estimated enrollment of 30

NCT02465268

(ATTAC-II)

II

Newly diagnosed GBM

Autologous DCs loaded with CMV mRNA (pp65-shLAMP) + GM-CSF + Td + TMZ

• Recruiting

• Randomized, single-blinded

• Placebo controlled: unpulsed PBMCs and saline

• Estimated enrollment of 150

NCT02366728

(ELEVATE)

II

Newly diagnosed GBM

Autologous DCs pulsed with CMV mRNA (pp65-LAMP) + TMZ (with/without preconditioning with Td or Td + basiliximab)

• Recruiting

• Randomized, double blinded

• Placebo controlled: unpulsed DCs

• Estimated enrollment of 116

NCT02754362

II

Recurrent GBM

Multiantigen peptide vaccine + bevacizumab + poly-ICLC adjuvant

• Not yet recruiting

• Non-randomized

• Estimated enrollment of 6

NCT03018288

II

Newly diagnosed GBM

HSPPC-96 + TMZ + Pembrolizumab

• Not yet recruiting

• Randomized

• Placebo controlled

• Estimated enrollment of 108
Notes
Acknowledgments
We thank David M. Wildrick, PhD, for editorial assistance.
Required Author Forms
Disclosure forms provided by the authors are available with the online version of this article.
Copyright information
© The American Society for Experimental NeuroTherapeutics, Inc. 2017