Abstract
Postoperative pulmonary complications (PPCs) are the most common complications following minimally invasive esophagectomy (MIE) and can be associated with adverse outcomes. This study aims to construct a nomogram based on clinical factors to predict PPCs and investigate related early outcomes. Clinical data of 969 consecutive patients receiving MIE were retrospectively collected. Univariate and multivariate analysis were performed to select independent predictors. Using independent predictors to develop a nomogram and using a bootstrap-resampling approach to conduct internal verification. Early outcomes of PPCs were analyzed. The incidence of PPCs following MIE was 39.6% (384 out of 969). In multivariate analysis, older age (Odds ratio (OR) 1.034, P < 0.001), higher body mass index (OR 0.993, P = 0.003), heavy smoking (OR 1.396, P = 0.027), FEV1/FVC < 105% (OR 1.958, P < 0.001), chemoradiotherapy (OR 0.653, P = 0.039), estimated blood loss ≥ 400 mL (OR 2.582, P = 0.018), general anesthesia (vs Combined thoracic paravertebral blockade, OR 1.578, P = 0.014), operative time ≥ 240 min (OR 1.388, P = 0.027), squamous cell carcinoma (OR 2.099, P = 0.036) and conversion to thoracotomy (OR 2.820, P = 0.026) were independent predictors for PPCs. These ten independent predictors were used to develop a nomogram, with concordance index (C index) value of 0.662 and good calibration. After internal validation, similarly good calibration and discrimination (C index, 0.654; 95% CI 0.614–0.690) were observed. Patients developing PPCs had higher rates of anastomotic leakage, reoperation, ICU and 30-day readmissions, and prolonged ICU and hospital stays (P < 0.05). Our study identified ten predictors for PPCs, which were associated with poor early outcomes. The proposed nomogram can be a useful tool to identify patients at high risk of PPCs after MIE.
Access options
Buy single article
Instant access to the full article PDF.
USD 39.95
Price includes VAT (USA)
Tax calculation will be finalised during checkout.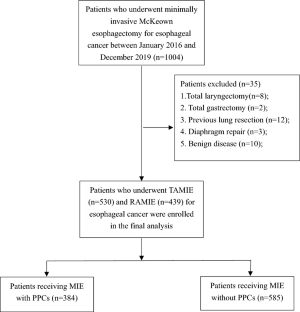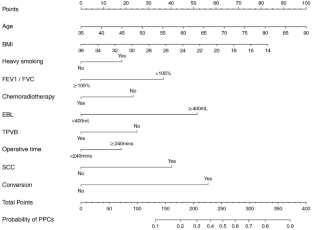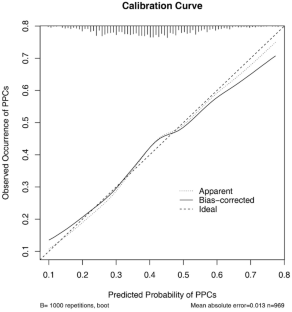 References
1.

Simard EP, Ward EM, Siegel R, Jemal A (2012) Cancers with increasing incidence trends in the United States: 1999 through 2008 (published correction appears in CA Cancer J Clin. 2012 ;62 (4):277). CA Cancer J Clin 62(2):118–128

2.

Sjoquist KM, Burmeister BH, Smithers BM et al (2011) Survival after neoadjuvant chemotherapy or chemoradiotherapy for resectable esophageal carcinoma: an updated meta-analysis. Lancet Oncol 12:681–692

3.

Lagergren J, Smyth E, Cunningham D, Lagergren P (2017) esophageal cancer. Lancet 390(10110):2383–2396

4.

Grimminger PP, Goense L, Gockel I et al (2018) Diagnosis, assessment, and management of surgical complications following esophagectomy. Ann NY Acad Sci 1434(1):254–273

5.

Xu QL, Li H, Zhu YJ, Xu G (2020) The treatments and postoperative complications of esophageal cancer: a review. J Cardiothorac Surg 15(1):163

6.

Mariette C, Dahan L, Mornex F et al (2014) Surgery alone versus chemoradiotherapy followed by surgery for stage I and II esophageal cancer: final analysis of randomized controlled phase III trial FFCD 9901. J Clin Oncol 32(23):2416–2422

7.

Bonavina L, Scolari F, Aiolfi A et al (2016) Early outcome of thoracoscopic and hybrid esophagectomy: propensity-matched comparative analysis. Surgery 159(4):1073–1081

8.

Sihag S, Wright CD, Wain JC et al (2012) Comparison of perioperative outcomes following open versus minimally invasive Ivor Lewis esophagectomy at a single, high-volume centre. Eur J Cardiothorac Surg 42(3):430–437

9.

Yamashita K, Makino T, Miyata H et al (2016) Postoperative infectious complications are associated with adverse oncologic outcomes in esophageal cancer patients undergoing preoperative chemotherapy. Ann Surg Oncol 23(6):2106–2114

10.

Nathan H, Yin H, Wong SL (2017) Postoperative complications and long-term survival after complex cancer resection. Ann Surg Oncol 24(3):638–644

11.

Andalib A, Ramana-Kumar AV, Bartlett G et al (2013) Influence of postoperative infectious complications on long-term survival of lung cancer patients: a population-based cohort study. J Thorac Oncol 8(5):554–561

12.

Peng JS, Kukar M, Mann GN, Hochwald SN (2019) Minimally invasive esophageal cancer surgery. Surg Oncol Clin N Am 28(2):177–200

13.

Nagpal K, Ahmed K, Vats A et al (2010) Is minimally invasive surgery beneficial in the management of esophageal cancer? A meta-analysis. Surg Endosc 24:1621–1629

14.

Biere SS, van Berge Henegouwen MI, Maas KW et al (2012) Minimally invasive versus open oesophagectomy for patients with oesophageal cancer: a multicentre, open-label, randomised controlled trial. Lancet 379:1887–1892

15.

Luketich JD, Pennathur A, Awais O et al (2012) Outcomes after minimally invasive esophagectomy: review of over 1000 patients. Ann Surg 256:95–103

16.

Straatman J, Van der Wielen N, Cuesta MA et al (2017) Minimally invasive versus open esophageal resection: three-year follow-up of the previously reported randomized controlled trial: the TIME trial. Ann Surg 266:232–236

17.

Ohi M, Toiyama Y, Omura Y et al (2019) Risk factors and measures of pulmonary complications after thoracoscopic esophagectomy for esophageal cancer. Surg Today 49(2):176–186

18.

Uchihara T, Yoshida N, Baba Y et al (2018) Risk factors for pulmonary morbidities after minimally invasive esophagectomy for esophageal cancer. Surg Endosc 32(6):2852–2858

19.

Jammer I, Wickboldt N, Sander M et al (2015) Standards for definitions and use of outcome measures for clinical effectiveness research in perioperative medicine: European perioperative clinical outcome (EPCO) definitions: a statement from the ESA-ESICM joint taskforce on perioperative outcome measures. Eur J Anaesthesiol 32:88–105

20.

Zhang XJ, Sun JG, Sun J, Ming H, Wang XX, Wu L, Chen ZT (2012) Prediction of radiation pneumonitis in lung cancer patients: a systematic review. J Cancer Res Clin Oncol 138(12):2103–2116

21.

Wightman SC, Posner MC, Patti MG et al (2017) Extremes of body mass index and postoperative complications after esophagectomy. Dis Esophagus 30(5):1–6

22.

Ertilav M, Levin WN, Celtik A et al (2019) Impact of body mass index on short-term and long-term survival in prevalent hemodialysis patients. Hemodial Int 23(3):375–383

23.

Molena D, Mungo B, Stem M, Lidor AO (2014) Incidence and risk factors for respiratory complications in patients undergoing esophagectomy for malignancy: a NSQIP analysis. Semin Thorac Cardiovasc Surg 26(4):287–294

24.

Law S, Wong KH, Kwok KF, Chu KM, Wong J (2004) Predictive factors for postoperative pulmonary complications and mortality after esophagectomy for cancer. Ann Surg 240(5):791–800

25.

Goense L, Meziani J, Bülbül M, Braithwaite SA, van Hillegersberg R, Ruurda JP (2019) Pulmonary diffusion capacity predicts major complications after esophagectomy for patients with esophageal cancer. Dis Esophagus. https://doi.org/10.1093/dote/doy082

26.

Grotenhuis BA, van Hagen P, Reitsma JB, Lagarde SM, Wijnhoven BP, van Berge Henegouwen MI, Tilanus HW, van Lanschot JJ (2010) Validation of a nomogram predicting complications after esophagectomy for cancer. Ann Thorac Surg 90(3):920–925

27.

Billmeier SE, Jaklitsch MT (2011) Pulmonary surgery for malignant disease in the elderly. In: Rosenthal RA, Zenilman ME, Katlic MR (eds) Principles and practice of geriatric surgery, 2nd edn. Springer, New York, pp 605–616

28.

Nishigori T, Okabe H, Tanaka E et al (2016) Sarcopenia as a predictor of pulmonary complications after esophagectomy for thoracic esophageal cancer. J Surg Oncol 113(6):678–684

29.

Wagner D, DeMarco MM, Amini N, Buttner S, Segev D, Gani F, Pawlik TM (2016) Role of frailty and sarcopenia in predicting outcomes among patients undergoing gastrointestinal surgery. World J Gastrointest Surg 8:27–40

30.

Wilke TJ, Bhirud AR, Lin C (2015) A review of the impact of preoperative chemoradiotherapy on outcome and postoperative complications in esophageal cancer patients. Am J Clin Oncol 38(4):415–421

31.

Morita M, Yoshida R, Ikeda K et al (2008) Advances in esophageal cancer surgery in Japan: an analysis of 1000 consecutive patients treated at a single institute. Surgery 143:499–508

32.

Doty JR, Salazar JD, Forastiere AA et al (2002) Postesophagectomy morbidity, mortality, and length of hospital stay after preoperative chemoradiation therapy. Ann Thorac Surg 74:227–231 (discussion 231)

33.

Tong C, Li T, Huang C et al (2020) Risk factors and impact of conversion to thoracotomy from 20,565 cases of thoracoscopic lung surgery. Ann Thorac Surg 109(5):1522–1529

34.

Tong C, Zhu H, Li B, Wu J, Xu M (2019) Impact of paravertebral blockade use in geriatric patients undergoing thoracic surgery on postoperative adverse outcomes. J Thorac Dis 11(12):5169–5176
Acknowledgements
Our research team would like to thank Dr. Zhigang Li and Dr. Bin Li thoracic surgeons in Shanghai Chest Hospital, Shanghai, China, for their involvement and support.
Funding
This work was supported by National Natural Science Foundation of China (82071233).
Ethics declarations
Conflict of interest
All authors have no conflicts of interest to declare.
Ethics approval
This study was approved by the Institutional Review Board at Shanghai Chest Hospital (ChiCTR1900022257), and the informed consent was waived because of the retrospective nature of the study.
Additional information
Publisher's Note
Springer Nature remains neutral with regard to jurisdictional claims in published maps and institutional affiliations.
About this article
Cite this article
Tong, C., Liu, Y. & Wu, J. Development and validation of a novel nomogram for postoperative pulmonary complications following minimally invasive esophageal cancer surgery. Updates Surg (2021). https://doi.org/10.1007/s13304-021-01196-z
Received:

Accepted:

Published:
Keywords
Esophageal cancer

Minimally invasive esophagectomy

Postoperative pulmonary complications

Nomogram