Abstract
Several studies showed safety and feasibility of laparoscopic distal pancreatectomy (LDP) as compared to open distal pancreatectomy (ODP). Patients who underwent LDP or ODP (2015–2019) were included. A 1:1 propensity score matching (PSM) was used to reduce the effect of treatment selection bias. Aim of this study was to identify those factors influencing the loss of benefit (defined as a significantly better outcome compared to ODP) after LDP. Overall, 387 patients underwent DP (n = 250 LDP, n = 137 ODP). After PSM, 274 patients (n = 137 LDP, n = 137 ODP) were selected. LDP was associated with reduced intraoperative blood loss (median: 200 mL vs. 250 mL, p < 0.001), decreased wound infection rate (1% vs. 9%, p = 0.044) and shorter time to functional recovery (TFR) (median: 4 days vs. 5 days, p = 0.002). Consequently, TFR > 5 days and blood loss > 250 mL were defined as loss of benefit after LDP. In the LDP group, age > 70 years [Odds Ratio (OR) 2.744, p = 0.022] and duration of surgery > 208 min (OR 2.957, p = 0.019) were predictors of TFR > 5 days and intraoperative blood loss > 250 mL, respectively. No differences in terms of TFR were found between ODP and LDP groups in patients > 70 years (p = 0.102). Intraoperative blood loss was significantly higher in the ODP group, also when the analysis was limited to surgical procedures with operative time > 208 min (p = 0.003). In conclusion, LDP seems comparable to ODP in terms of TFR in patients aged > 70 years. This finding could be helpful in the choice of the best surgical approach in elderly patients undergoing potentially challenging DPs.
Access options
Buy single article
Instant access to the full article PDF.
USD 39.95
Price includes VAT (USA)
Tax calculation will be finalised during checkout.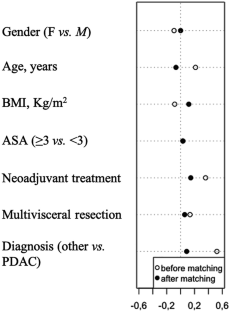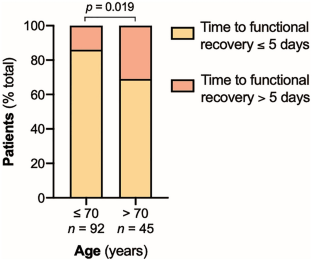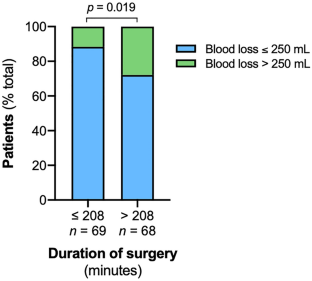 Data availability
All data generated or analyzed during this study are included in this published article and its online resource files.
Acknowledgements
The authors are grateful to Gioja Bianca Costanza Fund for supporting the PhD Scholarship of Dr Valentina Andreasi.
Funding
This research did not receive any specific grant from funding agencies in the public, commercial, or not-for-profit sectors.
Ethics declarations
Conflict of interest
The authors declare that they have no conflicts of interest or competing interests.
Ethical approval
Not applicable.
Informed consent
Not applicable.
Consent to participate
Not applicable.
Consent for publication
Not applicable.
Additional information
Publisher's Note
Springer Nature remains neutral with regard to jurisdictional claims in published maps and institutional affiliations.
Supplementary Information
Below is the link to the electronic supplementary material.
About this article
Cite this article
Partelli, S., Cinelli, L., Andreasi, V. et al. Evaluation of factors predicting loss of benefit provided by laparoscopic distal pancreatectomy compared to open approach. Updates Surg (2021). https://doi.org/10.1007/s13304-021-01194-1
Received:

Accepted:

Published:
Keywords
Laparoscopy

Distal pancreatectomy

Outcomes

Blood loss

Elderly