Abstract
The use of expanded criteria donors is one of the strategies used to overcome the gap between the demand for organs and the number of donors. Physicians debate the extent to which marginal grafts can be used. In recent years, normothermic machine perfusion (NMP) has been used to test liver viability before transplantation. Grafts underwent NMP whenever histological steatosis was > 40% or there were at least three Eurotransplant criteria for expanded criteria donor (ECD). We used NMP to test 19 grafts, 3 from donation after type 3 controlled cardiac death (DCD), and 16 from donation after brain death (DBD). Only two grafts from DBD were not transplanted, because perfusion proved they were not suitable (total of 17 transplanted grafts of 19 tested grafts). Kaplan–Meier survival estimates at 30, 90, 180, and 1 year after transplant were all 94% (95% CI 84–100%); estimated 3-years survival was 82% (95% CI 62–100%). Overall survival rates did not differ from those of patients transplanted with non-perfused grafts from an ECD. In our experience, the use of very marginal grafts preventively tested by NMP does not negatively influence the patient's outcome, and increases the number of transplants in low donation areas.
Access options
Buy single article
Instant access to the full article PDF.
US$ 39.95
Tax calculation will be finalised during checkout.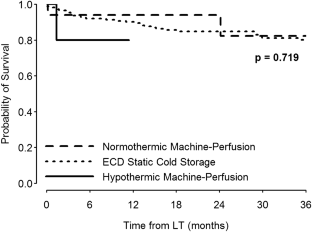 Availability of data and materials
The datasets generated during and/or analyzed during the current study are available from the corresponding author on reasonable request.
Funding
No funds, grants, or other support was received.
Ethics declarations
Conflict of interest
The authors have no relevant financial or non-financial interests to disclose.
Research involving human participant and/or animals
All procedures performed in studies involving human participants were in accordance with the ethical standards of the institutional and/or national research committee and with the 1964 Helsinki Declaration and its later amendments or comparable ethical standards. The study was approved by the Institutional Research Review Board of ISMETT (protocol code IRRB/44/16).
Informed consent statement
Informed consent was obtained from all patients involved in the study.
Additional information
Publisher's Note
Springer Nature remains neutral with regard to jurisdictional claims in published maps and institutional affiliations.
Supplementary Information
Below is the link to the electronic supplementary material.
About this article
Cite this article
Seidita, A., Longo, R., Di Francesco, F. et al. The use of normothermic machine perfusion to rescue liver allografts from expanded criteria donors. Updates Surg (2021). https://doi.org/10.1007/s13304-021-01169-2
Received:

Accepted:

Published:
Keywords
Liver transplantation

Normothermic machine perfusion

Hypothermic machine perfusion

Expanded criteria donors

Graft viability