Abstract
Risk stratification is required to improve the management of pouchitis with ulcerative colitis (UC) patients who undergo ileal pouch-anal anastomosis (IPAA). Recently, the colectomy risk score (CRS) has been used to assess UC severity and predict the need for surgery. We explored whether the CRS predicted pouchitis in patients with UC who underwent IPAA. This retrospective study included 168 UC patients who underwent IPAA. Pouchitis was diagnosed according to the pouchitis disease activity index. The primary endpoint was the cumulative incidence of pouchitis. The risk factors for pouchitis using preoperatively obtained data, including the CRS, were investigated. Based on their CRS, patients were assigned to low- (scores 0–3), intermediate- (scores 4–6), and high-risk (scores 7–9) groups. The incidence of pouchitis was estimated using the Kaplan–Meier curve. CRS validity was assessed using the Cox proportional hazards model. During the median 7.2 (interquartile range [IQR] 2.8–11.1) years' follow-up, 37 (28.5%) patients were diagnosed with pouchitis. Patients with pouchitis had significantly higher CRS than patients without pouchitis (median 7.0; IQR, 4.0–7.0 vs median 5.0; IQR, 3.0–7.0). The cumulative incidences of pouchitis in the low-, intermediate-, and high-risk groups were 10.3%, 18.3%, and 36.1% at 5 years, respectively. Thus, the incidence trended to increase significantly as CRS increased. Multivariate analysis revealed high-risk CRS status was an independent predictor of pouchitis (hazard ratio: 18.03; 95% confidence interval 1.55–210.05). CRS is useful in risk stratification for the development of subsequent pouchitis in patients with UC undergoing IPAA.
Access options
Buy single article
Instant access to the full article PDF.
USD 39.95
Price includes VAT (USA)
Tax calculation will be finalised during checkout.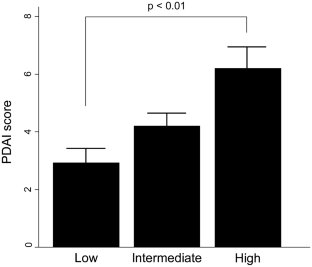 Availability of data and material
Due to the sensitive nature of the questions asked in this study, survey respondents were assured raw data would remain confidential and would not be shared.
References
1.

Parks AG, Nicholls RJ (1978) Proctocolectomy without ileostomy for ulcerative colitis. Br Med J 2:85–88

2.

Hueting WE, Buskens E, van der Tweel I et al (2005) Results and complications after ileal pouch anal anastomosis: a meta-analysis of 43 observational studies comprising 9,317 patients. Dig Surg 22:69–79

3.

Muir AJ, Edwards LJ, Sanders LL et al (2001) A prospective evaluation of health-related quality of life after ileal pouch anal anastomosis for ulcerative colitis. Am J Gastroenterol 96:1480–1485

4.

Meagher AP, Farouk R, Dozois RR et al (1998) J ileal pouch-anal anastomosis for chronic ulcerative colitis: complications and long-term outcome in 1310 patients. Br J Surg 85:800–803

5.

Fazio VW, Ziv Y, Church JM et al (1995) Ileal pouch-anal anastomoses complications and function in 1005 patients. Ann Surg 222:120–127

6.

Pardi DS, D'Haens G, Shen B et al (2009) Clinical guidelines for the management of pouchitis. Inflamm Bowel Dis 15:1424–1431

7.

Lohmuller JL, Pemberton JH, Dozois RR et al (1990) Pouchitis and extraintestinal manifestations of inflammatory bowel disease after ileal pouch-anal anastomosis. Ann Surg 211:622–627

8.

Shen B (2012) Acute and chronic pouchitis–pathogenesis, diagnosis and treatment. Nat Rev Gastroenterol Hepatol 9:323–333

9.

Ananthakrishnan AN, McGinley EL, Binion DG, Saeian K (2010) Simple score to identify colectomy risk in ulcerative colitis hospitalizations. Inflamm Bowel Dis 16:1532–1540

10.

Lichtiger S, Present DH, Kornbluth A et al (1994) Cyclosporine in severe ulcerative colitis refractory to steroid therapy. N Engl J Med 330:1841–1845

11.

Herrlinger KR, Barthel DN, Schmidt KJ et al (2010) Infliximab as rescue medication for patients with severe ulcerative/indeterminate colitis refractory to tacrolimus. Aliment Pharmacol Ther 31:1036–1041

12.

Sandborn WJ, Tremaine WJ, Batts KP et al (1994) Pouchitis after ileal pouch-anal anastomosis: a Pouchitis Disease Activity Index. Mayo Clin Proc 69:409–415

13.

Fukushima T, Sugita A, Koganei K et al (2002) Staple-line ulcer in the ileal reservoir following restorative proctocolectomy. Surg Today 32:118–122

14.

Lavery IC, Sirimarco MT, Ziv Y, Fazio VW (1995) Anal canal inflammation after ileal pouch-anal anastomosis. The need for treatment. Dis Colon Rectum 38:803–806

15.

Barton JG, Paden MA, Lane M, Postier RG (2001) Comparison of postoperative outcomes in ulcerative colitis and familial polyposis patients after ileoanal pouch operations. Am J Surg 182:616–620

16.

Hata K, Yamamoto Y, Kiyomatsu T et al (2016) Hereditary gastrointestinal cancer. Surg Today 46:1115–1122

17.

Shen B, Lashner BA (2008) Diagnosis and treatment of pouchitis. Gastroenterol Hepatol (N Y) 4:355–361

18.

Barreiro-de Acosta M, Garcia-Bosch O, Souto R et al (2012) Efficacy of infliximab rescue therapy in patients with chronic refractory pouchitis: a multicenter study. Inflamm Bowel Dis 18:812–817

19.

Viazis N, Giakoumis M, Koukouratos T et al (2013) Long term benefit of one year infliximab administration for the treatment of chronic refractory pouchitis. J Crohns Colitis 7:e457-460

20.

Ritchie ML, Romanuk TN (2012) A meta-analysis of probiotic efficacy for gastrointestinal diseases. PLoS ONE 7:e34938

21.

Gionchetti P, Rizzello F, Helwig U et al (2003) Prophylaxis of pouchitis onset with probiotic therapy: a double-blind, placebo-controlled trial. Gastroenterology 124:1202–1209

22.

Mimura T, Rizzello F, Helwig U et al (2004) Once daily high dose probiotic therapy (VSL#3) for maintaining remission in recurrent or refractory pouchitis. Gut 53:108–114

23.

Gosselink MP, Schouten WR, van Lieshout LM et al (2004) Delay of the first onset of pouchitis by oral intake of the probiotic strain Lactobacillus rhamnosus GG. Dis Colon Rectum 47:876–884

24.

Komanduri S, Gillevet PM, Sikaroodi M et al (2007) Dysbiosis in pouchitis: evidence of unique microfloral patterns in pouch inflammation. Clin Gastroenterol Hepatol 5:352–360

25.

Machiels K, Sabino J, Vandermosten L et al (2017) Specific members of the predominant gut microbiota predict pouchitis following colectomy and IPAA in UC. Gut 66:79–88

26.

Yamamoto T, Shimoyama T, Bamba T, Matsumoto K (2015) Consecutive monitoring of fecal calprotectin and lactoferrin for the early diagnosis and prediction of pouchitis after restorative proctocolectomy for ulcerative colitis. Am J Gastroenterol 110:881–887
Acknowledgements
The authors are indebted to Maruzen Co, Ltd (Tokyo, Japan) for their review of the present manuscript as native English speakers.
Funding
The authors state no grant support or financial relationships.
Ethics declarations
Conflicts of interest
The authors declare that they have no conflict of interest.
Ethics approval
The study was approved by Keio university's ethics committee (20150051).
Informed consent
All patients signed the institution informed consent for colorectal surgery. No specific consent for this type of study is required.
Consent for publication
Consent to submit the present paper has been received explicitly from all co-authors, as well as from Keio university's ethics committee.
Research involving human participants and/or animals
This article does not contain any studies with animals performed by any of the authors.
Additional information
Publisher's Note
Springer Nature remains neutral with regard to jurisdictional claims in published maps and institutional affiliations.
Supplementary Information
Below is the link to the electronic supplementary material.
About this article
Cite this article
Ikebata, A., Okabayashi, K., Tsuruta, M. et al. Colectomy risk score predicts pouchitis in patients with ulcerative colitis. Updates Surg (2021). https://doi.org/10.1007/s13304-021-01166-5
Received:

Accepted:

Published:
Keywords
Ulcerative colitis

Pouchitis

Ileal pouch-anal anastomosis

Risk score