Abstract
Laparoscopic liver resection (LLR) for Hepatocellular carcinoma (HCC) is a safe procedure. Repeat surgery is more often required, and the role of minimally invasive liver surgery (MILS) is not yet clearly defined. The present study analyzes data compiled by the Italian Group of Minimally Invasive Liver Surgery (IGoMILS) on LLR. To compare repeated LLR with the first LLR for HCC is the primary endpoint. The secondary endpoint was to evaluate the outcome of repeat LLR in the case of primary open versus primary MILS surgery. The data cohort is divided into two groups. Group 1: first liver resection and Group 2: Repeat LLR. To compare the two groups a 3:1 Propensity Score Matching is performed to analyze open versus MILS primary resection. Fifty-two centers were involved in the present study, and 1054 patients were enrolled. 80 patients underwent to a repeat LLR. The type of resection was different, with more major resections in the group 1 before matching the two groups. After propensity score matching 3:1, each group consisted of 222 and 74 patients. No difference between the two groups was observed. In the subgroup analysis, in 44 patients the first resection was performed by an open approach. The other 36 patients were resected with a MILS approach. We found no difference between these two subgroups of patients. The present study in repeat MILS for HCC using the IGoMILS Registry has observed the feasibility and safety of the MILS procedure.
This is a preview of subscription content,
to check access.
Access this article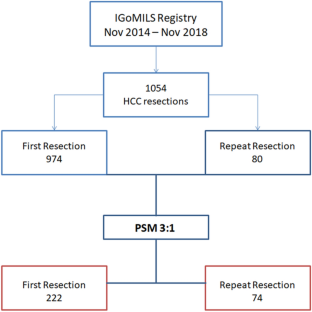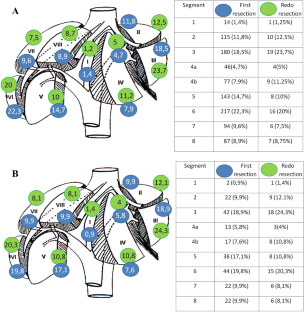 Similar content being viewed by others
Acknowlegement
Adelmo Antonucci, Policlinico di Monza, Monza;Giacomo Batignani, Università degli Studi, Firenze.Giulio Belli, Ospedale SM Loreto Nuovo, Napoli;Andrea Belli, Napoli Stefano Berti, Ospedale Civile S.Andrea, La Spezia;Ugo Boggi, AOU Pisana, Pisa;Pasquale Bonsignore, IRCCS-ISMETT, Palermo;Alberto Brolese, Ospedale S.Chiara, Trento; Fulvio Calise, Ospedale Pinetagrande, Castel Volturno;Graziano Ceccarelli, Ospedale San Donato, Arezzo;Sara Cecconi, Parma University Hospital, Parma;Michele Colledan, AO Papa Giovanni XXIII, Bergamo; Andrea Coratti, AOU Careggi, Firenze;Giorgio Ercolani, Forlì.Fabio Ferla, ASST Grande Ospedale Metropolitano Niguarda, Milan;Mauro Filauro, Genova.Antonio Floridi, AO Ospedale Maggiore, Crema; Antonio Frena, Ospedale Centrale, Bolzano;Antonio Giuliani, AO R.N. Cardarelli, Napoli;Felice Giuliante, Policlinico Gemelli, Rome;Gian Luca Grazi, Istituto Nazionale Tumori Regina Elena, Roma; Enrico Gringeri University of Padua, Padova;Guido Griseri, Ospedale San Paolo, Savona;Silvio Guerriero, Belluno.Elio Jovine, Ospedale Maggiore, Bologna;Paolo Magistri, University of Modena and Reggio Emilia; Pietro Maida, Ospedale Villa Betania, Napoli;Marco Massani, Treviso.Pietro Mezzatesta, Casa di Cura La Maddalena, Palermo;Luca Morelli,Pisa.Nadia Russolillo, Ospedale Mauriziano Umberto I, Torino; Giuseppe Navarra, AOU Policlinico G. Martino, Messina;Amilcare Parisi, AO Santa Maria di Terni, Terni;Alberto Patriti, Spoleto.Matteo Ravaioli, Policlinico Sant'Orsola Malpighi, Bologna; Francesca Ratti, IRCCS San Raffaele Hospital, Milano;Raffaele Romito, Novara.Paolo Reggiani, Policlinico di Milano, Milano;Andrea Ruzzenente, University of Verona, Verona; Roberto Santambrogio, AO San Paolo, Milano;Giammauro Berardi, San Camillo Hospital, Rome;Giovanni Sgroi, AO Treviglio-Caravaggio, Treviglio;Abdallah Slim, AO Desio e Vimercate, Vimercate; Marco Spada, OPBG, Roma.Carlo Sposito, University of Milan, Milano;Umberto Tedeschi, Verona.Giuseppe Tisone, Policlinico Tor Vergata; Roma.Guido Torzilli, Istituto Clinico Humanitas, Rozzano; Luigi Veneroni, Rimini.Leonardo Vincenti, AOU Consorziale Policlinico, Bari;Fausto Zamboni, Ospedale Brotzu, Cagliari;Giuseppe Zimmitti, Brescia.
Funding
No funding information to disclose.
Ethics declarations
Conflict of interest
The authors have no conflicts of interest or financial ties to disclose.
Research involving human participants and/or animals
Not applicable.
Informed consent
Written informed consent was obtained from all patients in accordance with the Declaration of Helsinki.
Additional information
Publisher's Note
Springer Nature remains neutral with regard to jurisdictional claims in published maps and institutional affiliations.
The original article has been updated: Due to co-author name update.
Supplementary Information
Below is the link to the electronic supplementary material.
About this article
Cite this article
Levi Sandri, G.B., Colasanti, M., Aldrighetti, L. et al. Is minimally invasive liver surgery a reasonable option in recurrent HCC? A snapshot from the I Go MILS registry. Updates Surg 74, 87–96 (2022). https://doi.org/10.1007/s13304-021-01161-w
Received:

Accepted:

Published:

Issue Date:

DOI: https://doi.org/10.1007/s13304-021-01161-w
Keywords