Abstract
Splenic flexure mobilization (SFM) is one of the most difficult steps in laparoscopic colorectal surgery and its role is harshly debated. Some surgeons considered it routinely necessary to obtain a safe anastomosis and to respect oncologic criteria; for others SFM is frequently unnecessary, not ensuring the aspects mentioned above and increasing the risk of morbidity (splenic, bowel and vessels injury, lengthened procedure). We performed a systematic review and a comprehensive meta-analysis, without any language restriction, about the peri-operative and post-operative outcomes (anastomotic leakage, intra-operative complication, conversion rate, operative time, post-operative bleeding, intra-abdominal collection, prolonged ileus, wound infection, anastomotic stricture, overall complications, hospital stay, re-operation, post-operative mortality, R0 margin resection, local recurrence) in patients undergoing elective anterior rectal resection (ARR) with or without SFM, both in laparotomic (LT) and laparoscopic (LS) approach. Fourteen studies were meta-analyzed with a total amount of 42,221 patients. The comprehensive meta-analysis shows that the mobilization or the preservation (SFP) of the splenic flexure does not statistically influence the incidence of colorectal anastomotic leakage, conversion rate, post-operative bleeding, intra-abdominal collection, prolonged ileus, wound infection, anastomotic stricture, overall complications, hospital stay, re-operation, R0 margin resection, and local recurrence results. The operative time is significantly longer in every group of patients undergoing SFM. The incidence of intra-operative complication is statistically increased in overall patients and also in the LS subgroup of patients undergoing SFM, in which also higher incidence of wound infection and re-operation is shown. The meta-analysis shows that SFM may be considered not necessary to ensure better peri-operative and post-operative outcomes in both LT and LS ARR.
Access options
Buy single article
Instant access to the full article PDF.
US$ 39.95
Tax calculation will be finalised during checkout.
Subscribe to journal
Immediate online access to all issues from 2019. Subscription will auto renew annually.
US$ 79
Tax calculation will be finalised during checkout.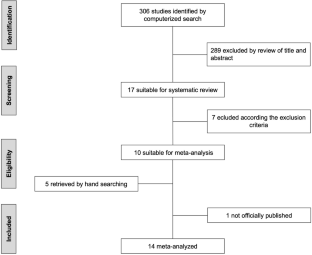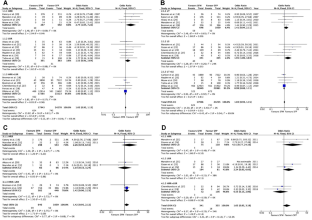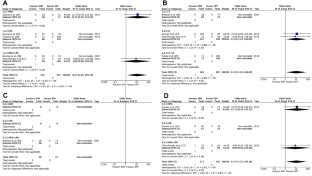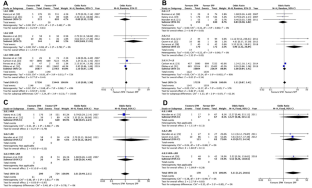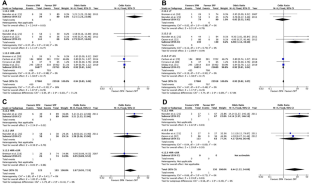 Abbreviations
SFM:

Splenic flexure mobilization

RCT:

Randomized controlled trial

ARR:

Anterior rectal resection

SFP:

Splenic flexure preservation

HRR:

High rectal resection

LRR:

Low rectal resection

LT:

Laparotomic

LS:

Laparoscopic
References
1.

Abarca F, Saclarides TJ, Brand MI (2011) Laparoscopic colectomy: complications causing reoperation or emergency room/hospital readmissions. Am Surg 77:65–69

2.

Saklani A, Naguib N, Tanner N, Moorhouse S, Davies CE, Masoud AG (2012) Internal herniation following laparoscopic left hemicolectomy: an underreported event. J Laparoendosc Adv Surg Tech A 22:496–500

3.

Garcia-Granero A, Primo Romaguera V, Millan M, Pellino G, Fletcher-Sanfeliu D, Frasson M, Flor-Lorente B, Ibañez-Canovas N, Carreño Saenz O, Sánchez-Guillén L, Sancho-Muriel J, Alvarez-Sarrado E, Valverde-Navarro AA (2020) A video guide of five access methods to the splenic flexure: the concept of the splenic flexure box. Surg Endosc 34(6):2763–2772

4.

Jamali FR, Soweid AM, Dimassi H, Bailey C, Leroy J, Marescaux J (2008) Evaluating the degree of difficulty of laparoscopic colorectal surgery. Arch Surg 143:762–768

5.

Akiyoshi T, Kuroyanagi H, Oya M, Ueno M, Fujimoto Y, Konishi T, Yamaguchi T (2010) Factors affecting difficulty of laparoscopic surgery for left-sided colon cancer. Surg Endosc 24:2749–2754

6.

Kennedy R, Jenkins I, Finan PJ (2008) Controversial topics in surgery: splenic flexure mobilisation for anterior resection performed for sigmoid and rectal cancer. Ann R Coll Surg Engl 90(8):638–642

7.

Chand M, Miskovic D, Parviaz AC (2012) Is splenic flexure mobilization necessary in laparoscopic anterior resection? Dis Colon Rectum 55:1195

8.

Hall NR, Finan PJ, Stephenson BM, Lowndes RH, Young HL (1995) High tie of the inferior mesenteric artery in distal colorectal resections-a safe vascular procedure. Int J Colorectal Dis 10:29–32

9.

Cheung YM, Lange MM, Buunen M, Lange JF (2009) Current technique of laparoscopic total mesorectal excission (TME): an international questionnaire among 368 surgeons. Surg Endosc 23:2796

10.

Hallböök O, Johansson K, Sjödahl R (1996) Laser Doppler blood flow measurement in rectal resection for carcinoma–comparison between the straight and colonic J pouch reconstruction. Br J Surg 83(3):389–392

11.

Gachabayov M, Bergamaschi R, Boni L, Uranues S, Fingerhut A (2019) Splenic flexure mobilization in sigmoid and rectal resections: a systematic review and meta-analysis of observational studies. Surg Technol Int 15(34):169–182

12.

Damin DC, Betanzo LN, Ziegelmann PK (2019) Splenic flexure mobilization in sigmoid and rectal cancer resections: a meta-analysis of surgical outcomes. Rev Col Bras Cir 46(4):e20192171

13.

Nowakowski M, Małczak P, Mizera M, Rubinkiewicz M, Lasek A, Wierdak M, Major P, Budzyński A, Pędziwiatr M (2018) The safety of selective use of splenic flexure mobilization in sigmoid and rectal resections-systematic review and meta-analysis. J Clin Med 7(11):392

14.

Liberati A, Altman DG, Tetzlaff J, Mulrow C, Gøtzsche PC, Ioannidis JP, Clarke M, Devereaux PJ, Kleijnen J, Moher D (2009) The PRISMA statement for reporting systematic reviews and meta-analyses of studies that evaluate health care interventions: explanation and elaboration. PLoS Med 6(7):e1000100

15.

Stang A (2010) Critical evaluation of the Newcastle-Ottawa scale for the assessment of the quality of nonrandomized studies in meta-analyses. Eur J Epidemiol 25(9):603–605

16.

Higgins JP, Thompson SG (2002) Quantifying heterogeneity in a meta-analysis. Stat Med 21(11):1539–1558

17.

Sterne JA, Egger M, Smith GD (2001) Systematic reviews in health care: Investigating and dealing with publication and other biases in meta-analysis. BMJ 323(7304):101–105

18.

Brennan DJ, Moynagh M, Brannigan AE, Gleeson F, Rowland M, O'Connel PR (2007) Routine mobilization of the splenic flexure is not necessary during anterior resection for rectal cancer. Dis Colon Rectum 50(3):302–307

19.

Katory M, Tang CL, Koh WL, Fook-Chong SM, Loi TT, Ooi BS, Ho KS, Eu KW (2008) A 6-year review of surgical morbidity and oncological outcome after high anterior resection for colorectal malignancy with and without splenic flexure mobilization. Colorectal Dis 10(2):165–169

20.

Akasu T, Takawa M, Yamamoto S, Yamaguchi T, Fujita S, Moriya Y (2010) Risk factors for anastomotic leakage following intersphincteric resection for very low rectal adenocarcinoma. J Gastrointest Surg 14(1):104–111

21.

Marsden MR, Conti JA, Zeidan S, Flashman KG, Khan JS, O'Leary DP, Parvaiz A (2012) The selective use of splenic flexure mobilization is safe in both laparoscopic and open anterior resections. Colorectal Dis 14(10):1255–1261

22.

Gezen C, Altuntas YE, Kement M, Vural S, Civil O, Okkabaz N, Aksakal N, Oncel M (2012) Complete versus partial mobilization of splenic flexure during laparoscopic low anterior resection for rectal tumors: a comparative study. J Laparoendosc Adv Surg Tech A 22(4):392–396

23.

Carlson RM, Roberts PL, Hall JF, Marcello PW, Schoetz DJ, Read TE, Ricciardi R (2014) What are 30-day postoperative outcomes following splenic flexure mobilization during anterior resection? Tech Coloproctol 18(3):257–264

24.

Gouvas N, Gogos-Pappas G, Tsimogiannis K, Agalianos C, Tsimoyiannis E, Dervenis C, Xynos E (2014) Impact of splenic flexure mobilization on short-term outcomes after laparoscopic left colectomy for colorectal cancer. Surg Laparosc Endosc Percuta Tech. 24(5):470–474

25.

Hayden DM, Mora Pinzon MC, Francescatti AB, Saclarides TJ (2014) Patient factors may predict anastomotic complications after rectal cancer surgery: anastomotic complications in rectal cancer. Ann Med Surg 4(1):11–16

26.

Boström P, Haapamäki MM, Matthiessen P, Ljung R, Rutegård J, Rutegård M (2015) High arterial ligation and risk of anastomotic leakage in anterior resection for rectal cancer in patients with increased cardiovascular risk. Colorectal Dis 17(11):1018–1027

27.

Chernikovsky IL, Aliev II, Smirnov AA, Savanovich NV, Gavrilyukov AV (2017) Mobilization of splenic flexure during rectal resection. Sib J Oncol. 16(5):55–62 (Russian)

28.

Ferrara F, Di Gioia G, Gentile D, Carrara G, Gobatti D, Stella M (2019) Splenic flexure mobilization in rectal cancer surgery: do we always need it? Updates Surg 71(3):505–513

29.

Tulina IA, Zhurkovsky VI, Bredikhin MI, Tsugulya PB, Tsarkov PV (2018) Selective approach for splenic flexure mobilization in total mesorectal excision followed by low colorectal anastomoses. Khirurgiia (Mosk). 7:41–46 (Russian)

30.

Mouw TJ, King C, Ashcraft JH, Valentino JD, DiPasco PJ, Al-Kasspooles M (2019) Routine splenic flexure mobilization may increase compliance with pathological quality metrics in patients undergoing low anterior resection. Colorectal Dis 21(1):23–29

31.

Dilday JC, Gilligan TC, Merritt CM, Nelson DW, Walker AS (2020) Examining utility of routine splenic flexure mobilization during colectomy and impact on anastomotic complications. Am J Surg 219(6):998–1005

32.

Rondelli F, Mariani L, Boni M, Federici MT, Cappotto FP, Mariani E (2010) Preliminary report of a new technique for temporary faecal diversion after extraperitoneal colorectal anastomosis. Colorectal Dis 12(11):1159–1161

33.

Rondelli F, Reboldi P, Rulli A, Barberini F, Guerrisi A, Izzo L, Bolognese A, Covarelli P, Boselli C, Becattini C, Noya G (2009) Loop ileostomy versus loop colostomy for fecal diversion after colorectal or coloanal anastomosis: a meta-analysis. Int J Colorectal Dis 24(5):479–488

34.

Bugiantella W, Rondelli F, Mariani L, Boni M, Tassi A, Stella P, Patiti M, Ermili F, Avenia N, Mariani E (2014) Traditional lateral ileostomy versus percutaneous ileostomy by exclusion probe for the protection of extraperitoneal col-rectal anastomosis: the ALPPI (Anastomotic Leak Prevention by Probe Ileostomy) trial. A randomized controlled trial. Eur J Surg Oncol 40(4):476–483

35.

Boyce SA, Harris C, Stevenson A, Lumley J, Clark D (2017) Management of low colorectal anastomotic leakage in the laparoscopic era: more than a decade of experience. Dis Colon Rectum 60(8):807–814

36.

Rondelli F, Balzarotti R, Bugiantella W, Mariani L, Pugliese R, Mariani E (2012) Temporary percutaneous ileostomy versus conventional loop ileostomy in mechanical extraperitoneal colorectal anastomosis: a retrospective study. Eur J Surg Oncol 38(11):1065–1070

37.

Dehni N, Schlegel RD, Cunningham C, Guiguet M, Tiret E, Parc R (1998) Influence of a defunctioning stoma on leakage rates after low colorectal anastomosis and colonic J pouch-anal anastomosis. Br J Surg 85(8):114–117

38.

Peeters KC, Tollenaar RA, Marijnen CA, Klein Kranenbarg E, Steup WH, Wiggers T, Rutten HJ, van de Velde CJ, Dutch Colorectal Cancer Group (2005) Risk factors for anastomotic failure after total mesorectal excision of rectal cancer. Br J Surg 92(2):211–216

39.

Gastinger I, Marusch F, Steinert R, Wolff S, Koeckerling F, Lippert H, Working Group "Colon/Rectum Carcinoma" (2005) Protective defunctioning stoma in low anterior resection for rectal cancer. Br J Surg 92(9):1137–1142

40.

Matthiessen P, Hallbook O, Rutegard O, Simert G, Sjodahl R (2007) Defunctioning stoma reduces symptomatic anastomotic leakage after low anterior resection of the rectum for cancer: a randomized multicenter trial. Ann Surg 246(2):207–214

41.

Bretagnol F, Panis Y, Rullier E, Rouanet P, Berdah S, Dousset B, Portier G, Benoist S, Chipponi J, Vicaut E, French Research Group of Rectal Cancer Surgery (GRECCAR) (2010) Rectal cancer surgery with or without bowel preparation: The French GRECCAR III multicenter single-blinded randomized trial. Ann Surg 252(5):863–868

42.

Rondelli F, Bugiantella W, Vedovati MC, Balzarotti R, Avenia N, Mariani E, Agnelli G, Becattini C (2014) To drain or not to drain extraperitoneal colorectal anastomosis? A systematic review and meta-analysis. Colorectal Dis 16(2):35–42

43.

Kim J, Choi DJ, Kim SH (2009) Laparoscopic rectal resection without splenic flexure mobilization: a prospective study assessing anastomotic safety. Hepatogastroenterology 56(94–95):1354–1358

44.

Park JS, Kang SB, Kim DW, Lee KH, Kim YH (2009) Laparoscopic versus open resection without splenic flexure mobilisation for the treatment of rectum and sigmoid cancer: a study from a single institution that selectively used splenic flexure mobilisation. Surg Laparosc Endosc Percutan Tech 19:62–68

45.

Thum-umnuaysuk S, Boonyapibal A, Geng YY, Pattana-Arun J (2013) Lengthening of the colon for low rectal anastomosis in a cadaveric study: how much can we gain? Tech Coloproctol 17(4):377–381
Ethics declarations
Conflict of interest
The authors declare that they have no conflict of interest.
Research involving human participants and/or animals
Data were extracted from published series; not applicable.
Informed consent
Not applicable.
Additional information
Publisher's Note
Springer Nature remains neutral with regard to jurisdictional claims in published maps and institutional affiliations.
About this article
Cite this article
Rondelli, F., Pasculli, A., De Rosa, M. et al. Is routine splenic flexure mobilization always necessary in laparotomic or laparoscopic anterior rectal resection? A systematic review and comprehensive meta-analysis. Updates Surg (2021). https://doi.org/10.1007/s13304-021-01135-y
Received:

Accepted:

Published:
Keywords
Colorectal cancer

Splenic flexure mobilization

Rectal resection

Laparoscopy

Robotic surgery