Abstract
Although much focus is placed on oncological outcomes for rectal cancer, it is important to assess quality of life after surgery of which sexual function is an important component. This study set about to describe the prevalence of sexual dysfunction by resection type and gender among patients undergoing surgery for rectal cancer, usingretrospective analysis. All English-speaking living patients who underwent surgery for stage I–III rectal cancer with curative intent between 2012 and 2016 were identified from a prospectively maintained database at our institution. Eligible patients were invited to complete either the Female Sexual Function Index (FSFI) or the International Index of Erectile Function (IIEF). Primary outcomes were overall rates of sexual dysfunction, defined as more than one standard deviation below the mean of the normal population for each tool. A total of 147 patients responded, yielding a response rate of 38%. The overall sexual dysfunction rate was 70% at a median time from surgery of 38 months. Sixty-two men (62%) and 41 women (87%) reported overall scores that fell below one standard deviation of the population mean. There was no significant difference in sexual dysfunction for both male and female patients between low anterior resection, coloanal anastomosis, or abdominoperineal resection.. The present study revealed a high rate of sexual dysfunction after rectal cancer surgery, particularly in female patients. This study serves as a reminder to surgeons and their teams to openly discuss the impact of surgery on sexual function and ensure adequate consent and appropriate peri-operative management strategies. The retrospective nature of the analysis is the limitation of this study.
Access options
Buy single article
Instant access to the full article PDF.
US$ 39.95
Tax calculation will be finalised during checkout.
Subscribe to journal
Immediate online access to all issues from 2019. Subscription will auto renew annually.
US$ 79
Tax calculation will be finalised during checkout.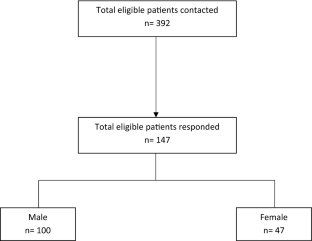 References
1.

Siegel RL, Miller KD, Jemal A (2019) Cancer statistics, 2019. CA Cancer J Clin 69:7–34

2.

Hassan I, Cima RR (2007) Quality of life after rectal resection and multimodality therapy. J Surg Oncol 96:684–692

3.

Bloom JR, Petersen DM, Kang SH (2007) Multi-dimensional quality of life among long-term (5+ years) adult cancer survivors. Psychooncology 16:691–706

4.

Keating JP (2004) Sexual function after rectal excision. ANZ J Surg 74:248–259

5.

Traa MJ, De Vries J, Roukema JA, Den Oudsten BL (2012) Sexual (dys)function and the quality of sexual life in patients with colorectal cancer: a systematic review. Ann Oncol 23(1):19–27

6.

Rosen R, Brown C, Heiman J, Leiblum S, Meston C, Shabsigh R, Ferguson D, D'Agostino R (2000) The Female Sexual Function Index (FSFI): a multidimensional self-report instrument for the assessment of female sexual function. J Sex Marital Ther 26(2):191–208

7.

Rosen R, Riely A, Wagner G, Osterloh I, Kirkpatrick J, Mishra A (1997) The international index of erectile function (IIEF): a multidimensional scale for assessment of erectile dysfunction. Urology 49(6):822–830

8.

Hendren SK, O'Connor BI, Liu M, Asano T, Cohen Z, Swallow CJ, MacRae HM, Gryfe R, McLeod RS (2005) Prevalence of male and female sexual dysfunction is high following surgery for rectal cancer. Ann Surg 242:212–223

9.

Havenga K, Enker WE, McDermott K et al (1996) Male and female sexual and urinary function after total mesorectal excision with autonomic nerve preservation for carcinoma of the rectum. J Am Coll Surg 182:495–502

10.

Sailer MD, Sebastian E, Fuchs K-H (2000) How useful is the EORTC QLQ- CR38 in the pre- and post-operative evaluation of patients with rectal cancer? QoL Newsl 25:12–13

11.

Stamopoulos P, Theodoropoulos GE, Papailiou J et al (2009) Prospective evaluation of sexual function after open and laparoscopic surgery for rectal cancer. Surg Endosc 23(12):2665–2674

12.

Tekkis PP, Cornish JA, Remzi FH et al (2009) Measuring sexual and urinary outcomes in women after rectal cancer excision. Dis Colon Rectum 52:46–54

13.

Morino M, Parini U, Allaix ME et al (2009) Male sexual and urinary function after laparoscopic total mesorectal excision. Surg Endosc 23:1233–1240

14.

Breukink SO, van der Zaag-Loonen HJ, Bouma EM et al (2007) Prospective evaluation of quality of life and sexual functioning after laparoscopic total mesorectal excision. Dis Colon Rectum 50:147–155

15.

Chorost MI, Weber TK, Lee RJ et al (2000) Sexual dysfunction, informed consent and multimodality therapy for rectal cancer. Am J Surg 179:271–274
Funding
This research did not receive any specific grant from funding agencies in the public, commercial, or non-profit sectors. This original study has not been published, presented, or submitted to any other journal.
Ethics declarations
Conflict of interest
Authors have no conflict of interest to disclose.
Additional information
Publisher's Note
Springer Nature remains neutral with regard to jurisdictional claims in published maps and institutional affiliations.
About this article
Cite this article
Perry, W.R.G., Abd El Aziz, M.A., Duchalais, E. et al. Sexual dysfunction following surgery for rectal cancer: a single-institution experience. Updates Surg (2021). https://doi.org/10.1007/s13304-021-01124-1
Received:

Accepted:

Published:
Keywords
Sexual dysfunction

Colorectal cancer

Colorectal surgery

Functional outcomes