Abstract
A robotic approach with radical lymph node dissection for gastric cancers is a safe and effective surgical procedure. However, there are still only a few studies in the reconstruction procedure after gastrectomy and many aspects of the use of the robotic surgical system remain controversial. In Roux-en-Y reconstruction, most institutions are adapted for reconstruction using small laparotomy due to the complicated procedure. We, therefore, developed a new and easy procedure for full robotic Roux-en-Y reconstruction after robotic gastrectomy. We named this procedure "loop reconstruction technique". This article including video shows our loop reconstruction technique with an intracorporeal robot-sewn anastomosis after robotic gastrectomy.
This is a preview of subscription content, log in to check access.
Access options
Buy single article
Instant access to the full article PDF.
US$ 39.95
Tax calculation will be finalised during checkout.
Subscribe to journal
Immediate online access to all issues from 2019. Subscription will auto renew annually.
US$ 99
Tax calculation will be finalised during checkout.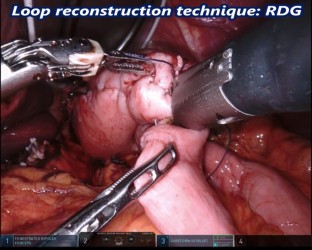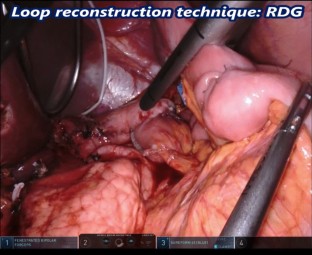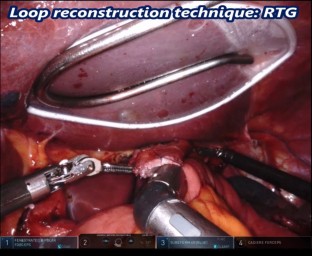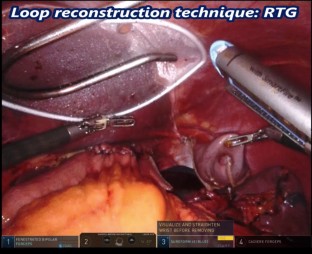 References
1.

Ojima T, Nakamura M, Nakamori M, Hayata K, Katsuda M, Maruoka S, Yamaue H (2019) Robotic radical lymphadenectomy without touching the pancreas during gastrectomy for gastric cancer. Medicine 98(13):e15091. https://doi.org/10.1097/MD.0000000000015091

2.

Quijano Y, Vicente E, Ielpo B, Duran H, Diaz E, Fabra I, Malave L, Ferri V, Ferronetti A, Plaza C, D'Andrea V, Caruso R (2016) Full robot-assisted gastrectomy: surgical technique and preliminary experience from a single center. J Robot Surg 10(4):297–306. https://doi.org/10.1007/s11701-016-0591-y

3.

Dindo D, Demartines N, Clavien PA (2004) Classification of surgical complications: a new proposal with evaluation in a cohort of 6336 patients and results of a survey. Ann Surg 240(2):205–213. https://doi.org/10.1097/01.sla.0000133083.54934.ae
Ethics declarations
Conflict of interest
The authors declare that they have no conflict of interest.
Research involving human participants and/or animals
All procedures performed in studies involving human participants were in accordance with the ethical standards of the institutional and/or national research committee and with the 1964 Helsinki declaration and its later amendments or comparable ethical standards. This article does not contain any studies with animals performed by any of the authors.
Informed consent
All patients gave informed consent, in accordance with the guidelines of the Ethics Committee on Human Research at WMUH.
Additional information
Publisher's Note
Springer Nature remains neutral with regard to jurisdictional claims in published maps and institutional affiliations.
About this article
Cite this article
Ojima, T., Nakamura, M. & Yamaue, H. Full robotic Roux-en-Y reconstruction after gastrectomy for gastric cancer: a loop reconstruction technique. Updates Surg 72, 1279–1281 (2020). https://doi.org/10.1007/s13304-020-00889-1
Received:

Accepted:

Published:

Issue Date:
Keywords
Gastric cancer

Robotic surgery

Roux-en-Y reconstruction

Loop reconstruction technique