Abstract
Laparoscopy is the standard technique for resecting adrenal tumors, but short-term outcomes such as length of stay (LOS) vary widely between centers. We aimed to identify factors associated with LOS after lateral transperitoneal laparoscopic adrenalectomy (LTLA). We analyzed consecutive patients undergoing unilateral LTLA between April 2003 and April 2020. Prolonged LOS was defined as a stay longer than the 75th percentile of the overall cohort. To identify potential factors associated with prolonged LOS, we compared collected data from patients with LOS ≤ 2 days versus LOS > 2 days and elaborated multivariate logistic regression models. We included 150 patients (73 men and 77 women, median age 54 years), with benign (n = 128) and malignant tumors (n = 22). The median LOS after LTLA was 2 days; 64 (42.7%) patients had prolonged hospitalization. Variables significantly associated with prolonged LOS in the univariate analysis included ASA III + IV (p = 0.016), pheochromocytoma (p < 0.001), learning curve (p = 0.032), surgery on Thursday or Friday (p < 0.001), 2D laparoscopy (p = 0.003), operative time (p < 0.001), estimated blood loss (p < 0.001), drainage (p < 0.001), specimen size (p = 0.011), conversions (p = 0.002), complications (p = 0.019), and hospital stay (p < 0.001). After adjustment for patient, surgical, and tumor characteristics, risk factors associated with prolonged LOS in the multivariate analysis were specimen size > 9 cm (OR:13.03, p = 0.005), surgery on Thursday or Friday (OR:6.92, p = 0.001), estimated blood loss ≥ 60 ml (OR:6.22, p = 0.021), and drainage (OR:5.29, p = 0.005). Prolonged length of stay after LTLA was associated with specimen size > 9 cm, operating on Thursday or Friday, estimated blood loss ≥ 60 mL, and drainage.
This is a preview of subscription content, log in to check access.
Access options
Buy single article
Instant access to the full article PDF.
US$ 39.95
Price includes VAT for USA
Subscribe to journal
Immediate online access to all issues from 2019. Subscription will auto renew annually.
US$ 99
This is the net price. Taxes to be calculated in checkout.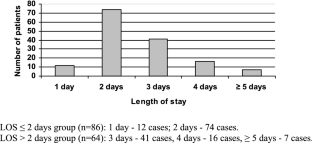 References
1.

Gagner M, Pomp A, Heriford BT, Pharand D, Lacroix A (1997) Laparoscopic adrenalectomy: lessons learned from 100 consecutive procedures. Ann Surg 226(3):238–246

2.

Chen Y, Scholten A, Chomsky-Higgins K, Nwaogu I, Gosnell JE, Seib C, Shen WT, Suh I, Duh QY (2018) Risk factors associated with perioperative complications and prolonged length of stay after laparoscopic adrenalectomy. JAMA Surg 153(11):1063–1041

3.

Patel N, Egan RJ, Carter BR, Scott-Coombes DM, Stechman MJ, British Association of Endocrine and Thyroid Surgeons (2019) Outcomes of surgery for benign and malignant adrenal disease from the British Association of Endocrine and Thyroid Surgeons' national registry. Br J Surg 106(11):1495–1503

4.

Gaujoux S, Bonnet S, Leconte M, Zohar S, Bertherat J, Bertagna X, Cousset B (2011) Risk factors for conversion and complication after unilateral laparoscopic adrenalectomy. Br J Surg 98(10):1392–1399

5.

Di Buono G, Buscemi S, Lo Monte AI, Geraci G, Sorce V, Citarrella R, Gulotta E, Palumbo VD, Fazzotta S, Gulotta L, Albano D, Galia M, Romano G, Agrusa A (2019) Laparoscopic adrenalectomy: preoperative data, surgical technique and clinical outcomes. BMC Surg 18(Suppl 1):128

6.

Cagney D, Hanrahan M, Razzaq Z, Majeed M, O'Leary DP, Redmond HP (2020) Evolution of adrenal surgery in a tertiary referral centre. Ir J Med Sci. https://doi.org/10.1007/s11845-020-02204-8

7.

Villar JM, Moreno P, Ortega J, Bollo E, Ramirez CP, Muñoz N, Martinez C, Dominguez-Adame E, Sancho J, Del Pino JM, Couselo JM, Carrion A, Candel M, Caceres N, Octavio JM, Mateo F, Galan L, Ramia JM, Aguilo J, Herrera F (2010) Results of adrenal surgery. Data of a Spanish national survey. Langenbecks Arch Surg 395(7):837–843

8.

Vidal O, Saavedra-Perez D, Martos JM, De la Quintana A, Rodriguez JI, Villar J, Ortega J, Moral A, Duran M, Valentini M, Fernandez-Cruz L (2020) Risk factors for open conversion on lateral transperitoneal laparoscopic adrenalectomy: retrospective cohort study of the Spanish adrenal surgery group (SASG). Surg Endosc 34(8):3690–3695

9.

Coste T, Caiazzo R, Torres F, Vantyghem MC, Do Cao C, Douillard C, Pattou F (2017) Laparoscopic adrenalectomy by transabdominal lateral approach: 20 years of experience. Surg Endosc 31(7):2743–2751

10.

Natkaniec M, Dworak J, Pedziwiatr M, Pisarska M, Major P, Dembinski M, Winiarski M, Budzynski A (2017) Patients criteria determining difficulty of the laparoscopic lateral transperitoneal adrenalectomy. A retrospective cohort study. Int J Surg 44:33–37

11.

Pisarska M, Dworak J, Natkaniec M, Malczak P, Przeczek K, Wysocki M, Major P, Radkowiak D, Budzynski A, Pedziwiatr M (2018) Risk factors for prolonged hospitalization in patients undergoing laparoscopic adrenalectomy. Wideochir Inne Tech Maloinwazyjne 13(2):141–147

12.

Rodriguez-Hermosa JI, Roig J, Font JA, Recasens M, Ortuño P, Pardina B, Codina-Cazador A (2008) Evolution of laparoscopic adrenal surgery in a general surgery department. Cir Esp 83(4):205–210

13.

Rodriguez-Hermosa JI, Roig-Garcia J, Girones-Vila J, Ruiz-Feliu B, Costa-Lima E, Recasens-Sala M, Codina-Cazador A (2010) Laparoscopic adrenalectomy for a large pheochromocytoma in a morbidly obese patient. Obes Surg 20(8):1195–1197

14.

Rodriguez-Hermosa JI, Ranea A, Delisau O, Planellas-Gine P, Cornejo L, Pujadas M, Codony C, Girones J, Codina-Cazador A (2020) Three-dimensional (3D) system versus two-dimensional (2D) system for laparoscopic resection of adrenal tumors: a case–control study. Langenbecks Arch Surg (Article in press).

15.

Dindo D, Demartines N, Clavien PA (2004) Classification of surgical complications: a new proposal with evaluation in a cohort of 6336 patients and results of a survey. Ann Surg 240(2):205–213

16.

Gupta PK, Natarajan B, Pallati PK, Gupta H, Sainath J, Fitzgibbons RJ Jr (2011) Outcomes after laparoscopic adrenalectomy. Surg Endosc 25(3):784–794

17.

Sommerey S, Foroghi Y, Chiapponi C, Baumbach SF, Hallfeldt KKJ, Ladurner R, Gallwas JKS (2015) Laparoscopic adrenalectomy-10-year experience at a teaching hospital. Langenbecks Arch Surg 400(3):341–347

18.

Srougi V, Barbosa JAB, Massaud I, Cavalcante IP, Tanno FY, Almeida MQ, Srougi M, Fragoso MC, Chambo JL (2019) Predictors of complication after adrenalectomy. Int Braz J Urol 45(3):514–522

19.

Thompson LH, Nordenström E, Almquist M, Jacobsson H, Bergenfelz A (2017) Risk factors for complications after adrenalectomy: results from a comprehensive national database. Langenbecks Arch Surg 402(2):315–322

20.

Bergamini C, Martellucci J, Tozzi F, Valeri A (2011) Complications in laparoscopic adrenalectomy: the value of experience. Surg Endosc 25(12):3845–3851

21.

Kazaure HS, Roman SA, Sosa JA (2011) Adrenalectomy in older Americans has increased morbidity and mortality: an analysis of 6416 patients. Ann Surg Oncol 18(10):2714–2721

22.

Hattori S, Miyajima A, Maeda T, Hasegawa M, Takeda T, Kosaka T, Kikuchi E, Nakagawa K, Shibata H, Oya M (2012) Risk factors for perioperative complications of adrenalectomy including single-site surgery. J Endourol 26(11):1463–1467

23.

Kiziloz H, Meraney A, Dorin R, Nip J, Kesler S, Shichman S (2014) Prognostic indices of perioperative outcome following transperitoneal laparoscopic adrenalectomy. J Laparoendosc Adv Surg Tech A 24(8):528–533

24.

Natkaniec M, Pedziwiatr M, Wierdak M, Major P, Migaczewski M, Matlok M, Budzynski A, Rembiasz K (2016) Laparoscopic transperitoneal lateral adrenalectomy for large adrenal tumors. Urol Int 97(2):165–172

25.

Balla A, Palmieri L, Meoli F, Corallino D, Ortenzi M, Ursi P, Guerrieri M, Quaresima S, Paganini AM (2020) Are adrenal lesions of 6 cm or more in diameter a contraindication to laparoscopic adrenalectomy? A case–control study. World J Surg 44(3):810–818

26.

Mihai R, Donatini G, Vidal O, Brunaud L (2019) Volume-outcome correlation in adrenal surgery-an ESES consensus statement. Langenbecks Arch Surg 404(7):795–806

27.

Shen WT, Grogan R, Vriens M, Clark OH, Duh QY (2010) One hundred two patients with pheochromocytoma treated at a single institution since the introduction of laparoscopic adrenalectomy. Arch Surg 145(9):893–897

28.

Conzo G, Musella M, Corcione F, De Palma M, Ferraro F, Palazzo A, Napolitano S, Milone M, Pasquali D, Sinisi AA, Colantuoni V, Santini L (2013) Laparoscopic adrenalectomy, a safe procedure for pheochromocytoma. A retrospective review of clinical series. J Surg 11(2):152–156

29.

Schweitzer ML, Nguyen-Thi PL, Mirallie E, Vriens M, Raffaelli M, Klein M, Zarnegar R, Brunaud L (2019) Conversion during laparoscopic adrenalectomy for pheochromocytoma: a cohort study in 244 patients. J Surg Res 243:309–315

30.

Major P, Matlok M, Pedziwiatr M, Budzynski A (2012) Do we really need routine drainage after laparoscopic adrenalectomy and splenectomy? Wideochir Inne Tech Maloinwazyjne 7(1):33–39

31.

Ganescu R, Paun S, Beuran M, Vartic M, Paun D, Dumitrache C (2012) Adrenalectomy by laparoscopic anterolateral transperitoneal approach for patients with previous abdominal surgery. J Med Life 5:61–65

32.

Conzo G, Gambardella C, Candela G, Sanguinetti A, Polistena A, Clarizia G, Patrone R, Di Capua F, Offi C, Musella M, Iorio S, Bellastella G, Pasquali D, De Bellis A, Sinisi A, Avenia N (2018) Single center experience with laparoscopic adrenalectomy on a large clinical series. BMC Surg 18(1):2

33.

Alemanno G, Bergamini C, Prosperi P, Valeri A (2017) Adrenalectomy: indications and options for treatment. Updates Surg 69(2):119–125

34.

Lindeman B, Hashimoto DA, Bababekov YJ, Stapleton SM, Chang DC, Hodin RA, Phitayakorn R (2018) Fifteen years of adrenalectomies: impact of specialty training and operative volume. Surgery 136(1):150–156
Funding
This study was not funded.
Ethics declarations
Conflict of interest
The authors declare that they have no conflicts of interest.
Ethical approval
All the authors are committed to the Committee on Publication Ethics guidelines and declare that this article has not been submitted to another journal.
Human participants and/or animals
This article does not contain any studies with human participants or animals performed by any of the authors.
Informed consent
Informed consent is not required for this type of study.
Additional information
Publisher's Note
Springer Nature remains neutral with regard to jurisdictional claims in published maps and institutional affiliations.
About this article
Cite this article
Rodríguez-Hermosa, J.I., Delisau, O., Planellas-Giné, P. et al. Factors associated with prolonged hospital stay after laparoscopic adrenalectomy. Updates Surg (2020). https://doi.org/10.1007/s13304-020-00880-w
Received:

Accepted:

Published:
Keywords
Adrenal tumors

Hospital stay

Laparoscopic adrenalectomy

Lateral transperitoneal laparoscopic approach

Minimally invasive surgery