Abstract
The aim of this study is the analysis of postural changes of patients affected by vocal disorders post-thyroidectomy, in the absence of post-operative organ damage, through a stabilometry analysis, evaluating the effectiveness of a speech-language intensive treatment in phoniatric and postural quality recovery. 260 patients with vocal dysfunction after surgery without iatrogenic damage were enrolled. 130 patients were subject to post-surgical logopedic rehabilitative training (Group A); other 130 patients were not subject to any post-surgical treatment (Group B). For all patients, vocal and stabilometric parameters were evaluated before and after 2 days and 1 month from surgery. Vocal parameters evaluated were Voice Handicap Index-10, Maximum Phonation Time and objective evaluation of voice with Multidimensional Voice Program (MDVP). Stabilometric parameters evaluated were Sway area (mm2) and Sway velocity (mm/s) in firm surface and foam pad with eyes opened and closed. Regarding the stabilometric parameters, Group A obtained a statistically significant recovery of the correct posture statistically significant compared to Group B, after a month of speech therapy. Vocal parameters (VHI, MPT, MDVP) were statistically different between the two groups (p < 0.05), with a better improvement in Group A. Thanks to our study, we have shown that a logopedic rehabilitation therapy in patients with dysfunctional post-thyroidectomy dysphonia improves both the vocal and postural outcomes.
This is a preview of subscription content, log in to check access.
Access options
Buy single article
Instant access to the full article PDF.
US$ 39.95
Tax calculation will be finalised during checkout.
Subscribe to journal
Immediate online access to all issues from 2019. Subscription will auto renew annually.
US$ 99
Tax calculation will be finalised during checkout.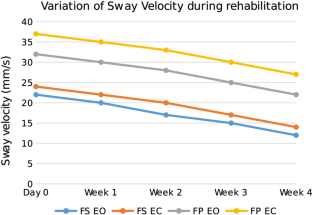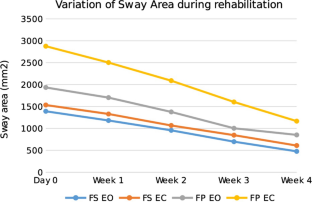 Data availability
The datasets used and/or analyzed during the current study are available from the corresponding author on reasonable request.
References
1.

Wang TS, Sosa JA (2018) Thyroid surgery for differentiated thyroid cancer—recent advances and future directions. Nat Rev Endocrinol 14(11):670–683

2.

Sun H, Zanghì GN, Freni F, Dionigi G (2018) Continuous and intermitted nerve monitoring in thyroid surgery: two complementary devices. Gland Surg 7(Suppl 1):S80–S81

3.

Iyomasa RM, Tagliarini JV, Rodrigues SA, Tavares ELM, Martins RHG (2019) Laryngeal and vocal alterations after thyroidectomy. Braz J Otorhinolaryngol. 85(1):3–10

4.

Santos M, Rajashekhar B (2011) Perceptual and acoustic analysis of voice in individuals with total thyroidectomy: pre-post surgery comparison. Indian J Otolaryngol Head Neck Surg 63:32–39

5.

Holler T, Anderson J (2014) Prevalence of voice and swallowing complaints in pre-operative thyroidectomy patients: a prospective cohort study. J Otolaryngol Head Neck Surg 43:28

6.

Rosato L, Carlevato MT, De Toma G, Avenia N (2005) Recurrent laryngeal nerve damage and phonetic modifications after total thyroidectomy: surgical malpractice only or predictable sequence? World J Surg 29:780–784

7.

de Pedro NI, Fae A, Vartanian JG, Barros AP, Correia LM, Toledo RN et al (2006) Voice and vocal self-assessment after thyroidectomy. Head Neck 28:1106–1114

8.

Freni F, Galletti B, Galletti F, Dionigi G (2018) Improved outcomes for papillary thyroid microcarcinoma care: active surveillance and case volume. Ther Adv Endocrinol Metab 9(7):185–186

9.

Wang K, Cai H, Kong D, Cui Q, Zhang D, Wu G (2017) The identification, preservation and classification of the external branch of the superior laryngeal nerve in thyroidectomy. World J Surg 41(10):2521–2529

10.

Uludag M, Aygun N, Kartal K, Besler E, Isgor A (2017) Is intraoperative neural monitoring necessary for exploration of the superior laryngeal nerve? Surgery 161(4):1129–1138

11.

Orestes MI, Chhetri DK (2014) Superior laryngeal nerve injury: effects, clinical findings, prognosis, and management options. Curr Opin Otolaryngol Head Neck Surg 22(6):439–443

12.

Sinagra DL, Montesinos MR, Tacchi VA, Moreno JC, Falco JE, Mezzadri NA, Debonis DL, Curutchet HP (2004) Voice changes after thyroidectomy without recurrent laryngeal nerve injury. J Am Coll Surg 199(4):556–560

13.

Akyildiz S, Ogut F, Akyildiz M, Engin EZ (2008) A multivariate analysis of objective voice changes after thyroidectomy without laryngeal nerve injury. Arch Otolaryngol Head Neck Surg 134(6):596–602

14.

Lang BH, Wong CK, Ma EP (2016) A systematic review and meta-analysis on acoustic voice parameters after uncomplicated thyroidectomy. Laryngoscope 126(2):528–537

15.

Soylu L, Ozbas S, Uslu HY, Kocak S (2007) The evaluation of the causes of subjective voice disturbances after thyroid surgery. Am J Surg 194:317–322

16.

Sancho JJ, Pascual-Damieta M, Pereira JA, Carrera MJ, Fontane J, Sitges-Serra A (2008) Risk factors for transient vocal cord palsy after thyroidectomy. Br J Surg 95:961–967

17.

Bruno E, De Padova A, Napolitano B, Marroni P, Batelli R, Ottaviani F et al (2009) Voice disorders and posturography: variables to define the success of rehabilitative treatment. J Voice 23(1):71–75

18.

Zhang L, Zeng L, Yan Y, Hang Q (2019) Application of the healthcare failure mode and effects analysis system to reduce the incidence of posture syndrome of thyroid surgery. Medicine (Baltimore) 98(51):e18309

19.

Rosen CA, Lee AS, Osborne J, Zullo T, Murry T (2004) Development and validation of the voice handicap index-10. Laryngoscope 114(9):1549–1556

20.

Isshiki N, Okamura H, Morimoto M (1967) Maximum phonation time and air flow rate during phonation: simple clinical tests for vocal function. Ann Otol Rhinol Laryngol 76(5):998–1007

21.

Marseglia L, D'Angelo G, Impellizzeri P, Salvo V, Catalano N, Bruno R, Galletti C, Galletti B, Galletti F, Gitto E (2017) Neonatal stridor and laryngeal cyst: which comes first? Pediatr Int 59(1):115–117

22.

Nicastri M, Chiarella G, Gallo LV, Catalano M, Cassandro E (2004) Multidimensional Voice Program (MDVP) and amplitude variation parameters in euphonic adult subjects. Normative study. Acta Otorhinolaryngol Ital 24(6):337–341

23.

Hsu YS, Kuan CC, Young YH (2009) Assessing the development of balance function in children using stabilometry. Int J Pediatr Otorhinolaryngol 73(5):737–740

24.

Yu WV, Wu CW (2017) Speech therapy after thyroidectomy. Gland Surg 6(5):501–509

25.

Nacci A, Fattori B, Mancini V, Panicucci E, Matteucci J, Ursino F et al (2012) Posturographic analysis in patients with dysfunctional dysphonia before and after speech therapy/rehabilitation treatment. Acta Otorhinolaryngol Ital 32(2):115–121

26.

Cardoso R, Lumini-Oliveira J, Meneses RF (2019) Associations between posture, voice, and dysphonia: a systematic review. J Voice 33(1):124.e1–124.e12

27.

Cocuzza S, Bonfiglio M, Grillo C, Maiolino L, Malaguarnera M, Martines F et al (2013) Post laryngectomy speech rehabilitation outcome in elderly patients. Eur Arch Otorhinolaryngol 270(6):1879–1884

28.

Maeda T, Saito M, Otsuki N, Morimoto K, Takahashi M, Iwaki S et al (2013) Voice quality after surgical treatment for thyroid cancer. Thyroid 23:847–853

29.

Caçador M, Papoila A, Brás-Geraldes C, Garcia CS, Constantino T, Almeida M, Paço J (2019) Evaluation of postural changes using dynamic posturography after speech rehabilitation in patients with voice disorders: a longitudinal study. Folia Phoniatr Logop 2:1–8
Funding
This research received no specific grant from any funding agency in the public, commercial, or not-profit sectors.
Ethics declarations
Conflict of interest
All authors declare no conflict of interest.
Research involving human participants and/or animals
All procedures performed in this study involving human participants were in accordance with the ethical standards of the institutional and/or national research committee and with the 1964 Helsinki declaration and its later amendments or comparable ethical standards.
Informed consent
Patients signed an informed consent before surgery for dataset use.
Additional information
Publisher's Note
Springer Nature remains neutral with regard to jurisdictional claims in published maps and institutional affiliations.
About this article
Cite this article
Bruno, G., Melissa, S., Natalia, C. et al. Posture and dysphonia associations in patients undergoing total thyroidectomy: stabilometric analysis. Updates Surg 72, 1143–1149 (2020). https://doi.org/10.1007/s13304-020-00844-0
Received:

Accepted:

Published:

Issue Date:
Keywords
Thyroidectomy

Vocal disorders

Dysphonia

Stabilometric

Posturographic analysis

Balance