Abstract
Bariatric and metabolic surgery are being performed in India for 2 decades. Aim of this paper is to evaluate the changing clinical trends over the last 5 years and to present the other aspects helmed by Obesity and Metabolic Surgery Society of India (OSSI) to aid the growth of research, education, data management and registry, quality control, insurance-related issues and policy change. OSSI conducts an annual survey to collect data pertaining to numbers of surgical procedures. With the approval of the executive committee, data collected from 2014 to 2018 were retrieved and analysed. 20,242 surgical procedures were performed in 2018 which is an 86.7% increase from 2014. Laparoscopic sleeve gastrectomy continued to remain the most popular procedure, it's percent share saw a steady decline from 68 to 48%. One anastomosis gastric bypass showed an unprecedented growth from 14 to 34%. Numbers of laparoscopic Roux en y gastric bypass remained constant at 15–16%. OSSI has also initiated a COE program along with training fellowships and focus on registry and inclusion in insurance coverage. National trends over the past 5 years in bariatric surgery have shown emergence of newer procedures like OAGB, although LSG continues to be the most popular procedure performed These trends give an insight on how the field is evolving and the implications for any distinctive requirements unique to this region These will lay out important directives for not only ensuring good treatment outcomes but also increasing awareness about the disease on the whole.
Access options
Buy single article
Instant access to the full article PDF.
USD 39.95
Price excludes VAT (USA)
Tax calculation will be finalised during checkout.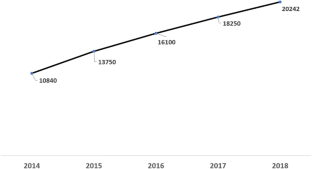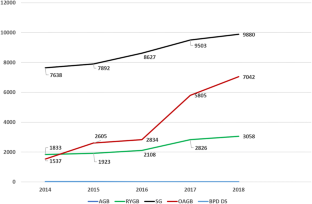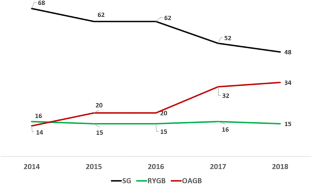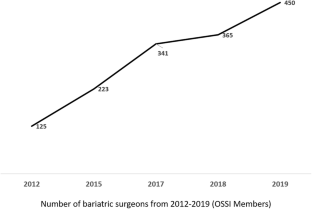 References
Ng M, Fleming T, Robinson M et al (2014) Global, regional, and national prevalence of overweight and obesity in children and adults during 1980-2013: a systematic analysis for the Global Burden of Disease Study 2013. Lancet 384(9945):766–781

NIH conference (1991) Gastrointestinal surgery for severe obesity Consensus Development Conference Panel. Ann Intern Med. 115(12):956–961

Welbourn R, Hollyman M, Kinsman R et al (2019) Bariatric surgery worldwide: baseline demographic description and one-year outcomes from the Fourth IFSO Global Registry Report 2018. Obes Surg 29:782–795

Ahirwar R, Mondal PR (2019) Prevalence of obesity in India: a systematic review. Diabetes Metab Syndr. 13(1):318–321

Pradeepa R, Anjana RM, Joshi SR et al (2015) Prevalence of generalized & abdominal obesity in urban & rural India–the ICMR-INDIAB Study (Phase-I) [ICMR- NDIAB-3]. Indian J Med Res 142(2):139–150

Welbourn R, Hollyman M, Kinsman R et al (2019) Bariatric surgery worldwide: baseline demographic description and one-year outcomes from the Fourth IFSO Global Registry Report 2018. Obes Surg 29(3):782–795

Misra S, Bhattacharya S, Saravana Kumar S et al (2019) Long-term outcomes of laparoscopic sleeve gastrectomy from the Indian subcontinent. Obes Surg 29(12):4043–4055

Bhandari M, Reddy M, Kosta S et al (2019) Laparoscopic sleeve gastrectomy versus laparoscopic gastric bypass: a retrospective cohort study. Int J Surg. 67:47–53

Nasta AM, Vyas S, Goel M et al (2019) Is sleeve gastrectomy overcriticized? A single-center Indian experience with 5-year follow-up results. Surg Obes Relat Dis. 15(11):1883–1887

Raj PP, Bhattacharya S, Misra S et al (2019) Gastroesophageal reflux-related physiologic changes after sleeve gastrectomy and Roux-en-Y gastric bypass: a prospective comparative study. Surg Obes Relat Dis. 15(8):1261–1269

Mahawar KK, Himpens J, Shikora SA et al (2018) The first consensus statement on one anastomosis/mini gastric bypass (OAGB/MGB) using a modified delphi approach. Obes Surg 28(2):303–312

Jammu GS, Sharma R (2016) A 7-Year clinical audit of 1107 cases comparing sleeve gastrectomy, Roux-En-Y gastric bypass, and mini-gastric bypass, to determine an effective and safe bariatric and metabolic procedure. Obes Surg 26(5):926–932

Kular KS, Manchanda N, Rutledge R (2014) A 6-year experience with 1,054 mini-gastric bypasses-first study from Indian subcontinent. Obes Surg 24(9):1430–1435

Ahuja A, Tantia O, Goyal G et al (2018) MGB-OAGB: effect of biliopancreatic limb length on nutritional deficiency, weight loss, and comorbidity resolution. Obes Surg 28(11):3439–3445

Mahawar KK (2017) A biliopancreatic limb of > 150 cm with OAGB/MGB Is Ill-advised. Obes Surg 27(8):2164–2165
Funding
No Funding was obtained for this work.
Ethics declarations
Conflict of interest
The authors declare no conflict of interest.
Research involving human participants and/or animals
There was no research involving human participants and as the data was collected through a retrospective survey from the surgeons.
Informed consent
Informed consent was not needed.
Additional information
Publisher's Note
Springer Nature remains neutral with regard to jurisdictional claims in published maps and institutional affiliations.
About this article
Cite this article
Bhasker, A.G., Prasad, A., Raj, P.P. et al. Trends and progress of bariatric and metabolic surgery in India. Updates Surg 72, 743–749 (2020). https://doi.org/10.1007/s13304-020-00774-x
Received:

Accepted:

Published:

Issue Date:

DOI: https://doi.org/10.1007/s13304-020-00774-x
Keywords