Abstract
Literature data indicate that mast cells (MCs) are involved in angiogenesis through the release of several pro-angiogenetic factors among which tryptase, a serine protease stored in MC granules, is one of the most active. However, no data are available concerning the role of MCs during keloids' angiogenesis. In this study, we evaluated the correlations of the number of MCs positive to tryptase (MCDPT) and microvascular density (MVD) within a series of 15 keloids and 10 normotrophic scars, by means of immunohistochemistry and image analysis methods. Data demonstrated a significant difference of MVD and MCDPT between keloids and normotrophic scars and a significant correlation between MVD and MCDPT in keloids. Our results suggest that tryptase-positive MCs might play a key role in keloids' angiogenesis. In this context, several tryptase inhibitors might be clinically evaluated as a possible new anti-angiogenetic approach to prevent keloid formation after surgery.
Access options
Buy single article
Instant access to the full article PDF.
USD 39.95
Price excludes VAT (USA)
Tax calculation will be finalised during checkout.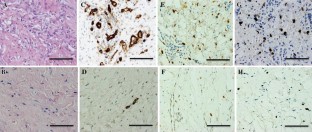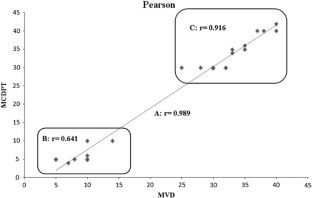 References
Fisseler-Eckhoff A, Rothstein D, Muller KM (1996) Neovascularisation in hyperplastic, metaplastic and potentially preneoplastic lesions of the bronchial mucosa. Virchows Arch 429:95–100

Folkman J (1996) Tumor angiogenesis and tissue factor. Nat Med 2:209–215

Gasparini G, Brooks PC, Biganzoli E, Vermeulen PB, Bonoldi E, Dirix LY, Ranieri G, Miceli R, Cheresh DA (1998) Vascular integrin alpha (v) beta3: a new prognostic indicator in breast cancer. Clin Cancer Res 4:2625–2634

Ranieri G, Patruno R, Ruggieri E, Montemurro S, Valerio P, Ribatti D (2006) Vascular endothelial growth factor (VEGF) as a target of bevacizumab in cancer: from the biology to the clinic. Curr Med Chem 13:1845–1857

Beer TW, Baldwin HC, Goddard JR, Gallagher PJ, Wright DH (1998) Angiogenesis in pathological and surgical scars. Hum Pathol 29(11):1273–1278

Fujiwara M, Muragaki Y, Ooshima A (2005) Upregulation of transforming growth factor-beta1 and vascular endothelial growth factor in cultured keloid fibroblasts: relevance to angiogenic activity. Arch Dermatol Res 297(4):161–169

Bux S, Madaree A (2010) Keloids show regional distribution of proliferative and degenerate connective tissue elements. Cells Tissues Organs 191(3):213–234

Patruno R, Arpaia N, Gadaleta CD, Passantino L, Zizzo N, Misino A, Lucarelli NM, Catino A, Valerio P, Ribatti D, Ranieri G (2009) VEGF concentration from plasma activated platelets rich correlates with microvascular density and grading in canine mast cell tumour spontaneous model. J Cell Mol Med 13(3):555–561

Soucek L, Lawlor ER, Soto D, Shchors K, Swigart LB, Evan GI (2007) Mast cells are required for angiogenesis and macroscopic expansion of Myc-induced pancreatic islet tumors. Nat Med 13:1211–1218

Ribatti D, Vacca A, Nico B, Quondamatteo F, Ria R, Minischetti M, Marzullo A, Herken R, Roncali L, Dammacco F (1999) Bone marrow angiogenesis and mast cell density increase simultaneously with progression of human multiple myeloma. Br J Cancer 79:451–455

Norrby K (2002) Mast cells and angiogenesis. APMIS 110:355–371

Kankkunen JP, Harvima IT, Naukkarinen A (1997) Quantitative analysis of tryptase and chymase containing mast cells in benign and malignant breast lesions. Int J Cancer 72:385–388

Blair RJ, Meng H, Marchese MJ, Ren S, Schwartz LB, Tonnesen MG, Gruber BL (1997) Human mast cells stimulate vascular tube formation. Tryptase is a novel, potent angiogenic factor. J Clin Invest 99:2691–2700

Somasundaran P, Ren G, Nagar H, Kraemer D, Mendoza L, Michael LH, Caughey GH, Entman ML, Frangogiannis NG (2005) Mast cell tryptase may modulate endothelial cell phenotype in healing myocardial infarcts. J Pathol 205:102–111

Ribatti D, Ranieri G, Nico B, Benagiano V, Crivellato E (2011) Tryptase and chymase are angiogenic in vivo in the chorioallantoic membrane assay. Int J Dev Biol 55(1):99–102

Kashiwase Y, Morioka J, Inamura H, Yoshizawa Y, Usui R, Kurosawa M (2004) Quantitative analysis of mast cells in benign and malignant breast lesions. Immunohistochemical study on formalin-fixed, paraffin-embedded tissues. Int Arch Allergy Immunol 134:199–205

Mangia A, Malfettone A, Rossi R, Paradiso A, Ranieri G, Simone G, Resta L (2011) Tissue remodelling in breast cancer: human mast cells tryptase as an initiator of myofibroblast differentiation. Histopathology 58(7):1096–1106

Ranieri G, Grammatica L, Patruno R, Zito AF, Valerio P, Iacobellis S, Gadaleta C, Gasparini G, Ribatti D (2007) A possible role of thymidine phosphorylase expression and 5-fluorouracil increased sensitivity in oropharyngeal cancer patients. J Cell Mol Med 11:362–368

Ranieri G, Labriola A, Achille G, Florio G, Zito AF, Grammatica L, Paradiso A (2002) Microvessel density, mast cell density and thymidine phosphorylase expression in oral squamous carcinoma. Int J Oncol 21:1317–1323

Chang HY, Sneddon JB, Alizadeh AA, Sood R, West RB, Montomery K, Chi JT, van de Rijn M, Botstein D, Brown PO (2004) Gene expression signature of fibroblast serum response predicts human cancer progression: similarities between tumors and wounds. PLoS Biol 2(2):E7

Mogili NS, Krishnaswamy VR, Jayaraman M, Rajaram R, Venkatraman A, Korrapati PS (2012) Altered angiogenic balance in keloids: a key to therapeutic intervention. Transl Res 159:182–189

Coussens LM, Raymond WW, Bergers G, Laig-Webster M, Behrendtsen O, Werb Z, Werb Z, Caughey GH, Hanahan D (1999) Inflammatory mast cells up-regulate angiogenesis during squamous epithelial carcinogenesis. Genes Dev 13:1382–1397

Nico B, Mangieri D, Crivellato E, Vacca A, Ribatti D (2008) Mast cells contribute to vasculogenic mimicry in multiple myeloma. Stem Cells Dev 17:19–22

Ribatti D, Nico B, Maxia C, Longo V, Murtas D, Mangieri D, Perra MT, De Giorgis M, Piras F, Crivellato E, Sirigu P (2007) Neovascularization and mast cells with tryptase activity increase simultaneously in human pterygium. J Cell Mol Med 11:585–589

Hallgren J, Estrada S, Karlson U, Alving K, Pejler G (2001) Heparin antagonists are potent inhibitors of mast cell tryptase. Biochemistry 40:7342–7439

Fajardo I, Pejler G (2003) Human mast cell beta-tryptase is a gelatinase. J Immunol 171(1493):1499

Itoh Y, Sendo T, Oishi R (2005) Physiology and pathophysiology of proteinase-activated receptors (PARs): role of tryptase/PAR-2 in vascular endothelial barrier function. J Pharmacol Sci 97:14–19

Shpacovitch VM, Brzoska T, Buddenkotte J, Stroh C, Sommerhoff CP, Ansel JC, Schulze-Osthoff K, Bunnett NW, Luger TA, Steinhoff M (2002) Agonists of proteinase-activated receptor 2 induce cytokine release and activation of nuclear transcription factor kappaB in human dermal microvascular endothelial cells. J Invest Dermatol 118:380–385

Rickard A, Portell C, Kell PJ, Vinson SM, McHowat J (2005) Protease-activated receptor stimulation activates a Ca2+-independent phospholipase A2 in bladder microvascular endothelial cells. Am J Physiol Renal Physiol 288:F714–F721

Sendo T, Sumimura T, Itoh Y, Goromaru T, Aki K, Yano T, Oike M, Ito Y, Mori S, Nishibori M, Oishi R (2003) Involvement of proteinase-activated receptor-2 in mast cell tryptase-induced barrier dysfunction in bovine aortic endothelial cells. Cell Signal 15:773–781

Matej R, Mandakova P, Netikova I, Pouckova P, Olejar T (2007) Proteinase-activated receptor-2 expression in breast cancer and the role of trypsin on growth and metabolism of breast cancer cell line MDA MB-231. Physiol Res 56:475–484

Morris DR, Ding Y, Ricks TK, Gullapalli A, Wolfe BL, Trejo J (2006) Protease-activated receptor-2 is essential for factor VIIa and Xa-induced signaling, migration, and invasion of breast cancer cells. Cancer Res 66:307–314

Liu Y, Mueller BM (2006) Protease-activated receptor-2 regulates vascular endothelial growth factor expression in MDA-MB-231 cells via MAPK pathways. Biochem Biophys Res Commun 344:1263–1270

Ranieri G, Passantino L, Patruno R, Passantino G, Jirillo F, Catino A, Mattioli V, Gadaleta C, Ribatti D (2003) The dog mast cell tumour as a model to study the relationship between angiogenesis, mast cell density and tumour malignancy. Oncol Rep 10:1189–1193

Yano H, Kinuta M, Tateishi H, Nakano Y, Matsui S, Monden T, Okamura J, Sakai M, Okamoto S (1999) Mast cell infiltration around gastric cancer cells correlates with tumor angiogenesis and metastasis. Gastric Cancer 2:26–32

Takanami I, Takeuchi K, Naruke M (2000) Mast cell density is associated with angiogenesis and poor prognosis in pulmonary adenocarcinoma. Cancer 88:2686–2692

Ch'ng S, Wallis RA, Yuan L, Davis PF, Tan ST (2006) Mast cells and cutaneous malignancies. Mod Pathol 19:149–159

Ribatti D, Ennas MG, Vacca A, Ferreli F, Nico B, Orru S, Sirigu P (2003) Tumor vascularity and tryptase-positive mast cells correlate with a poor prognosis in melanoma. Eur J Clin Invest 33:420–425

Yodavudh S, Tangjitgamol S, Puangsa-art S (2008) Prognostic significance of microvessel density and mast cell density for the survival of Thai patients with primary colorectal cancer. J Med Assoc Thai 91:723–732

Ibaraki T, Muramatsu M, Takai S, Jin D, Maruyama H, Orino T, Katsumata T, Miyazaki M (2005) The relationship of tryptase- and chymase-positive mast cells to angiogenesis in stage I non-small cell lung cancer. Eur J Cardiothorac Surg 28:617–621

Peng SH, Deng H, Yang JF, Xie PP, Li C, Li H, Feng DY (2005) Significance and relationship between infiltrating inflammatory cell and tumor angiogenesis in hepatocellular carcinoma tissues. World J Gastroenterol 11:6521–6524

Erba F, Fiorucci L, Pascarella S, Menegatti E, Ascenzi P, Ascoli F (2001) Selective inhibition of human mast cell tryptase by gabexate mesylate, an antiproteinase drug. Biochem Pharmacol 61:271–276

Mori S, Itoh Y, Shinohata R, Sendo T, Oishi R, Nishibori M (2003) Nafamostat mesilate is an extremely potent inhibitor of human tryptase. J Pharmacol Sci 92:420–423
Acknowledgments
The authors would like to thank Prof. Giuseppe Donato for his support and technical help.
Conflict of interest
The authors declared no conflicts of interests.
About this article
Cite this article
Ammendola, M., Zuccalà, V., Patruno, R. et al. Tryptase-positive mast cells and angiogenesis in keloids: a new possible post-surgical target for prevention. Updates Surg 65, 53–57 (2013). https://doi.org/10.1007/s13304-012-0183-y
Received:

Accepted:

Published:

Issue Date:

DOI: https://doi.org/10.1007/s13304-012-0183-y
Keywords