Abstract
Topical formulations are widely used in anti-haemorrhoidal treatment, but often lacking controlled clinical trials. Here, we report the results from a controlled clinical trial performed with a new gel medical device (Proctoial) containing hyaluronic acid with tea tree oil and methyl-sulfonyl-methane as major components. The total number of 36 haemorrhoidal patients (grade 1–3) was enrolled in a double-blind, placebo-controlled clinical trial and divided into 2 equal parallel groups. The anal pain, pain during defecation, visible bleeding, pruritus and irritation/inflammation were recorded before and after 14-day treatment using a visual analogue scale both by the investigators and by the patients. Safety and tolerability of the treatments were also recorded. The new gel medical device statistically significantly reduced all the symptoms after the treatment compared to placebo. The results indicated also a very good tolerability and safety of the treatments.
Access options
Buy single article
Instant access to the full article PDF.
US$ 39.95
Tax calculation will be finalised during checkout.
Subscribe to journal
Immediate online access to all issues from 2019. Subscription will auto renew annually.
US$ 79
Tax calculation will be finalised during checkout.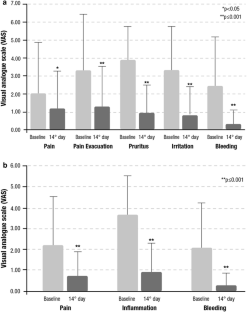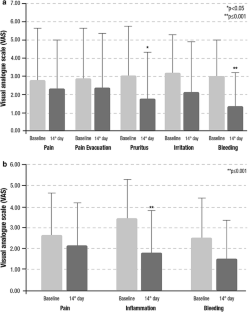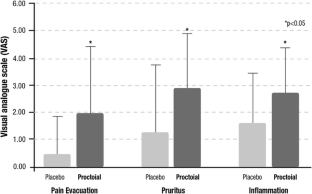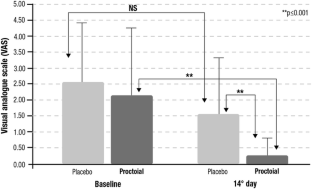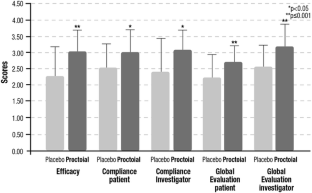 References
1.

Acheson AG, Scholenfield JH (2008) Management of haemorrhoids. BMJ 336:380–383

2.

Nisar PJ, Scholenfield JH (2003) Managing haemorrhoids. BMJ 327:847–851

3.

Hancock BD (1992) Haemorrhoids. BMJ 304:1042–1044

4.

Willis S et al (2010) Haemorrhoids a collagen disease? Colorectal Dis 12:1249–1253

5.

Lupo MP (2006) Hyaluronic acid fillers in facial rejuvenation. Semin Cutan Med Surg 25:122–126

6.

Laurent TC, Fraser JRE (1992) Hyaluronan. FASEB J 6:2397–2404

7.

Volpi N et al (2009) Role, metabolism, chemical modifications and applications of hyaluronan. Curr Med Chem 16:1718–1745

8.

Kim YO et al (2009) The anti-inflammatory effects of methylsulfonylmethane on lipopolysaccharide-induced inflammation responses in murine macrophages. Biol Pharm Bull 32(4):651–656

9.

Carson CF et al (2006) Melaleuca alternifolia (Tea Tree) oil: a review of antimicrobial and other medicinal properties. Clin Microbiol Rev 19((1):50–62

10.

Papadopoulos CJ et al (2006) Susceptibility of pseudomonas to Melaleuca Alternifolia (tea tree) oil and components. J Antimicrob Chemother 58:449–451

11.

Burdick JA, Prestwich GD (2011) Hyaluronic acid hydrogels for biomedical applications. Adv Mater 23(12):H41–H56

12.

Dechert TA et al (2006) Hyaluronan in human acute and chronic dermal wounds. Wound Rep Reg. 14:252–258

13.

Parcell S (2002) Sulphur in human nutrition and applications in medicine. Altern Med Rev. 7(1):22–44

14.

Fernandez Garcia MI et al (2009) Efficacy and safety of topical diltiazem 2% in anal fissure. Farm Hosp 33(2):80–88

15.

Perrotti P et al (1999) Topical nifedipine for conservative treatment of acute haemorrhoidal thrombosis. Colorectal Dis 2:18–21

16.

Gioiella G et al (2004) Clinical study on the pharmacological treatment of haemorrhoids with 0.25% oxethacaine chlorhydate. Clin Ter 155(10):443–445

17.

Tjandra JJ et al (2007) Rectogesic (glyceryl trinitrate 0.2%) ointment relieves symptoms of haemorrhoids associated with high resting anal canal pressures. Colorectal Dis 9(5):457–463

18.

Perrotti P et al (2010) Topical nifedipine with lidocaine ointment versus active control for pain after hemorrhoidectomy: results of a multicentre, prospective, randomized, double-blind study. Can J Surg 53(1):17–23
About this article
Cite this article
Joksimovic, N., Spasovski, G., Joksimovic, V. et al. Efficacy and tolerability of hyaluronic acid, tea tree oil and methyl-sulfonyl-methane in a new gel medical device for treatment of haemorrhoids in a double-blind, placebo-controlled clinical trial. Updates Surg 64, 195–201 (2012). https://doi.org/10.1007/s13304-012-0153-4
Received:

Accepted:

Published:

Issue Date:
Keywords
Haemorrhoids

Hyaluronic acid

Tea tree oil

Methyl-sulfonyl-methane

Gel medical device

Clinical study