Abstract
Heavy metal (HM) contamination of water bodies is caused by both first generation (industries) and second generation (distributed sources, domestic sewage, sediments) sources. We applied a multi-pronged approach to quantify the contribution of first and second generation sources to the HM load in a stream located in an industrialised catchment. We found that, despite strict regulation, first generation sources contributed significantly to the HM load (60%–80%), showing the ineffectiveness of current regulation. Domestic sewage contributed significantly to Cu, Ni, and Mn load (15%–20%). The contribution of distributed sources and sediments to HM load is insignificant. In a 24-hour cycle, HM concentrations frequently exceeded FAO's irrigation water quality standards, with the highest concentrations observed at night. Empirically, the study highlights the continued plight of urban streams in rapidly industrialising centers and the failure to regulate first-generation sources. Methodologically, it demonstrates the importance of temporally intensive measurement of contaminant concentration and load. Policy implications include the need for ambient water quality standards, inclusion of HMs in such standards, load-based regulation, and a problem-oriented monitoring and enforcement approach.
Graphical abstract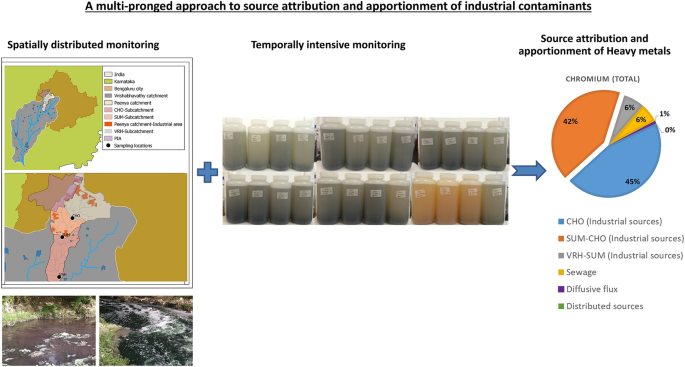 Access options
Buy single article
Instant access to the full article PDF.
USD 39.95
Price excludes VAT (USA)
Tax calculation will be finalised during checkout.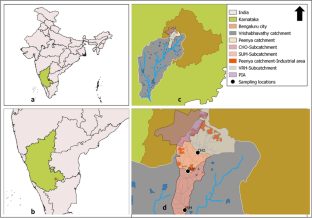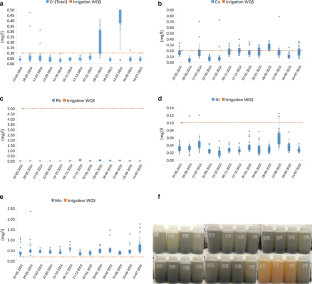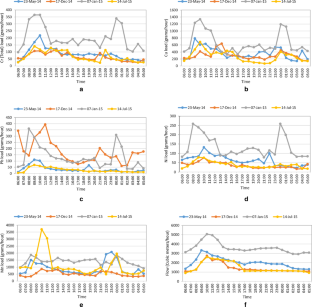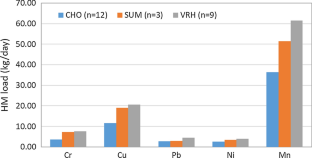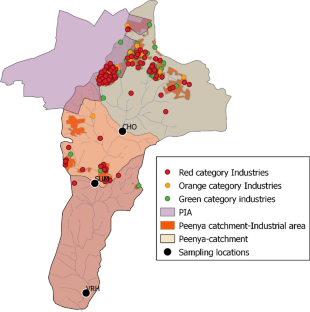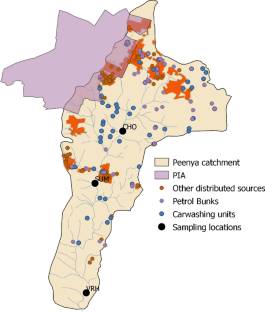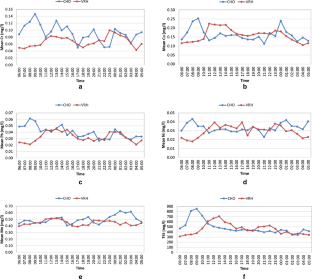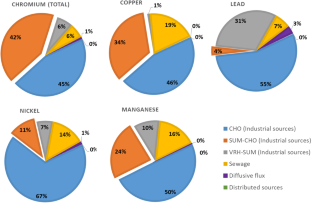 Data availability
The datasets generated during and/or analysed during the current study are available from the corresponding author on reasonable request.
References
Ahipathy, M.V., and E.T. Puttaiah. 2006. Ecological characteristics of Vrishabhavathy River in Bengaluru (India). Environmental Geology 49: 1217–1222.

Ahipathy, M., and E.T. Puttaiah. 2007. Toxicity of Vrishabhavathy river water and sediment to the growth of Phaseolus vulgaris (French beans). Journal of Applied Sciences and Environmental Management 11: 17–26.

Aktar, M.W., M. Paramasivam, M. Ganguly, S. Purkait, and D. Sengupta. 2010. Assessment and occurrence of various heavy metals in surface water of Ganga river around Kolkata: A study for toxicity and ecological impact. Environmental Monitoring and Assessment 160: 207–213.

Allan, I.J., J. Knutsson, N. Guigues, G.A. Mills, A.-M. Fouillac, and R. Greenwood. 2008. Chemcatcher® and DGT passive sampling devices for regulatory monitoring of trace metals in surface water. Journal of Environmental Monitoring 10: 821–829.

APHA. 2005. Standard Methods for examination of water and wastewater, 21st ed. Washington DC: APHA.

Apoorva, R., V. Srinivasan, and D. S. Kumar. 2021. Commercial, industrial & institutional water use in Bangalore. Environment and Development Discussion, Bengaluru Paper No. 4. Bengaluru: Ashoka Trust for Research in Ecology and the Environment.

Audry, S., J. Schäfer, G. Blanc, C. Bossy, and G. Lavaux. 2004. Anthropogenic components of heavy metal (Cd, Zn, Cu, Pb) budgets in the Lot-Garonne fluvial system (France). Applied Geochemistry 19: 769–786.

Batley, G. E., and S. L. Simpson. 2016. Sediment sampling, sample preparation and general analysis. Sediment quality assessment. CSIRO Publishing Clayton, Australia: 15.

Black, J.J., M. Holmes, P.P. Dymerski, and W.F. Zapisek. 1980. Fish tumor pathology and aromatic hydrocarbon pollution in a great lakes estuary. In Hydrocarbons and halogenated hydrocarbons in the aquatic environment, ed. B.K. Afghan, D. Mackay, H.E. Braun, A.S.Y. Chau, J. Lawrence, D.R.S. Lean, O. Meresz, J.R.W. Miles, et al., 559–565. Boston, MA: Springer.

Chen, H., Y. Teng, J. Li, J. Wu, and J. Wang. 2016. Source apportionment of trace metals in river sediments: A comparison of three methods. Environmental Pollution 211: 28–37.

Chukwu, O., S. Segi, and P.A. Adeoye. 2008. Effect of Car-wash effluent on the Quality of Receiving stream. Journal of Engineering and Applied Sciences 3: 607–610.

CPCB. 2011. Polluted river stretches in India: Criteria and status. New Delhi: Central Pollution Control Board.

CPCB. 2018. River stretches for restoration of water quality. New Delhi: Central Pollution Control Board.

Drozdova, J., H. Raclavska, K. Raclavsky, and H. Skrobankova. 2019. Heavy metals in domestic wastewater with respect to urban population in Ostrava, Czech Republic: Heavy metals in domestic wastewater. Water and Environment Journal 33: 77–85.

EMPRI. 2008. Environmental database for Peenya Industrial Area Bangalore. Complementry Project Report. Bangalore.

US EPA, O. 2015. National recommended water quality criteria—aquatic life criteria table. Data and Tools. September 3.

Feenstra, S., R. Hussain, and W. van der Hoek. 2000. Health risks of irrigation with untreated urban wastewater in the southern Punjab, Pakistan. Pakistan: International Water Management Institute Lahore.

Gaurav, V.K., D. Kumar, and C. Sharma. 2018. Assessment of metal accumulation in the vegetables and associated health risk in the upper-most Ganga-Yamuna Doab Region, India. American Journal of Plant Sciences 9: 2347–2358.

Gunawardena, A., B. White, A. Hailu, E.M.S. Wijeratne, and R. Pandit. 2018. Policy choice and riverine water quality in developing countries: An integrated hydro-economic modelling approach. Journal of Environmental Management 227: 44–54.

Hargreaves, A.J., P. Vale, J. Whelan, C. Constantino, G. Dotro, P. Campo, and E. Cartmell. 2017. Distribution of trace metals (Cu, Pb, Ni, Zn) between particulate, colloidal and truly dissolved fractions in wastewater treatment. Chemosphere 175: 239–246.

Herath, G., and T. Amaresekera. 2007. Assessment of urban and industrial pollution on water quality: Kelani river Sri Lanka. In Southeast Asian water environment, vol. 2, ed. H. Furumai, F. Kurisu, H. Katayama, H. Satoh, S. Ohgaki, and N.C. Thanh, 91–98. London: IWA Publishing.

Huang, F., X. Wang, L. Lou, Z. Zhou, and J. Wu. 2010. Spatial variation and source apportionment of water pollution in Qiantang River (China) using statistical techniques. Water Research 44: 1562–1572.

Iqbal, J., M.H. Shah, and G. Akhter. 2013. Characterisation, source apportionment and health risk assessment of trace metals in freshwater Rawal Lake, Pakistan. Journal of Geochemical Exploration 125: 94–101.

Jacob, J.M., C. Karthik, R.G. Saratale, S.S. Kumar, D. Prabakar, K. Kadirvelu, and A. Pugazhendhi. 2018. Biological approaches to tackle heavy metal pollution: A survey of literature. Journal of Environmental Management 217: 56–70.

Jamwal, P., and S. Lele. 2017. Addressing pollution in urban rivers: What we learnt from the Vrishabhavathy river in Bengaluru. In Transcending boundaries: Reflecting on twenty years of action and research at ATREE, ed. A.J. Hiremath, N. Rai, and A. Siddhartha, 104–113. Bangalore: ATREE.

Jamwal, P., A.K. Mittal, and J.-M. Mouchel. 2011. Point and non-point microbial source pollution: A case study of Delhi. Physics and Chemistry of the Earth, Parts a/b/c 36: 490–499.

Jamwal, P., S. Lele, and M. Menon. 2016. Rethinking water quality standards in the context of urban rivers. In Urbanization and the environment: Eighth biennial conference of the Indian society for ecological economics.

Jan, N., N. Nandini, A. S. Jumbe, and B. S. Anupama. 2008. Impact of municipal and industrial pollution on Byramangala Lake, Bengaluru Rural District, India. In Taal 2007: The 12th world lake conference, 1717–1728.

Jayadev, and E. T. Puttaiah. 2013. Studies on heavy metals contamination in Vrishabhavathi river water and ground water of the surrounding river. International Journal of Scientific & Engineering Research 4: 9.

Jeong, H., H. Kim, and T. Jang. 2016. Irrigation water quality standards for indirect wastewater reuse in agriculture: a contribution toward sustainable wastewater reuse in South Korea. Water 8: 169.

Ji, H., H. Li, Y. Zhang, H. Ding, Y. Gao, and Y. Xing. 2018. Distribution and risk assessment of heavy metals in overlying water, porewater, and sediments of Yongding River in a coal mine brownfield. Journal of Soils and Sediments 18: 624–639.

Jones, L., T. Sullivan, B. Kinsella, A. Furey, and F. Regan. 2017. Occurrence of selected metals in wastewater effluent and surface water in Ireland. Analytical Letters 50: 724–737.

Khan, S., Q. Cao, Y.M. Zheng, Y.Z. Huang, and Y.G. Zhu. 2008. Health risks of heavy metals in contaminated soils and food crops irrigated with wastewater in Beijing, China. Environmental Pollution 152: 686–692.

Khan, K., Y. Lu, H. Khan, M. Ishtiaq, S. Khan, M. Waqas, L. Wei, and T. Wang. 2013. Heavy metals in agricultural soils and crops and their health risks in Swat District, northern Pakistan. Food and Chemical Toxicology 58: 449–458.

Khwaja, A.R., R. Singh, and S.N. Tandon. 2001. Monitoring of Ganga Water and sediments vis-à-vis tannery pollution at Kanpur (India): A case study. Environmental Monitoring and Assessment 68: 19–35.

Lele, S., P. Jamwal, and M. Menon. 2021. Challenges in regulating water pollution in India. Economic & Political Weekly 56: 47.

Lélé, S., V. Srinivasan, P. Jamwal, B. K. Thomas, M. Eswar, and T. Md. Zuhail. 2013. Water management in Arkavathy Basin: A situation analysis. Environment and Development Discussion Paper 1. Bangalore: Ashoka Trust for Research in Ecology and the Environment.

Lele, S., P. Jamwal, N. Heble, and B. K. Thomas. 2016. Monitoring, enforcement and governance in regulating water pollution in an urban river. Bengaluru: ATREE.

Li, S., and Q. Zhang. 2010. Risk assessment and seasonal variations of dissolved trace elements and heavy metals in the Upper Han River, China. Journal of Hazardous Materials 181: 1051–1058.

Lokeshwari, H., and T.G. Chandrappa. 2006. Impact of heavy metal contamination of Bellandur lake on soil and cultivated vegetation. Current Science 91: 622–627.

Lokhande, R.S., P.U. Singare, and D.S. Pimple. 2011. Quantification study of toxic heavy metals pollutants in sediment samples collected from Kasardi river flowing along the Taloja industrial area of Mumbai. India, the New York Science Journal 4: 66–71.

Loock, M.M., J.P. Beukes, and P.G. Van Zyl. 2015. Conductivity as an indicator of surface water quality in the proximity of ferrochrome smelters in South Africa. Water SA 41: 705–711.

Lu, T., H. Yuan, Y. Wang, H. Huang, and Y. Chen. 2016. Characteristic of heavy metals in biochar derived from sewage sludge. Journal of Material Cycles and Waste Management 18: 725–733.

Madhukar, R., and S. Srikantaswamy. 2013. Impact of industrial effluents on the water quality of Vrishabavathi river and Byramangala lake in Bidadi Industrial Area, Karnataka, India. International Journal of Geology, Earth & Environmental Sciences 3: 132–141.

Madoni, P., D. Davoli, G. Gorbi, and L. Vescovi. 1996. Toxic effect of heavy metals on the activated sludge protozoan community. Water Research 30: 135–141.

Mahfooz, Y., A. Yasar, L. Guijian, Q.U. Islam, A.B.T. Akhtar, R. Rasheed, S. Irshad, and U. Naeem. 2020. Critical risk analysis of metals toxicity in wastewater irrigated soil and crops: A study of a semi-arid developing region. Scientific Reports 10: 1–10.

Malghan, D., V. K. Mehta, R. Goswami, A. Nehra, S. Lele, E. Kemp-Benedict, S. Muddu, C. Mathur, et al. 2016. Bengaluru's domestic water consumption: Preliminary results for adequacy and equity. Paper presented at the National Dissemination Workshop on Adapting to Climate Change in Urbanising Watersheds, New Delhi.

Malini, S., N. Nagaiah, L. Paramesh, P. Venkataramaiah, and A. Balasubramanian. 2003. Groundwater Quality Around Mysore, Karnataka, India. International Journal of Environmental Studies 60: 87–98.

McKenzie, E.R., J.E. Money, P.G. Green, and T.M. Young. 2009. Metals associated with stormwater-relevant brake and tire samples. Science of the Total Environment 407: 5855–5860.

Menon, U. 1988. Technology and development aid: The case of Ganga Action Plan. Economic and Political Weekly 23: 1693–1701.

Muserere, S.T., Z. Hoko, and I. Nhapi. 2014. Characterisation of raw sewage and performance assessment of primary settling tanks at Firle Sewage Treatment Works, Harare, Zimbabwe. Physics and Chemistry of the Earth, Parts a/b/c 67: 226–235.

Oknich, J., and R.-W.M.W. District. 2002. The perceived environmental impact of car washing. Little Canada: Ramsey-Washington Metro Watershed District.

Paul, D. 2017. Research on heavy metal pollution of river Ganga: A review. Annals of Agrarian Science 15: 278–286.

PIA Bangalore Karnataka India. 2021. Peen. Ind. URL http://www.peenyaindustries.org/about-us/. Accessed 28 July 2021.

Rajaram, T., and A. Das. 2008. Water pollution by industrial effluents in India: Discharge scenarios and case for participatory and system specific local regulation. Futures 40: 56–69.

Rawat, M., M.C.Z. Moturi, and V. Subramanian. 2003. Inventory compilation and distribution of heavy metals in wastewater from small-scale industrial areas of Delhi, India. Journal of Environmental Monitoring 5: 906.

Rule, K.L., S.D.W. Comber, D. Ross, A. Thornton, C.K. Makropoulos, and R. Rautiu. 2006. Diffuse sources of heavy metals entering an urban wastewater catchment. Chemosphere 63: 64–72.

Seibert, J., and K.J. Beven. 2009. Gauging the ungauged basin: how many discharge measurements are needed? Hydrology and Earth System Sciences 13: 883–892.

Sekhar, C., N.S. Chary, C.T. Kamala, Shanker, and H. Frank. 2005. Environmental pathway and risk assessment studies of the Musi River's heavy metal contamination—A case study. Human and Ecological Risk Assessment 11: 1217–1235.

Sen, I., A. Shandil, and V.S. Shrivastava. 2011. Study for determination of heavy metals in fish species of the river Yamuna (Delhi) by inductively coupled plasma-optical emission spectroscopy (ICP-OES). Advances in Applied Science Research 2: 161–166.

Sequeira, A. 2016. Vrishbhavathi flows black and toxic, brings slow death to villagers, livestock. The Times of India, August 25.

Shankar, B.S. 2019. A critical assay of heavy metal pollution index for the groundwaters of Peenya Industrial Area, Bangalore, India. Environmental Monitoring and Assessment 191: 1–14.

Shankar, B.S., N. Balasubramanya, and M.M. Reddy. 2008. Impact of industrialisation on groundwater quality–a case study of Peenya industrial area, Bangalore, India. Environmental Monitoring and Assessment 142: 263–268.

Shaw, M., and J.F. Mueller. 2009. Time integrative passive sampling: how well do chemcatchers integrate fluctuating pollutant concentrations? Environmental Science & Technology 43: 1443–1448.

Sorme, L., and R. Lagerkvist. 2002. Sources of heavy metals in urban wastewater in Stockholm. The Science of the Total Environment 298: 131–145.

Suthar, S., A.K. Nema, M. Chabukdhara, and S.K. Gupta. 2009. Assessment of metals in water and sediments of Hindon River, India: Impact of industrial and urban discharges. Journal of Hazardous Materials 171: 1088–1095.

Tajuddin, M.F., A. Al-Gheethi, R. Mohamed, E. Noman, B.A. Talip, and A. Bakar. 2020. Optimising of heavy metals removal from car wash wastewater by chitosan-ceramic beads using response surface methodology. Materials Today: Proceedings 31: 43–47.

Van Den Berg, G.A., J.G. Loch, L.M. Van Der Heijdt, and J.J. Zwolsman. 1999. Mobilisation of heavy metals in contaminated sediments in the river Meuse, The Netherlands. Water, Air, and Soil Pollution 116: 567–586.

Vareda, J.P., A.J.M. Valente, and L. Durães. 2019. Assessment of heavy metal pollution from anthropogenic activities and remediation strategies: A review. Journal of Environmental Management 246: 101–118.

Wainger, L.A. 2012. Opportunities for reducing total maximum daily load (TMDL) compliance costs: Lessons from the Chesapeake Bay. Environmental Science & Technology 46: 9256–9265.

WWAP. 2009. Water in a Changing World: The United Nations World Water Development Report 3. Paris: UNESCO and London: Earthscan.

Yadav, R.K., B. Goyal, R.K. Sharma, S.K. Dubey, and P.S. Minhas. 2002. Post-irrigation impact of domestic sewage effluent on composition of soils, crops and ground water—a case study. Environment International 28: 481–486.

Zhen-guang, Y., W. Hong, W. Yi-zhe, Z. Ya-hui, Y. Ruo-zhen, Z. Jun-li, K.M.Y. Leung, and L. Zheng-tao. 2013. Developing a national water quality criteria system in China. Water Policy 15: 936–942.
Acknowledgements
This research is part of a larger study titled "Adapting to Climate Change in Urbanizing Watersheds (ACCUWa) in India" (www.atree.org/accuwa). Financial support for most of this research comes from grant no. 107086-001 from the International Development Research Centre (IDRC), Canada. In addition, financial support for this research also came from Sir Dorabji Tata Trust and the Department of Science and Technology (DST). We would like to thank Shivaram, Chandan Gowda and Durgesh, field assistant and interns, for helping with sample collection and analysis. We are also grateful to the staff at ATREE and drivers for help with travel and vigilance during sample collections, especially during nighttime.
Ethics declarations
Conflict of interest
The authors declare that they have no known competing financial interests or personal relationships that could have appeared to influence the work reported in this paper.
Additional information
Publisher's Note
Springer Nature remains neutral with regard to jurisdictional claims in published maps and institutional affiliations.
Supplementary Information
Below is the link to the electronic supplementary material.
About this article
Cite this article
Jamwal, P., Nayak, D., Urs, P.R. et al. A multi-pronged approach to source attribution and apportionment of heavy metals in urban rivers. Ambio 51, 2182–2200 (2022). https://doi.org/10.1007/s13280-022-01734-y
Received:

Revised:

Accepted:

Published:

Issue Date:

DOI: https://doi.org/10.1007/s13280-022-01734-y
Keywords
Domestic wastewater

Heavy metals

Industrial effluents

Industrial pollution regulation

Source apportionment

Water quality monitoring