Abstract
Climate change will likely intensify hurricane activity in coastal regions. A thorough understanding of hurricane impacts to marine fauna is necessary to prepare for and mitigate potential impacts to social systems dependent upon adjacent fauna. Yet, research attention, conservation funding, and policy all can be biased toward taxa of societal interest, potentially favoring a limited understanding of hurricane impacts. Here, we analyzed the frequency of mentions of taxa in newspaper articles in relation to hurricane activity at three coastal US locations coupled with analysis of long-term fisheries-independent data. While economically important taxa dominate media discourse, we observed long-term hurricane-related abundance declines in ecologically important taxa having little direct human utility. We conclude that there is a potential for research and policy biases related to hurricane impacts. Preparation and mitigation efforts will benefit from researchers and managers making directed efforts to identify and incorporate hurricane sensitive taxa into their work.
Access options
Buy single article
Instant access to the full article PDF.
USD 39.95
Price excludes VAT (USA)
Tax calculation will be finalised during checkout.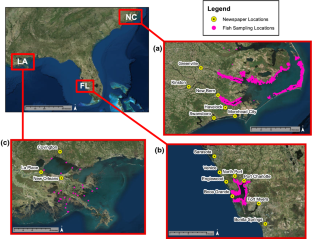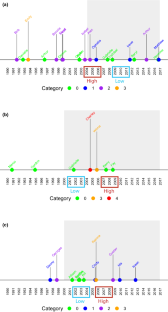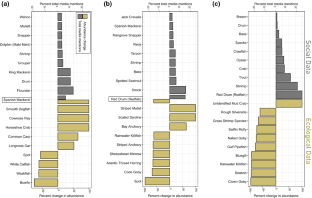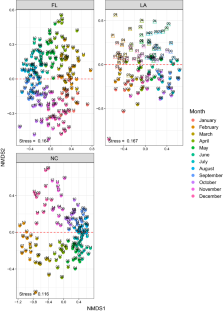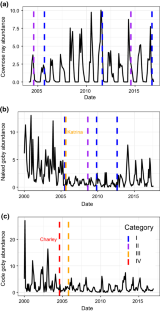 Notes
Marshall, Bob. "TREADING WATER – Fishing in the metro area has shown signs of recovery, but there is growing concern for coastal land loss and the future of this habitat." The Times-Picayune (New Orleans, LA), 26 August 2007, p. 10. (Accessed December 9, 2021 via Newsbank).

Martin, Greg. "Storm boosted commercial fishing – Opinions vary on hurricane impact." Englewood Sun (FL), 27 December 2004. (Accessed December 9, 2021 via Newsbank).

Gibson, Steve. "Tails of woe – Sightfishing for tailing redfish is popular, but it's not fast action on numbers of fish." Sarasota Herald-Tribune (FL), 19 December 2004. p. C8. (Accessed December 9, 2021 via Newsbank).
References
Adger, W.N., T.P. Hughes, C. Folke, S.R. Carpenter, and J. Rockström. 2005. Social-ecological resilience to coastal disasters. Science 309: 1036–1039. https://doi.org/10.1126/science.1112122.

Anderson, M.J. 2001. A new method for non-parametric multivariate analysis of variance. Austral Ecology 26: 32–46. https://doi.org/10.1111/j.1442-9993.2001.01070.pp.x.

Anderson, G. 1985. Species Profiles: Life Histories and Environmental Requirements of Coastal Fishes and Invertebrates (Gulf of Mexico)—Grass Shrimp. 82(11.35). U.S. Fish and Wildlife Service Biological Report. U.S. Army Corps of Engineers.

Bengston, D.N., D.P. Fan, and D.N. Celarier. 1999. A new approach to monitoring the social environment for natural resource management and policy: The case of US national forest benefits and values. Journal of Environmental Management 56: 181–193. https://doi.org/10.1006/jema.1999.0278.

Bennett, N.J. 2016. Using perceptions as evidence to improve conservation and environmental management. Conservation Biology 30: 582–592. https://doi.org/10.1111/cobi.12681.

Bennett, N.J., R. Roth, S.C. Klain, K.M.A. Chan, D.A. Clark, G. Cullman, G. Epstein, M.P. Nelson, et al. 2016. Mainstreaming the social sciences in conservation. Conservation Biology 31: 56–66. https://doi.org/10.1111/cobi.12788.

Bhatia, K., G. Vecchi, H. Murakami, S. Underwood, and J. Kossin. 2018. Projected response of tropical cyclone intensity and intensification in a global climate model. Journal of Climate 31: 8281–8303. https://doi.org/10.1175/JCLI-D-17-0898.1.

Breitburg, D.L. 1999. Are three-dimensional structure and healthy oyster populations the keys to an ecologically interesting and important fish community? In Oyster reef habitat restoration: A synopsis and synthesis of approaches; Proceedings from the symposium, ed. M.W. Luckenbach, R. Mann, and J.A. Wesson, Williamsburg, Virginia, April 1995. Gloucester Point: Virginia Institute of Marine Science.

Burkholder, J., D. Eggleston, H. Glasgow, C. Brownie, R. Reed, G. Janowitz, M. Posey, G. Melia, et al. 2004. Comparative impacts of two major hurricane seasons on the Neuse River and western Pamlico Sound ecosystems. Proceedings of the National Academy of Sciences of the United States of America 101: 9291–9296. https://doi.org/10.1073/pnas.0306842101.

Correia, R.A., P. Jepson, A.C.M. Malhado, and R.J. Ladle. 2017. Internet scientific name frequency as an indicator of cultural salience. Ecological Indicators 78: 549–555. https://doi.org/10.1016/j.ecolind.2017.03.052.

De Frenne, P., L. Van Langenhove, A. Van Driessche, C. Bertrand, K. Verheyen, and P. Vangansbeke. 2018. Using archived television video footage to quantify phenology responses to climate change. Methods in Ecology and Evolution 9: 1874–1882. https://doi.org/10.1111/2041-210X.13024.

Dennis, D., É. Plagányi, I. Van Putten, T. Hutton, and S. Pascoe. 2015. Cost benefit of fishery-independent surveys: Are they worth the money? Marine Policy 58: 108–115. https://doi.org/10.1016/j.marpol.2015.04.016.

Fisher, R.A., G.C. Call, and R.D. Grubbs. 2013. Age, growth, and reproductive biology of cownose rays in Chesapeake Bay. Marine and Coastal Fisheries: Dynamics, Management, and Ecosystem Science 5: 224–235. https://doi.org/10.1080/19425120.2013.812587.

Garner, A.J., M.E. Mann, K.A. Emanuel, R.E. Kopp, N. Lin, R.B. Alley, B.P. Horton, R.M. DeConto, et al. 2017. Impact of climate change on New York City's coastal flood hazard: Increasing flood heights from the preindustrial to 2300 CE. Proceedings of the National Academy of Sciences of the United States of America 114: 11861–11866. https://doi.org/10.1073/pnas.1703568114.

Glaser, S.M., M.J. Fogarty, H. Liu, I. Altman, C.-H. Hsieh, L. Kaufman, A.D. MacCall, A.A. Rosenberg, et al. 2013. Complex dynamics may limit prediction in marine fisheries. Fish and Fisheries 15: 616–633. https://doi.org/10.1111/faf.12037.

Greenwood, M.F.D., P.W. Stevens, and R.E. Matheson. 2006. Effects of the 2004 hurricanes on the fish assemblages in two proximate southwest Florida estuaries: Change in the context of interannual variability. Estuaries and Coasts 29: 985–996. https://doi.org/10.1007/BF02798660.

Guerra, Á., Á.F. González, S. Pascual, and E.G. Dawe. 2011. The giant squid Architeuthis: An emblematic invertebrate that can represent concern for the conservation of marine biodiversity. Biological Conservation 144: 1989–1997. https://doi.org/10.1016/j.biocon/2011.04.021.

Hare, J.A., W.E. Morrison, M.W. Nelson, M.M. Stachura, E.J. Teeters, R.B. Griffis, M.A. Alexander, J.D. Scott, et al. 2016. A vulnerability assessment of fish and invertebrates to climate change on the northeast US continental shelf. PLoS ONE 11: e0146756. https://doi.org/10.1371/journal.pone.0146756.

Hart, A.G., W.S. Carpenter, E. Hlustik-Smith, M. Reed, and A.E. Goodenough. 2018. Testing the potential of Twitter mining methods for data acquisition: Evaluating novel opportunities for ecological research in multiple taxa. Methods in Ecology and Evolution 9: 2194–2205. https://doi.org/10.1111/2041-210X.13063.

Hopkins, D.J., E. Kim, and S. Kim. 2017. Does newspaper coverage influence or reflect public perceptions of the economy? Research and Politics 4: 1–7. https://doi.org/10.1177/2053168017737900.

Hughes, R.M. 2015. Recreational fisheries in the USA: Economics, management strategies, and ecological threats. Fisheries Science 81: 1–9. https://doi.org/10.1007/s12562-014-0815-x.

Huh, S.-H., and C.L. Kitting. 1985. Trophic relationships among concentrated populations of small fishes in seagrass meadows. Journal of Experimental Marine Biology and Ecology 92: 29–42. https://doi.org/10.1016/0022-0981(85)90020-6.

Hurlimann, A., and S. Dolnicar. 2012. Newspaper coverage of water issues in Australia. Water Research 46: 6497–6507. https://doi.org/10.1016/j.watres.2012.09.028.

Jarić, I., R.A. Correia, B.W. Brook, J.C. Buettel, F. Courchamp, E. Di Minn, J.A. Firth, K.J. Gaston, et al. 2020. iEcology: Harnessing large online resources to generate ecological insights. Trends in Ecology and Evolution 35: 630–639. https://doi.org/10.1016/j.tree.2020.03.003.

Kim, J.Y., Y. Do, R.-Y. Im, G.-Y. Kim, and G.-J. Joo. 2014. Use of large web-based data to identify public interest and trends related to endangered species. Biodiversity and Conservation 23: 2961–2984. https://doi.org/10.1007/s10531-014-0757-8.

Knabbe, R.D., J.R. Rhome, and D.P. Brown. 2005. Tropical Cyclone Report: Hurricane Katrina. National Hurricane Center. http://www.nhc.noaa.gov/data/tcr/AL122005_Katrina.pdf. Accessed Sept 2020.

Knutson, T.R., J.L. McBride, J. Chan, K. Emanuel, G. Holland, C. Landsea, I. Held, J.P. Kossin, et al. 2010. Tropical cyclones and climate change. Nature Geoscience 3: 157–163. https://doi.org/10.1038/ngeo779.

Ladle, R.J., R.A. Correia, Y. Do, G.-J. Joo, A.C.M. Malhado, R. Proulx, J.-M. Roberge, and P. Jepson. 2016. Conservation culturomics. Frontiers in Ecology and the Environment 14: 269–275. https://doi.org/10.1002/fee.1260.

Ladle, R.J., P. Jepson, R.A. Correia, and A.C.M. Malhado. 2019. A culturomics approach to quantifying the salience of species on the global internet. People and Nature 1: 524–532. https://doi.org/10.1002/pan3.10053.

Leighton, G.R.M., P.S. Hugo, A. Roulin, and A. Amar. 2016. Just Google it: Assessing the use of Google Images to describe geographical variation in visible traits of organisms. Methods in Ecology and Evolution 7: 1060–1070. https://doi.org/10.1111/2041-210X.12562.

Macdonald, E.A., D. Burnham, A.E. Hinks, A.J. Dickman, Y. Malhi, and D.W. Macdonald. 2015. Conservation inequality and the charismatic cat: Felis felicis. Global Ecology and Conservation 3: 851–866. https://doi.org/10.1016/j.gecco.2015.04.006.

Mallin, M.A., M.H. Posey, M.R. McIver, D.C. Parsons, S.H. Ensign, and T.D. Alphin. 2002. Impacts and recovery from multiple hurricanes in a Piedmont-Coastal Plain river system: Human development of floodplains greatly compounds the impacts of hurricanes on water quality and aquatic life. BioScience 52: 999–1010. https://doi.org/10.1641/0006-3568(2002)052[0999:IARFMH]2.0.CO;2.

Markle, D.F., and G.C. Grant. 1970. The summer food habits of young-of-the year striped bass in three Virginia rivers. Chesapeake Science 11: 50–54. https://doi.org/10.2307/1351342.

Martín-López, B., C. Montes, L. Ramírez, and J. Benayas. 2009. What drives policy decision-making related to species conservation? Biological Conservation 142: 1370–1380. https://doi.org/10.1016/j.biocon.2009.01.030.

Matlock, G.C. 1987. The role of hurricanes in determining year-class strength of red drum. Contributions in Marine Science 30: 39–47.

McKernan, J., and K.V. Mulcahy. 2008. Hurricane Katrina: A cultural Chernobyl. The Journal of Arts Management, Law, and Society 38: 217–232. https://doi.org/10.3200/JAML.38.3.217-232.

Minchin, P.R. 1987. Simulation of multidimensional community patterns: Towards a comprehensive model. Vegetatio 71: 145–156. https://doi.org/10.1007/BF00039167.

Morris, R. 1994. Computerized content analysis in management research: A demonstration of advantages and limitations. Journal of Management 20: 903–931. https://doi.org/10.1177/014920639402000410.

Moustakas, A., and I. Karakassis. 2005. How diverse is aquatic biodiversity research? Aquatic Ecology 39: 367–375. https://doi.org/10.1007/s10452-005-6041-y.

Nelkin, D. 1995. Selling science: How the press covers science and technology. Rev. Ed. New York: W. H. Freeman and Company.

NMFS (National Marine Fisheries Service). 2018. Fisheries Economics of the United States, 2016. U.S. Department of Commerce, NOAA Tech. Memo. NMFS-F/SPO-187a.

NMFS (National Marine Fisheries Service). 2019a. Commercial Fisheries Statistics. www.st.nmfs.noaa.gov/commercial-fisheries/commercial-landings/annual-landings/index. Accessed July 2019a.

NMFS (National Marine Fisheries Service). 2019b. Recreational Fisheries Statistics Queries. www.st.nmfs.noaa.gov/recreational-fisheries/data-and-documentation/queries/index. Accessed July 2019b

NOAA. 2018. Historical hurricane tracks. https://coast.noaa.gov/hurricanes/#map=4/32/-80. Accessed Aug 2020.

Nyman, J.A., C.R. Crozier, and R.D. DeLaune. 1995. Roles and patterns of hurricane sedimentation in an estuarine marsh landscape. Estuarine, Coastal, and Shelf Science 40: 665–679. https://doi.org/10.1006/ecss.1995.0045.

Oksanen, J., F.G. Blanchet, M. Friendly, R. Kindt, P. Legendre, D. McGlinn, P.R. Minchin, R.B. O'Hara, et al. 2018. Vegan: Community Ecology Package (version R package version 2.5-3). https://CRAN.R-project.org/package=vegan.

Paerl, H.W., J.D. Bales, L.W. Ausley, C.P. Buzzelli, L.B. Crowder, L.A. Eby, J.M. Fear, M. Go, et al. 2001. Ecosystem impacts of three sequential hurricanes (Dennis, Floyd, and Irene) on the United States' largest lagoonal estuary, Pamlico Sound, NC. Proceedings of the National Academy of Sciences of the United States of America 98: 5655–5660. https://doi.org/10.1073/pnas.101097398.

Pecl, G.T., T.M. Ward, Z.A. Doubleday, S. Clarke, J. Day, C. Dixon, S. Frusher, P. Gibbs, et al. 2014. Rapid assessment of fisheries species sensitivity to climate change. Climatic Change 127: 505–520. https://doi.org/10.1007/s10584-014-1284-z.

Petterson, J.S., L.D. Stanley, E. Glazier, and J. Philipp. 2006. A preliminary assessment of social and economic impacts associated with Hurricane Katrina. American Anthropologist 108: 643–670. https://doi.org/10.1525/aa.2006.108.4.643.

Piazza, B.P., and M.K. La Peyre. 2009. The effect of Hurricane Katrina on nekton communities in the tidal freshwater marshes of Breton Sound, Louisiana, USA. Estuarine, Coastal and Shelf Science 83: 97–104. https://doi.org/10.1016/j.ecss.2009.03.016.

R Core Team, 2018. R: A language and environment for statistical computing. Vienna: R Foundation for Statistical Computing. https://www.R-project.org/

Scheufele, D.A., and D. Tewksbury. 2007. Framing, agenda setting, and priming: The evolution of three media effects models. Journal of Communication 57: 9–20. https://doi.org/10.1111/j.0021-9916.2007.00326.x.

Schofield, P.J. 2003. Habitat selection of two gobies (Microgobius gulosus, Gobiosoma robustum): Influence of structural complexity, competitive interactions, and presence of a predator. Journal of Experimental Marine Biology and Ecology 288: 125–137. https://doi.org/10.1016/S0022-0981(03)00004-2.

Schuetz, J.G., and A. Johnston. 2019. Characterizing the cultural niches of North American birds. Proceedings of the National Academy of Sciences of the United States of America 116: 10868–10873. https://doi.org/10.1073/pnas.1820670116.

Sea Grant Louisiana. 2019. Bull Bream Fact Sheet. www.seagrantfish.lsu.edu/resources/factsheets/bullbream.htm. Accessed July 2019

Soroka, S.N., D.A. Stecula, and C. Wlezien. 2015. It's (change in) the (future) economy, stupid: Economic indicators, the media, and public opinion. American Journal of Political Science 59: 457–474. https://doi.org/10.1111/ajps.12145.

Troudet, J., P. Grandcolas, A. Blin, R. Vignes-Lebbe, and F. Legendre. 2017. Taxonomic bias in biodiversity data and societal preferences. Scientific Reports 7: 9132. https://doi.org/10.1038/s41598-017-09084-6.

Turner, M.G., and R.H. Gardner. 2015. Landscape ecology in theory and practice, 2nd ed. New York: Springer.

VanderWeele, T.J., and M.B. Mathur. 2019. Some desirable properties of the Bonferroni correction: Is the Bonferroni correction really so bad? American Journal of Epidemiology 188: 617–618. https://doi.org/10.1093/aje/kwy250.

Walters, C., and J.-J. Maguire. 1996. Lessons for stock assessment from the northern cod collapse. Reviews in Fish Biology and Fisheries 6: 125–137. https://doi.org/10.1007/BF00182340.

Wilson, J.R.U., S. Proches, B. Braschler, E.S. Dixon, and D.M. Richardson. 2007. The (bio)diversity of science reflects the interests of society. Frontiers in Ecology and the Environment 5: 409–414. https://doi.org/10.1890/060077.1.
Acknowledgements
This work was supported by the National Socio-Environmental Synthesis Center (SESYNC) under funding received from the National Science Foundation [DBI-1639145]. SFJ was additionally supported by NSF Grant Numbers 1638704 and 1754265, and in part by the Cornell Atkinson Center for Sustainability. AS was partially supported by NSF GRFP number 1645627. Opinions, findings, and conclusions or recommendations expressed in this material are those of the authors and do not necessarily reflect the views of the National Science Foundation. We thank N. Motzer and J. Kramer at SESYNC for valuable assistance during this project. Thanks to D. Blewett at FFWCC, D. Zapf at NCDMF, and N. Smith with LDWF for assistance obtaining the datasets used in this study and for answering questions related to the data. The authors would like to thank K. Limburg and D. Blewett for comments that helped to improve this manuscript.
Additional information
Publisher's Note
Springer Nature remains neutral with regard to jurisdictional claims in published maps and institutional affiliations.
Supplementary Information
Below is the link to the electronic supplementary material.
About this article
Cite this article
Jane, S.F., Smith, K.M., Baker, D. et al. News media and fisheries-independent data reveal hidden impacts of hurricanes. Ambio 51, 2169–2181 (2022). https://doi.org/10.1007/s13280-022-01732-0
Received:

Revised:

Accepted:

Published:

Issue Date:

DOI: https://doi.org/10.1007/s13280-022-01732-0
Keywords
Climate change

Estuaries

Fish

Fisheries

Hurricanes

News media