Abstract
Understanding how private landholders make deforestation decisions is of paramount importance for conservation. Behavioural frameworks from the social sciences have a lot to offer researchers and practitioners, yet these insights remain underutilised in describing what drives landholders' deforestation intentions under important political, social, and management contexts. Using survey data of private landholders in Queensland, Australia, we compare the ability of two popular behavioural models to predict future deforestation intentions, and propose a more integrated behavioural model of deforestation intentions. We found that the integrated model outperformed other models, revealing the importance of threat perceptions, attitudes, and social norms for predicting landholders' deforestation intentions. Social capital, policy uncertainty, and years of experience are important contextual moderators of these psychological factors. We conclude with recommendations for promoting behaviour change in this deforestation hotspot and highlight how others can adopt similar approaches to illuminate more proximate drivers of environmental behaviours in other contexts.
Access options
Buy single article
Instant access to the full article PDF.
US$ 39.95
Tax calculation will be finalised during checkout.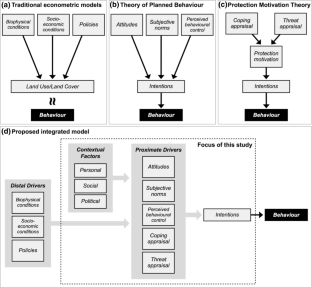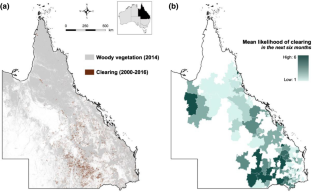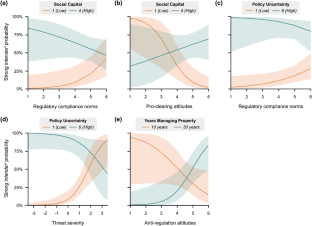 References
Ajzen, I. 1985. From intentions to actions: A theory of planned behavior. In Action control: From cognition to behavior, ed. J. Kuhl and J. Beckmann. Berlin: Springer.

Azevedo, A.A., R. Rajão, M.A. Costa, M.C.C. Stabile, M.N. Macedo, T.N.P. dos Reis, A. Alencar, B.S. Soares-Filho, et al. 2017. Limits of Brazil's Forest Code as a means to end illegal deforestation. Proceedings of the National Academy of Sciences of the USA 114: 7653–7658.

Bamberg, S., and G. Möser. 2007. Twenty years after Hines, Hungerford, and Tomera: A new meta-analysis of psycho-social determinants of pro-environmental behaviour. Journal of Environmental Psychology 27: 14–25.

Bandura, A. 2001. Social cognitive theory of mass communication. Media Psychology 3: 265–299.

Barbier, E.B., and J.C. Burgess. 2001. The economics of tropical deforestation. Journal of Economic Surveys 15: 413–433.

Beedell, J., and T. Rehman. 2000. Using social-psychology models to understand farmers' conservation behaviour. Journal of Rural Studies 16: 117–127.

Bennett, N.J., R. Roth, S.C. Klain, K. Chan, P. Christie, D.A. Clark, G. Cullman, D. Curran, et al. 2017. Conservation social science: Understanding and integrating human dimensions to improve conservation. Biological Conservation 205: 93–108.

Borges, J.A.R., and A.G.J.M. Oude Lansink. 2016. Identifying psychological factors that determine cattle farmers' intention to use improved natural grassland. Journal of Environmental Psychology 45: 89–96.

Brant, R. 1990. Proportionality in the proportional odds model for ordinal logistic regression. Biometrics 46: 1171–1178.

Burton, R.J.F. 2004. Reconceptualising the 'behavioural approach' in agricultural studies: A socio-psychological perspective. Journal of Rural Studies 20: 359–371.

Cocklin, C., N. Mautner, and J. Dibden. 2007. Public policy, private landholders: Perspectives on policy mechanisms for sustainable land management. Journal of Environmental Management 85: 986–998.

Comerford, E. 2013. The impact of permanent protection on cost and participation in a conservation programme: A case study from Queensland. Land Use Policy 34: 176–182.

Cornforth, A. 2009. Behaviour change: Insights for environmental policy making from social psychology and behavioural economics. Policy Quarterly 5: 21–28.

Deacon, R.T. 1994. Deforestation and the rule of law in a cross-section of countries. Land Economics 70: 414–430.

Dean, A.J., K.S. Fielding, J. Lindsay, F.J. Newton, and H. Ross. 2016. How social capital influences community support for alternative water sources. Sustainable Cities and Society 27: 457–466.

Evans, M.C. 2016. Deforestation in Australia: Drivers, trends and policy responses. Pacific Conservation Biology 22: 130–150.

FAO. 2015. Global forest resources assessment 2015 (desk reference). Rome: Food and Agriculture Organization of the United Nations.

Farmar-Bowers, Q., and R. Lane. 2009. Understanding farmers' strategic decision-making processes and the implications for biodiversity conservation policy. Journal of Environmental Management 90: 1135–1144.

Fielding, K.S., D.J. Terry, B.M. Masser, P. Bordia, and M.A. Hogg. 2005. Explaining landholders' decisions about riparian zone management: The role of behavioural, normative, and control beliefs. Journal of Environmental Management 77: 12–21.

Hosonuma, N., M. Herold, V. De Sy, R.S. De Fries, M. Brockhaus, L. Verchot, A. Angelsen, and E. Romijn. 2012. An assessment of deforestation and forest degradation drivers in developing countries. Environmental Research Letters 7: 044009.

Howley, P., C. Buckley, C.O. Donoghue, and M. Ryan. 2015. Explaining the economic 'irrationality' of farmers' land use behaviour: The role of productivist attitudes and non-pecuniary benefits. Ecological Economics 109: 186–193.

Johnson, C.N., A. Balmford, B.W. Brook, J.C. Buettel, M. Galetti, L. Guangchun, and J.M. Wilmshurst. 2017. Biodiversity losses and conservation responses in the Anthropocene. Science 356: 270–275.

Jordan, A., and E. Matt. 2014. Designing policies that intentionally stick: Policy feedback in a changing climate. Policy Science 47: 227–247.

Kaiser, F.G., G. Hübner, and F.X. Bogner. 2005. Contrasting the Theory of Planned Behavior with the Value-Belief-Norm model in explaining conservation behaviour. Journal of Applied Social Psychology 35: 2150–2170.

Kissinger, G., M. Herold, and V. De Sy. 2012. Drivers of deforestation and forest degradation: A synthesis report for REDD + policymakers. Vancouver: Lexeme Consulting.

Klöckner, C.A. 2013. A comprehensive model of the psychology of environmental behaviour—A meta-analysis. Global Environmental Change 23: 1028–1038.

Kothe, E.J., M. Ling, M. North, A. Klas, B.A. Mullan, and L. Novoradovskaya. 2019. Protection motivation theory and pro-environmental behaviour: A systematic mapping review. Australian Journal of Psychology 2019: 1–22.

Lueck, D., and J.A. Michael. 2003. Preemptive habitat destruction under the Endangered Species Act. Journal of Law and Economics 46: 27–60.

Mastrangelo, M.E., M.C. Gavin, P. Laterra, W.L. Linklater, and T.L. Milfont. 2014. Psycho-social factors influencing forest conservation intentions on the agricultural frontier. Conservation Letters 7: 103–110.

McDonald, R.I., K.S. Fielding, and W.R. Louis. 2014. Conflicting norms highlight the need for action. Environment and Behavior 46: 139–162.

McGrath, C. 2007. End of broadscale clearing in Queensland. Environmental and Planning Law Journal 24: 5–13.

McKenzie-Mohr, D. 2011. Fostering sustainable behavior: An introduction to community-based social marketing. Gabriola Island: New Society.

Meyfroidt, P., and E.F. Lambin. 2011. Global forest transition: Prospects for an end to deforestation. Annual Review of Environment and Resources 36: 343–371.

Negret, P.J., J. Allan, A. Braczkwoski, M. Maron, and J.E.M. Watson. 2017. Need for conservation planning in postconflict Colombia. Conservation Biology 31: 499–500.

Nilsson, D., K. Fielding, and A.J. Dean. 2019. Achieving conservation impact by shifting focus from human attitudes to behaviors. Conservation Biology 34: 93–102.

Notani, A.S. 1998. Moderators of perceived behavioral countrol's predictiveness in the theory of planned behavior: A meta-analysis. Journal of Consumer Psychology 7: 247–271.

Pickering, J., J. Hong, R. Stower, D. Hong, and M. Kealley. 2018. Using psychology to understand practice change among sugar cane growers. Rural Extension and Innovation Systems Journal 14: 62–72.

Ponce Reyes, R., J. Firn, S. Nicol, I. Chadès, D.S. Stratford, T.G. Martin, S. Whitten, and J. Carwardine. 2016. Priority threat management for imperilled species of the Queensland Brigalow Belt. Brisbane: CSIRO.

Productivity Commission. 2004. Impacts of native vegetation and biodiversity regulations. Productivity Commission, Report N-29, Melbourne, Australia.

Proudfoot, D., and A.C. Kay. 2014. Reactance or rationalization? Predicting public responses to government policy. Policy Insights from the Behavioral and Brain Sciences 1: 256–262.

Queensland Spatial Catalogue. 2016a. Data from 'Landsat Woody Vegetation Extent—Queensland 2014'. Queensland Spatial Catalogue. https://qldspatial.information.qld.gov.au/catalogue.

Queensland Spatial Catalogue. 2016b. Data from 'Statewide Landcover and Trees Study Queensland series'. Queensland Spatial Catalogue. https://qldspatial.information.qld.gov.au/catalogue.

Reside, A.E., J. Beher, A.J. Cosgrove, M.C. Evans, L. Seabrook, J.L. Silcock, A.S. Wenger, and M. Maron. 2017. Ecological consequences of land clearing and policy reform in Queensland. Pacific Conservation Biology 23: 219–230.

Rivalan, P., V. Delmas, E. Angulo, L.S. Bull, R.J. Hall, F. Courchamp, A.M. Rosser, and N. Leader-Williams. 2007. Can bans stimulate wildlife trade? Nature 447: 529–530.

Rogers, R.W. 1975. A Protection Motivation Theory of fear appeals and attitude change. The Journal of Psychology 91: 93–114.

Schultz, P.W. 2014. Strategies for promoting proenvironmental behavior: Lots of tools but few instructions. European Psychologist 19: 107–117.

Simmons, B.A., C.L. Archibald, K.A. Wilson, and A.J. Dean. 2020a. Program awareness, social capital, and perceptions of trees influence participation in private land conservation programs in Queensland, Australia. Environmental Management 66: 289–304.

Simmons, B.A., E.A. Law, R. Marcos-Martinez, B.A. Bryan, C. McAlpine, and K.A. Wilson. 2018a. Spatial and temporal patterns of land clearing during policy change. Land Use Policy 75: 399–410.

Simmons, B.A., R. Marcos-Martinez, E.A. Law, B.A. Bryan, and K.A. Wilson. 2018b. Frequent policy uncertainty can negate the benefits of forest conservation policy. Environmental Science & Policy 89: 401–411.

Simmons, B.A., K.A. Wilson, and A.J. Dean. 2020b. Landholder typologies illuminate pathways for social change in a deforestation hotspot. Journal of Environmental Management 254: 109777.

Simmons, B.A., K.A. Wilson, R. Marcos-Martinez, B.A. Bryan, O. Holland, and E.A. Law. 2018c. Effectiveness of regulatory policy in curbing deforestation in a biodiversity hotspot. Environmental Research Letters 13: 124003.

Streletskaya, N.A., S.D. Bell, M. Kecinski, T. Li, S. Banerjee, L.H. Palm-Forster, and D. Pannell. 2020. Agricultural adoption and behavioral economics: Bridging the gap. Applied Economic Perspectives and Policy 42: 54–66.

Sulemana, I., and H.S. James Jr. 2014. Farmer identity, ethical attitudes and environmental practices. Ecological Economics 98: 49–61.

Williams, K.J., A. Ford, D.F. Rosauer, N. De Silva, R. Mittermeier, C. Bruce, F.W. Larsen, and C. Margules. 2011. Forests of east Australia: The 35th biodiversity hotspot. In Biodiversity hotspots, ed. F.E. Zachos and J.C. Habel, 295–310. Canberra: Springer.

Zomer, R.J., A. Trabucco, R. Coe, and F. Place. 2009. Trees on farm: Analysis of global extent and geographical patterns of agroforestry. World Agroforestry Centre, ICRAF Working Paper No. 89, Nairobi, Kenya.
Acknowledgements
This work was supported by the Discovery and Future Fellowship programs of the Australian Research Council, and the Australian Research Council Centre of Excellence for Environmental Decisions (CE11001000104), funded by the Australian Government.
Additional information
Publisher's Note
Springer Nature remains neutral with regard to jurisdictional claims in published maps and institutional affiliations.
Supplementary information
Below is the link to the electronic supplementary material.
About this article
Cite this article
Simmons, B.A., Wilson, K.A. & Dean, A.J. Psychosocial drivers of land management behaviour: How threats, norms, and context influence deforestation intentions. Ambio 50, 1364–1377 (2021). https://doi.org/10.1007/s13280-020-01491-w
Received:

Revised:

Accepted:

Published:

Issue Date:
Keywords
Behaviour change

Environmental behaviour

Land clearing

Natural resource management

Protection Motivation Theory

Theory of Planned Behaviour