Abstract
Open space areas protected by local communities may augment larger scale preservation efforts and may offer overlooked benefits to biodiversity conservation provided they are in suitable ecological condition. We examine protected areas established by local communities through ballot initiatives, a form of direct democracy, in California, USA. We compare ecological conditions of wooded habitats on local ballot protected sites and on sites protected by a state-level conservation agency. Collectively, we found few differences in ecological conditions on each protected area type. Ballot sites had greater invasive understory cover and larger trees. Community dissimilarity patterns suggested ballot sites protect a complementary set of tree species to those on state lands. Overall, geographic characteristics influenced onsite conditions more than details of how sites were protected. Thus, community-driven conservation efforts contribute to protected area networks by augmenting protection of some species while providing at least some protection to others that might otherwise be missed.
Access options
Buy single article
Instant access to the full article PDF.
USD 39.95
Price excludes VAT (USA)
Tax calculation will be finalised during checkout.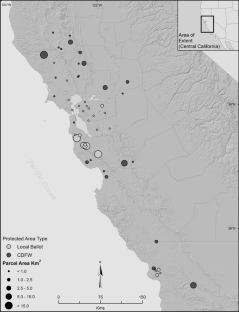 References
Abbitt, R.J.F., J.M. Scott, and D.S. Wilcove. 2000. The geography of vulnerability: Incorporating species geography and human development patterns into conservation planning. Biological Conservation 96: 169–175.

Anderson, J.M. 2010. Wildlife Sanctuaries and the Audubon Society: Places to Hide and Seek. Austin, TX: University of Texas Press.

Ando, A.W., and P. Shah. 2010. Demand-side factors in optimal land conservation choice. Resource and Energy Economics 32: 203–221.

Aycrigg, J.L., A. Davidson, L.K. Svancara, K.J. Gergely, A. McKerrow, and J.M. Scott. 2013. Representation of ecological systems within the protected areas network of the continental United States. PLoS ONE 8: e54689.

Baker, M.D., M.J. Lacki, G.A. Falxa, P.L. Droppelman, R.A. Slack, and S.A. Slankard. 2008. Habitat use of pallid bats in coniferous forests of northern California. Northwest Science 82: 269–275.

Baldwin, B.G., D.H. Goldman, D.J. Keil, R. Patterson, T.J. Rosatti, and D.H. Wilken. 2012. The Jepson Manual: Vascular Plants of California, 2nd ed. Berkeley, CA: Univirsity of California Press.

Beidleman, L.H., and E.N. Kozloff. 2014. Plants of the San Francisco Bay Region: Mendocino to Monterey, Third Edition, 3rd ed. Berkeley, CA: University of California Press.

Berkes, F. 2007. Community-based conservation in a globalized world. Proceedings of the National Academy of Sciences 104: 15188–15193.

Bijker, R.A., and F.J. Sijtsma. 2017. A portfolio of natural places: Using a participatory GIS tool to compare the appreciation and use of green spaces inside and outside urban areas by urban residents. Landscape and Urban Planning 158: 155–165.

Bode, M., W. Probert, W.R. Turner, K.A. Wilson, and O. Venter. 2011. Conservation planning with multiple organizations and objectives. Conservation Biology 25: 295–304.

Buijs, A.E., T.J.M. Mattijssen, A.P.N. Van der Jagt, B. Ambrose-Oji, J.-E. Andersson, B.H.M. Elands, and M.S. Møller. 2017. Active citizenship for urban green infrastructure: fostering the diversity and dynamics of citizen contributions through mosaic governance. Current Opinion in Environmental Sustainability 22: 1–6.

California Department of Fish and Wildlife (CDFW). 2018. CA.GOV: California Department of Fish and Wildlife. https://www.wildlife.ca.gov. Accessed 23 March 2016.

California Native Plant Society Vegetation Committee (CNPSVC). 2007. California Native Plant Society Relevé Protocol, 1–18. Sacramento, CA: California Native Plant Society.

Call, D.R., R.J. Gutiérrez, and J. Verner. 1992. Foraging habitat and home-range characteristics of California spotted owls in the Sierra Nevada. Condor 94: 880–888.

Campbell, L.M., and A. Vainio-Mattila. 2003. Participatory development and community-based conservation: opportunities missed for lessons learned? Human Ecology 31: 417–437.

Coetzee, B.W.T. 2017. Evaluating the ecological performance of protected areas. Biodiversity and Conservation 26: 231–236.

Crain, B.J., and J.W. White. 2011. Categorizing locally rare plant taxa for conservation status. Biodiversity and Conservation 20: 451–463.

Crain, B.J., J.W. White, and S.J. Steinberg. 2011. Geographic discrepancies between global and local rarity richness patterns and the implications for conservation. Biodiversity and Conservation 20: 3489–3500.

Crain, B.J., and J.W. White. 2013. A checklist and floristic summary of the vascular plants of Napa County, California. Phytotaxa 95: 1–60.

Crain, B.J., A.M. Sánchez-Cuervo, J.W. White, and S. Steinberg. 2015. Conservation ecology of rare plants within complex local habitat networks. Oryx 49: 696–703.

Crain, B.J., J.N. Sanchirico, K. Kroetz, A.E. Benefield, and P.R. Armsworth. 2020. Species protection in areas conserved through community-driven direct democracy as compared with a large private land trust in California. Environmental Conservation 47: 30–38. https://doi.org/10.1017/S0376892919000407.

DiTomaso, J.M., and E.A. Healy. 2007. Weeds of California and Other Western States. Berkeley, CA: University of California Division of Agriculture and Natural Resources.

Durán, A.P., R. Inger, L. Cantú-Salazar, and K.J. Gaston. 2016. Species richness representation within protected areas is associated with multiple interacting spatial features. Diversity and Distributions 22: 300–308.

Evans, J.D. 1996. Straightforward Statistics for the Behavioral Sciences. Pacific Grove, CA: Brooks/Cole Publishing Company.

Gago, E.J., J. Roldan, R. Pacheco-Torres, and J. Ordóñez. 2013. The city and urban heat islands: a review of strategies to mitigate adverse effects. Renewable and Sustainable Energy Reviews 25: 749–758.

Gordon, T.M. 2004. The Local Initiative in California. San Francisco, CA: Public Policy Institute of California San Francisco.

Goslee, S.C., and D.L. Urban. 2007. The ecodist package for dissimilarity-based analysis of ecological data. Journal of Statistical Software 22: 1–19.

Hensher, D.A., and L.W. Johnson. 2018. Applied Discrete-Choice Modelling. Abingdon: Routledge.

Joppa, L.N., and A. Pfaff. 2009. High and far: biases in the location of protected areas. PLoS ONE 4: e8273.

Kang, W., E.S. Minor, C.-R. Park, and D. Lee. 2015. Effects of habitat structure, human disturbance, and habitat connectivity on urban forest bird communities. Urban ecosystems 18: 857–870.

Keil, D.J., and M. Harms. 2010. Wildflowers of San Luis Obispo, California. San Luis Obispo, CA: City of San Luis Obispo and California Native Plant Society.

Kothari, A. 2006a. Community conserved areas: towards ecological and livelihood security. Parks: The International Journal for Protected Area Managers 16: 3–13.

Kothari, A. 2006b. Community Conserved Areas, Editorial. Parks: The International Journal for Protected Area Managers 16: 1–2.

Kraaij, T., J.A. Baard, and B.J. Crain. 2017. Conservation status and management insights from tracking a cryptic and Critically Endangered species of Orchidaceae. Oryx 51: 441–450.

Kroetz, K., J.N. Sanchirico, P.R. Armsworth, and H. Spencer Banzhaf. 2014. Benefits of the ballot box for species conservation. Ecology Letters 17: 294–302.

Lichstein, J.W. 2007. Multiple regression on distance matrices: a multivariate spatial analysis tool. Plant Ecology 188: 117–131.

Marin County Parks (MCP). 2020. Parks and Preserves: Old Saint Hilary's Preserve. https://www.marincountyparks.org/parkspreserves/preserves/old-saint-hilarys?tabnum=4. Accessed October 12 2020.

Martín-López, B., C. Montes, L. Ramírez, and J. Benayas. 2009. What drives policy decision-making related to species conservation? Biological Conservation 142: 1370–1380.

McConnachie, M.M., B.W. van Wilgen, P.J. Ferraro, A.T. Forsyth, D.M. Richardson, M. Gaertner, and R.M. Cowling. 2016. Using counterfactuals to evaluate the cost-effectiveness of controlling biological invasions. Ecological Applications 26: 475–483.

McKinney, M.L. 2008. Effects of urbanization on species richness: a review of plants and animals. Urban ecosystems 11: 161–176. https://doi.org/10.1007/s11252-007-0045-4.

Merenlender, A.M., K.L. Heise, and C. Brooks. 1998. Effects of subdividing private property on biodiversity in California's north coast oak woodlands. Transactions of the Western Section of the Wildlife Society 34: 9–20.

Morrison, S.A., and W.M. Boyce. 2009. Conserving connectivity: some lessons from mountain lions in southern California. Conservation Biology 23: 275–285.

Murcia, C. 1995. Edge effects in fragmented forests: implications for conservation. Trends in Ecology & Evolution 10: 58–62.

Nielsen, A.B., M. van den Bosch, S. Maruthaveeran, and C.K. van den Bosch. 2014. Species richness in urban parks and its drivers: a review of empirical evidence. Urban ecosystems 17: 305–327.

Oviedo, G. 2006. Community conserved areas in South America. Parks: The International Journal for Protected Area Managers 16: 49–55.

Parkes, D., G. Newell, and D. Cheal. 2003. Assessing the quality of native vegetation: the 'habitat hectares' approach. Ecological Management & Restoration 4: S29–S38.

Peet, R.K., T.R. Wentworth, and P.S. White. 1998. A flexible, multipurpose method for recording vegetation composition and structure. Castanea 63: 262–274.

Poiani, K.A., B.D. Richter, M.G. Anderson, and H.E. Richter. 2000. Biodiversity conservation at multiple scales: functional sites, landscapes, and networks. BioScience 50: 133–146.

Rosenzweig, M.L. 1995. Species Diversity in Space and Time: Chapter 2-Patterns in space. Cambridge: Cambridge University Press.

Rupprecht, C.D.D. 2017. Informal urban green space: residents' perception, use, and management preferences across four major Japanese shrinking cities. Land 6: 59.

Scarlett, L., and M. McKinney. 2016. Connecting people and places: the emerging role of network governance in large landscape conservation. Frontiers in Ecology and the Environment 14: 116–125.

Schuch, G., S. Serrao-Neumann, E. Morgan, and D.L. Choy. 2017. Water in the city: green open spaces, land use planning and flood management: An Australian case study. Land Use Policy 63: 539–550.

Seabloom, E.W., A.P. Dobson, and D.M. Stoms. 2002. Extinction rates under nonrandom patterns of habitat loss. Proceedings of the National Academy of Sciences 99: 11229–11234.

Smyth, D. 2006. Indigenous protected areas in Australia. Parks: The International Journal for Protected Area Managers 16: 14–20.

Sonoma County Agricultural Preservation & Open Space District (SCAPOSD). 2012. Work Plan, July 2012-June 2015, Balancing Multiple Objectives. Sonoma, CA: The Sonoma County Agricultural Preservation and Open Space District.

Stuart, J.D., and J.O. Sawyer. 2001. Trees and Shrubs of California. California Natural History Guides, vol. 62. Berkeley, CA: Univirsity of California Press.

The Nature Conservancy (TNC). 2020. What We Do: Protect Land and Water https://www.nature.org/en-us/what-we-do/our-priorities/protect-water-and-land/. Accessed 01 August 2020.

Vangansbeke, P., H. Blondeel, D. Landuyt, P. De Frenne, L. Gorissen, and K. Verheyen. 2017. Spatially combining wood production and recreation with biodiversity conservation. Biodiversity and Conservation 26: 3213–3239.

Watson, J.E.M., N. Dudley, D.B. Segan, and M. Hockings. 2014. The performance and potential of protected areas. Nature 515: 67–73.
Acknowledgements
This material is based on work partially supported by the National Science Foundation [grant number 1413990] and USDA NIFA AFRI [grant number 2017-67023-26270]. We sincerely thank our families and friends for their ongoing support. Special thanks to J. White, L. & L. Norgeot, A. Young, I. Veraja, M. Brady, T. Cline, M. & S. Balestreri, G. Stewart, and A. Wong for their extensive logistical support. We also thank colleagues at University of Tennessee- Knoxville, University of California-Davis, Resources for the Future, and The Smithsonian Institution for useful discussions. Additional thanks to all staff and managers at each of the ballot protected areas and California Department of Fish and Wildlife sites included in this study.
Additional information
Publisher's Note
Springer Nature remains neutral with regard to jurisdictional claims in published maps and institutional affiliations.
Supplementary Information
Below is the link to the electronic supplementary material.
About this article
Cite this article
Crain, B.J., Stachowiak, C., McKenzie, P.F. et al. Citizens of local jurisdictions enhance plant community preservation through ballot initiatives and voter-driven conservation efforts. Ambio 50, 1237–1247 (2021). https://doi.org/10.1007/s13280-020-01469-8
Received:

Revised:

Accepted:

Published:

Issue Date:

DOI: https://doi.org/10.1007/s13280-020-01469-8
Keywords