Abstract
Policies aiming at improving biodiversity often consist of costly agri-environmental schemes, i.e. subsidized grazing or mowing of semi-natural areas. However, these practices have widely been found to be insufficient to mitigate biodiversity loss. Rewilding, i.e. restoring natural processes in self-sustaining biodiverse ecosystems, has been proposed as an alternative and is hypothesized to be a more cost-efficient approach to promote biodiversity conservation. Rewilding requires the availability of large natural areas which are not allocated for farming, forestry, and infrastructure to avoid potential conflicts over the use of the area. We perform an ex-ante private cost–benefit analysis of the establishment of four large nature reserves for rewilding in Denmark. We analyse the economic effects of changing from summer grazing in nature areas in combination with cultivated fields and forestry to the establishment of nature reserves in four case areas. We consider two scenarios involving conversion of agriculture and forestry areas into natural areas in combination with either extensive year-round cattle grazing or rewilding with wild large herbivores. In two case areas, it appears possible to establish large nature areas without incurring extra costs. Additionally, rewilding further reduces costs compared to year-round cattle grazing. Two opposing effects were dominant: increased economic rent occurred from the shift from summer grazing to year-round grazing or rewilding, while cessation of agriculture and forestry caused opportunity costs.
Access options
Buy single article
Instant access to the full article PDF.
US$ 39.95
Tax calculation will be finalised during checkout.
Subscribe to journal
Immediate online access to all issues from 2019. Subscription will auto renew annually.
US$ 79
Tax calculation will be finalised during checkout.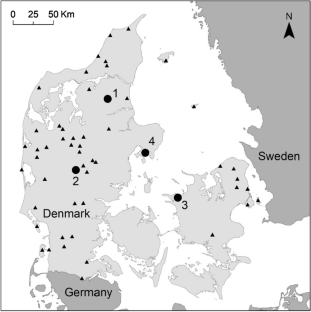 Notes
1.

Public goods and externalities would be included in a social CBA; See Freeman et al. (2014) for elaboration on private CBAs and social CBAs.
References
Bakker, J.P., and F. Berendse. 1999. Constraints in the restoration of ecological diversity in grassland and heathland communities. Trends in Ecology & Evolution 14: 63–68.

Bakker, E.S., J.L. Gill, C.N. Johnson, F.W. Vera, C.J. Sandom, G.P. Asner, and J.-C. Svenning. 2016. Combining paleo-data and modern exclosure experiments to assess the impact of megafauna extinctions on woody vegetation. Proceedings of the National Academy of Sciences 113: 847–855.

Bar-On, Y.M., R. Phillips, and R. Milo. 2018. The biomass distribution on Earth. Proceedings of the National Academy of Sciences 115: 6506–6511. https://doi.org/10.1073/pnas.1711842115.

Batáry, P., L.V. Dicks, D. Kleijn, and W.J. Sutherland. 2015. The role of agri-environment schemes in conservation and environmental management. Conservation Biology 29: 1006–1016. https://doi.org/10.1111/cobi.12536.

Bauer, N., and A. von Atzigen. 2019. Understanding the factors shaping the attitudes towards wilderness and rewilding. Rewilding 2019: 142.

Beharry-Borg, N., J.C. Smart, M. Termansen, and K. Hubacek. 2013. Evaluating farmers' likely participation in a payment programme for water quality protection in the UK uplands. Regional Environmental Change 13: 633–647.

Brondizio, E.S., J. Settele, S. Díaz, and H.T. Ngo. 2019. Global assessment report on biodiversity and ecosystem services of the Intergovernmental Science-Policy Platform on Biodiversity and Ecosystem Services. IPBES Secretariat.

Brown, C., R. Mcmorran, and M.F. Price. 2011. Rewilding—A new paradigm for nature conservation in Scotland? Scottish Geographical Journal 127: 288–314. https://doi.org/10.1080/14702541.2012.666261.

Bull, J.W., R. Ejrnaes, D.W. Macdonald, J.-C. Svenning, and C.J. Sandom. 2018. Fences can support restoration in human-dominated ecosystems when rewilding with large predators. Restoration Ecology. https://doi.org/10.1111/rec.12830.

Burton, R.J.F., and G. Schwarz. 2013. Result-oriented agri-environmental schemes in Europe and their potential for promoting behavioural change. Land Use Policy 30: 628–641. https://doi.org/10.1016/j.landusepol.2012.05.002.

Ceauşu, S., M. Hofmann, L.M. Navarro, S. Carver, P.H. Verburg, and H.M. Pereira. 2015. Mapping opportunities and challenges for rewilding in Europe. Conservation Biology 29: 2015.

Ceballos, G., P.R. Ehrlich, and R. Dirzo. 2017. Biological annihilation via the ongoing sixth mass extinction signaled by vertebrate population losses and declines. Proceedings of the National Academy of Sciences 114: E6089–E6096.

Coope, G. 2004. Several million years of stability among insect species because of, or in spite of, Ice Age climatic instability? Philosophical Transactions of the Royal Society of London B: Biological Sciences 359: 209–214.

Cromsigt, J.P.G.M., Y.J.M. Kemp, E. Rodriguez, and H. Kivit. 2018. Rewilding Europe's large grazer community: how functionally diverse are the diets of European bison, cattle, and horses? Restoration Ecology 26: 891–899. https://doi.org/10.1111/rec.12661.

Danish National Bank. 2020. Valutakurser. https://nationalbanken.statistikbank.dk/nbf/107312.

de Sainte Marie, C. 2014. Rethinking agri-environmental schemes. A result-oriented approach to the management of species-rich grasslands in France. Journal of Environmental Planning and Management 57: 704–719.

de Snoo, G., I. Herzon, H. Staats, R.J.F. Burton, S. Schindler, J. van Dijk, A. Marike Lokhorst, J.M. Bullock, et al. 2013. Toward effective nature conservation on farmland: making farmers matter. Conservation Letters 6: 66–72. https://doi.org/10.1111/j.1755-263X.2012.00296.x.

Dirzo, R., H.S. Young, M. Galetti, G. Ceballos, N.J. Isaac, and B. Collen. 2014. Defaunation in the Anthropocene. Science 345: 401–406.

Doughty, C.E., J. Roman, S. Faurby, A. Wolf, A. Haque, E.S. Bakker, Y. Malhi, J.B. Dunning, et al. 2016. Global nutrient transport in a world of giants. Proceedings of the National Academy of Sciences 113: 868–873. https://doi.org/10.1073/pnas.1502549112.

Droste, N., I. Ring, R. Santos, and M. Kettunen. 2018. Ecological fiscal transfers in Europe—Evidence-based design options for a transnational scheme. Ecological Economics 147: 373–382.

Ejrnæs, R., P. Wiberg-Larsen, T.E. Holm, A. Josefson, B. Strandberg, B. Nygaard, L.W. Andersen, A. Winding, et al. 2011. Danmarks biodiversitet 2010—status, udvikling og trusler. Danmarks Miljøundersøgelser, Aarhus Universitet. 152 sider—Faglig rapport fra DMU nr. 815 (In Danish).

European Commission. 2020. Gross National Income-based own resource. https://ec.europa.eu/info/strategy/eu-budget/revenue/own-resources/national-contributions_en.

European Environment Agency. 2015. State of nature in the EU, Results from reporting under the nature directives 2007–2012. Retrieved from https://www.eea.europa.eu/publications/state-of-nature-in-the-eu.

Farmtal Online. 2020. https://farmtalonline.dlbr.dk/Navigation/NavigationTree.aspx?Farmtal=.

Fløjgaard, C., J. Bladt, and R. Ejrnæs. 2017. Naturpleje og arealstørrelser med særligt fokus på Natura 200-områderne. Aarhus Universitet, DCE-Nationalt Center for Miljø og Energi. Videnskabelig rapport fra DCE-Nationalt Center for Miljø og Energi (228). Retrieved from https://dce2.au.dk/pub/SR228.pdf (In Danish).

Freeman, A.M., J.A. Herriges, and C.L. Kling. 2014. The measurement of environmental and resource values—theory and methods, 3rd ed. London: Routledge, RFF Press.

Galetti, M., M. Moleón, P. Jordano, M.M. Pires, P.R. Guimarães Jr., T. Pape, E. Nichols, D. Hansen, et al. 2019. Ecological and evolutionary legacy of megafauna extinctions. Biological Reviews 93: 2018. https://doi.org/10.1111/brv.12374.

Gardner, C.J., J.E. Bicknell, W. Baldwin-Cantello, M.J. Struebig, and Z.G. Davies. 2019. Quantifying the impacts of defaunation on natural forest regeneration in a global meta-analysis. Nat. Commun. 10: 1–7.

Hayward, M.W., and G.I.H. Kerley. 2009. Fencing for conservation: Restriction of evolutionary potential or a riposte to threatening processes? Biological Conservation 142: 1–13.

Higgs, A. 1981. Island biogeography theory and nature reserve design. Journal of Biogeography 8: 117–124.

Jacobsen, J.B., and H. Meilby. 2018. Omkostningsberegninger for urørt skov på statens skovarealer, 52 s., IFRO Udredning, nr. 2018/06 (In Danish).

Jepson, P. 2016. A rewilding agenda for Europe: Creating a network of experimental reserves. Ecography 39: 117–124. https://doi.org/10.1111/ecog.01602.

Jepson, P., F. Schepers, and W. Helmer. 2018. Governing with nature: A European perspective on putting rewilding principles into practice. Philosophical Transactions of the Royal Society B: Biological Sciences 373: 20170434. https://doi.org/10.1098/rstb.2017.0434.

Johnson, C.N. 2009. Ecological consequences of Late Quaternary extinctions of megafauna. Proceedings of the Royal Society B: Biological Sciences 276: 2509–2519. https://doi.org/10.1098/rspb.2008.1921.

Kurtén, B. 1968. Pleistocene mammals of Europe. London: Weidenfeld and Nicolson.

Lang, G. 1994. Quartäre Vegetationsgeschichte Europas: Methoden und Ergebnisse. Jena: Gustav Fischer Verlag.

MacFadden, B.J. 1997. Origin and evolution of the grazing guild in New World terrestrial mammals. Trends in Ecology & Evolution 12: 182–187.

Malhi, Y., C.E. Doughty, M. Galetti, F.A. Smith, J.-C. Svenning, and J.W. Terborgh. 2016. Megafauna and ecosystem function from the Pleistocene to the Anthropocene. Proceedings of the National Academy of Sciences 113: 838–846. https://doi.org/10.1073/pnas.1502540113.

Martínez, M.L., P.A. Hesp, and J.B. Gallego-Fernández. 2013. Coastal dune restoration: trends and perspectives. In Restoration of coastal dunes, 323–339. Berlin, Heidelberg: Springer.

Matzdorf, B., T. Kaiser, and M.-S. Rohner. 2008. Developing biodiversity indicator to design efficient agri-environmental schemes for extensively used grassland. Ecological Indicators 8: 256–269. https://doi.org/10.1016/j.ecolind.2007.02.002.

Matzdorf, B., and J. Lorenz. 2010. How cost-effective are result-oriented agri-environmental measures?—An empirical analysis in Germany. Land Use Policy 27: 535–544.

Merckx, T., and H.M. Pereira. 2015. Reshaping agri-environmental subsidies: From marginal farming to large-scale rewilding. Basic and Applied Ecology 16: 95–103. https://doi.org/10.1016/j.baae.2014.12.003.

Navarro, L.M., and H.M. Pereira. 2015. Towards a European policy for rewilding. In Rewilding European landscapes, ed. H.M. Pereira and L.M. Navarro, 205–223. Cham: Springer International Publishing.

Phalan, B., M. Onial, A. Balmford, and R.E. Green. 2011. Reconciling Food Production and Biodiversity Conservation: Land Sharing and Land Sparing Compared. Scienc Vol 333, 2 September 2011. Soule, M. & R. Noss. 1998. Rewilding and biodiversity: complementary goals for continental conservation. Wild Earth 8: 18–28.

Pires, M.M., P.R. Guimarães, M. Galetti, and P. Jordano. 2017. Pleistocene megafaunal extinctions and the functional loss of long-distance seed-dispersal services. Ecography. https://doi.org/10.1111/ecog.03163.

Sánchez-Bayo, F., and K.A. Wyckhuys. 2019. Worldwide decline of the entomofauna: A review of its drivers. Biological Conservation 232: 8–27.

Sandom, C.J., B. Dempsey, D. Bullock, A. Ely, P. Jepson, S. Jimenez-Wisler, A. Newton, N. Petorelli, et al. 2018. Rewilding in the English uplands: Policy and practice. Journal of Applied Ecology 2018: 1–8. https://doi.org/10.1111/1365-2664.13276.

Sandom, C.J., R. Ejrnaes, M.D. Hansen, and J.C. Svenning. 2014. High herbivore density associated with vegetation diversity in interglacial ecosystems. Proc Natl Acad Sci USA 111: 4162–4167. https://doi.org/10.1073/pnas.1311014111.

Schou, J.S. & Abildtrup, J. 2005: Jordrentetab ved arealekstensivering i landbruget. Principper og resultater. Danmarks Miljøundersøgelser. 66 s.—Faglig rapport fra DMU nr. 542 (In Danish).

Shaffer, M.L. 1981. Minimum population sizes for species conservation. BioScience 31: 131–134.

Stuart, A.J. 2015. Late quaternary megafaunal extinctions on the continents: A short review. Geological Journal 50: 338–363.

Svenning, J.-C., M. Munk, and A. Schweiger. 2019. Trophic rewilding: Ecological restoration of top-down trophic interactions to promote self-regulating biodiverse ecosystems. In Rewilding, ed. J.T. du Toit, N. Pettorelli, and S.M. Durant, 73–98. Cambridge: Cambridge University Press.

The Danish Agricultural Agency. 2020. https://eng.lbst.dk/agriculture/.

Thomsen, M.N., S.E. Vedel, and J.S. Schou. 2018. Driftsøkonomiske konsekvenser ved etablering af store sammenhængende naturområder—fire cases, 42 s., IFRO Udredning, Nr. 2018/05. Retrieved from https://static-curis.ku.dk/portal/files/194911545/IFRO_Udredning_2018_05.pdf (In Danish).

Tisdell, C. 2004. Nature-based tourism and the valuation of its environmental resources: economic and other aspects. Working Papers on the Economy, Ecology and Environment No. 104. May 2004. School of Economics, University of Queensland, Brisbane, QLD 4072, Australia. ISSN 1327-8231.

Vera, F.W. 2009. Large-scale nature development. The Oostvaardersplassen. British wildlife 20: 28.

Vermeulen, R. 2015. Natural Grazing: Practices in the rewilding cattle and horses/Roeland Vermeulen. Retrieved from Rewilding Europe: https://www.rewildingeurope.com/wp-content/uploads/2015/07/Natural-grazing-%E2%80%93-Practices-in-the-rewilding-of-cattle-and-horses.pdf.

Zedler, J.B. 2000. Progress in wetland restoration ecology. Trends in Ecology & Evolution 15: 402–407.
Acknowledgements
We would like to thank the Danish Nature Agency for funding the research.
Additional information
Publisher's Note
Springer Nature remains neutral with regard to jurisdictional claims in published maps and institutional affiliations.
About this article
Cite this article
Schou, J.S., Bladt, J., Ejrnæs, R. et al. Economic assessment of rewilding versus agri-environmental nature management. Ambio 50, 1047–1057 (2021). https://doi.org/10.1007/s13280-020-01423-8
Received:

Revised:

Accepted:

Published:

Issue Date:
Keywords
Biodiversity

Conservation grazing

Economic effects

Ecosystem restoration

Land sparing

Nature management