Abstract
The provision of ecosystem services is a prominent rationale for urban greening, and there is a prevailing mantra that 'trees are good'. However, understanding how urban trees contribute to sustainability must also consider disservices. In this perspective article, we discuss recent research on ecosystem disservices of urban trees, including infrastructure conflicts, health and safety impacts, aesthetic issues, and environmentally detrimental consequences, as well as management costs related to ecological disturbances and risk management. We also discuss tradeoffs regarding species selection and local conservation concerns, as well as the central role of human perception in the interpretation of ecosystem services and disservices, particularly the uncritical assertion that 'everybody loves trees'. Urban forestry decision-making that fails to account for disservices can have unintended negative consequences for communities. Further research is needed regarding life cycle assessments, stakeholder decision-making, return-on-investment, and framings of services and disservices in urban forestry.
Access options
Buy single article
Instant access to the full article PDF.
USD 39.95
Price excludes VAT (USA)
Tax calculation will be finalised during checkout.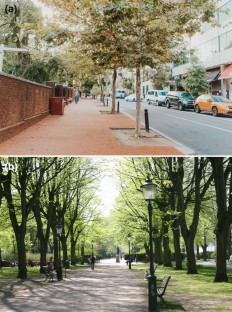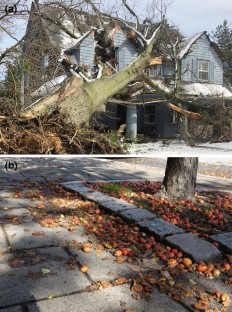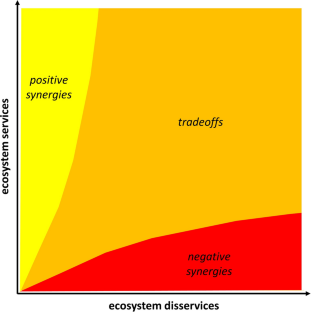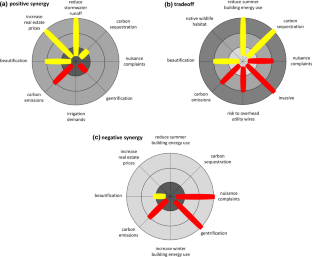 References
Allen, K.S., R.W. Harper, A. Bayer, and N.J. Brazee. 2017. A review of nursery production systems and their influence on urban tree survival. Urban Forestry & Urban Greening 21: 183–191.

Aruájo, Y.R.V., M.L. de Góis, L.M. Coelho, and M. Carvalho. 2018. Carbon footprint associated with four disposal scenarios for urban pruning waste. Environmental Science and Pollution Research 25: 1863–1868.

Auerbach, N.A., A.I.T. Tulloch, and H.P. Possingham. 2014. Informed actions: Where to cost effectively manage multiple threats to species to maximize return on investment. Ecological Applications 24: 1357–1373.

Ball, J., S.J. Vosberg, and T. Walsh. 2020. A review of United States arboriculture operation fatal and nonfatal incidents (2000-2017): Implications for safety training. Arboriculture & Urban Forestry 45: 67–83.

Battaglia, M., G.L. Buckley, M. Galvin, and M. Grove. 2014. It's not easy going green: Obstacles to tree-planting programs in East Baltimore. Cities and the Environment 7: article 6.

Berland, A., S.A. Shiflett, W.D. Shuster, A.S. Garmestani, H.C. Goddard, D.L. Herrmann, and M.E. Hopton. 2017. The role of trees in urban stormwater management. Landscape & Urban Planning 162: 167–177.

Braverman, I. 2008. Everybody loves trees: Policing American cities through street trees. Duke Environmental Law & Policy Forum 19: 81–118.

Breger, B.S., T.S. Eisenman, M.E. Kremer, L.A. Roman, D.G. Martin, and J. Rogan. 2019. Urban tree survival and stewardship in a state-managed planting initiative: A case study in Holyoke. Massachusetts. Urban Forestry & Urban Greening 43: 126382.

Campbell, L.K., E.S. Svendsen, and L.A. Roman. 2016. Knowledge co-production at the research-practice interface: Embedded case studies from urban forestry. Environmental Management 57: 1262–1280.

Carmichael, C.E., and M.H. McDonough. 2019. Community stories: Explaining resistance to street tree-planting programs in Detroit, Michigan, USA. Society & Natural Resources 32: 588–605.

Conway, T.M. 2016. Tending their urban forest: Residents' motivations for tree planting and removal. Urban Forestry & Urban Greening 17: 23–32.

Conway, T.M., A.D. Almas, and D. Coore. 2019. Ecosystem services, ecological integrity, and native species planting: How to balance these ideas in urban forest management. Urban Forestry & Urban Greening 41: 1–5.

Conway, T.M., and V. Yip. 2016. Assessing residents' reactions to urban forest disservices: A case study of a major storm event. Landscape & Urban Planning 153: 1–10.

Costanza, R., R. de Groot, L. Braat, I. Kubiszewski, L. Fioramonti, P. Sutton, S. Farber, and M. Grasso. 2017. Twenty years of ecosystem services: How far have we come and how far do we still have to go? Ecosystem Services 28: 1–16.

Davies, H.J., K.J. Doick, M.D. Hudson, and K. Schreckenberg. 2017. Challenges for tree officers to enhance the provision of regulating ecosystem services from urban forests. Environmental Research 156: 97–107.

Dean, J. 2005. "Said tree is a veritable nuisance": Ottawa's street trees 1869-1939. Urban History Review 34: 46–47.

Delshammar, T., J. Östberg, and C. Öxell. 2015. Urban trees and ecosystem disservices: A pilot study using complaints records from three Swedish cities. Arboriculture & Urban Forestry 41: 187–193.

Dietz, D., A. Fitzgerald, and R. Shwom. 2005. Environmental values. Annual Review of Environment and Resources 30: 335–372.

Dobbs, C., F.J. Escobedo, N. Clerici, F. de la Barrera, A.A. Eleuterio, I. MacGregor-Fors, S. Reyes-Paecke, A. Vásquez, et al. 2019. Urban ecosystem services in Latin America: Mismatch between global concepts and regional realities? Urban Ecosystems 22: 173–187.

Dobbs, C., D. Kendal, and C.R. Nitschke. 2014. Multiple ecosystem services and disservices of the urban forest establishing their connections with landscape structure and sociodemographics. Ecological Indicators 43: 44–55.

Dronova, I. 2019. Landscape beauty: A wicked problem in sustainable ecosystem management? Science of the Total Environment 688: 584–591.

Dunster, J., E.T. Smiley, N. Matheny, and S. Lilly. 2013. Tree risk assessment manual. Champaign: International Society of Arboriculture.

Eisenman, T.S., G. Churkina, S.P. Jariwala, P. Kumar, G.S. Lovasi, D.E. Pataki, K.R. Weinberger, and T.H. Whitlow. 2019. Urban trees, air quality, and asthma: An interdisciplinary review. Landscape & Urban Planning 187: 47–59.

Elmqvist, T., X. Bai, N. Frantzeskaki, C. Griffith, D. Maddox, T. McPhearson, S. Parnell, P. Romero-Lankao, et al. 2018. Urban planet: Knowledge towards sustainable cities. Cambridge: Cambridge University Press.

Erker, T., and P.A. Townsend. 2019. Trees in cool climate cities may increase atmospheric carbon by altering building energy use. Environmental Research Communications 1: 081003.

Ernstson, H., and S. Sörlin. 2013. Ecosystem services as technology of globalization: On articulating values in urban nature. Ecological Economics 86: 274–284.

Escobedo, F.J., V. Giannico, C.Y. Jim, G. Sanesi, and R. Lafortezza. 2019. Urban forests, ecosystem services, green infrastructure and nature-based solutions: Nexus or evolving metaphors? Urban Forestry & Urban Greening 37: 3–12.

Felipe-Lucia, M.R., B. Martín-López, S. Lavorel, L. Berraquero-Díaz, J. Esclarera-Reyes, and F.A. Comín. 2015. Ecosystem services flows: Why stakeholders' power relationships matter. PLoS ONE 10: e0132232.

Fisher, B., R. Kerry Turner, and P. Morling. 2009. Defining and classifying ecosystem services for decision making. Ecological Economics 68: 643–653.

Fitzgerald, J., and J. Laufer. 2017. Governing green stormwater infrastructure: The Philadelphia experience. Local Environment 22: 256–258.

Foley, J.A., R. DeFries, G.P. Asner, C. Barford, G. Bonan, S.R. Carpenter, F.S. Chapin, M.T. Coe, et al. 2005. Global consequences of land use. Science 309: 570–574.

Frumkin, H., G.N. Bratman, S.J. Breslow, B. Cochran, P.H. Kahn, J.J. Lawler, P.S. Levin, P.S. Tandon, et al. 2017. Nature contact and human health: A research agenda. Environmental Health Perspectives 125: 075001.

Gamfeldt, L., T. Snäll, R. Bagchi, M. Jonsson, L. Gustafsson, P. Kjellander, M.C. Ruiz-Jaen, M. Fröberg, et al. 2012. Higher levels of multiple ecosystem services are found in forests with more tree species. Nature Communications 4: 1340.

Goldstein, J.H., L. Pejchar, and G.C. Daily. 2008. Using return-on-investment to guide restoration: A case study from Hawaii. Conservation Letters 1: 236–243.

Haase, D., N. Larondelle, E. Andersson, M. Artmann, S. Borgström, J. Breuste, E. Gomez-Baggethun, A. Gren, et al. 2014. A quantitative review of urban ecosystem service assessments: Concepts, models, and implementation. Ambio 43: 413–433.

Hamada, H. (ed.). 2015. Critical urban infrastructure handbook. Boca Raton: CRC Press.

Hauer, R.J., and W.D. Peterson. 2016. Municipal tree care and management in the United States: A 2014 urban & community forestry census of tree activities. College of Natural Resources, University of Wisconsin – Stevens Point, Special Publication 16-1.

Heberlein, T.A. 2012. Navigating environmental attitudes. New York: Oxford University Press.

Hilbert, D.R., L.A. Roman, A.K. Koeser, J. Vogt, and N.S. van Doorn. 2019. Urban tree mortality: A literature review. Arboriculture & Urban Forestry 45: 167–200.

Howe, C., H. Suich, B. Vira, and G.M. Mace. 2014. Creating win-wins from trade-offs? Ecosystem services for human well-being: A meta-analysis of ecosystem services trade-offs and synergies in the real world. Global Environmental Change 28: 263–275.

International Society of Arboriculture (ISA). 2020. Trees are good. Retrieved 6 January, 2020, from www.treesaregood.org.

Irwin, N.B., H.A. Klaiber, and E.G. Irwin. 2017. Do stormwater basins generate co-benefits? Evidence from Baltimore County, Maryland. Ecological Economics 141: 202–212.

Jackson, S., and M. Mathews. 2011. The risk of active learning in the classroom: Negative synergy and its implications for learning. International Journal of Business & Social Science 2: 42–48.

Jenerette, G., L.W. Clarke, M.L. Avolio, D.E. Pataki, T.W. Gillespie, S. Pincetl, D.J. Nowak, L.R. Hutyra, et al. 2016. Climate tolerances and trait choices shape continental patterns of urban tree biodiversity. Global Ecology and Biogeography 25: 1267–1376.

Jones, R.E., K.L. Davis, and J. Bradford. 2013. The value of trees: Factors influencing homeowner support for protecting local urban trees. Environment & Behavior 45: 650–676.

Jones, B.A., and J. Fleck. 2018. Urban trees and water use in arid climates: Insights from an integrated bioeconomic-health model. Water Economics & Policy: 1850022.

Kardan, O., P. Gozdyra, B. Misic, F. Moola, L.J. Palmer, T. Paus, and M.G. Berman. 2015. Neighborhood greenspace and health in a large urban center. Nature Scientific Reports 5: 11610.

Kirkpatrick, J.B., A. Davison, and G.D. Daniels. 2012. Resident attitudes towards trees influence the planting and removal of different types of trees in eastern Australian cities. Landscape & Urban Planning 107: 147–158.

Kirkpatrick, J.B., A. Davison, and G.D. Daniels. 2013. Sinners, scapegoats, or fashion victims? Understanding the deaths of trees in the green city. Geoforum 48: 165–176.

Klein, R.W., A.K. Koeser, R.J. Hauer, G. Hansen, and F.J. Escobedo. 2019. Risk assessment and risk perception of trees: A review of literature relating to arboriculture and urban forestry. Arboriculture & Urban Forestry 45: 26–38.

Ko, Y. 2018. Trees and vegetation for residential energy conservation: A critical review for evidence-based urban greening in North America. Urban Forestry & Urban Greening 34: 318–335.

Ko, Y., J. Lee, E.G. McPherson, and L.A. Roman. 2015. Long-term monitoring of Sacramento Shade program trees: Tree survival, growth and energy-saving performance. Landscape & Urban Planning 143: 183–191.

Koeser, A.K., R.J. Hauer, J.W. Miesbauer, and W. Peterson. 2016. Municipal tree risk assessment in the United States: Findings from a comprehensive survey of urban forest management. Arboriculture Journal 38: 218–229.

Konijnendijk, C.C., R.M. Ricard, A. Kenney, and T.B. Randrup. 2006. Defining urban forestry - A comparative perspective of North America and Europe. Urban Forestry & Urban Greening 4: 93–103.

Lawrence, A., R. De Vreese, M. Johnston, C.C. Konijnendijk van den Bosch, and G. Sanesi. 2013. Urban forest governance: Towards a framework for comparing approaches. Urban Forestry & Urban Greening 2013: 464–473.

Liang, L.L., R.G. Anderson, S.A. Shiflett, and G.D. Jenerette. 2017. Urban outdoor water use and response to drought assessed through mobile energy balance and vegetation greenness measurements. Environmental Research Letters 12: 084007.

Locke, D.H., L.A. Roman, and C. Murphy-Dunning. 2015. Why opt-into a planting program? Long-term residents value street tree aesthetics. Arboriculture & Urban Forestry 41: 324–333.

Lohr, V., C. Pearson-Mims, J. Tarnai, and D. Dillman. 2004. How urban residents rate and rank the benefits and problems associated with trees in cities. Journal of Arboriculture 30: 28–35.

Lyytimäki, J. 2017. Disservices of urban trees. In Routledge Handbook of Urban Forestry, ed. Ferrini, F., C.C. Konijnendijk van den Bosch, and A. Fini, 164-176. New York: Routledge.

Lyytimäki, J., and M. Sipilä. 2009. Hopping on one leg—The challenge of ecosystem disservices for urban green management. Urban Forestry & Urban Greening 8: 309–315.

Maas, J., S.M.E. van Dillen, R.A. Verheij, and P.P. Groenewegen. 2009. Social contacts as a possible mechanism behind the relation between green space and health. Health and Place 15: 586–595.

Magarik, Y.A.S., L.A. Roman, and J.G. Henning. 2020. How should we measure the DBH of multi-stemmed urban trees? Urban Forestry & Urban Greening 47: 126481.

Maruthaveeran, S., and C.C. Konijnendijk van den Bosch. 2014. A socio-ecological exploration of fear of crime in urban green spaces—A systematic review. Urban Forestry & Urban Greening 13: 1–18.

McMillen, H., L.K. Campbell, and E.S. Svendsen. 2019. Weighing values and risks of beloved invasive species: The case of the survivor tree and conflict management in urban green infrastructure. Urban Forestry & Urban Greening 40: 44–52.

McPherson, E.G. 1992. Accounting for benefits and costs of urban greenspace. Landscape & Urban Planning 22: 41–51.

McPherson, E.G., A.M. Berry, and N.S. van Doorn. 2018. Performance testing to identify climate-ready trees. Urban Forestry & Urban Greening 29: 28–39.

McPherson, E.G., D.J. Nowak, and R.A. Rowntree. 1994. Chicago's urban forest ecosystem: Results of the Chicago urban forest climate project. GTR NE-186. Radnor: USDA Forest Service.

McPherson, G., J.R. Simpson, P.J. Peper, S.E. Maco, and Q. Xiao. 2005. Municipal forest benefits and costs in five US cities. Journal of Forestry 103: 411–416.

Miller, R.W., R.J. Hauer, and L.P. Werner. 2015. Urban forestry: Planning and management of urban greenspaces, 3rd ed. Long Grove: Waveland.

Nguyen, V.D., L.A. Roman, D.H. Locke, S.K. Mincey, J.R. Sanders, E. Smith Fichman, M. Duran-Mitchell, and S. Lumban Tobing. 2017. Branching out to residential lands: Missions and strategies of five tree distribution programs in the US. Urban Forestry & Urban Greening 22: 24–35.

Ordóñez, C., T. Beckley, P. Duinker, and J.A. Sinclair. 2017. Public values associated with urban forests: Synthesis of findings and lessons learned from emerging methods and cross-cultural case studies. Urban Forestry & Urban Greening 25: 74–84.

Ordóñez, C., and P.N. Duinker. 2014. Urban forest values of the citizenry in three Colombian cities. Society & Natural Resources 27: 834–849.

Pataki, D.E., M.M. Carreiro, J. Cherrier, N.E. Grulke, V. Jennings, S. Pincetl, R.V. Pouyat, T.H. Whitlow, et al. 2011. Coupling biogeochemical cycles in urban environments: Ecosystem services, green solutions, and misconceptions. Frontiers in Ecology and the Environment 9: 27–36.

Pearsall, H., and J.K. Eller. 2020. Locating the green space paradox: A study of gentrification and public green space accessibility in Philadelphia. Pennsylvania. Landscape & Urban Planning 195: 103708.

Persha, L., A. Agrawal, and A. Chhatre. 2011. Social and ecological synergy: Local rulemaking, forest livelihoods, and biodiversity conservation. Science 331: 1606–1608.

Petri, A.C., A.K. Koeser, S.T. Lovell, and D. Ingram. 2016. How green are trees?—Using life cycle assessment methods to assess net environmental benefits. Journal of Environmental Horticulture 34: 101–110.

Pincetl, S., T. Gillespie, D.E. Pataki, S. Saatchi, and J. Saphores. 2013. Urban tree planting programs, function or fashion? Los Angeles and urban tree planting campaigns. GeoJournal 78: 475–493.

Potgieter, L.J., M. Gaertner, P.J. O'Farrell, and D.M. Richardson. 2019. A fine-scale assessment of the ecosystem service-disservice dichotomy in the context of urban ecosystems affected by alien plant invasions. Forest Ecosystems 6: 46.

Radeloff, V.C., D.P. Helmers, H.A. Kramer, M.H. Mockrin, P.M. Alexandre, A. Bar-Massada, V. Bustic, T.J. Hawbaker, et al. 2018. Rapid growth of the US wildland-urban interface raises wildfire risk. PNAS 115: 3314–3319.

Reid, S.B., E.K. Pollard, D.C. Sullivan, and S.L. Shaw. 2010. Improvements to lawn and garden equipment emissions estimates for Baltimore, Maryland. Journal of the Air and Waste Management Association 60: 1452–1462.

Revelli, R., and A. Porporato. 2018. Ecohydrological model for the quantification of ecosystem services provided by urban street trees. Urban Ecosystems 21: 489–504.

Rokeach, M. 1973. The nature of human values. New York: Wiley.

Roman, L.A., J.J. Battles, and J.R. McBride. 2014. Determinants of establishment survival for residential trees in Sacramento County, CA. Landscape and Urban Planning 129: 22–31.

Roman, L.A., J.J. Battles, and J.R. McBride. 2016. Urban tree mortality: A primer on demographic approaches. GTR-NRS-158. Newtown Sq., PA: USDA Forest Service.

Roman, L.A., H. Pearsall, T.S. Eisenman, T.M. Conway, R.T. Fahey, S. Landry, J. Vogt, N.S. van Doorn, et al. 2018. Human and biophysical legacies shape contemporary urban forests: A literature synthesis. Urban Forestry & Urban Greening 31: 157–168.

Roman, L.A., L.A. Walker, C.M. Martineau, D.J. Muffly, S.A. MacQueen, and W. Harris. 2015. Stewardship matters: Case studies in establishment success of urban trees. Urban Forestry & Urban Greening 14: 1174–1182.

Roy, S., J. Byrne, and C. Pickering. 2012. A systematic quantitative review of urban tree benefits, costs, and assessment methods across cities in different climate zones. Urban Forestry & Urban Greening 11: 351–363.

Saunders, M., and G.W. Luck. 2016. Limitations of the ecosystem services versus disservices dichotomy. Conservation Biology 30: 1363–1365.

Schmidlin, T.W. 2009. Human fatalities from wind-related tree failures in the United States, 1995–2007. Natural Hazards 50: 13–25.

Shackleton, C.M. 2012. Is there no urban forestry in the developing world? Scientific Research and Essays 7: 3329–3335.

Shackleton, C.M., S. Ruwanza, G.K. Sinasson Sanni, D. Bennett, P. De Lacy, N. Mtati, M. Sachikonye, and G. Thondhlana. 2016. Unpacking Pandora's box: Understanding and categorizing ecosystem disservices for environmental management and human wellbeing. Ecosystems 19: 587–600.

Silvera Seamens, G. 2013. Mainstreaming the environmental benefits of street trees. Urban Forestry & Urban Greening 12: 2–11.

Soto, J.R., F.J. Escobedo, H. Khachatryan, and D.C. Adams. 2018. Consumer demand for urban forest ecosystem services and disservices: Examining trade-offs using choice experiments and best-worst scaling. Ecosystem Services 29: 31–39.

Stokland, J.N., J. Siitonen, and B.G. Jonsson. 2012. Biodiversity in dead wood. New York: Cambridge University Press.

Teixeira, F.Z., L. Bachi, J. Blanco, I. Zimmerman, I. Welle, and S. Carvalho-Ribeiro. 2019. Perceived ecosystem services (ES) and ecosystem disservices (EDS) from trees: Insights from three case studies in Brazil and France. Landscape Ecology 34: 1583–1600.

Tian, Y., H. Wu, G. Zhang, L. Wang, D. Zheng, and S. Li. 2020. Perceptions of ecosystem services, disservices and willingness-to-pay for urban green space conservation. Journal of Environmental Management 260: 110140.

Turkelboom, F., M. Leone, S. Jacobs, E. Kelemen, M. García-Llorente, F. Baró, M. Termansen, D.N. Barton, et al. 2018. When we cannot have it all: Ecosystem services trade-offs in the context of spatial planning. Ecosystem Services 29: 566–578.

Van Treese, J., A.K. Koeser, G.E. Fitzpatrick, M.T. Olexa, and E.J. Allen. 2017. A review of the impact of roadway vegetation on driver health and well-being and the risks associated with single vehicle crashes. Arboriculture Journal 39: 179–193.

Vannatta, A.R., R.H. Hauer, and N.M. Schuettpelz. 2012. Economic analysis of emerald ash borer (Coleoptera: Buprestidae) management options. Horticultural Entomology 105: 196–206.

Vaz, A.S., C. Kueffer, C.A. Kull, D.M. Richardson, J.R. Vicente, I. Kühn, M. Schröter, J. Hauck, et al. 2017. Integrating ecosystem services and disservices: Insights from invasive plants. Ecosystem Services 23: 94–107.

Vogt, J., R.J. Hauer, and B.C. Fischer. 2015. The costs of maintaining and not maintaining the urban forest: A review of the urban forestry and arboriculture literature. Arboriculture & Urban Forestry 41: 293–323.

von Döhren, P., and D. Haase. 2015. Ecosystem disservices research: A review of the state of the art with a focus on cities. Ecological Indicators 15: 490–497.

Young, R.F. 2011. Planting the living city: Best practices in planning green infrastructure - results from major U.S. cities. Journal of the American Planning Association 77: 368–381.

Young, R.F. 2013. Mainstreaming urban ecosystem services: A national survey of municipal foresters. Urban Ecosystems 16: 703–722.

Zhou, X., H. Zhu, Y. Wen, U.M. Goodale, X. Li, Y. You, D. Ye, and H. Liang. 2018. Effects of understory management on trade-offs and synergies between biomass carbon stock, plant diversity and timber production in eucalyptus plantations. Forest Ecology and Management 410: 164–173.
Acknowledgements
We thank our professional colleagues in arboriculture and urban forestry whose dedication to caring for city trees inspires our work, and for numerous discussions over the years that relate to this manuscript. We also appreciate critiques on an earlier version of this manuscript from JG Henning and anonymous reviewers. This work was supported by the National Science Foundation DBI-1052875 (National Socio-Environmental Synthesis Center, DH Locke) and DEB-1924288 (GD Jenerette), as well as the Australian Research Council (Linkage Partnership LP160100780, C Ordóñez). The opinions and findings expressed in this paper do not necessarily reflect the views of funders, and should not be construed to represent any official USDA or US Government determination or policy.
Additional information
Publisher's Note
Springer Nature remains neutral with regard to jurisdictional claims in published maps and institutional affiliations.
About this article
Cite this article
Roman, L.A., Conway, T.M., Eisenman, T.S. et al. Beyond 'trees are good': Disservices, management costs, and tradeoffs in urban forestry. Ambio 50, 615–630 (2021). https://doi.org/10.1007/s13280-020-01396-8
Received:

Revised:

Accepted:

Published:

Issue Date:

DOI: https://doi.org/10.1007/s13280-020-01396-8
Keywords
Ecosystem disservices

Green infrastructure

Negative synergies

Positive synergies

Urban ecosystems

Urban sustainability