Abstract
Functional agrobiodiversity (FAB) has severely declined during the last decades. Current efforts to reinforce FAB are mainly focused on single-actor, parcel-based measures, whereas multi-actor landscape approaches are supposed to be more effective. In this paper, we propose a social–ecological framework that structures how different land users at both the parcel and landscape level interact with FAB as a natural resource. Furthermore, we introduce 1 m2 FAB gardens as an interactive multipurpose measurement tool to gather data on ecosystem services in collaboration with land users. The presented action research approach provides new insights on motivations and interests of different land users in FAB and how knowledge exchange can result in a higher motivation to invest in FAB. Using a case study in Flanders, we illustrate the FAB-garden concept and highlight its strengths and necessary considerations to properly complement other research approaches in this social–ecological system.
Access options
Buy single article
Instant access to the full article PDF.
US$ 39.95
Tax calculation will be finalised during checkout.
Subscribe to journal
Immediate online access to all issues from 2019. Subscription will auto renew annually.
US$ 79
Tax calculation will be finalised during checkout.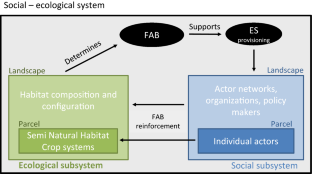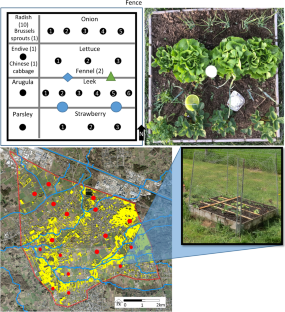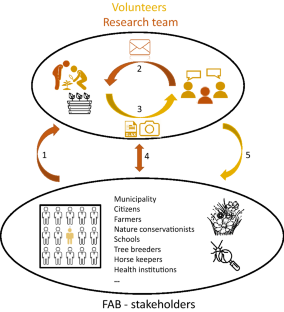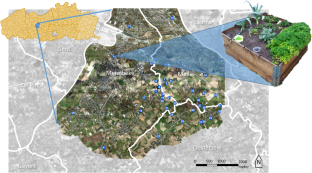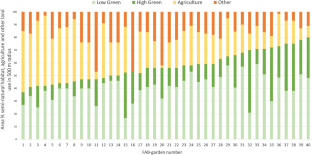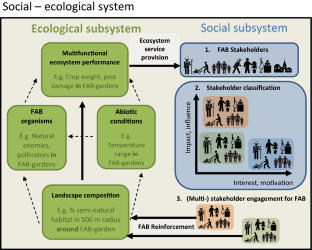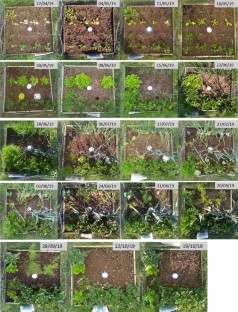 References
Albrecht, M., B. Schmid, Y. Hautier, and C.B. Müller. 2012. Diverse pollinator communities enhance plant reproductive success. Proceedings of the Royal Society B: Biological Sciences 279: 4845–4852.

ALV. 2018. Landbouwgebruikspercelen (Agricultural land use parcels map).

Angelstam, P., M. Manton, M. Elbakidze, F. Sijtsma, M. Cristian, A. Noa, A. Pedro, B. Peter, et al. 2019. LTSER platforms as a place-based transdisciplinary research infrastructure : Learning landscape approach through evaluation. Landscape Ecology 6: 1461–1484.

Barnaud, C., E. Corbera, R. Muradian, N. Salliou, C. Sirami, A. Vialatte, J.P. Choisis, N. Dendoncker, et al. 2018. Ecosystem services, social interdependencies, and collective action: A conceptual framework. Ecology and Society 23: 15.

Batáry, P., A. Báldi, D. Kleijn, and T. Tscharntke. 2011. Landscape-moderated biodiversity effects of agri-environmental management: A meta-analysis. Proceedings of the Royal Society of London B: Biological Sciences 278: 1894–1902.

Batáry, P., L.V. Dicks, D. Kleijn, and W.J. Sutherland. 2015. The role of agri-environment schemes in conservation and environmental management. Conservation Biology 29: 1006–1016.

Bianchi, F.J.J.A., V. Mikos, L. Brussaard, B. Delbaere, and M.M. Pulleman. 2013. Opportunities and limitations for functional agrobiodiversity in the European context. Environmental Science and Policy 27: 223–231.

Cardinale, B.J., J.E. Duffy, A. Gonzalez, D.U. Hooper, C. Perrings, P. Venail, A. Narwani, G.M. Mace, et al. 2012. Biodiversity loss and its impact on humanity. Nature 486: 59–67.

Chaplin-Kramer, R., M.E. O'Rourke, E.J. Blitzer, and C. Kremen. 2011. A meta-analysis of crop pest and natural enemy response to landscape complexity. Ecology Letters 14: 922–932.

Creswell, J.W. 2009. Research design: Qualitative, quantitative, and mixed methods approaches, 3rd ed. Thousand Oaks: Sage.

Dainese, M., S. Montecchiari, T. Sitzia, M. Sigura, and L. Marini. 2017. High cover of hedgerows in the landscape supports multiple ecosystem services in Mediterranean cereal fields. Journal of Applied Ecology 54: 380–388.

Dainese, M., E.A. Martin, M.A. Aizen, M. Albrecht, I. Bartomeus, R. Bommarco, L.G. Carvalheiro, R. Chaplin-kramer, et al. 2019. A global synthesis reveals biodiversity-mediated benefits for crop production. Science Advances 5: 1–13.

Dickinson, J.L., J. Shirk, D. Bonter, R. Bonney, R.L. Crain, J. Martin, T. Phillips, and K. Purcell. 2012. The current state of citizen science as a tool for ecological research and public engagement. Frontiers in Ecology and the Environment 10: 291–297.

van Dijk, W.F.A., A.M. Lokhorst, F. Berendse, and G.R. de Snoo. 2016. Factors underlying farmers' intentions to perform unsubsidised agri-environmental measures. Land Use Policy 59: 207–216.

Duffy, J.E., C.M. Godwin, and B.J. Cardinale. 2017. Biodiversity effects in the wild are common and as strong as key drivers of productivity. Nature 549: 261–264.

ELN-FAB. 2012. Functional agrobiodiversity: Nature serving Europe's farmers. Tilburg, the Netherlands.

Emmerson, M., M.B. Morales, J.J. Oñate, P. Batáry, F. Berendse, J. Liira, T. Aavik, I. Guerrero, et al. 2016. How agricultural intensification affects biodiversity and ecosystem services. In Advances in ecological research, vol. 55, ed. A.J. Dumbrell, R.L. Kordas, and G. Woodward, 43–97. Oxford: Academic Press.

Enqvist, J.P., M. Tengö, and Ö. Bodin. 2020. Are bottom-up approaches good for promoting social–ecological fit in urban landscapes? Ambio 49: 49–61.

Gonthier, D.J., K.K. Ennis, S. Farinas, H.-Y. Hsieh, A.L. Iverson, P. Batáry, J. Rudolphi, T. Tscharntke, et al. 2014. Biodiversity conservation in agriculture requires a multi-scale approach. Proceedings of the Royal Society of London B: Biological Sciences 281: 20141358.

Happe, A.K., F. Riesch, V. Rösch, R. Gallé, T. Tscharntke, and P. Batáry. 2018. Small-scale agricultural landscapes and organic management support wild bee communities of cereal field boundaries. Agriculture, Ecosystems and Environment 254: 92–98.

Hass, A.L., Y. Clough, L. Brachmann, P. Batáry, H. Behling, and T. Tscharntke. 2019. Maize-dominated landscapes reduce bumblebee colony growth through pollen diversity loss. Journal of Applied Ecology 56: 294–304.

Herbst, C., S. Arnold-Schwandner, T. Meiners, M.K. Peters, C. Rothenwöhrer, J. Steckel, N. Wäschke, C. Westphal, et al. 2017. Direct and indirect effects of agricultural intensification on a host-parasitoid system on the ribwort plantain (Plantago lanceolata L.) in a landscape context. Landscape Ecology 32: 2015–2028.

Holzschuh, A., I. Steffan-Dewenter, D. Kleijn, and T. Tscharntke. 2007. Diversity of flower-visiting bees in cereal fields: Effects of farming system, landscape composition and regional context. Journal of Applied Ecology 44: 41–49.

Jackson, L.E., M.M. Pulleman, L. Brussaard, K.S. Bawa, G.G. Brown, I.M. Cardoso, P.C. de Ruiter, L. García-Barrios, et al. 2012. Social–ecological and regional adaptation of agrobiodiversity management across a global set of research regions. Global Environmental Change 22: 623–639.

Jonsson, M., C.S. Straub, R.K. Didham, H.L. Buckley, B.S. Case, R.J. Hale, C. Gratton, and S.D. Wratten. 2015. Experimental evidence that the effectiveness of conservation biological control depends on landscape complexity. Journal of Applied Ecology 52: 1274–1282.

Karp, D.S., R. Chaplin-Kramer, T.D. Meehan, E.A. Martin, F. DeClerck, H. Grab, C. Gratton, L. Hunt, et al. 2018. Crop pests and predators exhibit inconsistent responses to surrounding landscape composition. Proceedings of the National Academy of Sciences 115: 7863–7870.

Kerselaers, E., E. Rogge, E. Vanempten, L. Lauwers, and G. Van Huylenbroeck. 2013. Changing land use in the countryside: Stakeholders' perception of the ongoing rural planning processes in Flanders. Land Use Policy 32: 197–206.

Kleijn, D. 2013. Agrarisch natuurbeheer: Wat kost het, wat levert het op en hoe kan het beter? De Levende Natuur Maart: 51–55.

Kleijn, D., and W.J. Sutherland. 2003. How effective are European agri-environment schemes in conserving and promoting biodiversity? Journal of Applied Ecology 40: 947–969.

Kleijn, D., F. Kohler, A. Báldi, P. Batáry, E.D. Concepción, Y. Clough, M. Díaz, D. Gabriel, et al. 2009. On the relationship between farmland biodiversity and land-use intensity in Europe. Proceedings of the Royal Society B: Biological Sciences 276: 903–909.

Knop, E., E.D. Concepción, D. Kleijn, E.J.P. Marshall, J. Verhulst, D. Gabriel, A. Holzschuh, Y. Clough, et al. 2012. Interactive effects of landscape context constrain the effectiveness of local agri-environmental management. Journal of Applied Ecology 49: 695–705.

Lakeman-Fraser, P., L. Gosling, A.J. Moffat, S.E. West, R. Fradera, L. Davies, M.A. Ayamba, and R. Wal. 2016. To have your citizen science cake and eat it? Delivering research and outreach through Open Air Laboratories (OPAL). BMC Ecology 16: 57–70.

Landis, D.A. 2017. Designing agricultural landscapes for biodiversity-based ecosystem services. Basic and Applied Ecology 18: 1–12.

Lastra-Bravo, X.B., C. Hubbard, G. Garrod, and A. Tolón-Becerra. 2015. What drives farmers' participation in EU agri-environmental schemes?: Results from a qualitative meta-analysis. Environmental Science and Policy 54: 1–9.

Lefebvre, M., M. Espinosa, S. Gomez y Paloma, M.L. Paracchini, A. Piorr, and I. Zasada. 2015. Agricultural landscapes as multi-scale public good and the role of the Common Agricultural Policy. Journal of Environmental Planning and Management 58: 2088–2112.

Lescourret, F., D. Magda, G. Richard, A.F. Adam-Blondon, M. Bardy, J. Baudry, I. Doussan, B. Dumont, et al. 2015. A social–ecological approach to managing multiple agro-ecosystem services. Current Opinion in Environmental Sustainability 14: 68–75.

Maes, J., C. Liquete, A. Teller, M. Erhard, M.L. Paracchini, J.I. Barredo, B. Grizzetti, A. Cardoso, et al. 2016. An indicator framework for assessing ecosystem services in support of the EU Biodiversity Strategy to 2020. Ecosystem Services 17: 14–23.

Marshall, E.J., T.M. West, and D. Kleijn. 2006. Impacts of an agri-environment field margin prescription on the flora and fauna of arable farmland in different landscapes. Agriculture, Ecosystems & Environment 113: 36–44.

Martin, E.A., M. Dainese, Y. Clough, A. Báldi, R. Bommarco, V. Gagic, M.P.D. Garratt, A. Holzschuh, et al. 2019. The interplay of landscape composition and configuration: New pathways to manage functional biodiversity and agroecosystem services across Europe. Ecology Letters 22: 1083–1094.

Moon, K., V.M. Adams, and B. Cooke. 2019. Shared personal reflections on the need to broaden the scope of conservation social science. People and Nature 1: 426–434.

Newig, J., and O. Fritsch. 2009. Environmental governance: Participatory, multi-level—And effective? Environmental Policy and Governance 19: 197–214.

Opdam, P., I. Coninx, A. Dewulf, E. Steingröver, C. Vos, and M. van der Wal. 2015. Framing ecosystem services: Affecting behaviour of actors in collaborative landscape planning? Land Use Policy 46: 223–231.

Ostrom, E. 2009. A general framework for analyzing sustainability of social–ecological systems. Science 325: 419–422.

Pasher, J., S.W. Mitchell, D.J. King, L. Fahrig, A.C. Smith, and K.E. Lindsay. 2013. Optimizing landscape selection for estimating relative effects of landscape variables on ecological responses. Landscape Ecology 28: 371–383.

Pocock, M.J., D.S. Chapman, L.J. Sheppard, and H.E. Roy. 2014. A strategic framework to support the implementation of citizen science for environmental monitoring. Final report to SEPA. Oxfordshire: Centre for Ecology & Hydrology.

Potschin, M.B., and R.H. Haines-Young. 2011. Ecosystem services: Exploring a geographical perspective. Progress in Physical Geography 35: 575–594.

Prager, K. 2015. Agri-environmental collaboratives for landscape management in Europe. Current Opinion in Environmental Sustainability 12: 59–66.

Primdahl, J., E. Andersen, S. Swaffield, and L. Kristensen. 2013. Intersecting dynamics of agricultural structural change and urbanisation within european rural landscapes: Change patterns and policy implications. Landscape Research 38: 799–817.

Reason, P., and H. Bradbury. 2001. Handbook of action research. London: Sage.

Reed, M.S., A. Graves, N. Dandy, H. Posthumus, K. Hubacek, J. Morris, C. Prell, C.H. Quinn, et al. 2009. Who's in and why? A typology of stakeholder analysis methods for natural resource management. Journal of Environmental Management 90: 1933–1949.

Renn, O. 2006. Participatory processes for designing environmental policies. Land Use Policy 23: 34–43.

Rusch, A., R. Chaplin-Kramer, M.M. Gardiner, V. Hawro, J. Holland, D. Landis, C. Thies, T. Tscharntke, et al. 2016. Agricultural landscape simplification reduces natural pest control: A quantitative synthesis. Agriculture, Ecosystems & Environment 221: 198–204.

Scheper, J., A. Holzschuh, M. Kuussaari, S.G. Potts, M. Rundlöf, H.G. Smith, and D. Kleijn. 2013. Environmental factors driving the effectiveness of European agri-environmental measures in mitigating pollinator loss—A meta-analysis. Ecology Letters 16: 912–920.

Schirmel, J., M. Albrecht, P.-M. Bauer, L. Sutter, S.C. Pfister, and M.H. Entling. 2018. Landscape complexity promotes hoverflies across different types of semi-natural habitats in farmland. Journal of Applied Ecology 55: 1–12.

Schulte, L.A., J. Niemi, M.J. Helmers, M. Liebman, J.G. Arbuckle, D.E. James, R.K. Kolka, M.E. O'Neal, et al. 2017. Prairie strips improve biodiversity and the delivery of multiple ecosystem services from corn-soybean croplands. Proceedings of the National Academy of Sciences 114: 11247–11252.

Sirami, C., N. Gross, A.B. Baillod, C. Bertrand, R. Carrié, A. Hass, L. Henckel, P. Miguet, et al. 2019. Increasing crop heterogeneity enhances multitrophic diversity across agricultural regions. Proceedings of the National Academy of Sciences 116: 201906419.

Tscharntke, T., A.M. Klein, A. Kruess, I. Steffan-Dewenter, and C. Thies. 2005. Landscape perspectives on agricultural intensification and biodiversity—Ecosystem service management. Ecology Letters 8: 857–874.

van Herwaarden, G., H. Baas, J. M. P. Salazar, B. Pedroli, and I. Gotzman. 2017. International Conference on Landscape Observatories. In UNISCAPE En-Route. Vol. 2.

Verhoeve, A., V. Dewaelheyns, E. Kerselaers, E. Rogge, and H. Gulinck. 2015. Virtual farmland: Grasping the occupation of agricultural land by non-agricultural land uses. Land Use Policy 42: 547–556.

Westerink, J., R. Jongeneel, N. Polman, K. Prager, J. Franks, P. Dupraz, and E. Mettepenningen. 2017. Collaborative governance arrangements to deliver spatially coordinated agri-environmental management. Land Use Policy 69: 175–192.

Winqvist, C., J. Ahnström, and J. Bengtsson. 2012. Effects of organic farming on biodiversity and ecosystem services: Taking landscape complexity into account. Annals of the New York Academy of Sciences 1249: 191–203.

Zasada, I., R. Berges, J. Hilgendorf, and A. Piorr. 2013. Horsekeeping and the peri-urban development in the Berlin Metropolitan Region. Journal of Land Use Science 8: 199–214.
Acknowledgements
Special thanks to the volunteering citizen scientists for their efforts. FG was funded by the Research Foundation Flanders (FWO) with a SB Grant (1S82419N). The BEL-Landscape research observatory is supported by the Flanders Research Institute for Agriculture, Fisheries and Food (ILVO) and Ghent University.
Additional information
Publisher's Note
Springer Nature remains neutral with regard to jurisdictional claims in published maps and institutional affiliations.
Electronic supplementary material
Below is the link to the electronic supplementary material.
About this article
Cite this article
Gerits, F., Messely, L., Reubens, B. et al. A social–ecological framework and toolbox to help strengthening functional agrobiodiversity-supported ecosystem services at the landscape scale. Ambio 50, 360–374 (2021). https://doi.org/10.1007/s13280-020-01382-0
Received:

Revised:

Accepted:

Published:

Issue Date:
Keywords
Citizen science

Ecosystem services

Functional agrobiodiversity

Landscape observatory

Social–ecological system