Abstract
Indigenous people play an integral role in shaping natural environments, and the disruption to Indigenous land management practices has profound effects on the biosphere. Here, we use pollen, charcoal and dendrochronological analyses to demonstrate that the Australian landscape at the time of British invasion in the 18th century was a heavily constructed one—the product of millennia of active maintenance by Aboriginal Australians. Focusing on the Surrey Hills, Tasmania, our results reveal how the removal of Indigenous burning regimes following British invasion instigated a process of ecological succession and the encroachment of cool temperate rainforest (i.e. later-stage vegetation communities) into grasslands of conservation significance. This research provides empirical evidence to challenge the long-standing portrayal of Indigenous Australians as low-impact 'hunter-gatherers' and highlights the relevance and critical value of Indigenous fire management in this era of heightened bushfire risk and biodiversity loss.
Access options
Buy single article
Instant access to the full article PDF.
USD 39.95
Price includes VAT (USA)
Tax calculation will be finalised during checkout.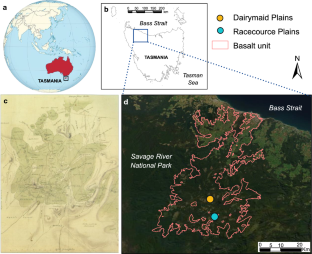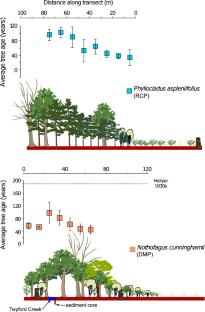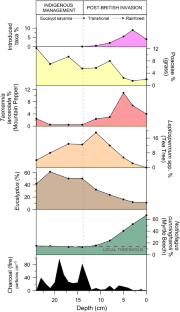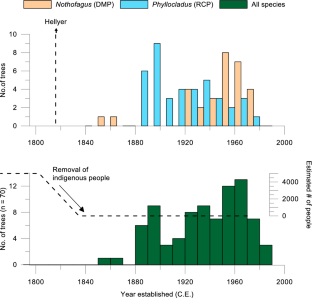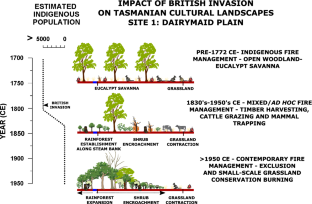 References
Archer, S.R., E.M. Andersen, K.I. Predick, S. Schwinning, R.J. Steidl, and S.R. Woods. 2017. Woody plant encroachment: causes and consequences. In Rangeland systems. Processes, management and challenges, ed. D.D. Briske. Cham: Springer.

Bell, P. 1998. Ptunarra Brown butterfly recovery plan 1998–2003. Tasmania: Department of Primary Industries, Water and Environment.

Bird, C.F., and D. Frankel. 1991. Problems in constructing a prehistoric regional sequence: Holocene southeast Australia. World Archaeology 23: 179–192.

Blackstock, M.D., and R. McAllister. 2004. First Nations perspectives on the grasslands of the interior of British Columbia. Journal of Ecological Anthropology 8: 24–46.

Bond, W.J., and C.L. Parr. 2010. Beyond the forest edge: Ecology, diversity and conservation of the grassy biomes. Biological Conservation 143: 2395–2404.

Bowman, D., S. Wood, D. Neyland, G. Sanders, and L. Prior. 2013. Contracting Tasmanian montane grasslands within a forest matrix is consistent with cessation of A boriginal fire management. Australia Ecology 38: 627–638.

Bowman, D.M.J.S. 1998. Tansley review No. 101: The impact of Aboriginal landscape burning on the Australian biota. New Phytologist 140: 385–410.

Bowman, D.M.J.S., and W.D. Jackson. 1981. Vegetation succession in southwest Tasmania. Search 12: 358–362.

Bowman, D.M.J.S., A.R. Maclean, and R.K. Crowden. 1986. Vegetation–soil relationships in the lowlands of south-west Tasmania. Australian Journal of Ecology 11: 141–153.

Bowman, D.M.J.S., and S.W. Wood. 2009. Fire driven land cover change in Australia and W.D. Jackson's theory of the fire ecology of southwest Tasmania. In Tropical fire ecology: Climate change, land use and ecosystem dynamics, ed. M.A. Cochrane, 87–111. Heidelberg: Springer-Praxis.

Bradshaw, C.J. 2012. Little left to lose: Deforestation and forest degradation in Australia since European colonization. Journal of Plant Ecology 5: 109–120.

Bui, E., Hancock, G., Chappell, A. and Gregory, L. 2010. Evaluation of tolerable erosion rates and time to critical topsoil loss in Australia.

Builth, H., A.P. Kershaw, C. White, A. Roach, L. Hartney, M. McKenzie, T. Lewis, and G. Jacobsen. 2008. Environmental and cultural change on the Mt Eccles lava-flow landscapes of southwest Victoria, Australia. The Holocene 18: 413–424.

Butler, D.W., R.J. Fensham, B.P. Murphy, S.G. Haberle, S.J. Bury, and D.M. Bowman. 2014. Aborigine-managed forest, savanna and grassland: Biome switching in montane eastern Australia. Journal of Biogeography 41: 1492–1505.

Clarkson, C., Z. Jacobs, B. Marwick, R. Fullagar, L. Wallis, M. Smith, R.G. Roberts, E. Hayes, et al. 2017. Human occupation of northern Australia by 65,000 years ago. Nature 547: 306.

Coop, J.D., and T.J. Givnish. 2007. Spatial and temporal patterns of recent forest encroachment in montane grasslands of the Valles Caldera, New Mexico, USA. Journal of Biogeography 34: 914–927.

Coppedge, B.R., D.M. Engle, S.D. Fuhlendorf, R.E. Masters, and J.M. Gregory. 2002. Landscape cover type and pattern dynamics in fragmented southern Great Plains grasslands, USA. Landscape Ecology 16: 677–690.

Cosgrove, R. 1999. Forty-two degrees south: the archaeology of Late Pleistocene Tasmania. Journal of World Prehistory 13: 357–402.

Dull, R.A., R.J. Nevle, W.I. Woods, D.K. Bird, S. Avnery, and W.M. Denevan. 2010. The Columbian encounter and the Little Ice Age: Abrupt land use change, fire, and greenhouse forcing. Annals of the Association of American Geographers 100: 755–771.

Ellis, R. 1985. The relationships among eucalypt forest, grassland and rainforest in a highland area in north-eastern Tasmania. Australian Journal of Ecology 10: 297–314.

Enright, N.J., and I. Thomas. 2008. Pre-European fire regimes in Australian ecosystems. Geography Compass 2: 979–1011.

Evans, K. 2010. Drought, fires and flood on the pastoral frontier: 1820 to 1855. Tasmanian Historical Research Association Papers and Proceedings, pp. 28–39.

Faegri, K., and J. Iversen. 1989. Textbook of pollen analysis. New York: Wiley.

Fitzmaurice, A. 2007. The genealogy of terra nullius. Australian Historical Studies 38: 1–15.

Fitzsimons, J., J. Russell-Smith, G. James, T. Vigilante, G. Lipsett-Moore, J. Morrison, and M. Looker. 2012. Insights into the biodiversity and social benchmarking components of the Northern Australian fire management and carbon abatement programmes. Ecological Management and Restoration 13: 51–57.

Fletcher, M.-S., and I. Thomas. 2007. Modern pollen–vegetation relationships in western Tasmania, Australia. Review of Palaeobotany and Palynology 146: 146–168.

Fletcher, M.-S., and I. Thomas. 2010. The origin and temporal development of an ancient cultural landscape. Journal of Biogeography 37: 2183–2196.

Gammage, B. 2008. Plain facts: Tasmania under aboriginal management. Landscape Research 33: 241–254.

Gammage, B. 2011. The biggest estate on earth. Allen and Unwin: Melbourne.

Gilbert, J.M. 1959. Forest Succession in the Florentine Valley, Tasmania. Papers and Proceedings of the Royal Society of Tasmania 93: 129–151.

Glanznig, A. and Kennedy, M. 2019. Land degradation and native vegetation clearance in the 1990 s: Addressing biodiversity loss in Australia. Response to Land Degradation, 395.

Gough, J. 2000. History, representation, globalisation and indigenous cultures: A Tasmanian perspective. Sydney: Allen and Unwin.

Green, D., and L. Minchin. 2014. Living on climate-changed country: Indigenous health, well-being and climate change in remote Australian communities. EcoHealth 11: 263–272.

Horton, D.R. 1982. The burning question: Aborigines, fire and Australian ecosystems. Mankind 3: 237–251.

Jackson, W.D. 1968. Fire, air, water and earth—an elemental ecology of Tasmania. Proceedings of the Ecological Society of Australia 3: 9–16.

Jackson, R.B., J.L. Banner, E.G. Jobbágy, W.T. Pockman, and D.H. Wall. 2002. Ecosystem carbon loss with woody plant invasion of grasslands. Nature 418: 623–626.

Jones, R. 1969. Fire-stick farming. Australian Natural History 16: 224–228.

Jones, R. 1971. The demography of hunters and farmers in Tasmania. Aboriginal Man and Environment in Australia, 271.

Kershaw, A.P., S.C. Bretherton, and S. van der Kaars. 2007a. A complete pollen record of the last 230 ka from Lynch's Crater, north-eastern Australia. Palaeogeography, Palaeoclimatology, Palaeoecology 251: 23–45.

Kershaw, A.P., G.M. McKenzie, N. Porch, R.G. Roberts, J. Brown, H. Heijnis, M.L. Orr, G. Jacobsen, et al. 2007b. A high-resolution record of vegetation and climate through the last glacial cycle from Caledonia Fen, southeastern highlands of Australia. Journal of Quaternary Science 22: 481–500.

Kirkpatrick, J.B. 1999. A continent transformed: Human impact on the natural vegetation of Australia. Oxford: Oxford University Press.

Koch, A., C. Brierley, M.M. Maslin, and S.L. Lewis. 2019. Earth system impacts of the European arrival and Great Dying in the Americas after 1492. Quaternary Science Reviews 207: 13–36.

Lambers, H. 2003. Introduction: Dryland salinity: A key environmental issue in southern Australia. Plant and Soil, v–vii.

Langton, M. 1998. Burning questions: Emerging environmental issues for indigenous peoples in Northern Australia. Darwin: Centre for Indigenous Natural and Cultural Resource Management, Northern Territory University.

Liebmann, M.J., J. Farella, C.I. Roos, A. Stack, S. Martini, and T.W. Swetnam. 2016. Native American depopulation, reforestation, and fire regimes in the Southwest United States, 1492–1900 CE. Proceedings of the National Academy of Sciences 113: E696–E704.

Loughlin, N.J.D., W.D. Gosling, P. Mothes, and E. Montoya. 2019. Ecological consequences of post-Columbian indigenous depopulation in the Andean-Amazonian corridor. Nature Ecology and Evolution 2: 1233–1236.

Lunt, I.D. 1998. Allocasuarina (Casuarinaceae) invasion of an unburnt coastal woodland at Ocean Grove, Victoria: Structural Changes 1971–1996. Australian Journal of Botany 46: 649–656.

Masters, P. 1993. The effects of fire-driven succession and rainfall on small mammals in spinifex grassland at Uluru National Park, Northern Territory. Wildlife Research 20: 803–813.

McKinley, D.C., and J.M. Blair. 2008. Woody plant encroachment by Juniperus virginiana in a Mesic native grassland promotes rapid carbon and nitrogen accrual. Ecosystems 11: 454–468.

Mooney, S.D., S.P. Harrison, P.J. Bartlein, A.-L. Daniau, J. Stevenson, K.C. Brownlie, S. Buckman, M. Cupper, et al. 2011. Late quaternary fire regimes of Australasia. Quaternary Science Reviews 30: 28–46.

Moura, L.C., A.O. Scariot, I.B. Schmidt, R. Beatty, and J. Russell-Smith. 2019. The legacy of colonial fire management policies on traditional livelihoods and ecological sustainability in savannas: Impacts, consequences, new directions. Journal of Environmental Management 232: 600–606.

Murphy, B.P., A.N. Andersen, and C.L. Parr. 2016. The underestimated biodiversity of tropical grassy biomes. Philosophical Transactions of the Royal Society B 371: 20150319.

Murphy, B.P., Russell-Smith, J., Watt, F.A. and Cook, G.D. 2009. Fire management and woody biomass carbon stocks in mesic savannas. In Managing fire regimes in north Australian savannas: ecology, culture, economy. ed. J. Russell-Smith and P Whitehead. 361–378 pp.

Nadal-Romero, E., T. Lasanta, and J.M. García-Ruiz. 2013. Runoff and sediment yield from land under various uses in a Mediterranean mountain area; long term results from an experimental station. Earth Surface Processes and Landforms 38: 346–355.

Needham, R. 1960. Problems associated with regeneration of Eucalyptus gigantea in the Surrey Hills [Tasmania] area. APPITA, Melbourne 13: 136–140.

Norman, S.P., and A.H. Taylor. 2005. Pine forest expansion along a forest-meadow ecotone on northeastern California, USA. Forest Ecology and Managment 215: 51–68.

Ogden, J. 1978. On the dendrochronological potential of Australian trees. Australian Journal of Ecology 3: 339–356.

Onfray, R. 2012. Cultural artefacts or 'neglected old parks': the colonisation of rainforests in north-western Tasmania. Australia's ever changing forests VI: Proceedings of the eighth national conference on Australian Forest History, 1–24 pp.

Partel, M., H.H. Bruun, and M. Sammul. 2005. Biodiversity in temperate European grasslands: Origin and conservation. Grassland Science in Europe 10: 1–14.

Pascoe, B. 2014. Dark emu black seeds: Agriculture or accident?. Broome: Magabala Books.

Paterson, A. 2013. Enduring contact: Australian perspectives on environmental and social change. Occasion Interdisciplinary Studies in the Humanities 5: 1–17.

Pike-Tay, A., R. Cosgrove, and J. Garvey. 2008. Systematic seasonal land use by late Pleistocene Tasmanian Aborigines. Journal of Archaeological Science 35: 2532–2544.

Romanin, L.M., F. Hopf, S.G. Haberle, and D.M.J.S. Bowman. 2016. Fire regime and vegetation change in the transition from Aboriginal to European land management in a Tasmanian eucalypt savanna. Australian Journal of Botany 64: 427–440.

Rowland, M.J. 2004. Return of the 'noble savage': Misrepresenting the past, present and future. Australian Aboriginal Studies 2004: 2.

Russell-Smith, J., G.D. Cook, P.M. Cooke, A.C. Edwards, M. Lendrum, C. Meyer, and P.J. Whitehead. 2013. Managing fire regimes in north Australian savannas: Applying Aboriginal approaches to contemporary global problems. Frontiers in Ecology and the Environment 11: e55–e63.

Simkin, R., and P.J. Baker. 2008. Disturbance history and stand dynamics in tall open forest and riparian rainforest in the Central Highlands of Victoria. Australia Ecology 33: 747–760.

Sühs, R.B., E.L.H. Giehl, and N. Peroni. 2020. Preventing traditional management can cause grassland loss within 30 years in southern Brazil. Scientific Reports 10: 1–9.

Thomas, B.M. 2011. Henry Hellyer's observations: journals of life in the Tasmanian bush 1826–1827. North Down Press.

Waitt, G. 1999. Naturalizing the 'primitive': A critique of marketing Australia's indigenous peoples as 'hunter-gatherers'. Tourism Geographies 1: 142–163.

Whitlock, C., and C. Larsen. 2001. Charcoal as a fire proxy. In Tracking environmental change using lake sediments, Terrestrial, algal, and Siliceous Indicators, vol. 3, ed. J.P. Smol, H.J.B. Birks, and W.M. Last, 75–97. Dodrecht Dodrecht: Kluwer Academic Publishers.

Wilman, E.A. 2015. An economic model of aboriginal fire-stick farming. Australian Journal of Agricultural and Resource Economics 59: 39–60.

Woinarski, J.C., A.A. Burbidge, and P.L. Harrison. 2015. Ongoing unraveling of a continental fauna: decline and extinction of Australian mammals since European settlement. Proceedings of the National Academy of Sciences 112: 4531–4540.

Wood, S.W., and D.M.J.S. Bowman. 2012. Alternative stable states and the role of fire–vegetation–soil feedbacks in the temperate wilderness of southwest Tasmania. Landscape Ecology 27: 13–28.

Wood, S.W., C. Ward, and D.M. Bowman. 2017. Substrate controls growth rates of the woody pioneer Leptospermum lanigerum colonizing montane grasslands in northern Tasmania. Australia Ecology 42: 9–19.
Acknowledgements
We acknowledge an Australian Research Council Grant to Fletcher (IN170100063). We thank Scott Nichols, Amy Hessl and students from the University of Melbourne class GEOG30025: Biogeography and Ecology of Fire (2019) for help in the field. Fletcher is an Associate Investigator with the ARC Centre of Excellence for Australian Biodiversity and Heritage (CABAH).
Additional information
Publisher's Note
Springer Nature remains neutral with regard to jurisdictional claims in published maps and institutional affiliations.
About this article
Cite this article
Fletcher, MS., Hall, T. & Alexandra, A.N. The loss of an indigenous constructed landscape following British invasion of Australia: An insight into the deep human imprint on the Australian landscape. Ambio 50, 138–149 (2021). https://doi.org/10.1007/s13280-020-01339-3
Received:

Revised:

Accepted:

Published:

Issue Date:
Keywords
Cultural heritage

Dendrochronology

Fire

Indigenous Australia

Palaeoenvironments

Western Tasmania