Abstract
Offsetting—trading losses in one place for commensurate gains in another—is a tool used to mitigate environmental impacts of development. Biodiversity and carbon are the most widely used targets of offsets; however, other ecosystem services are increasingly traded, introducing new risks to the environment and people. Here, we provide guidance on how to "trade with minimal trade-offs"— i.e. how to offset impacts on biodiversity without negatively affecting ecosystem services and vice versa. We briefly survey the literature on offsetting biodiversity, carbon and other ecosystem services, revealing that each subfield addresses unique issues (often overlooking those raised by others) and rarely assesses potential trade-offs. We discuss key differences between offsets that trade biodiversity and those that trade ecosystem services, conceptualise links between these different targets in an offsetting context and describe three broad approaches to manage potential trade-offs. We conclude by proposing a research agenda to strengthen the outcomes of offsetting policies that are emerging internationally.
Access options
Buy single article
Instant access to the full article PDF.
US$ 39.95
Tax calculation will be finalised during checkout.
Subscribe to journal
Immediate online access to all issues from 2019. Subscription will auto renew annually.
US$ 79
Tax calculation will be finalised during checkout.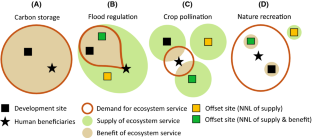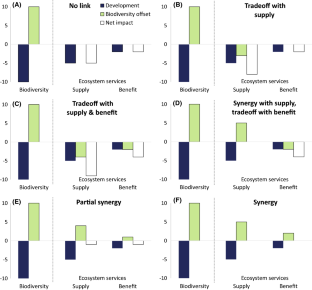 References
Agrawal, A., D. Nepstad, and A. Chhatre. 2011. Reducing emissions from deforestation and forest degradation. Annual Review of Environment and Resources 36: 373–396.

Bateman, I.J., A.R. Harwood, G.M. Mace, R.T. Watson, D.J. Abson, B. Andrews, A. Binner, A. Crowe, et al. 2013. Bringing ecosystem services into economic decision-making: Land use in the United Kingdom. Science 341: 45–50.

BBOP. 2012. Standard on biodiversity offsets. Washington, DC: Business and Biodiversity Offsets Program.

Benayas, J.M.R., A.C. Newton, A. Diaz, and J.M. Bullock. 2009. Enhancement of biodiversity and ecosystem services by ecological restoration: A meta-analysis. Science 325: 1121–1124.

Bidaud, C., K. Schreckenberg, and J.P.G. Jones. 2018. The local costs of biodiversity offsets: Comparing standards, policy and practice. Land Use Policy 77: 43–50.

Bidaud, C., K. Schreckenberg, M. Rabeharison, P. Ranjatson, J. Gibbons, and J.P.G. Jones. 2017. The sweet and the bitter: Intertwined positive and negative social impacts of a biodiversity offset. Conservation and Society 15: 1–13.

Budiharta, S., E. Meijaard, D.L.A. Gaveau, M.J. Struebig, A. Wilting, S. Kramer-Schadt, J. Niedballa, N. Raes, et al. 2018. Restoration to offset the impacts of developments at a landscape scale reveals opportunities, challenges and tough choices. Global Environmental Change 52: 152–161.

Bull, J.W., J. Baker, V.F. Griffiths, J.P.G. Jones, and E.J. Milner-Gulland. 2018. Ensuring no net loss for people and biodiversity: Good practice principles. Oxford. https://doi.org/10.31235/osf.io/4ygh7.

Bull, J.W., A. Gordon, E.A. Law, K.B. Suttle, and E.J. Milner-Gulland. 2014. Importance of baseline specification in evaluating conservation interventions and achieving no net loss of biodiversity. Conservation Biology 28: 799–809.

Burkhard, B., M. Kandzior, Y. Hou, and F. Müller. 2014. Ecosystem service potentials, flows and demand: Concepts for spatial localisation, indication and quantification. Landscape Online 34: 1–32.

Calvet, C., C. Napoleone, and J.M. Salles. 2015. The biodiversity offsetting dilemma: Between economic rationales and ecological dynamics. Sustainability 7: 7357–7378.

Chomitz, K.M. 2002. Baseline, leakage and measurement issues: How do forestry and energy projects compare? Climate Policy 2: 35–49.

Cowie, A.L., B.J. Orr, V.M. Castillo Sanchez, P. Chasek, N.D. Crossman, A. Erlewein, G. Louwagie, M. Maron, et al. 2018. Land in balance: The scientific conceptual framework for land degradation neutrality. Environmental Science & Policy 79: 25–35.

Deal, R.L., B. Cochran, and G. LaRocco. 2012. Bundling of ecosystem services to increase forestland value and enhance sustainable forest management. Forest Policy and Economics 17: 69–76.

Dee, L.E., M. De Lara, C. Costello, and S.D. Gaines. 2017. To what extent can ecosystem services motivate protecting biodiversity? Ecology Letters 20: 935–946.

Díaz, S., S. Demissew, J. Carabias, C. Joly, M. Lonsdale, N. Ash, A. Larigauderie, J. Ram Adhikari, et al. 2015. The IPBES conceptual framework: connecting nature and people. Current Opinion in Environmental Sustainability 14: 1–16.

Ferraro, P.J. 2009. Counterfactual thinking and impact evaluation in environmental policy. New Directions for Evaluation 2009: 75–84.

Fisher, B., R.K. Turner, and P. Morling. 2009. Defining and classifying ecosystem services for decision making. Ecological Economics 68: 643–653.

Fox, J., R.C. Gardner, and T. Maki. 2011. Stacking opportunities and risks in environmental credit markets. Environmental Law Reporter 41: 10121–10125.

Gardner, R.C., and J. Fox. 2013. The legal status of environemtnal credit stacking. Ecology Law Quarterly 40: 713–758.

Garibaldi, L.A., I. Steffan-Dewenter, R. Winfree, M.A. Aizen, R. Bommarco, S.A. Cunningham, C. Kremen, L.G. Carvalheiro, et al. 2013. Wild pollinators enhance fruit set of crops regardless of honey bee abundance. Science 339: 1608–1611.

Gordon, A., W.T. Langford, J.A. Todd, M.D. White, and D.W. Mullerworth. 2011. Assessing the impacts of biodiversity offset policies. Environmental Modelling and Software 144: 558–566.

Greenhalgh, S., and M. Selman. 2012. Comparing water quality trading programs: What lessons are there to learn? The Journal of Regional Analysis and Policy 42: 104–125.

Griffiths, V.F., J.W. Bull, J. Baker, and E.J. Milner-Gulland. 2018. No net loss for people and biodiversity. Conservation Biology 33: 76–87.

Hansson, L.A., C. Bronmark, P.A. Nilsson, and K. Abjornsson. 2005. Conflicting demands on wetland ecosystem services: Nutrient retention, biodiversity or both? Freshwater Biology 50: 705–714.

Harper, D.J., and J.T. Quigley. 2005. A comparison of the areal extent of fish habitat gains and losses associated with selected compensation projects in Canada. Fisheries 30: 18–25. https://doi.org/10.1577/1548-8446(2005)30[18:ACOTAE]2.0.CO;2.

ICMM and IUCN. 2013. Independent report on biodiversity offsets. London, UK: International Council on Mining & Metals (ICMM) and the International Union for Conservation of Nature (IUCN). Report prepared by The Biodiversity Consultancy, Cambridge, UK.

IFC. 2012. Performance standard 6: Biodiversity conservation and sustainable management of living natural resources. Washington, DC: International Finance Corporation, World Bank Group.

IPCC. 2014. Climate change 2014: mitigation of climate change. In Working group III contribution to the fifth assessment report of the intergovernmental panel on climate change, ed. O. Edenhofer et al. Cambridge and New York: Cambridge University Press.

IUCN. 2016. Policy on biodiversity offsets. Gland: International Union for Conservation of Nature (IUCN).

Jackson, R.B., E.G. Jobbágy, R. Avissar, S.B. Roy, D.J. Barrett, C.W. Cook, K.A. Farley, D.C. le Maitre, et al. 2005. Trading water for carbon with biological carbon sequestration. Science 310: 1944–1947.

Lashof, D.A., and D.R. Ahuja. 1990. Relative contributions of greenhouse gas emissions to global warming. Nature 344: 529–531.

Lee, C.M., M. Lazarus, G.R. Smith, K. Todd, and M. Weitz. 2013. A ton is not always a ton: A road-test of landfill, manure, and afforestation/reforestation offset protocols in the US carbon market. Environmental Science & Policy 33: 53–62.

Needham, K., F.P. de Vries, P.R. Armsworth, and N. Hanley. 2019. Designing markets for biodiversity offsets: Lessons from tradable pollution permits. Journal of Applied Ecology 56: 1429–1435.

Mace, G.M., K. Norris, and A.H. Fitter. 2012. Biodiversity and ecosystem services: A multilayered relationship. Trends in Ecology & Evolution 27: 19–26.

Mandle, L., H. Tallis, L. Sotomayor, and A.L. Vogl. 2015. Who loses? Tracking ecosystem service redistribution from road development and mitigation in the Peruvian Amazon. Frontiers in Ecology and the Environment 13: 309–315.

Mandle, L., J. Douglass, J. Sebsatian Lozano, R.P. Sharp, A.L. Vogl, D. Denu, T. Walschburger, and H. Tallis. 2016. OPAL: An open-source software tool for integrating biodiversity and ecosystem services into impact assessment and mitigation decisions. Environmental Modelling and Software 84: 121–133.

Maron, M., S. Brownlie, J.W. Bull, M.C. Evans, A. von Hase, F. Quetier, J.E.M. Watson, and A. Gordon. 2018. The many meanings of no net loss in environmental policy. Nature Sustainability 1: 19–27.

Maron, M., C.D. Ives, H. Kujala, J.W. Bull, F.J.F. Maseyk, S. Bekessy, A. Gordon, J.E.M. Watson, et al. 2016. Taming a wicked problem: Resolving controversies in biodiversity offsetting. BioScience 66: 489–498.

Maron, M., J.R. Rhodes, and P. Gibbons. 2013. Calculating the benefit of conservation actions. Conservation Letters 6: 359–367.

Maseyk, F.J.F., L.P. Barea, R.T.T. Stephens, H.P. Possingham, G. Dutson, and M. Maron. 2016. A disaggregated biodiversity offset accounting model to improve estimation of ecological equivalency and no net loss. Biological Conservation 204: 322–332.

McDermott, C.L. 2014. REDDuced: From sustainability to legality to units of carbon—The search for common interests in international forest governance. Environmental Science & Policy 35: 12–19.

Mitchell, M.G.E., A.F. Suarez-Castro, M. Martinez-Harms, M. Maron, C. McAlpine, K.J. Gaston, K. Johansen, and J.R. Rhodes. 2015. Reframing landscape fragmentation's effects on ecosystem services. Trends in Ecology & Evolution 30: 190–198.

Nekola, J.C., and P.S. White. 1999. The distance decay of similarity in biogeography and ecology. Journal of Biogeography 26: 867–878.

Olander, L.P., H.K. Gibbs, M. Steininger, J.J. Swenson, and B.C. Murray. 2008. Reference scenarios for deforestation and forest degradation in support of REDD: A review of data and methods. Environmental Research Letters 3: 025011.

Pasgaard, M., Z. Sun, D. Mülle, and O. Mertz. 2016. Challenges and opportunities for REDD+ : A reality check from perspectives of effectiveness, efficiency and equity. Environmental Science & Policy 63: 161–169.

Phelps, J., D.A. Friess, and E.L. Webb. 2012. Win-win REDD+ approaches belie carbon-biodiversity trade-offs. Biological Conservation 154: 53–60.

Quetier, F., and S. Lavorel. 2011. Assessing ecological equivalence in biodiversity offset schemes: Key issues and solutions. Biological Conservation 144: 2991–2999.

Ricketts, T.H., K.B. Watson, I. Koh, A.M. Ellis, C.C. Nicholson, S. Posner, L.L. Richardson, and L.J. Sonter. 2016. Disaggregating the evidence linking biodiversity and ecosystem services. Nature Communications 7: 13106.

Schulp, C.J.E., A.J.A. van Teeffelen, G. Tucker, and P.H. Verburg. 2016. A quantitative assessment of policy options for no net loss of biodiversity and ecosystem services in the European Union. Land Use Policy 57: 151–163.

Serna-Chavez, H.M., C.J.E. Schulp, P.M. van Bodegom, W. Bouten, P.H. Verburg, and M.D. Davidson. 2014. A quantitative framework for assessing spatial flows of ecosystem services. Ecological Indicators 39: 24–33.

Soininen, J., R. McDonald, and H. Hillebrand. 2007. The distance decay of similarity in ecological communities. Ecography 30: 3–12.

Sonter, L.J., D.J. Barrett, and B.S. Soares-Filho. 2014. Offsetting the impacts of mining to achieve no net loss of native vegetation. Conservation Biology 28: 1068–1076.

Sonter, L.J., J. Gourevitch, I. Koh, C.C. Nicholson, L.L. Richardson, A.J. Schwartz, N.K. Singh, K.B. Watson, et al. 2018. Biodiversity offsets may forgo opporutnities to mitigate impacts on ecosystem services. Frontiers in Ecology and the Environment 16: 143–148.

Stein, E.D., F. Tabatabai, and R.F. Ambrose. 2000. Wetland mitigation banking: A framework for crediting and debiting. Environmental Management 26: 233–250.

Tallis, H., C.M. Kennedy, M. Ruckelshaus, J. Goldstein, and J.M. Kiesecker. 2015. Mitigation for one and all: An integrated framework for mitigation of development impacts on biodiversity and ecosystem services. Environmental Impact Assessment Review 55: 21–34.

Venter, O., W.F. Laurance, T. Iwamura, K.A. Wilson, R.A. Fuller, and H.P. Possingham. 2009. Harnessing carbon payments to protect biodiversity. Science 326: 1368.

von Hase, A., and J. Cassin. 2018. Theory and practice of 'stacking' and 'bundling' ecosystem goods and services: A resource paper. Washington, DC: Business and Biodiversity Offsets Programme (BBOP). Forest Trends.

Watson, K.B., G.L. Galford, L.J. Sonter, I. Koh, and T.H. Ricketts. 2019. Effects of human demand on conservation planning for biodiversity and ecosystem services. Conservation Biology 33: 942–952.
Acknowledgements
This work was undertaken during a workshop on "linking landscape structure to ecosystem services", supported by the São Paulo Research Foundation (FAPESP; n. 2017/50015-5), University of Queensland (UQ; Sprint 4/2016) and ARC Centre for Excellence in Environmental Decisions (CEED). LJS was supported by an ARC Discovery Early Career Research Award (DE170100684). M.M. is supported by ARC Future Fellowship FT140100516.
Additional information
Publisher's Note
Springer Nature remains neutral with regard to jurisdictional claims in published maps and institutional affiliations.
Electronic supplementary material
Below is the link to the electronic supplementary material.
About this article
Cite this article
Sonter, L.J., Gordon, A., Archibald, C. et al. Offsetting impacts of development on biodiversity and ecosystem services. Ambio 49, 892–902 (2020). https://doi.org/10.1007/s13280-019-01245-3
Received:

Revised:

Accepted:

Published:

Issue Date:
Keywords
Biodiversity

Ecosystem services

Mitigation hierarchy

Offsetting

Trade-offs