Abstract
We use data from a survey of 2439 farmers in 5 countries around the Baltic Sea (Denmark, Estonia, Finland, Poland and Sweden) to investigate their preferences for adopting agricultural practices aimed at reducing nutrient leaching and greenhouse gas emissions. The measures considered are set-aside, catch crops and reduced fertilization. Contracts vary with respect to the area enrolled, contract length, possibility of premature termination, availability of professional advice and compensation. We quantitatively describe farmers' preferences in terms of their willingness-to-accept compensation for specific attributes of these contracts, if implemented. The results vary substantially between farm types (farmers' characteristics) and between the 5 countries, and support differentiation of contract obligations and payments to improve the uptake of Agri-Environmental Schemes. The results can be readily used to improve the design of country-specific nutrient reduction policies, in accordance with the next Common Agricultural Policy.
Access options
Buy single article
Instant access to the full article PDF.
US$ 39.95
Tax calculation will be finalised during checkout.
Subscribe to journal
Immediate online access to all issues from 2019. Subscription will auto renew annually.
US$ 79
Tax calculation will be finalised during checkout.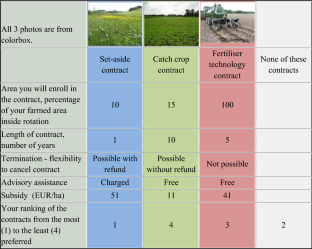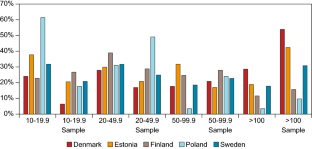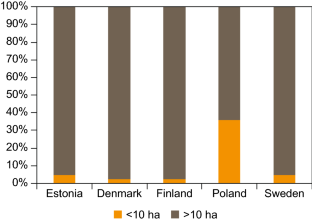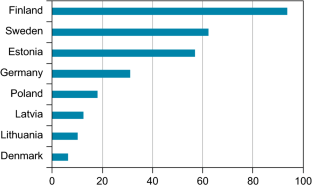 Notes
1.

Despite asking farmers to rank the alternatives, we only use the first-choice data here. The main reason for this was that in addition to estimation of implicit prices for contract characteristics we were also interested in welfare measures associated with contracts themselves (WTA for alternative-specific constants) and these could not reliably be estimated using the ranking data. In addition, utilizing ranking data is still considered less robust than the first-choice data, particularly with respect to incentive properties of the second and subsequent stages of ranking. The empirical results illustrated this, with unstable preferences across various ranking stages.

2.

Please see Supplementary Material S2 for a description of the panels and for further details of survey distribution.

3.

Our experimental design varied the share of the area to be enrolled in the set-aside and catch crops contracts from 1 to 25%. On the contrary, the fertilization utilization type of contract always specified that new practices would need to be implemented on all fertilized arable land of the farm.

4.

In the choice situations presented to farmers contract lengths varied from 1 to 20 years.

5.

Full modelling results are reported in Supplementary material S4.

6.

The models also included a random log-normally distributed cost/scale parameter. We do not report it in Table 4, as this parameter cannot be interpreted in WTP space, unlike all other attributes. The interpretation of the confounded cost/scale parameter is not particularly useful for our analysis, except for stating that it is positive, as expected (and imposed by log-normal distribution). We provide the full modelling results in Supplementary material S4.
References
Adams, V.M., R.L. Pressey, and N. Stoeckl. 2014. Estimating landholders' probability of participating in a stewardship program, and the implications for spatial conservation priorities. PLoS ONE 9: e97941. https://doi.org/10.1371/journal.pone.0097941.

Ahtiainen, H., J. Artell, M. Czajkowski, B. Hasler, L. Hasselström, A. Huhtala, J. Meyerhoff, J.C.R. Smart, et al. 2014. Benefits of meeting nutrient reduction targets for the Baltic Sea – a contingent valuation study in the nine coastal states. Journal of Environmental Economics and Policy 3: 278–305. https://doi.org/10.1080/21606544.2014.901923.

Alló, M., M.L. Loureiro, and E. Iglesias. 2015. Farmers' preferences and social capital regarding agri-environmental schemes to protect birds. Journal of Agricultural Economics 66: 672–689.

Aslam, U., M. Termansen, and L. Fleskens. 2017. Investigating farmers' preferences for alternative PES schemes for carbon sequestration in UK agroecosystems. Ecosystem Services 27: 103–112. https://doi.org/10.1016/j.ecoser.2017.08.004.

Beharry-Borg, N., J.R.C. Smart, M. Termansen, and K. Hubacek. 2013. Evaluating farmers' likely participation in a payment programme for water quality protection in the UK uplands. Regional Environmental Change 13: 633–647.

Broch, S.W., N. Strange, J.B. Jacobsen, and K.A. Wilson. 2013. Farmers' willingness to provide ecosystem services and effects of their spatial distribution. Ecological Economics 92: 78–86.

Choi, B.C.K., and A.W.P. Pak. 2005. A catalog of biases in questionnaires. Preventing Chronic Disease 2: 1–20.

Christensen, T., A.B. Pedersen, H.Ø. Nielsen, and B. Hasler. 2011. Determinants of farmers' willingness to participate in subsidy schemes for pesticide-free buffer zones. Ecological Economics 70: 1558–1564.

Doeser, B. 2018. WFD and agriculture Assessment of Member States '2nd River Basin Management Plans. Update from the European Commission. Presentation at European Commission workshop on Water and Agriculture—Addressing Diffuse Water Pollution through the post-2020 CAP in Soroe, Denmark, November 2018.

ECA. 2011. Is agri-environment support well designed and managed? Special Report No. 7. The European Court of Auditors, European Union.

ECA. 2017. Greening, a complex income support scheme, not yet environmentally effective. Special Report No. 21. The European Court of Auditors, European Union.

Eriksen, J., P.N. Jensen, B.H. Jacobsen, I.K. Thomsen, K. Schelde, G. Blicher-Mathiesen, B. Kronvang, E.M. Hansen, et al. 2014. Virkemidler til realisering af 2. generations vandplaner og målrettet arealregulering, vol. 052, DCA—Nationalt Center for Fødevarer og Jordbrug, DCA—Blichers Allé 20, 8830 Tjele. DCA Rapport, vol. 052.

Espinosa-Goded, M., J. Barreiro-Hurlé, and E. Ruto. 2010. What do farmers want from agri-environmental scheme design? A choice Experiment approach. Journal of Agricultural Economics 61: 259–273.

European Commission, Agriculture and Rural Development. 2019. The post-2020 common agricultural policy: environmental benefits and simplification. DG Agriculture and Rural Development. European Union. https://ec.europa.eu/info/food-farming-fisheries/key-policies/common-agricultural-policy/future-cap.

Eurostat. 2013. https://ec.europa.eu/eurostat/web/agriculture/data/database.

Franzén, F., P. Dinnétz, and M. Hammer. 2016. Factors affecting farmers' willingness to participate in eutrophication mitigation—A case study of preferences for wetland creation in Sweden. Ecological Economics 130: 8–15. https://doi.org/10.1016/j.landusepol.2015.02.007.

Gómez-Limón, J.A., C. Gutiérrez-Martín, and A.J. Villanueva. 2018. Optimal design of agri-environmental schemes under asymmetric information for improving farmland biodiversity. Journal of Agricultural Economics 70: 153–177. https://doi.org/10.1111/1477-9552.12279.

Hanley, N., and M. Czajkowski. 2017. Stated preference valuation methods: An evolving tool for understanding choices and informing policy. Department of Economics Working Paper 1(230), University of Warsaw.

HELCOM. 2013. Summary report on the development of revised Maximum Allowable Inputs (MAI) and updated Country Allocated Reduction Targets (CART) of the Baltic Sea Action Plan. Helsinki: Baltic Marine Environment Protection Commission, HELCOM.

HELCOM. 2018: Sources and pathways of nutrients to the Baltic Sea. HELCOM PLC-6. Baltic Sea Environmental Proceedings No. 153. Helsinki Commission, Helsinki.

Jaeck, M., and R. Lifran. 2014. Farmers' preferences for production practices: A choice experiment study in the Rhone River Delta. Journal of Agricultural Economics 65: 112–130.

Kuhfuss, L., R. Préget, S. Thoyer, and N. Hanley. 2016. Nudging farmers to enrol land into agri-environmental schemes: The role of a collective bonus'. European Review of Agricultural Economics 43: 609–636.

Menegaki, A.N., S.B. Olsen, and K.P. Tsagarakis. 2016. Towards a common standard - a reporting checklist for web-based stated preference valuation surveys and a critique for mode surveys. Journal of Choice Modelling 18: 18–50. https://doi.org/10.1016/j.jocm.2016.04.005.

Mettepenningen, E., V. Vandermeulen, K. Delaet, G. Van Huylenbroeck, and E.J. Wailes. 2013. Investigating the influence of the institutional organisation of agri-environmental schemes on scheme adoption. Land Use Policy 33: 20–30.

Nainggolan, D., B. Hasler, H.E. Andersen, S. Gyldenkærne, and M. Termansen. 2018. Water quality management and climate change mitigation: Cost-effectiveness of joint implementation in the Baltic Sea region. Ecological Economics 144: 12–26. https://doi.org/10.1016/j.ecolecon.2017.07.026.

Olesen, J.E., U. Jørgensen, J.E. Hermansen, S.O. Petersen, J. Eriksen, K. Søegaard, F.P. Vinther, L. Elsgaard, et al. 2013. Effekter af tiltag til reduktion af landbrugets udledninger af drivhusgasser DCA rapport Nr. 027.

Pfeffermann, Daniel. 1996. The use of sampling weights for survey data analysis. Statistical Methods in Medical Research 5: 239–261.

Poinello, M. 2018. Common Agricultural Policy post 2020—Water relevant aspects. Presentation at European Commission workshop on Water and Agriculture—Addressing diffuse water pollution through the post-2020 CAP in Soroe, Denmark, November 2018.

Reusch, T.B.H., J. Dierking, H.C. Andersson, E. Bonsdorff, J. Carstensen, M. Casini, M. Czajkowski, B. Hasler, et al. 2018. The Baltic Sea as a time machine for the future coastal ocean. Science Advances. https://doi.org/10.1126/sciadv.aar8195.

Ruto, E., and G. Garrod. 2009. Investigating farmers' preferences for the design of agri-environmental schemes: A choice experiment approach. Journal of Environmental Planning and Management 52: 631–647.

Salomon, E., and M. Sundberg. 2012. Implementation and status of priority measures to reduce nitrogen and phosphorus leakage. Summary of Country Reports. Baltic Compass, Work Package 3. Available January 24, 2017, from http://www.balticcompass.org/_blog/Project_Reports/post/Prioritized_measures_by_Work_Package_3_/.

Scarpa, R., and J.M. Rose. 2008. Design efficiency for non-market valuation with choice modelling: How to measure it, what to report and why. Australian Journal of Agricultural and Resource Economics 52: 253–282.

Schulz, N., G. Breustedt, and U. Latacz-Lohmann. 2014. Assessing farmers' willingness to accept "greening": Insights from a discrete choice experiment in Germany. Journal of Agricultural Economics 65: 26–48.

Science for Environment Policy. 2017: Agri-environmental schemes: how to enhance the agriculture-environment relationship. Thematic Issue 57. Issue produced for the European Commission DG Environment by the Science Communication Unit, UWE, Bristol. Available from http://ec.europa.eu/science-environment-policy.

Villenueva, A.J., M. Rodríguez-Entrena, M. Arriaza, and J.A. Gómez-Limón. 2017. Heterogeneity of farmers' preferences towards agri-environmental schemes across different agricultural subsystems. Journal of Environmental Planning and Management 60: 684–707. https://doi.org/10.1080/09640568.2016.1168289.

Zimmerman, A., and W. Britz. 2016. European farms' participation in agri-environmental measures. Land Use Policy 50: 214–228.
Acknowledgements
This research was funded by BONUS GO4BALTIC (BONUS, Art 185), funded jointly by the EU and national funding institutions in Denmark (the Innovation Fund), Estonia (Estonian Research Council ETAG), Finland (Academy of Finland), Poland (NCBR) and Sweden (FORMAS). The research has also received funding from Stockholm University Baltic Sea Center—project Baltic Eye. MC gratefully acknowledges the support of the National Science Centre of Poland (Sonata 10, 2015/19/D/HS4/01972). KZ gratefully acknowledges the support of the National Science Centre of Poland (Preludium 10, 2015/19/N/HS4/03365).
Additional information
Publisher's Note
Springer Nature remains neutral with regard to jurisdictional claims in published maps and institutional affiliations.
Electronic supplementary material
Below is the link to the electronic supplementary material.
About this article
Cite this article
Hasler, B., Czajkowski, M., Elofsson, K. et al. Farmers' preferences for nutrient and climate-related agri-environmental schemes: A cross-country comparison. Ambio 48, 1290–1303 (2019). https://doi.org/10.1007/s13280-019-01242-6
Received:

Revised:

Accepted:

Published:

Issue Date:
Keywords
Agri-environmental schemes

Baltic Sea

Choice experiment

Farmers' preferences

Willingness to accept