Abstract
Artificial water bodies like ditches, fish ponds, weirs, reservoirs, fish ladders, and irrigation channels are usually constructed and managed to optimize their intended purposes. However, human-made aquatic systems also have unintended consequences on ecosystem services and biogeochemical cycles. Knowledge about their functioning and possible additional ecosystem services is poor, especially compared to natural ecosystems. A GIS analysis indicates that currently only ~ 10% of European surface waters are covered by the European Water Framework directive, and that a considerable fraction of the excluded systems are likely human-made aquatic systems. There is a clear mismatch between the high possible significance of human-made water bodies and their low representation in scientific research and policy. We propose a research agenda to build an inventory of human-made aquatic ecosystems, support and advance research to further our understanding of the role of these systems in local and global biogeochemical cycles as well as to identify other benefits for society. We stress the need for studies that aim to optimize management of human-made aquatic systems considering all their functions and to support programs designed to overcome barriers of the adoption of optimized management strategies.
Access options
Buy single article
Instant access to the full article PDF.
US$ 39.95
Tax calculation will be finalised during checkout.
Subscribe to journal
Immediate online access to all issues from 2019. Subscription will auto renew annually.
US$ 79
Tax calculation will be finalised during checkout.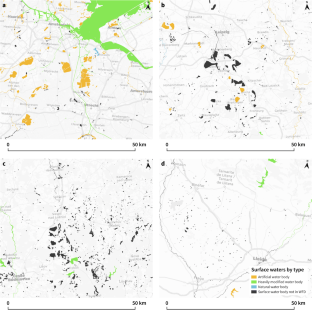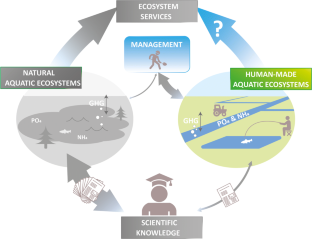 References
Barbour, E., I.A.G. Wilson, J. Radcliffe, Y.L. Ding, and Y.L. Li. 2016. A review of pumped hydro energy storage development in significant international electricity markets. Renewable and Sustainable Energy Reviews 61: 421–432.

Berkley, J. 2013. Opportunities for collaborative adaptive management progress: Integrating stakeholder assessments into progress measurement. Ecology and Society 18: 69.

Birk, S., W. Bonne, A. Borja, S. Brucet, A. Courrat, S. Poikane, A. Solimini, W.V. van de Bund, et al. 2012. Three hundred ways to assess Europe's surface waters: An almost complete overview of biological methods to implement the Water Framework Directive. Ecological Indicators 18: 31–41.

Boyd, C.E., C.W. Wood, P.L. Chaney, and J.F. Queiroz. 2010. Role of aquaculture pond sediments in sequestration of annual global carbon emissions. Environmental Pollution 158: 2537–2540.

Boyer, A.-L., E. Comby, S. Flaminio, Y.-F. Le Lay, and M. Cottet. 2018. The social dimensions of a river's environmental quality assessment. Ambio 48: 409–422. https://doi.org/10.1007/s13280-018-1089-9.

Buchanan, B.P., K. Falbo, R.L. Schneider, Z.M. Easton, and M.T. Walter. 2013. Hydrological impact of roadside ditches in an agricultural watershed in Central New York: implications for non-point source pollutant transport. Hydrological Processes 27: 2422–2437.

Chen, R., M. Deng, X.G. He, and J. Hou. 2017. Enhancing nitrate removal from freshwater pond by regulating carbon/nitrogen ratio. Frontiers in Microbiology. https://doi.org/10.3389/fmicb.2017.01712/full.

Chen, Y., S.L. Dong, Z.A. Wang, F. Wang, Q.F. Gao, X.L. Tian, and Y.H. Xiong. 2016. Variations in CO2 fluxes from grass carp Ctenopharyngodon idella aquaculture polyculture ponds. Aquaculture Environment Interactions 8: 31–40.

CHMI. 2017. National Greenhouse Gas Inventory Report of the Czech Republic (reported inventories 1990–2015). Prague: Czech Hydrometeorological Institute.

Coenen, P.W.H.G., C.W.M. van der Maas, P.J. Zijlema, E.J.M.M. Arets, K. Baas, A.C.W.M. van den Berghe, E.P. van Huis, G. Geilenkirchen, et al. 2017. Greenhouse gas emissions in The Netherlands 1990–2015. RIVM.

Couto, T.B.A., and J.D. Olden. 2018. Global proliferation of small hydropower plants—Science and policy. Frontiers in Ecology and the Environment 16: 91–100.

Dollinger, J., C. Dages, J.S. Bailly, P. Lagacherie, and M. Voltz. 2015. Managing ditches for agroecological engineering of landscape. A review. Agronomy for Sustainable Development 35: 999–1020.

Dugan, P.J., C. Barlow, A.A. Agostinho, E. Baran, G.F. Cada, D.Q. Chen, I.G. Cowx, J.W. Ferguson, et al. 2010. Fish migration, dams, and loss of ecosystem services in the Mekong basin. Ambio 39: 344–348. https://doi.org/10.1007/s13280-010-0036-1.

EC. 2016. InlandWaterBodies. EU-Hydro Upgrade River Network dataset.

EC. 2017. Prod-ID: DAT-30-en. In s. WWrsd, editor. WISE WFD reference spatial data sets European Community.

EPA. 2015. Clean water rule: Definition of 'Waters of the United States. Page 75 In U.S. Army Corps of Engineers and Environmental Protection Agency (EPA) Federal Register 80 FR 37053.

EU. 2000. Directive 2000/60/EC of the European Parliament and of the council of 23 October 2000 establishing a framework for community action in the field of water policy. In Official Journal of the European Union, editor. 273.

Fencl, J.S., M.E. Mather, K.H. Costigan, and M.D. Daniels. 2015. How big of an effect do small dams have? Using geomorphological footprints to quantify spatial impact of low-head dams and identify patterns of across-dam variation. PLoS ONE 10: e0141210.

Folke, C., S. Carpenter, T. Elmqvist, L. Gunderson, C.S. Holling, and B. Walker. 2002. Resilience and sustainable development: Building adaptive capacity in a world of transformations. Ambio 31: 437–440. https://doi.org/10.1579/0044-7447-31.5.437.short.

Four, B., E. Arce, M. Danger, J. Gaillard, M. Thomas, and D. Banas. 2017. Catchment land use-dependent effects of barrage fishponds on the functioning of headwater streams. Environmental Science and Pollution Research 24: 5452–5468.

Gaillard, J., M. Thomas, A. Lazartigues, B. Bonnefille, C. Pallez, X. Dauchy, C. Feidt, and D. Banas. 2016. Potential of barrage fish ponds for the mitigation of pesticide pollution in streams. Environmental Science and Pollution Research 23: 23–35.

Grizzetti, B., D. Lanzanova, C. Liquete, A. Reynaud, and A.C. Cardoso. 2016. Assessing water ecosystem services for water resource management. Environmental Science & Policy 61: 194–203.

Gunderson, L.H. 2001. South Florida: The reality of change and prospect for sustainability: Managing surprising ecosystems in southern Florida. Ecological Economics 37: 371–378.

Hahn, T., M. Heinrup, and R. Lindborg. 2018. Landscape heterogeneity correlates with recreational values: A case study from Swedish agricultural landscapes and implications for policy. Landscape Research 43: 696–707.

Herzon, I., and J. Helenius. 2008. Agricultural drainage ditches, their biological importance and functioning. Biological Conservation 141: 1171–1183.

Higler, L.W.G. 1979. Sloten. Levensgemeenschappen, 57–63. Wageningen: Rijksinstituut voor Natuurbeheer.

Hirsch, P.E., A.P. Eloranta, P.A. Amundsen, A. Brabrand, J. Charmasson, I.P. Helland, M. Power, J. Sanchez-Hernandez, et al. 2017. Effects of water level regulation in alpine hydropower reservoirs: An ecosystem perspective with a special emphasis on fish. Hydrobiologia 794: 287–301.

Holgerson, M.A., and P.A. Raymond. 2016. Large contribution to inland water CO2 and CH4 emissions from very small ponds. Nature Geoscience 9: 222–226.

Hu, Z., J.W. Lee, K. Chandran, S. Kim, and S.K. Khanal. 2012. Nitrous oxide (N2O) emission from aquaculture: A review. Environmental Science and Technology 46: 6470–6480.

Hyvonen, N.P., J.T. Huttunen, N.J. Shurpali, S.E. Lind, M.E. Marushchak, L. Heitto, and P.J. Martikainen. 2013. The role of drainage ditches in greenhouse gas emissions and surface leaching losses from a cutaway peatland cultivated with a perennial bioenergy crop. Boreal Environment Research 18: 109–126.

Ibarra, G., A. De la Fuente, and M. Contreras. 2015. Effects of hydropeaking on the hydrodynamics of a stratified reservoir: the Rapel Reservoir case study. Journal of Hydraulic Research 53: 760–772.

IPCC. 2006. 2006 IPCC guidelines for national greenhouse gas inventories. In H.S. Egglestone, L. Buendia, K. Miwa, T. Ngara, and K. Tanabe, editors. Prepared by the national Greenhouse Gas Inventories Programm. IPCC.

IPCC. 2014. 2013 Supplement to the 2006 IPCC Guidelines for National Greenhouse Gas Inventories: Wetlands IPCC, Switzerland.

IUCN. 1997. Fishing for living—The cology and economics of fishponds in Central Europe. Gland: IUCN.

Jaramillo, F., and G. Destouni. 2015. Comment on "Planetary boundaries: Guiding human development on a changing planet". Science 348: 1217.

Kaika, M. 2003. The Water Framework Directive: A new directive for a changing social, political and economic European Framework. European Planning Studies 11: 299–316.

Katopodis, C., and J.G. Williams. 2012. The development of fish passage research in a historical context. Ecological Engineering 48: 8–18.

Lehner, B., C.R. Liermann, C. Revenga, C. Vörösmarty, B. Fekete, P. Crouzet, P. Döll, M. Endejan, et al. 2011a. High-resolution mapping of the world's reservoirs and dams for sustainable river-flow management. Frontiers in Ecology and the Environment 9: 494–502.

Lehner, B., C. Reidy Liermann, C. Revenga, C. Vörösmarty, B. Fekete, P. Crouzet, P. Döll, M. Endejan, et al. 2011b. Global Reservoir and Dam (GRanD) database—Technical Documentation Version 1.1.

Linton, J., and J. Budds. 2014. The hydrosocial cycle: Defining and mobilizing a relational-dialectical approach to water. Geoforum 57: 170–180.

Luan, J., and J. Wu. 2015. Long-term agricultural drainage stimulates CH4 emissions from ditches through increased substrate availability in a boreal peatland. Agriculture, Ecosystems & Environment 214: 68–77.

Marcé, R., B. Obrador, L. Gómez-Gener, N. Catalán, M. Koschorreck, M.I. Arce, G. Singer, and D. von Schiller. 2019. Emissions from dry inland waters are a blind spot in the global carbon cycle. Earth-Science Reviews 188: 240–248.

Martínez-Sanchis, I., and M.J. Viñals. 2015. Enhancing the traditional Mediterranean irrigation agroecosystems: A case study of the rivers Túria and Júcar. WIT Transactions on Ecology and the Environment 192: 45–54.

Moss, B. 2008. The Water Framework Directive: Total environment or political compromise? Science of the Total Environment 400: 32–41.

Moss, B., S. Kosten, M. Meerhoff, R.W. Battarbee, E. Jeppesen, N. Mazzeo, K. Havens, G. Lacerot, et al. 2011. Allied attack: Climate change and eutrophication. Inland Waters 1: 101–105.

Naiman, R.J. 1995. The freshwater imperative—A research agende. Washington DC: Island Press.

Nilsson, C., C.A. Reidy, M. Dynesius, and C. Revenga. 2005. Fragmentation and flow regulation of the world's large river systems. Science 308: 405–408.

Olden, J.D., C.P. Konrad, T.S. Melis, M.J. Kennard, M.C. Freeman, M.C. Mims, E.N. Bray, K.B. Gido, et al. 2014. Are large-scale flow experiments informing the science and management of freshwater ecosystems? Frontiers in Ecology and the Environment 12: 176–185.

Patocka, F. 2014. Environmental impacts of pumped storage hydro power plants. Master thesis. Norwegen University of Science and Technology, Trondheim.

Pechar, L. 2000. Impacts of long-term changes in fishery management on the trophic level water quality in Czech fish ponds. Fisheries Management and Ecology 7: 23–31.

Perez-Diaz, J.I., M. Chazarra, J. Garcia-Gonzalez, G. Cavazzini, and A. Stoppato. 2015. Trends and challenges in the operation of pumped-storage hydropower plants. Renewable and Sustainable Energy Reviews 44: 767–784.

Poff, N.L., and D.D. Hart. 2002. How dams vary and why it matters for the emerging science of dam removal. BioScience 52: 659–668.

Potter, D.U., M.P. Stevens, and J.L. Meyer. 1982. Changes in physical and chemical-variables in a new reservoir due to pumped-storage operations. Water Resources Bulletin 18: 627–633.

Reilly, K.H., and J.F. Adamowski. 2017. Stakeholders' frames and ecosystem service use in the context of a debate over rebuilding or removing a dam in New Brunswick, Canada. Ecology and Society 22: 17.

Richter, B.D., R. Mathews, and R. Wigington. 2003. Ecologically sustainable water management: Managing river flows for ecological integrity. Ecological Applications 13: 206–224.

Rockström, J., W. Steffen, K. Noone, A. Persson, F. S. Chapin, E. Lambin, T. M. Lenton, M. Scheffer, et al. 2009. Planetary boundaries: Exploring the safe operating space for humanity. Ecology and Society 14.

Schrier-Uijl, A.P., A.J. Veraart, P.A. Leffelaar, F. Berendse, and E.M. Veenendaal. 2011. Release of CO2 and CH4 from lakes and drainage ditches in temperate wetlands. Biogeochemistry 102: 265–279.

Steffen, B. 2012. Prospects for pumped-hydro storage in Germany. Energy Policy 45: 420–429.

Steffen, W., K. Richardson, J. Rockstrom, S.E. Cornell, I. Fetzer, E.M. Bennett, R. Biggs, S.R. Carpenter, et al. 2015. Planetary boundaries: Guiding human development on a changing planet. Science 347: 1259855.

Straskraba, M., J.G. Tundisi, and A. Duncan. 1993. Comparative reservoir limnology and water quality management. Dordrecht: Kluwer.

Teodosiu, C., G. Barjoveanu, and D. Teleman. 2003. Sustainable water resources management 1. River Basin Management and the EC Water Framework Directive. Environmental Engineering and Management Journal 2: 377–394.

Thornton, K.W., B.L. Kimmel, and F.E. Payne. 1990. Reservoir limnology: Ecological perspectives. Somerset, New Jersey: Wiley.

UnitedNations. 2015. Transforming our world: the 2030 Agenda for Sustainable Development.

Veraart, A.J., W.J.J. de Bruijne, J.J.M. de Klein, E.T.H.M. Peeters, and M. Scheffer. 2011. Effects of aquatic vegetation type on denitrification. Biogeochemistry 104: 267–274.

Verdegem, M.C.J., and R.H. Bosma. 2009. Water withdrawal for brackish and inland aquaculture, and options to produce more fish in ponds with present water use. Water Policy 11: 52–68.

Vermaat, J.E., F. Hellmann, A.T.C. Dias, B. Hoorens, R.S.P. van Logtestijn, and R. Aerts. 2011. Greenhouse gas fluxes from Dutch Peatland water bodies: importance of the surrounding landscape. Wetlands 31: 493.

Verpoorter, C., T. Kutser, D.A. Seekell, and L.J. Tranvik. 2014. A global inventory of lakes based on high-resolution satellite imagery. Geophysical Research Letters 41: 6396–6402.

Vlachopoulou, M., D. Coughlin, D. Forrow, S. Kirk, P. Logan, and N. Voulvoulis. 2014. The potential of using the ecosystem approach in the implementation of the EU Water Framework Directive. Science of the Total Environment 470: 684–694.

Voulvoulis, N., K.D. Arpon, and T. Giakoumis. 2017. The EU Water Framework Directive: From great expectations to problems with implementation. Science of the Total Environment 575: 358–366.

Weber, M., B. Boehrer, and K. Rinke. 2019. Minimizing environmental impact whilst securing drinking water quantity and quality demands from a reservoir. River Research and Applications 1: 1. https://doi.org/10.1002/rra.3406.

Winemiller, K.O., P.B. McIntyre, L. Castello, E. Fluet-Chouinard, T. Giarrizzo, S. Nam, I.G. Baird, W. Darwall, et al. 2016. Balancing hydropower and biodiversity in the Amazon, Congo, and Mekong. Science 351: 128–129.

Yang, P., Y. Zhang, D.Y.F. Lai, L. Tan, B. Jin, and C. Tong. 2018. Fluxes of carbon dioxide and methane across the water–atmosphere interface of aquaculture shrimp ponds in two subtropical estuaries: The effect of temperature, substrate, salinity and nitrate. Science of the Total Environment 635: 1025–1035.
Acknowledgements
MK and PSK were financially supported by the German Research Foundation (DFG) (project TregaTa, KO 1911/6-1). JH was financially supported by the Grant Agency of the Czech Republic, project no. 17-09310S. RM was supported by project C-HydroChange funded by the Spanish Ministry of Economy, Industry and Competitiveness (CGL2017-86788-C3-2-P). AL was supported by Estonian Research Council Grants PSG 32 and IUT 21-2 of the Estonian Ministry of Education and Research. This study benefitted from the collaborative environment of the GLEON network.
Additional information
Publisher's Note
Springer Nature remains neutral with regard to jurisdictional claims in published maps and institutional affiliations.
Electronic supplementary material
Below is the link to the electronic supplementary material.
About this article
Cite this article
Koschorreck, M., Downing, A.S., Hejzlar, J. et al. Hidden treasures: Human-made aquatic ecosystems harbour unexplored opportunities. Ambio 49, 531–540 (2020). https://doi.org/10.1007/s13280-019-01199-6
Received:

Revised:

Accepted:

Published:

Issue Date:
Keywords
Artificial waterbodies

Biogeochemistry

Ecosystem services

Water management