Abstract
The transformation of coral reefs has profound implications for millions of people. However, the interactive effects of changing reefs and fishing remain poorly resolved. We combine underwater surveys (271 000 fishes), catch data (18 000 fishes), and household surveys (351 households) to evaluate how reef fishes and fishers in Moorea, French Polynesia responded to a landscape-scale loss of coral caused by sequential disturbances (a crown-of-thorns sea star outbreak followed by a category 4 cyclone). Although local communities were aware of the disturbances, less than 20% of households reported altering what fishes they caught or ate. This contrasts with substantial changes in the taxonomic composition in the catch data that mirrored changes in fish communities observed on the reef. Our findings highlight that resource users and scientists may have very different interpretations of what constitutes 'change' in these highly dynamic social–ecological systems, with broad implications for successful co-management of coral reef fisheries.
This is a preview of subscription content, log in to check access.
Access options
Buy single article
Instant access to the full article PDF.
US$ 39.95
Price includes VAT for USA
Subscribe to journal
Immediate online access to all issues from 2019. Subscription will auto renew annually.
US$ 99
This is the net price. Taxes to be calculated in checkout.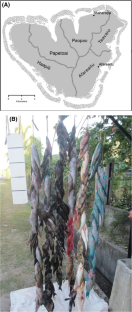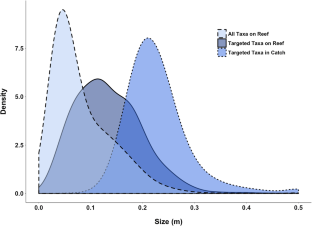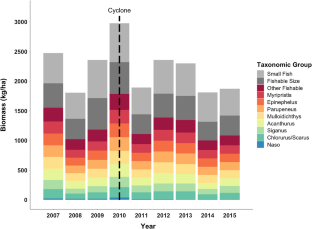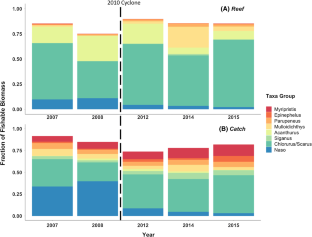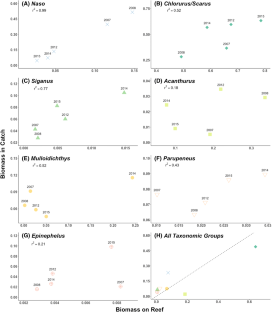 References
Adam, T.C., R.J. Schmitt, S.J. Holbrook, A.J. Brooks, P.J. Edmunds, R.C. Carpenter, and G. Bernardi. 2011. Herbivory, connectivity, and ecosystem resilience: Response of a coral reef to a large-scale perturbation. PLoS ONE 6: e23717.

Adam, T.C., A.J. Brooks, S.J. Holbrook, R.J. Schmitt, L. Washburn, and G. Bernardi. 2014. How will coral reef fish communities respond to climate-driven disturbances? Insight from landscape-scale perturbations. Oecologia 176: 285–296.

Barnes, J., M. Dove, M. Lahsen, A. Mathews, P. McElwee, R. McIntosh, F. Moore, J. O'Reilly, et al. 2013. Contribution of anthropology to the study of climate change. Nature Climate Change 3: 541–544.

Bellwood, D.R., T.P. Hughes, C. Folke, and M. Nyström. 2004. Confronting the coral reef crisis. Nature 429: 827–833.

Brooks, A. 2011. Moorea Coral Reef LTER: Reference: Fish Taxonomy, Trophic Groups and Morphometry. knb-lter-mcr.6001.3.

Brooks, A. 2017. Moorea Coral Reef LTER: Coral Reef: Long-term Population and Community Dynamics: Fishes, ongoing since 2005. knb-lter-mcr.6.55. https://doi.org/10.6073/pasta/4541694f7928bc7f0d8b604ff9936a81.

Cinner, J., M.J. Marnane, T.R. McClanahan, and G.R. Almany. 2006. Periodic closures as adaptive coral reef management in the Indo-Pacific. Ecology and Society 11: 31.

Cinner, J.E., W.N. Adger, E.H. Allison, M.L. Barnes, K. Brown, P.J. Cohen, S. Gelcich, C.C. Hicks, et al. 2018. Building adaptive capacity to climate change in tropical coastal communities. Nature Climate Change 8: 117–123.

Dalzell, P., T.J.H. Adams, and N.V.C. Polunin. 1996. Coastal fisheries in the Pacific Islands. Oceanography Marine Biology Annual Review 34: 395–531.

Frisch, A., R. Baker, J.A. Hobbs, and L. Nankervis. 2008. A quantitative comparison of recreational spearfishing and linefishing on the Great Barrier Reef: Implications for management of multi-sector coral reef fisheries. Coral Reefs 27: 85–95.

Gillett, R., and W. Moy. 2006. Spearfishing in the Pacific Islands: Current status and management issues. Rome, Italy: FAO/FishCode Review No. 19.

Han, X., T.C. Adam, R.J. Schmitt, A.J. Brooks, and S.J. Holbrook. 2016. Response of herbivore functional groups to sequential perturbations in Moorea, French Polynesia. Coral Reefs 35: 999–1009.

Holbrook, S.J., R.J. Schmitt, and A.J. Brooks. 2008. Resistance and resilience of a coral reef fish community to changes in coral cover. Marine Ecology Progress Series 371: 263–271.

Holbrook, S.J., R.J. Schmitt, T.C. Adam, and A.J. Brooks. 2016. Coral reef resilience, tipping points and the strength of herbivory. Scientific Reports 6: 35817.

Holbrook, S.J., T.C. Adam, P.J. Edmunds, R.J. Schmitt, R.C. Carpenter, A.J. Brooks, H.S. Lenihan, and C.J. Briggs. 2018. Recruitment drives spatial variation in recovery rates of resilient coral reefs. Scientific Reports 8: 7338.

Hughes, T.P., D.R. Bellwood, C. Folke, R.S. Steneck, and J. Wilson. 2005. New paradigms for supporting the resilience of marine ecosystems. Trends in Ecology & Evolution 20: 380–386.

Hughes, T.P., M.J. Rodrigues, D.R. Bellwood, D. Ceccarelli, O. Hoegh-Guldberg, L. McCook, N. Moltschaniwskyj, M.S. Pratchett, et al. 2007. Phase shifts, herbivory, and the resilience of coral reefs to climate change. Current Biology 17: 360–365.

Hughes, T.P., M.L. Barnes, D.R. Bellwood, J.E. Cinner, G.S. Cumming, J.B.C. Jackson, J. Kleypas, I.A. van de Leemput, et al. 2017. Coral reefs in the Anthropocene. Nature 546: 82–90.

Hughes, T.P., J.T. Kerry, A.H. Baird, S.R. Connolly, A. Dietzel, C.M. Eakin, S.F. Heron, A.S. Hoey, et al. 2018. Global warming transforms coral reef assemblages. Nature 556: 492–496.

Hviding, E. 1996. Guardians of Marovo Lagoon: Practice, place, and politics in maritime Melanesia. Honolulu: University of Hawaii Press.

Institut de la statistique de la Polynésie française. 2012. Premiers résultats du recensement de la population de la Polynésie française 2012. Papeete: ISPF.

Jennings, S., and N. Polunin. 1995. Comparative size and composition of yield from six Fijian reef fisheries. Journal of Fish Biology 46: 28–46.

Johannes, R.E. 1981. Words of the lagoon: Fishing and marine lore in the Palau District of Micronesia. Berkeley: University of California Press.

Johannes, R.E. 2002. The renaissance of community-based marine resource management in Oceania. Annual Review of Ecology and Systematics 33: 317–340.

Kirch, P.V., and T.L. Hunt. 1997. Historical ecology in the Pacific Islands: Prehistoric environmental and landscape change. New Haven: Yale University Press.

Lamy, T., P. Legendre, Y. Chancerelle, G. Siu, and J. Claudet. 2015. Understanding the spatio-temporal response of coral reef fish communities to natural disturbances: Insights from beta-diversity decomposition. PLoS ONE 10: e0138696.

Lamy, T., R. Galzin, M. Kulbicki, T. Lison de Loma, and J. Claudet. 2016. Three decades of recurrent declines and recoveries in corals belie ongoing change in fish assemblages. Coral Reefs 35: 293–302.

Lauer, M. 2016. Governing uncertainty: Resilience, dwelling, and flexible resource management in Oceania. Conservation & Society 14: 34–47.

Lauer, M. 2017. Changing understandings of local knowledge in island environments. Environmental Conservation 44: 336–347.

Lauer, M., and S. Aswani. 2010. Indigenous knowledge and long-term ecological change: Detection, interpretation, and responses to changing ecological conditions in Pacific Island communities. Environmental Management 45: 985–997.

Lauer, M., and J. Matera. 2016. Who detects ecological change after catastrophic events? Indigenous knowledge, social networks, and situated practices. Human Ecology 44: 33–46.

Leenhardt, P., M. Lauer, R. Madi Moussa, S.J. Holbrook, A. Rassweiler, R.J. Schmitt, and J. Claudet. 2016. Complexities and uncertainties in transitioning small-scale coral reef fisheries. Frontiers in Marine Science. https://doi.org/10.3389/fmars.2016.00070.

Leenhardt, P., V. Stelzenmüller, N. Pascal, W.N. Probst, A. Aubanel, T. Bambridge, M. Charles, E. Clua, et al. 2017. Exploring social-ecological dynamics of a coral reef resource system using participatory modeling and empirical data. Marine Policy 78: 90–97.

McClanahan, T.R., and J.E. Cinner. 2012. Adapting to a changing environment: Confronting the consequences of climate change. New York: Oxford University Press.

McManus, J.W., R.B. Reyes Jr., and C.L. Nanola Jr. 1997. Effects of some destructive fishing methods on coral cover and potential rates of recovery. Environmental Management 21: 69–78.

McMillen, H.L., T. Ticktin, A. Friedlander, S.D. Jupiter, R. Thaman, J. Campbell, J. Veitayaki, T. Giambelluca, et al. 2014. Small islands, valuable insights: Systems of customary resource use and resilience to climate change in the Pacific. Ecology and Society 19: 44.

Mumby, P.J., A. Hastings, and H.J. Edwards. 2007. Thresholds and the resilience of Caribbean coral reefs. Nature 450: 98–101.

Pauly, D., V. Christensen, J. Dalsgaard, R. Froese, and F. Torres. 1998. Fishing down marine food webs. Science 279: 860–863.

Rasher, D.B., and M.E. Hay. 2010. Chemically rich seaweeds poison corals when not controlled by herbivores. Proceedings of the National Academy of Sciences of the United States of America 107: 9683–9688.

Reddy, S., A. Wentz, O. Aburto-Oropeza, M. Maxey, S. Nagavarapu, and H.M. Leslie. 2013. Evidence of market-driven size-selective fishing and the mediating effects of biological and institutional factors. Ecological Applications 23: 726–741.

Rogers, C.S., and J. Miller. 2006. Permanent 'phase shifts' or reversible declines in coral cover? Lack of recovery of two coral reefs in St. John, US Virgin Islands. Marine Ecology Progress Series 306: 103–114.

Ruddle, K., E. Hviding, and R.E. Johannes. 1992. Marine resources managment in the context of customary tenure. Marine Resources Economics 7: 249–273.

Schneider, C.A., W.S. Rasband, and K.W. Eliceiri. 2012. NIH Image to ImageJ: 25 years of image analysis. Nature Methods 9: 671–675.

Trapon, M.L., M.S. Pratchett, and L. Penin. 2011. Comparative effects of different disturbances in coral reef habitats in Moorea, French Polynesia. Journal of Marine Biology. https://doi.org/10.1155/2011/807625.

Walter, C. 1968. The biology of Ctenochaetus straitus. A known ciguateric acanthurid fish of Tahiti. Report. South Pacific Commission.
Acknowledgements
We thank T. Atger, M. Strother, A. Bunnell, C. Hunter, and O. L. Lenihan for leading anthropological field work; K. Seydel, J. Verstaan, A. Dubel, P. Germain, L. Thiault, and R. Terai for technical assistance; the staff of University of California Berkeley Gump Research Station including Ms. Hinano Murphy for logistic support; René Galzin for initiating the roadside surveys; and Dr. Jean-Yves Meyer for assistance with permits. We gratefully acknowledge the support of the National Science Foundation (OCE 1637396, OCE 1325652, BCS 1714704), the Gordon and Betty Moore Foundation, and the Agence Nationale de la Recherche (ANR-14-CE03-0001-01). Permits for field work were issued by the Haut-commissariat de la République en Polynésie Française (DRRT) (Protocole d'Accueil 2005–2006, 2006–2007, 2007–2008, 2008–2009, 2009–2010, 2010–2011, 2011–2012, 2012–2013, 2013–2014, and 2014–2015 to RJS and SJH) for research associated with the US NSF Moorea Coral Reef Long Term Ecological Research project. Service d'Observation CORAIL from CRIOBE kindly provided ecological monitoring data.
Additional information
Publisher's Note
Springer Nature remains neutral with regard to jurisdictional claims in published maps and institutional affiliations.
Electronic supplementary material
Below is the link to the electronic supplementary material.
About this article
Cite this article
Rassweiler, A., Lauer, M., Lester, S.E. et al. Perceptions and responses of Pacific Island fishers to changing coral reefs. Ambio 49, 130–143 (2020). https://doi.org/10.1007/s13280-019-01154-5
Received:

Revised:

Accepted:

Published:

Issue Date:
Keywords
Coral reef resilience

Disturbance

Fisheries

Local knowledge

Selectivity

Social–ecological feedbacks