Abstract
Despite its relative adaptive capacity and its many values, indigenous and local knowledge (ILK) is rapidly eroding. Over the past decades a myriad of efforts have emerged to prevent this erosion. In this work, we reviewed and systematically coded 138 ILK conservation initiatives published in academic papers in order to explore trends in participation, digitalization, timing, location, and approach of the initiatives. We also explored factors influencing initiative inclusiveness. Our findings reveal that ILK holders are generally absent from most phases of the studied initiatives, although IT-based and in situ initiatives (i.e., education and community based conservation) appear as the exceptions. We also found that ex situ initiatives (i.e., research/documentation and policy/legislation efforts) are predominant, despite the challenges they reportedly face. These findings call for re-formulating the ways in which ex situ ILK conservation is done and for supporting in situ and IT based initiatives, as they offer the potential to lead the participatory turn.
Access options
Buy single article
Instant access to the full article PDF.
US$ 39.95
Tax calculation will be finalised during checkout.
Subscribe to journal
Immediate online access to all issues from 2019. Subscription will auto renew annually.
US$ 79
Tax calculation will be finalised during checkout.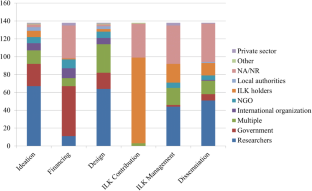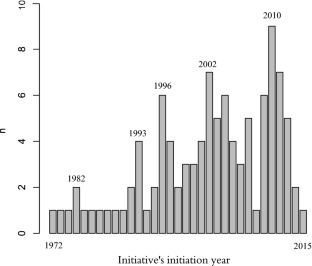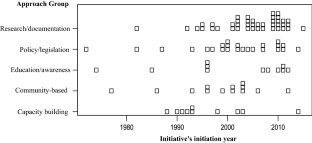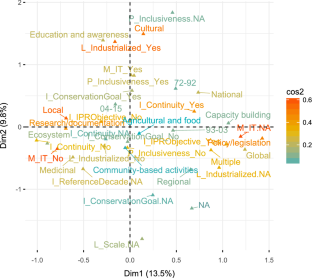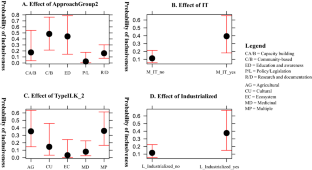 Notes
1.

Many terms have been proposed to define this concept, including Traditional Knowledge, Indigenous Knowledge, Folk Knowledge or Local Knowledge. Here, we use the term Indigenous and Local Knowledge (ILK) recently proposed by the Intergovernmental Science-Policy Platform on Biodiversity and Ecosystem Services (https://www.ipbes.net/deliverables/1c-ilk), except when referring to the work of other authors, when we use their own terminology.
References
Agrawal, A. 1995. Dismantling the divide between indigenous and scientific knowledge. Development and Change 26: 413–439. https://doi.org/10.1017/CBO9781107415324.004.

Agrawal, A. 2002. Indigenous knowledge and the politics of classification. International Social Science Journal 54: 287–297. https://doi.org/10.1111/1468-2451.00382.

Alexander, M., K. Chamundeeswari, A. Kambu, M. Ruiz, and B. Tobin. 2004. The role of registers and databases in the protection of traditional knowledge. Tokyo: UNU-IAS.

Altieri, M.A., and L. Merrick. 1987. In situ conservation of crop genetic resources through maintenance of traditional farming systems. Economic Botany. https://doi.org/10.1007/bf02859354.

Arnstein, S.R. 1969. A ladder of citizen participation. Journal of the American Institute of Planners 35: 216–224. https://doi.org/10.1080/01944366908977225.

Aziz, M.A., M. Adnan, A.H. Khan, A.U. Rehman, R. Jan, and J. Khan. 2016. Ethno-medicinal survey of important plants practiced by indigenous community at Ladha subdivision, South Waziristan agency. Pakistan. Journal of Ethnobiology and Ethnomedicine. https://doi.org/10.1186/s13002-016-0126-7.

Benyei, P., N. Turreira-Garcia, M. Orta-Martínez, and M. Cartró-Sabaté. 2017. Globalized conflicts, globalized responses. Changing manners of contestation among indigenous communities. In Hunter-gatherers in a Changing World, 233–250. Cham: Springer International Publishing. https://doi.org/10.1007/978-3-319-42271-8_13.

Berkes, F., J. Colding, and C. Folke. 2000. Rediscovery of traditional ecological knowledge as adaptive management. Ecological Applications 10: 1251–1262. https://doi.org/10.1890/1051-0761(2000)010%5b1251:ROTEKA%5d2.0.CO;2.

Brennen, J. S., and D. Kreiss. 2016. Digitalization. In The international encyclopedia of communication theory and philosophy, 1–11. Hoboken: Wiley. https://doi.org/10.1002/9781118766804.wbiect111.

Burke, B.J., and N. Heynen. 2014. Transforming participatory science into socioecological praxis: Valuing marginalized environmental knowledges in the face of neoliberalization of nature and science. Environment and Society: Advances in Research 5: 7–27. https://doi.org/10.3167/ares.2014.050102.

Calvet-Mir, L., M. Calvet-Mir, L. Vaqué-Nuñez, and V. Reyes-García. 2011. Landraces in situ conservation: A case study in high-mountain home gardens in Vall Fosca, Catalan Pyrenees, Iberian Peninsula. Economic Botany 65: 146–157. https://doi.org/10.1007/s12231-011-9156-1.

Campbell, L.M., and A. Vainio-Mattila. 2003. Participatory development and community-based conservation: Opportunities missed for lessons learned? Human Ecology 31: 417–438. https://doi.org/10.1023/A:1025071822388.

Crawley, M.J. 2007. The R book. Chichester: Wiley.

Danielsen, F., N.D. Burgess, A. Balmford, P.F. Donald, M. Funder, J.P.G. Jones, P. Alviola, D.S. Balete, et al. 2008. Local participation in natural resource monitoring a characterization of approaches. Conservation Biology 23: 31–42. https://doi.org/10.1111/j.1523-1739.2008.01063.x.

Dominguez, P., F. Zorondo-Rodríguez, and V. Reyes-García. 2010. Relationships between religious beliefs and mountain pasture uses: A case study in the High Atlas mountains of Marrakech, Morocco. Human Ecology 38: 351–362. https://doi.org/10.1007/s10745-010-9321-7.

Dunn, C.E. 2007. Participatory GIS—a people's GIS? Progress in Human Geography 31: 616–637. https://doi.org/10.1177/0309132507081493.

Fundación Indígena, and B. Kothari. 1997. Rights to the benefits of research: Compensating indigenous peoples for their intellectual contribution. Human Organization 56: 127–137. https://doi.org/10.17730/humo.56.2.j63678502x782100.

Godoy, R., V. Reyes-García, E. Byron, W.R. Leonard, and V. Vadez. 2005. The effect of market economies on the well-being of indigenous peoples and on their use of renewable natural resources. Annual Review of Anthropology 34: 121–138. https://doi.org/10.1146/annurev.anthro.34.081804.120412.

Gómez-Baggethun, E., S. Mingorría, V. Reyes-garcía, L. Calvet, and C. Montes. 2010. Traditional ecological knowledge trends in the transition to a market economy: Empirical Study in the Doñana natural areas. Conservation Biology 24: 721–729. https://doi.org/10.1111/j.1523-1739.2009.01401.x.

Gómez-Baggethun, E., V. Reyes-García, P. Olsson, and C. Montes. 2012. Traditional ecological knowledge and community resilience to environmental extremes: A case study in Doñana, SW Spain. Global Environmental Change 22: 640–650. https://doi.org/10.1016/j.gloenvcha.2012.02.005.

Graddy, T.G. 2013. Regarding biocultural heritage: In situ political ecology of agricultural biodiversity in the Peruvian Andes. Agriculture and Human Values. https://doi.org/10.1007/s10460-013-9428-8.

Haklay, M. 2013. Citizen science and volunteered geographic information: Overview and typology of participation. In Crowdsourcing geographic knowledge: Volunteered geographic information (VGI) in theory and practice, ed. D. Sui, S. Elwood, and M. Goodchild, 105–122. New York: Springer. https://doi.org/10.1007/978-94-007-4587-2.

Haklay, M. 2016. Why is participation inequality important? In European handbook of crowdsourced geographic information, ed. C. Capineri, M. Haklay, H. Huang, V. Antoniou, J. Kettunen, F. Ostermann, and R. Purves, 35–44. London: Ubiquity Press. https://doi.org/10.5334/bax.

Hermes, M., M. Bang, and A. Marin. 2012. Designing indigenous language revitalization. Harvard Educational Review 82: 381–403. https://doi.org/10.17763/haer.82.3.q8117w861241871j.

Hernández-Morcillo, M., J. Hoberg, E. Oteros-Rozas, T. Plieninger, E. Gómez-Baggethun, and V. Reyes-García. 2014. Traditional ecological knowledge in Europe: Status Quo and insights for the environmental policy agenda. Environment: Science and Policy for Sustainable Development 56: 3–17. https://doi.org/10.1080/00139157.2014.861673.

Husson, F., S. Lê, and J. Pagès. 2017. Exploratory multivariate analysis by example using R. London and New York: CRC Press.

Kariyawasam, K. 2008. Protecting biodiversity, traditional knowledge and intellectual property in the pacific: Issues and challenges. Asia Pacific Law Review 16: 73–89. https://doi.org/10.1080/10192557.2008.11788179.

Klein, J. 2011. Indigenous knowledge and education—the case of the Nama people in Namibia. Education as Change 15: 81–94. https://doi.org/10.1080/16823206.2011.554847.

Lakshmi Poorna, R., M. Mymoon, and A. Hariharan. 2014. Preservation and protection of traditional knowledge—diverse documentation initiatives across the globe. Current Science 107: 1240–1246. https://www.jstor.org/stable/24107164.

Le Roux, B., and H. Rouanet. 2010. Multiple correspondence analysis. Quantitative applications in the social sciences, vol. 163. London: SAGE Publications.

Lettington, R. 2002. Current initiatives in the protection of indigenous and local community knowledge: Problems, concepts and lessons for the future. In Advances in phytomedicine I: Ethnomedicine and drug discovery, vol. 1, ed. M.M. Iwu and J.C. Wootton, 81–101. New York: Elsevier. https://doi.org/10.1016/s1572-557x(02)80016-2.

Little, P.E. 2005. Indigenous peoples and sustainable development subprojects in Brazilian Amazonia: The challenges of interculturality. Law and Policy 27: 5. https://doi.org/10.1111/j.1467-9930.2005.00207.x.

McCarter, J., and M.C. Gavin. 2011. Perceptions of the value of traditional ecological knowledge to formal school curricula: Opportunities and challenges from Malekula Island, Vanuatu. Journal of Ethnobiology and Ethnomedicine 7: 38. https://doi.org/10.1186/1746-4269-7-38.

McCarter, J., M.C. Gavin, S. Baereleo, and M. Love. 2014. The challenges of maintaining indigenous ecological knowledge. Ecology and Society 19: 39. https://doi.org/10.5751/ES-06741-190339.

McDade, T.W., V. Reyes-Garcia, P. Blackinton, S. Tanner, T. Huanca, and W.R. Leonard. 2007. Ethnobotanical knowledge is associated with indices of child health in the Bolivian Amazon. Proceedings of the National Academy of Sciences 104: 6134–6139. https://doi.org/10.1073/pnas.0609123104.

Méndez-López, M.E., E. García-Frapolli, I. Ruíz-Mallén, L. Porter-Bolland, M.C. Sánchez-González, and V. Reyes-García. 2018. Who participates in conservation initiatives? Case studies in six rural communities of Mexico. Journal of Environmental Planning and Management. https://doi.org/10.1080/09640568.2018.1462152.

Nadasdy, P. 1999. The politics of tek: Power and the "integration" of knowledge. Artic Anthropology 36: 1–18.

Nov, O., O. Arazy, and D. Anderson. 2011. Technology-mediated citizen science participation: A motivational model. Proceedings of the Fifth international AAAI Conference on weblogs and social media. https://doi.org/10.1145/1940761.1940771.

Oguamanam, C. 2004. The protection of traditional knowledge: Towards a cross-cultural dialogue on intellectual property rights. Australian Intellectual Property Journal 15: 34–59.

Pardo-de-Santayana, M., R. Morales, L. Aceituno-Mata, and M. Molina. 2014. Inventario Español de conocimientos tradicionales relativos a la biodiversidad. Madrid: Ministerio de Agricultura y Pesca, Alimentación y Medio Ambiente.

Porter-Bolland, L., E.A. Ellis, M.R. Guariguata, I. Ruiz-Mallén, S. Negrete-Yankelevich, and V. Reyes-García. 2012. Community managed forests and forest protected areas: An assessment of their conservation effectiveness across the tropics. Forest Ecology and Management 268: 6–17. https://doi.org/10.1016/j.foreco.2011.05.034.

Reyes-García, V. 2015. The values of traditional ecological knowledge. In Handbook of ecological economics, ed. J. Martínez-Alier and R. Muradian, 283–306. Cheltenham: Edward Elgar Publishing.

Reyes-García, V., L. Aceituno-Mata, L. Calvet-Mir, T. Garnatje, E. Gómez-Baggethun, J.J. Lastra, R. Ontillera, M. Parada, et al. 2014. Resilience of traditional knowledge systems: The case of agricultural knowledge in home gardens of the Iberian Peninsula. Global Environmental Change 24: 223–231. https://doi.org/10.1016/j.gloenvcha.2013.11.022.

Reyes-García, V., Á. Fernández-Llamazares, P. McElwee, Z. Molnár, K. Öllerer, S.J. Wilson, and E. Brondizio. 2018. The contributions of indigenous peoples and local communities to ecological restoration. Restoration Ecology 5: 4. https://doi.org/10.1111/rec.12894.

Reyes-Garcia, V., R. Godoy, V. Vadez, L. Apaza, E. Byron, T. Huanca, W.R. Leonard, E. Pérez, et al. 2003. Ethnobotanical knowledge shared widely among Tsimane' Amerindians, Bolivia. Science 299: 1707. https://doi.org/10.1126/science.1080274.

Reyes-Garcia, V., V. Vadez, E. Byron, L. Apaza, W.R. Leonard, E. Perez, and D. Wilkie. 2005. Market economy and the loss of folk knowledge of plant uses: Estimates from the Tsimane' of the Bolivian Amazon. Current Anthropology 46: 651–656. https://doi.org/10.1086/432777.

Solomon, M., and S. Thorpe. 2012. Taonga Moriori: Recording and revival. Journal of Material Culture. https://doi.org/10.1177/1359183512453533.

Stevens, M., M. Vitos, J. Altenbuchner, G. Conquest, J. Lewis, and M. Haklay. 2014. Taking participatory citizen science to extremes. Pervasive Computing, IEEE 13: 20–29. https://doi.org/10.1109/MPRV.2014.37.

Tang, R. 2012. An analysis of traditional ecological knowledge's status and its conservation options. Wellington: Victoria University of Wellington.

Tang, R., and M.C. Gavin. 2016. A classification of threats to traditional ecological knowledge and conservation responses. Conservation and Society 14: 57–70. https://doi.org/10.4103/0972-4923.182799.

Tengö, M., E.S. Brondizio, T. Elmqvist, P. Malmer, and M. Spierenburg. 2014. Connecting diverse knowledge systems for enhanced ecosystem governance: The multiple evidence base approach. Ambio 43: 579–591. https://doi.org/10.1007/s13280-014-0501-3.

Turreira-García, N., J.F. Lund, P. Dominguez, E. Carrillo-Anglés, M. Brummer, P. Dunn, and V. Reyes-García. 2018. What's in a name? Unpacking "participatory" environmental monitoring. Ecology and Society 23: 24. https://doi.org/10.5751/ES-10144-230224.

van der Hoeven, C.A., W.F. de Boer, and H.H.T. Prins. 2004. Pooling local expert opinions for estimating mammal densities in tropical rainforests. Journal for Nature Conservation 12: 5. https://doi.org/10.1016/j.jnc.2004.06.003.

von Glasenapp, M., and T.F. Thornton. 2011. Traditional ecological knowledge of Swiss Alpine farmers and their resilience to socioecological change. Human Ecology 39: 769–781. https://doi.org/10.1007/s10745-011-9427-6.

Zent, S. 1999. The quandary of conserving ethnological knowledge: A Piaroa example. In Ethnoecology: Knowledge, resources, and rights, ed. T.L. Gragson and B.G. Blount, 90–124. Athens and London: The University of Georgia Press.
Acknowledgements
We would like to thank S. Villamayor-Tomás for methodological advice regarding systematic reviewing and qualitative meta-analysis and B. Peco for statistical support. Research leading to this article received funding through the Spanish Ministry of Economy and Competitiveness, both through the project CSO2014-59704-P and through P. Benyei's pre-doctoral grant (BES-2015-072155). This work contributes to the "María de Maeztu Unit of Excellence" (MdM-2015-0552).
Additional information
Publisher's Note
Springer Nature remains neutral with regard to jurisdictional claims in published maps and institutional affiliations.
Electronic supplementary material
Below is the link to the electronic supplementary material.
About this article
Cite this article
Benyei, P., Arreola, G. & Reyes-García, V. Storing and sharing: A review of indigenous and local knowledge conservation initiatives. Ambio 49, 218–230 (2020). https://doi.org/10.1007/s13280-019-01153-6
Received:

Revised:

Accepted:

Published:

Issue Date:
Keywords
Inclusiveness

Indigenous and local knowledge

Knowledge conservation

Systematic review