Abstract
The use of poison by farmers to control livestock predators is a major threat to vulture populations across Eurasia and Africa. While there is now some understanding of poison use on freehold farmland regions in southern Africa, the prevalence and drivers of this practice are still unknown in communal farmlands. We surveyed 353 communal farmers in Namibia to assess the prevalence of reported poison use and intended poison use and the factors associated with both. We used the Randomised Response Technique, a method deemed to yield more robust estimates of the prevalence of sensitive behaviours compared to direct questioning. We found 1.7% of communal farmers admitted to using poison in the last year. Furthermore, across the study region, predicted poison use was the highest (up to 7%) in areas of the upper north-west. The identified 'hotspots' of poison use will assist conservation practitioners to focus their poison-mitigation efforts centred in the areas of the highest need.
Access options
Buy single article
Instant access to the full article PDF.
US$ 39.95
Tax calculation will be finalised during checkout.
Subscribe to journal
Immediate online access to all issues from 2019. Subscription will auto renew annually.
US$ 79
Tax calculation will be finalised during checkout.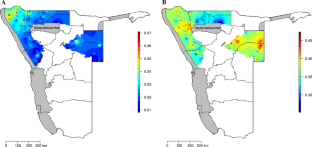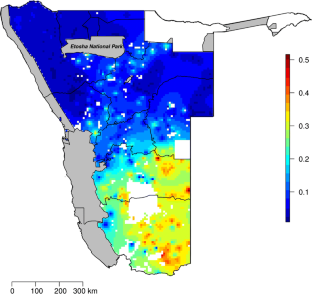 References
Ajzen, I., and M. Fishbein. 2005. The influence of attitudes on behavior. In Handbook of attitudes and attitude change: Basic principles, ed. D. Albarracin, B. Johnston, and M. Zanna, 173–221. New York: Psychology Press.

Babbie, E., J. Mouton, P. Vorster, and B. Prozesky. 2014. The practice of social research (South African edition). Cape Town: Oxford University Press.

Blair, G., K. Imai, and Y.-Y. Zhou. 2015. Design and analysis of the randomized response technique. Journal of the American Statistical Association 110: 1304–1319. https://doi.org/10.1080/01621459.2015.1050028.

Broekhuis, F., M. Kaelo, D.K. Sakat, and N.B. Elliot. 2018. Human–wildlife coexistence: Attitudes and behavioural intentions towards predators in the Maasai Mara, Kenya. Oryx. https://doi.org/10.1017/S0030605318000091.

Brown, C. 2011. Analysis of human-wildlife conflict in the MCA-supported conservancies for the five-year period of 2006–2010. Namibia Nature Foundation.

Buechley, E.R., and Ç.H. Şekercioğlu. 2016. The avian scavenger crisis: Looming extinctions, trophic cascades, and loss of critical ecosystem functions. Biological Conservation 198: 220–228. https://doi.org/10.1016/j.biocon.2016.04.001.

Ceballos, G., P.R. Ehrlich, A.D. Barnosky, A. García, R.M. Pringle, and T.M. Palmer. 2015. Accelerated modern human-induced species losses: Entering the sixth mass extinction. Sciences Advances 1: 1–5. https://doi.org/10.1126/sciadv.1400253.

Cialdini, S., A. Crafting, S. Plous, and R.B. Cialdini. 2003. Crafting normative messages to protect the environment. Current Directions in Psychological Science 12: 105–109. https://doi.org/10.1111/1467-8721.01242.

Craig, C.A., R.L. Thomson, and A. Santangeli. 2018. Communal farmers of Namibia appreciate vultures and the ecosystem services they provide. Ostrich. https://doi.org/10.2989/00306525.2018.1435566.

Dickman, A. J. 2005. An assessment of pastoralist attitudes and wildlife conflict in the Rungwa-Ruaha region, Tanzania, with particular reference to large carnivores. MSc. Dissertation: University of Oxford.

Gillingham, S., and P.C., Lee. 2003. People and protected areas: A study of local perceptions of wildlife crop-damage conflict in an area bordering the Selous Game Reserve, Tanzania. Oryx 37: 316–325. https://doi.org/10.1017/S0030605303000577.

Heck, D.W., and M. Moshagen. 2016. RRreg: Correlation and regression analyses for randomized response data. R package version 0.6.1.

Jacobsohn, M. 1995. Negatiating meaning and change in space and material culture: An ethno-archaeological study among semi-nomadic himba and herero herders in north-western Namibia. PhD. Thesis: University of Cape Town.

Jones, B. 2010. The evolution of Namibia's communal conservancies: The politics of natural resource governance in Africa. In Community rights, conservation & contested land, ed. F. Nelson, 106–120. Abingdon: Earthscan. https://doi.org/10.4324/9781849775052.

Karanth, K.K., A.M. Gopalaswamy, R. Defries, and N. Ballal. 2012. Assessing patterns of human-wildlife conflicts and compensation around a central Indian protected area. PLoS One 7: 1–13. https://doi.org/10.1371/journal.pone.0050433.

Kelley, K., B. Clark, V. Brown, and J. Sitzia. 2003. Good practice in the conduct and reporting of survey research. International Journal for Quality in Health Care 15: 261–266. https://doi.org/10.1093/intqhc/mzg031.

Markandya, A., T. Taylor, A. Longo, M.N. Murty, S. Murty, and K. Dhavala. 2008. Counting the cost of vulture decline: An appraisal of the human health and other benefits of vultures in India. Ecological Economics 67: 194–204. https://doi.org/10.1016/j.ecolecon.2008.04.020.

McClure, C.J.W., J.R.S. Westrip, J.A. Johnson, S.E. Schulwitz, M.Z. Virani, R. Davies, A. Symes, H. Wheatley, et al. 2018. State of the world's raptors: Distributions, threats, and conservation recommendations. Biological Conservation Online. https://doi.org/10.1016/j.biocon.2018.08.012.

Morales-Reyes, Z., J.M. Perez-Garcia, M. Moleon, F. Botella, M. Carrete, J.A. Donzar, C.-A. Ainara, A. Eneko, et al. 2017. Evaluation of the network of protection areas for the feeding of scavengers in Spain: From biodiversity conservation to greenhouse gas emission savings. Journal of Applied Ecology 54: 1120–1129. https://doi.org/10.1111/1365-2664.12833.

Naidoo, R., L.C. Weaver, M. de Longcamp, and P. du Plessis. 2011. Namibia's community-based natural resource management programme: An unrecognized payments for ecosystem services scheme. Environmental Conservation 38: 445–453. https://doi.org/10.1017/S0376892911000476.

Naidoo, R., L.C. Weaver, R.W. Diggle, G. Matongo, G. Stuart-Hill, and C. Thouless. 2016. Complementary benefits of tourism and hunting to communal conservancies in Namibia. Conservation Biology 30: 628–638. https://doi.org/10.1111/cobi.12643.

Neteler, M., and H. Mitasova. 2013. Open source GIS: A GRASS GIS approach. New York: Springer Science & Business Media.

Newmark, W.D., D.N. Manyanza, D.M. Gamassa, and H.I. Sariko. 1994. The conflict between wildlife and local people living adjacent to protected areas in Tanzania: Human density as a predictor. Conservation Biology 8: 249–255. https://doi.org/10.1046/j.1523-1739.1994.08010249.x.

Nuno, A., and F.A.V. St John. 2015. How to ask sensitive questions in conservation: A review of specialized questioning techniques. Biological Conservation 189: 5–15. https://doi.org/10.1016/j.biocon.2014.09.047.

Ogada, D., P. Shaw, R.L. Beyers, R. Buij, C. Murn, J.M. Thiollay, C.M. Beale, R.M. Holdo, et al. 2016. Another continental vulture crisis: Africa's vultures collapsing toward extinction. Conservation Letters 9: 89–97. https://doi.org/10.1111/conl.12182.

R Core Team. 2016. R: A language and environment for statistical computing. Vienna: R Foundation for Statistical Computing.

Santangeli, A., V. Arkumarev, N.A. Rust, and M. Girardello. 2016. Understanding, quantifying and mapping the use of poison by commercial farmers in Namibia–Implications for scavengers' conservation and ecosystem health. Biological Conservation 204: 205–211. https://doi.org/10.1016/j.biocon.2016.10.018.

Santangeli, A., V. Arkumarev, L. Komen, P. Bridgeford, and H. Kolberg. 2017. Unearthing poison use and consequent anecdotal vulture mortalities in Namibia's commercial farmland–Implications for conservation. Ostrich 88: 147–154. https://doi.org/10.2989/00306525.2017.1321051.

Schumann, B. 2009. The needs of emerging commercial farmers in Namibia in relation to human-carnivore conflict. MSc Dissertation: Cape Peninsula University of Technology.

van Eeden, L.M., A. Eklund, J.R.B. Miller, J.V. López-Bao, G. Chapron, et al. 2018. Carnivore conservation needs evidence-based livestock protection. PLoS Biology 16: e2005577. https://doi.org/10.1371/journal.pbio.2005577.

Waylen, K., P.J.K. McGowan, and E.J. Milner-Gulland. 2009. Ecotourism positively affects awareness and attitudes but not conservation behaviours: A case study at Grande Riviere, Trinidad. Oryx 43: 343. https://doi.org/10.1017/S0030605309000064.
Acknowledgements
We appreciate the time given by every farmer who participated in this research. We thank Ndapanda Kasaona and Ndina Hapinge for their translation services in the field. We are grateful to Liz Komen, Chris Brown, Holger Kolberg, the MET, Annatjie du Preez, NACSO, Basilia Shivute, Teo Ntinda, Andrew Malherbe, Vince and Edgar Naude, Timm Hoffmann and Jane Turpie for their advice and support while planning and implementing this research. We thank the British Ecological Society, Mohamed bin Zayed Species Conservation fund (Project Number: 142510056) and the National Research Foundation for funding the field work for this research. We also thank two anonymous reviewers for their constructive comments. Lastly, we thank the Agra stores in Opuwo, Omaruru, Khorixas and Outjo for allowing us to survey in their stores.
Electronic supplementary material
Below is the link to the electronic supplementary material.
About this article
Cite this article
Craig, C.A., Thomson, R.L., Girardello, M. et al. The drivers and extent of poison use by Namibia's communal farmers: Implications for averting the African vulture crisis. Ambio 48, 913–922 (2019). https://doi.org/10.1007/s13280-018-1128-6
Received:

Revised:

Accepted:

Published:

Issue Date:
Keywords
African vulture crisis

Communal

Conservancy

Farmer

Human–wildlife conflict

Poison use