Abstract
The fast-paced conflicts in the Middle East can disrupt management and supply of water, particularly on dams and barrages along the Tigris and Euphrates rivers that have experienced threats or changes in sovereignty. Water supply is also under pressure from upstream water management, drought, and structural decline. In this research, we used a satellite-based algorithm, the normalized difference water index (NDWI), to monitor changes in the extent of surface reservoirs (1985-present). We compared the timeline of reservoir fluctuations with the timeline of events related to conflicts, droughts, and dam management. Our results show that the most sudden changes in water supply occurred during events related to conflict, but conflict was not often a cause of the greatest absolute changes to reservoir area. Though not as precise as on-the-ground information, satellite data can give insights to water supply when conflict has disrupted the flow of information or restricted on-the-ground data collection.
This is a preview of subscription content, log in to check access.
Access options
Buy single article
Instant access to the full article PDF.
US$ 39.95
Price includes VAT for USA
Subscribe to journal
Immediate online access to all issues from 2019. Subscription will auto renew annually.
US$ 99
This is the net price. Taxes to be calculated in checkout.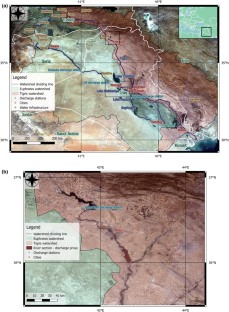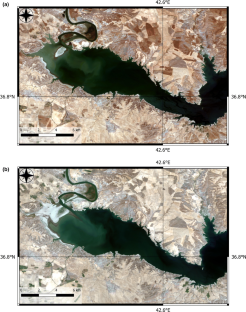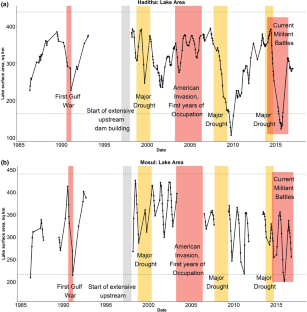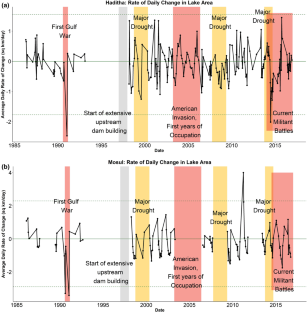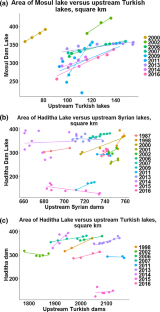 References
Adamo, N., and N. Al-Ansari. 2016. Mosul Dam full story: Safety evaluations of Mosul Dam. Journal of Earth Sciences and Geotechnical Engineering 6: 185–212.

Aga Khan, S. 1991. Report to the Secretary-General dated 15 July 1991 on humanitarian needs in Iraq prepared by a mission led by Sadruddin Aga Khan. United Nations, Document S/22799, New York, USA.

Al-Handal, A., and C. Hu. 2014. MODIS observations of human-induced changes in the Mesopotamian Marshes in Iraq. Wetlands 35: 31–40. https://doi.org/10.1007/s13157-014-0590-6.

Altinbilek, D. 2004. Development and management of the Euphrates-Tigris basin. International Journal of Water Resources Development 20: 15–33. https://doi.org/10.1080/07900620310001635584.

Ashouri, H., K. Hsu, S. Sorooshian, D. Braithwaite, K. Knapp, L. Cecil, B. Nelson, and O. Prat. 2015. PERSIANN-CDR: Daily precipitation climate data record from multi satellite observations for hydrological and climate studies. Bulletin of the American Meteorological Society 96: 69–83. https://doi.org/10.1175/BAMS-D-13-00068.1.

BBC. 2015. Ramadi battle: IS prepares to defend seized Iraqi city. Retrieved 1 August, 2016, from http://www.bbc.com/news/world-middle-east-32791448.

BBC. 2016. IS conflict: Iraqi forces "retake most" of Falluja. Retrieved 21 June, 2017, from http://www.bbc.com/news/world-middle-east-36557092.

BBC. 2017. Islamic state and the crisis in Iraq and Syria in maps. Retrieved 20 June, 2017, from http://www.bbc.com/news/world-middle-east-27838034.

Beschorner, N. 1992. Water and instability in the Middle East. London: Adelphi Papers, Brassey's Ltd.

Bjerklie, D., S. Lawrence Dingman, C. Vorosmarty, C. Bolster, and R. Congalton. 2003. Evaluating the potential for measuring river discharge from space. Journal of Hydrology 278: 17–38. https://doi.org/10.1016/S0022-1694(03)00129-X.

Birkett, C., and B. Beckley. 2010. Investigating the performance of the Jason-2/OSTM radar altimeter over lakes and reservoirs. Marine Geodesy 33: 204–238.

Bring, A. and E. Sjöberg. 2017. Complex climate effects on cooperation and disputes in transboundary river basins. University of Utah, Department of Economics Working Paper No. 2017-2, Salt Lake City, Utah.

Cockburn, P. 2014. The harm before the storm: army battles to expel resurgent al-Qa'ida from Iraq. Retrieved 21 June, 2017, from http://www.independent.co.uk/news/world/middle-east/the-harm-before-the-storm-army-battles-to-expel-resurgent-al-qa-ida-from-iraq-9040155.html.

Congalton, R., and K. Green. 2009. Assessing the accuracy of remotely sensed data: Principles and practices, 2nd ed. Boca Raton: Taylor & Francis Group.

Crétaux, J., W. Jelinski, S. Calmant, A. Kouraev, V. Vuglinski, M. Bergé-Nguyen, M. Gennero, F. Nino, et al. 2011. SOLS: A lake database to monitor in the Near Real Time water level and storage variations from remote sensing data. Advances in Space Research 47: 1497–1507. https://doi.org/10.1016/j.asr.2011.01.004.

Eklund, L., A. Persson, and P. Pilesjö. 2016. Cropland changes in times of conflict, reconstruction, and economic development in Iraqi Kurdistan. Ambio 45: 78–88. https://doi.org/10.1007/s13280-015-0686-0.

Filkins, D. 2017. Before the flood. Retrieved 20 January, 2017, from http://www.newyorker.com/magazine/2017/01/02/a-bigger-problem-than-isis.

Gander, K. 2015. Isis use water as a weapon in Iraq, by shutting dam on the Euphrates River. Retrieved 2 August, 2016, from http://www.independent.co.uk/news/world/middle-east/isis-use-water-as-a-weapon-in-iraq-by-shutting-dam-on-the-euphrates-river-10295763.html.

Gao, B. 1996. NDWI—A normalized difference water index for remote sensing of vegetation liquid water from space. Remote Sensing of Environment 58: 257–266. https://doi.org/10.1016/S0034-4257(96)00067-3.

Hui, F., B. Xu, H. Huang, Q. Yu, and P. Gong. 2008. Modelling spatial-temporal change of Poyang Lake using multitemporal Landsat imagery. International Journal of Remote Sensing 29: 5767–5784. https://doi.org/10.1080/01431160802060912.

Issa, I. 2015. Sedimentological and hydrological investigation of Mosul Dam Reservoir. PhD Thesis. Luleå, Sweden: Luleå University of Technology.

Kassim, T., H. Al-Saadi, and R. Farhan. 2006. Vertical distribution of phytoplankton in Habbaniya Lake, Iraq. Marsh Bulletin 1: 19–31.

Klein, I., A. Dietz, U. Gessner, A. Galayeva, A. Myrzakhmetov, and C. Kuenzer. 2014. Evaluation of seasonal water body extents in Central Asia over the past 27 years derived from medium-resolution remote sensing data. International Journal of Applied Earth 26: 335–349. https://doi.org/10.1016/j.jag.2013.08.004.

Klein, I., U. Gessner, A. Dietz, and C. Kuenzer. 2017. Global WaterPack—A 250 m resolution dataset revealing the daily dynamics of global inland water bodies. Remote Sensing of Environment 198: 345–362. https://doi.org/10.1016/j.rse.2017.06.045.

Link, P., J. Scheffran, and T. Ide. 2016. Conflict and cooperation in the water-security nexus: a global comparative analysis of river basins under climate change. University of Hamburg, Working Paper CLISEC-31, Hamburg, Germany.

MacQuarrie, P. 2004. Water security in the Middle East: Growing conflict over development in the Euphrates-Tigris Basin. PhD Thesis. Dublin, Ireland: Trinity College.

McFeeters, S.K. 1996. The use of the Normalized Difference Water Index (NDWI) in the delineation of open water features. International Journal of Remote Sensing 17: 1425–1432. https://doi.org/10.1080/01431169608948714.

Milner, A. 2014. Mosul Dam: Why the battle for water matters in Iraq. Retrieved 17 June, 2017, from http://www.bbc.com/news/world-middle-east-28772478.

Moridnejad, A., N. Karimi, and P. Ariya. 2015. Newly desertified regions in Iraq and its surrounding areas: Significant novel sources of global dust particles. Journal of Arid Environments 116: 1–10. https://doi.org/10.1016/j.jaridenv.2015.01.008.

Müller, M., J. Yoon, S. Gorelick, N. Avisse, and A. Tilmant. 2016. Impact of the Syrian refugee crisis on land use and transboundary freshwater resources. Proceedings of the National academy of Sciences of the United States of America 113: 14932–14937. https://doi.org/10.1073/pnas.1614342113.

National Aeronautics and Space Agency. 2008. Ocean Surface Topography Mission/Jason-2 Mission Overview. Retrieved 29 June, 2017, from https://www.nasa.gov/mission_pages/ostm/overview/index.html.

Pekel, J., A. Cottam, N. Gorelick, and A. Belward. 2016. High-resolution mapping of global surface water and its long-term changes. Nature 540: 418–422. https://doi.org/10.1038/nature20584.

Rubin, A. and R. Nordland. 2014. Sunni militants advance toward large Iraqi dam. Retrieved 4 July, 2017, from https://www.nytimes.com/2014/06/26/world/middleeast/isis-iraq.html.

Saleh, D. 2010. Stream gage descriptions and streamflow statistics for sites in the Tigris River and Euphrates River Basins, Iraq. U.S. Geological Survey, Data Series 540, Reston, Virginia.

Traub, J. 2006. The Best Intentions: Kofi Annan and the UN in the Era of American World Power, 1st ed. New York: Farrar, Straus and Giroux.

Trigo, R., C. Gouveia, and D. Barriopedro. 2010. The intense 2007–2009 drought in the Fertile Crescent: Impacts and associated atmospheric circulation. Agricultural and Forest Meteorology 150: 1245–1257. https://doi.org/10.1016/j.agrformet.2010.05.006.

UN-ESCWA and BGR (United Nations Economic and Social Commission for Western Asia, Bundesanstalt fur Geowissenschaften und Rohstoffe). 2013. Inventory of Shared Water Resources in Western Asia. Beirut, Lebanon.

United Nations Environment Programme. 1999. The Kosovo conflict—Consequences for the environment and human settlements. Nairobi, Kenya.

United Nations Environment Programme, 2003. Afghanistan: Post-Conflict Environmental Assessment. Nairobi, Kenya.

von Lossow, T. 2016. Water as weapon: IS on the Euphrates and Tigris. Stiftung Wissenschaft und Politik, Comments 3, Berlin, Germany.

Vörösmarty, C., P. McIntyre, M. Gessner, D. Dudgeon, A. Prusevich, P. Green, S. Glidden, S. Bunn, et al. 2010. Global threats to human water security and river biodiversity. Nature 468: 334–334. https://doi.org/10.1038/nature09549.

Yamazaki, D., M. Trigg, and D. Ikeshima. 2015. Development of a global ~ 90 m water body map using multi-temporal Landsat images. Remote Sensing of Environment 171: 337–351. https://doi.org/10.1016/j.rse.2015.10.014.

Zakaria, S., N. Al-Ansari, M. Ezz-Aldeen, and S. Knutsson. 2012. Rain water harvesting and supplemental irrigation at Northern Sinjar Mountain, Iraq. Geoscience Research 3: 100–108.
Acknowledgments
The authors would like to acknowledge Nadhir Al-Ansari of Luleå University of Technology for his helpful email communications while researching and writing this paper.
Electronic supplementary material
Below is the link to the electronic supplementary material.
Supplementary material 2 (MPG 31968 kb)
About this article
Cite this article
Hasan, M., Moody, A., Benninger, L. et al. How war, drought, and dam management impact water supply in the Tigris and Euphrates Rivers. Ambio 48, 264–279 (2019). https://doi.org/10.1007/s13280-018-1073-4
Received:

Revised:

Accepted:

Published:

Issue Date:
Keywords
Conflict

Euphrates

NDWI

Satellites

Tigris

Water