Abstract
Cambodian subsistence communities within the Tonle Sap Great Lake area rely on resource extraction from the lake to meet livelihood needs. These fishing communities—many of which consist of dwellings floating on the lake—face potentially profound livelihood challenges because of climate change and changing hydrology due to dam construction for hydroelectricity within the Mekong Basin. We conducted interviews across five village communities, with local subsistence fisher people in the Tonle Sap in 2015, and used thematic analysis methods to reveal a fishery system that is undergoing rapid ecological decline, with local fishing communities increasingly experiencing reductions in available fish stocks. As a result, over 100 000 people living in these communities are experiencing a direct loss of well-being and livelihood. We discuss these losses and consider their implications for the future viability of Cambodian floating village communities.
Access options
Buy single article
Instant access to the full article PDF.
USD 39.95
Price excludes VAT (USA)
Tax calculation will be finalised during checkout.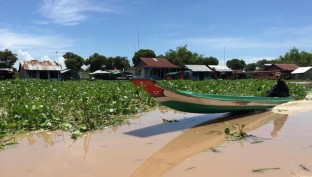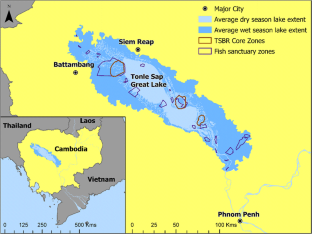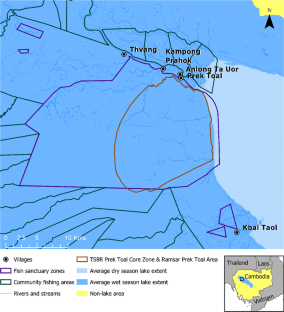 References
Abers, R.N., MSd Oliveira, and A.K. Pereira. 2017. Inclusive development and the asymmetric state: Big projects and local communities in the Brazilian Amazon. The Journal of Development Studies 53: 857–872.

Adams, W.M., R. Aveling, D. Brockington, B. Dickson, J. Elliott, J. Hutton, D. Roe, B. Vira, et al. 2004. Biodiversity conservation and the eradication of poverty. Science 306: 1146–1149.

Al-Obaid, S., B. Samraoui, J. Thomas, H.A. El-Serehy, A.H. Alfarhan, W. Schneider, and M. O'Connell. 2017. An overview of wetlands of Saudi Arabia: Values, threats, and perspectives. Ambio 46: 98–108.

Althor, G., J.E.M. Watson, and R.A. Fuller. 2016. Global mismatch between greenhouse gas emissions and the burden of climate change. Scientific Reports 6: 20281.

Arias, M.E., T.A. Cochrane, and V. Elliott. 2014. Modelling future changes of habitat and fauna in the Tonle Sap wetland of the Mekong. Environmental Conservation 41: 165–175.

Arias, M.E., T.A. Cochrane, D. Norton, T.J. Killeen, and P. Khon. 2013. The flood pulse as the underlying driver of vegetation in the largest wetland and fishery of the Mekong Basin. Ambio 42: 864–876.

Arias, M.E., T.A. Cochrane, T. Piman, M. Kummu, B.S. Caruso, and T.J. Killeen. 2012. Quantifying changes in flooding and habitats in the Tonle Sap Lake (Cambodia) caused by water infrastructure development and climate change in the Mekong Basin. Journal of Environmental Management 112: 53–66.

Baron, J.S., N.L. Poff, P.L. Angermeier, C.N. Dahm, P.H. Gleick, N.G. Hairston, R.B. Jackson, C.A. Johnston, et al. 2002. Meeting ecological and societal needs for freshwater. Ecological Applications 12: 1247–1260.

Beger, M., A.R. Harborne, T.P. Dacles, J.L. Solandt, and G.L. Ledesma. 2004. A framework of lessons learned from community-based marine reserves and its effectiveness in guiding a new coastal management initiative in the Philippines. Environmental Management 34: 786–801.

Berbés-Blázquez, M., J.A. González, and U. Pascual. 2016. Towards an ecosystem services approach that addresses social power relations. Current Opinion in Environmental Sustainability 19: 134–143.

Bernard, H.R., and C.C. Gravlee. 2014. Handbook of methods in cultural anthropology. Lanham: Rowman & Littlefield.

Braun, V., and V. Clarke. 2006. Using thematic analysis in psychology. Qualitative Research in Psychology 3: 77–101.

Bryman, A. 2012. Social research methods. Oxford: Oxford University Press.

Campbell, I.C., C. Poole, W. Giesen, and J. Valbo-Jorgensen. 2006. Species diversity and ecology of Tonle Sap Great Lake, Cambodia. Aquatic Sciences 68: 355–373.

Carpenter, S.R., and W.A. Brock. 2008. Adaptive capacity and traps. Ecology and Society 13: 40.

CDRI. 2013. Climate change adaptation and livelihoods in inclusive growth: A review of climate change impacts and adaptive capacity in Cambodia. Phnom Penh: CDRI.

Chea, R., C. Guo, G. Grenouillet, and S. Lek. 2016. Toward an ecological understanding of a flood-pulse system lake in a tropical ecosystem: Food web structure and ecosystem health. Ecological Modelling 323: 1–11.

Cooperman, M.S., N. So, M. Arias, T.A. Cochrane, V. Elliott, T. Hand, L. Hannah, G.W. Holtgrieve, et al. 2012. A watershed moment for the Mekong: newly announced community use and conservation areas for the Tonle Sap Lake may boost sustainability of the world's largest inland fishery. Cambodian Journal of Natural History 2012: 101–106.

Cunningham, S.C., J.R. Thomson, R. Mac Nally, J. Read, and P.J. Baker. 2011. Groundwater change forecasts widespread forest dieback across an extensive floodplain system. Freshwater Biology 56: 1494–1508.

Ehrlich, P.R., P.M. Kareiva, and G.C. Daily. 2012. Securing natural capital and expanding equity to rescale civilization. Nature 486: 68–73.

Erwin, K.L. 2009. Wetlands and global climate change: The role of wetland restoration in a changing world. Wetlands Ecology and Management 17: 71.

ESRI ArcGIS Pro. 2017. 1.4.1, 1. Redlands, CA: Environmental Systems Research Institute.

FAO. 2001. In Tonle Sap fisheries: A case study on floodplain gillnet fisheries, ed. D. Lamberts. Bangkok: FAO Regional Office for Asia and the Pacific.

FAO. 2017. Fishery and Aquaculture Country Profiles: The Kingdom of Cambodia. http://www.fao.org/fishery/facp/KHM/en.

Fisher, J.A., G. Patenaude, K. Giri, K. Lewis, P. Meir, P. Pinho, M.D.A. Rounsevell, and M. Williams. 2014. Understanding the relationships between ecosystem services and poverty alleviation: A conceptual framework. Ecosystem Services 7: 34–45.

Francis, J.J., M. Johnston, C. Robertson, L. Glidewell, V. Entwistle, M.P. Eccles, and J.M. Grimshaw. 2010. What is an adequate sample size? Operationalising data saturation for theory-based interview studies. Psychology and Health 25: 1229–1245.

Frith, H., and K. Gleeson. 2004. Clothing and embodiment: Men managing body image and appearance. Psychology of Men and Masculinity 5: 40–48.

Gillespie, J. 2016. Catch 22: Wetlands protection and fishing for survival. Geographical Research 54: 336–347.

Goñi, R., R. Hilborn, D. Díaz, S. Mallol, and S. Adlerstein. 2010. Net contribution of spillover from a marine reserve to fishery catches. Marine Ecology Progress Series 400: 233–243.

Guest, G., A. Bunce, and L. Johnson. 2006. How Many Interviews Are Enough?: An Experiment with Data Saturation and Variability. Field Methods 18: 59–82.

Guest, G., K. MacQueen, and E. Namey. 2012. Themes and codes. Applied thematic analysis. Thousand Oaks, CA: SAGE Publications Inc.

Huang, R. 2014. RQDA: R-based Qualitative data analysis. 0.2-7 ed.

Keskinen, M. 2006. The lake with floating villages: Socio-economic analysis of the Tonle Sap Lake. International Journal of Water Resources Development 22: 463–480.

Keskinen, M., M. Kummu, A. Salmivaara, S. Paradis, H. Lauri, H. de Moel, P. Ward, and P. Sokhem. 2011. Baseline results from hydrological and livelihood analyses, exploring Tonle Sap futures. Espoo: Aalto University.

Kitzinger, C., and J. Willmott. 2002. 'The thief of womanhood': women's experience of polycystic ovarian syndrome. Social Science and Medicine 54: 349–361.

Kumar, S. 2015. Green climate fund faces slew of criticism. Nature 527: 419–420.

Kummu, M., and J. Sarkkula. 2008. Impact of the Mekong River flow alteration on the Tonle Sap flood pulse. Ambio 37: 185–192.

Kummu, M., M. Keskinen, and O. Varis. 2008a. Modern Myths of the Mekong: A critical review of water and development concepts, principles and policies. In Modern Myths of the Mekong, ed. M. Kummu, M. Keskinen, and O. Varis, 206. Espoo: Water & Development Publications—Helsinki University of Technology.

Kummu, M., D. Penny, J. Sarkkula, and J. Koponen. 2008b. Sediment: Curse or blessing for Tonle Sap Lake? Ambio 37: 158–163.

Lamberts, D. 2008. Little impact, much damage: The consequences of Mekong River flow alterations for the tonle sap ecosystem. In Modern myths of the Mekong, ed. M. Kummu, 3–18. Espoo: Water & Development Publications—Helsinki University of Technology.

Lauri, H., H. de Moel, P.J. Ward, T.A. Räsänen, M. Keskinen, and M. Kummu. 2012. Future changes in Mekong River hydrology: Impact of climate change and reservoir operation on discharge. Hydrology and Earth System Sciences 16: 4603–4619.

Leal Filho, W., D.-M. Pociovalisteanu, and A.Q. Al-Amin. 2017. Sustainable economic development green economy and green growth. New York: Springer International Publishing.

Lemieux, C.J., P.A. Gray, A.G. Douglas, G. Nielsen, and D. Pearson. 2014. From science to policy: The making of a watershed-scale climate change adaptation strategy. Environmental Science & Policy 42: 123–137.

Lewis-Beck, M., A. Bryman, and T. Futing Liao. 2004. The SAGE encyclopedia of social science research methods. Thousand Oaks, CA: SAGE Publications Ltd.

Mak, S. 2015. The Governance of Wetlands in the Tonle Sap Lake, Cambodia. Journal of Environmental Science and Engineering B 4: 331–346.

Manorom, K., I.G. Baird, and B. Shoemaker. 2017. The World Bank, hydropower-based poverty alleviation and indigenous peoples: On-the-ground realities in the Xe Bang Fai River Basin of Laos. Forum for Development Studies 44: 275–300.

MEA (Millennium Ecosystem Assessment). 2000. Ecosystems and human well-being wetlands and water synthesis. Washington, DC: Island Press.

MEA (Millennium Ecosystem Assessment). 2005. Ecosystems and human well-being. Washington, D.C: Island Press.

Mekong River Commission. 2016. Integrated water resources management-based basin development strategy for the Lower Mekong Basin 2016–2020. Phnom Penh: Mekong River Commission.

Middleton, B.A., and N.J. Souter. 2016. Functional integrity of freshwater forested wetlands, hydrologic alteration, and climate change. Ecosystem Health and Sustainability 2: e01200.

MoE, C. 2005. Vulnerability and adaptation to climate hazards and to climate change: A survey of rural cambodian households. Phnom Penh: Ministry of Environment, Cambodia.

MRCS. 2014. National-to-Local benefit sharing options for hydropower on Mekong tributaries evaluated and reported by 2014. Phnom Penh: Mekong River Commission Secretariat.

Nalepa, R.A., A.G. Short Gianotti, and D.M. Bauer. 2017. Marginal land and the global land rush: A spatial exploration of contested lands and state-directed development in contemporary Ethiopia. Geoforum 82: 237–251.

Nuorteva, P., M. Keskinen, and O. Varis. 2010. Water, livelihoods and climate change adaptation in the Tonle Sap Lake area, Cambodia: learning from the past to understand the future. Journal of Water and Climate Change 1: 87–101.

O'Faircheallaigh, C. 2015. Social equity and large mining projects: Voluntary industry initiatives, public regulation and community development agreements. Journal of Business Ethics 132: 91–103.

Orr, S., J. Pittock, A. Chapagain, and D. Dumaresq. 2012. Dams on the Mekong River: Lost fish protein and the implications for land and water resources. Global Environmental Change 22: 925–932.

Pauline Dube, O., and M. Sivakumar. 2015. Global environmental change and vulnerability of Least Developed Countries to extreme events: Editorial on the special issue. Weather and Climate Extremes 7: 2–7.

Piman, T., T. Lennaerts, and P. Southalack. 2013. Assessment of hydrological changes in the lower Mekong Basin from Basin-Wide development scenarios. Hydrological Processes 27: 2115–2125.

R Core Development Team. 2015. R: A language and environment for statistical computing. Vienna, Austria: R Foundation for Statistical Computing.

Ramsar. 2017. Cambodia Country Profile. http://www.ramsar.org/wetland/cambodia.

Ratner, B.D., S. So, K. Mam, I. Oeur, and S. Kim. 2017. Conflict and collective action in Tonle Sap fisheries: adapting governance to support community livelihoods. Natural Resources Forum 41: 71–82.

Rawls, J. 1971. A theory of justice. Cambridge, MA: Belknap Press of Harvard University Press.

Roos, N., C. Chamnan, D. Loeung, J. Jakobsen, and S.H. Thilsted. 2007. Freshwater fish as a dietary source of vitamin A in Cambodia. Food Chemistry 103: 1104–1111.

Russ, G.R., and A.C. Alcala. 2011. Enhanced biodiversity beyond marine reserve boundaries: the cup spillith over. Ecological Applications 21: 241–250.

Sáenz-Arroyo, A., C. Roberts, J. Torre, M. Cariño-Olvera, and R. Enríquez-Andrade. 2005. Rapidly Shifting environmental baselines among fishers of the gulf of california. Proceedings: Biological Sciences 272: 1957–1962.

Shepherd, A., and J. Brunt. 2013. Chronic poverty: concepts, causes and policy. London: Palgrave Macmillan.

Sok, S., X. Yu, and K.K. Wong. 2012. Impediments to community fisheries management: Some findings in Kompong Pou commune, Krakor District in Cambodia's Tonle Sap. Singapore Journal of Tropical Geography 33: 398–413.

Sokhem, P., and K. Sunada. 2006. The Governance of the Tonle Sap Lake, Cambodia: Integration of Local, National and International Levels. International Journal of Water Resources Development 22: 399–416.

Tilt, B., and D. Gerkey. 2016. Dams and population displacement on China's Upper Mekong River: Implications for social capital and social–ecological resilience. Global Environmental Change 36: 153–162.

UNESCO. 1994. Ramsar, convention on wetlands of international importance especially as waterfowl habitat. Paris: United Nations Educational, Scientific and Cultural Organization.

UNESCO. 2007. Biosphere reserve information, Cambodia, Tonle Sap. http://www.unesco.org/mabdb/br/brdir/directory/biores.asp?code=CAM+01&mode=all.

UNESCO. 2015. Mab strategy 2015–2025. Paris: United Nations Organization for Education, Science and Culture.

van Zalinge, N., D. Loeung, N. Pengbun, J. Sarkkula, and J. Koponen. 2000. Mekong flood levels and Tonle Sap fish catches. Meeting of the Department of Fisheries, 28. Phnom Penh: Thai National Mekong Committee Secretariat.

Varis, O., M. Kummu, M. Keskinen, J. Sarkkula, J. Koponen, U. Heinonen, and K. Makkonena. 2006. Tonle Sap Lake, Cambodia: Nature's affluence meets human poverty. New York: United Nations Human Development Report.

Watson, J.E.M., N. Dudley, D.B. Segan, and M. Hockings. 2014. The performance and potential of protected areas. Nature 515: 67–73.

Ziv, G., E. Baran, S. Nam, I. Rodríguez-Iturbe, and S.A. Levin. 2012. Trading-off fish biodiversity, food security, and hydropower in the Mekong River Basin. Proceedings of the National Academy of Sciences United States of America 109: 5609–5614.
Acknowledgements
We would like to extend thanks to the following people whose contributions made this project possible. Gnuen Gneb, for providing translation services in the field and for very patiently acting as a cultural guide. The village and commune chiefs for their time, patience, and critical input into this project. All participants and their families who took the time to speak to us, and very kindly host us within their homes during interviews. Very kind thanks to Phien Sayon, and the entire Wildlife Conservation Society (WCS) Cambodia team for their amazing support and facilitation of this project. Special thanks to Mr Long Kheng, Chief of the TSBR and Mr Sun Visal, from the Department of Freshwater Wetlands, Ministry of Environment, and the staff of the Fisheries Administration, Ministry of Agriculture, Forestry and Fisheries. This work was part funded by an Australian Research Council Discovery Grant (DP140100733) to JW. Additional funding by The Australian Postgraduate Award scholarship to GA (PN: 3018293). Funding for translation work provided by WCS, Cambodia.
Electronic supplementary material
Below is the link to the electronic supplementary material.
About this article
Cite this article
Althor, G., Mahood, S., Witt, B. et al. Large-scale environmental degradation results in inequitable impacts to already impoverished communities: A case study from the floating villages of Cambodia. Ambio 47, 747–759 (2018). https://doi.org/10.1007/s13280-018-1022-2
Received:

Revised:

Accepted:

Published:

Issue Date:

DOI: https://doi.org/10.1007/s13280-018-1022-2
Keywords
Climate change

Distributive justice

Human well-being

Mekong basin

Subsistence livelihoods

Tonle Sap Great Lake