Abstract
Attitudinal differences toward wildlife have important implications for conflict management and when the species in question have strong cultural and religious associations, conflict mitigation becomes a challenging endeavor. We investigated farmers' attitudes toward two different crop-raiding macaque species, the rhesus macaque in northern India, and the bonnet macaque in southern India. Apart from regional differences in attitudes, we also assessed temporal changes in attitude toward the rhesus macaque. We carried out household surveys using a semistructured questionnaire to collect data. Our findings reveal that respondents in southern and northern India differ significantly in their views regarding species sanctity and preference for mitigation options. Although people's perceptions of the rhesus macaques had changed over time in northern India, farmers were still unwilling to cause harm to the macaques. We discuss the underlying causes of these observed differences in attitude and their impact on the management of human–macaque conflict.
Access options
Buy single article
Instant access to the full article PDF.
USD 39.95
Price excludes VAT (USA)
Tax calculation will be finalised during checkout.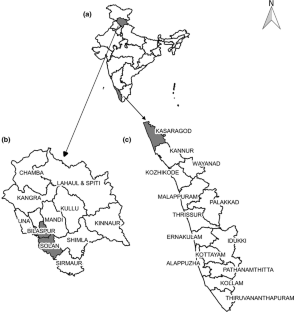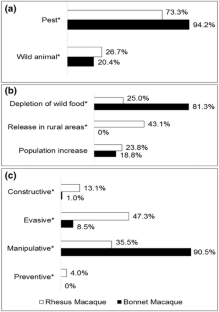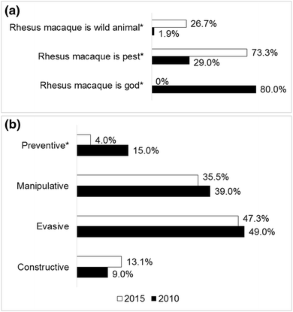 References
Anand, S., and S. Radhakrishna. 2017. Investigating trends in human–wildlife conflict: Is conflict escalation real or imagined? Journal of Asia-Pacific Biodiversity 10: 154–161. https://doi.org/10.1016/j.japb.2017.02.003.

Baruch-Mordo, S., S.W. Breck, K.R. Wilson, and J. Broderick. 2009. A tool box half full: How social science can help solve human–wildlife conflict. Human Dimensions of Wildlife 14: 219–223. https://doi.org/10.1080/10871200902839324.

Bisht, G. 2017. Monkeys again declared vermin in Shimla. Hindustan Times, March 22.

Brennan, E.J., J.G. Else, and J. Altmann. 1985. Ecology and behaviour of a pest primate: Vervet monkeys in a tourist-lodge habitat. African Journal of Ecology 23: 35–44. https://doi.org/10.1111/j.1365-2028.1985.tb00710.x.

Campbell-Smith, G., H.V.P. Simanjorang, N. Leader-Williams, and M. Linkie. 2010. Local attitudes and perceptions toward crop-raiding by orangutans (Pongo abelii) and other nonhuman primates in Northern Sumatra, Indonesia. American Journal of Primatology 72: 866–876. https://doi.org/10.1002/ajp.20822.

Census of India. 2011. Primary Census Abstract Data Tables - Himachal Pradesh. Office of the Registrar General & Census Commissioner, New Delhi, India.

Dandy, N., S. Ballantyne, D. Moseley, R. Gill, A. Peace, and C. Quine. 2011. Preferences for wildlife management methods among the peri-urban public in Scotland. European Journal of Wildlife Research 57: 1213–1221. https://doi.org/10.1007/s10344-011-0534-x.

Fernando, P., E. Wikramanayake, D. Weerakoon, L.K.A. Jayasinghe, M. Gunawardene, and H.K. Janaka. 2005. Perceptions and patterns of human–elephant conflict in old and new settlements in Sri Lanka: Insights for mitigation and management. Biodiversity and Conservation 14: 2465–2481. https://doi.org/10.1007/s10531-004-0216-z.

Fooden, J. 2000. Systematic review of the Rhesus Macaque, Macaca mulatta (Zimmerman, 1780). Fieldiana Zoology 96: 1–192. https://doi.org/10.5962/bhl.title.7192.

Freeman, J.R. 1999. Gods, groves and the culture of nature in Kerala. Modern Asian Studies 33, 257–302. Cambridge: Cambridge University Press.

Himachal Pradesh Forest Department. 2016. Order for payment of incentive for killing of monkeys. Retrieved January 15, 2017, from http://hpforest.nic.in/files/orderforpaymentofincentiveforkillingofmonkey.pdf.

Indian Express. 2017. Soon, special task force to cull vermin monkeys in Himachal Pradesh. Retrieved February 15, 2017, from http://indianexpress.com/article/india/soon-special-task-force-to-cull-vermin-monkeys-in-himachal-pradesh-4608168/.

Jardhari, V., P. Rao, and A. Choudhary. 2008. Crop damage by wildlife in a Garhwal Himalayan village. Pune: Kalpvriksha.

Jayson, E. A. 1998. Studies of Man-Wildlife Conflict in Peppara Wildlife Sanctuary And Adjacent Areas. KFRI Research Report No 140:1-71.

Jayson, E. A. 1999. Studies on crop damage by wild animals in Kerala and evaluation of control measures. KFRI Research Report No. 169: 1–48.

Kansky, R., and A.T. Knight. 2014. Key factors driving attitudes towards large mammals in conflict with humans. Biological Conservation. https://doi.org/10.1016/j.biocon.2014.09.008.

Knight, J. 1999. Monkeys on the Move: The Natural Symbolism of People-Macaque Conflict in Japan. Journal of Asian Studies 58: 622–647. https://doi.org/10.2307/2659114.

Knight, J. 2000. Natural enemies: People–wildlife conflicts in anthropological perspective. London: Routledge.

Kruse, C.K., and J.A. Card. 2004. Effects of a Conservation Education Camp Program on Campers' self-reported knowledge, attitude, and behavior. The Journal of Environmental Education 35: 33–45.

Lee, T.M., N.S. Sodhi, and D.M. Prawiradilaga. 2009. Determinants of local people's attitude toward conservation and the consequential effects on illegal resource harvesting in the protected areas of Sulawesi (Indonesia). Environmental Conservation 36: 157–170. https://doi.org/10.1017/S0376892909990178.

Madden, F. 2004. Creating coexistence between humans and wildlife: Global perspectives on local efforts to address human–wildlife conflict. Human Dimensions of Wildlife 9: 247–257. https://doi.org/10.1080/10871200490505675.

Malone, N., A.H. Wade, A. Fuentes, E.P. Riley, M. Remis, and C.J. Robinson. 2014. Ethnoprimatology: Critical interdisciplinarity and multispecies approaches in anthropology. Critique of Anthropology 34: 8–29. https://doi.org/10.1177/0308275X13510188.

Manfredo, M.J., and A.A. Dayer. 2004. Concepts for exploring the social aspects of human–wildlife conflict in a global context. Human Dimensions of Wildlife 9: 1–20. https://doi.org/10.1080/10871200490505765.

Marchal, V., and C. Hill. 2009. Primate crop-raiding: a study of local perceptions in four villages in north Sumatra, Indonesia. Primate Conservation 24: 107–116. https://doi.org/10.1896/052.024.0109.

Mateo-Tomás, P., P.P. Olea, I.S. Sánchez-Barbudo, and R. Mateo. 2012. Alleviating human–wildlife conflicts: Identifying the causes and mapping the risk of illegal poisoning of wild fauna. Journal of Applied Ecology 49: 376–385. https://doi.org/10.1111/j.1365-2664.2012.02119.x.

McLennan, M.R. 2008. Beleaguered chimpanzees in the Agricultural District of Hoima, Western Uganda. Primate Conservation 23: 45–54. https://doi.org/10.1896/052.023.0105.

Miller, K., and D. Jones. 2006. Gender differences in the perceptions of wildlife management objectives and priorities in Australasia. Wildlife Research 33: 155–159.

Ministry of Environment Forest and Climate Change. 2016. Gazette Notification No. S.O. 1922 (E) dated 26.05.2016 regarding listing of Rhesus Macaque in Schedule-V of the Wild Life (Protection) Act, 1972 in the State of Himachal Pradesh.

Mishra, C. 1997. Livestock depredation by large carnivores in the Indian trans-Himalaya: conflict perceptions and conservation prospects. Environmental Conservation 24: 338–343. https://doi.org/10.1017/S0376892997000441.

Naughton-Treves, L., and A. Treves. 2005. Socio-ecological factors shaping local support for wildlife: Crop-raiding by elephants and other wildlife in Africa. In People and wildlife: Conflict or coexistence, ed. R. Woodroffe, S. Thirgood, and A. Rabinowitz, 253–277. Cambridge: Cambridge University Press.

Nyhus, P.J., H. Fischer, F. Madden, and S. Osofsky. 2003. Taking the bite out of wildlife damage: The challenges of wildlife compensation schemes. Conservation in Practice 4: 37–40. https://doi.org/10.1111/j.1526-4629.2003.tb00061.x.

Ogra, M.V. 2008. Human–wildlife conflict and gender in protected area borderlands: A case study of costs, perceptions, and vulnerabilities from Uttarakhand (Uttaranchal), India. Geoforum 39: 1408–1422. https://doi.org/10.1016/j.geoforum.2007.12.004.

Pirta, R.S., M. Gadgil, and A. Kharshikar. 1997. Management of the rhesus monkey Macaca mulatta and Hanuman langur Presbytis entellus in Himachal Pradesh, India. Biological Conservation 79: 97–106.

Radhakrishna, S. 2013. Songs of monkeys: representation of macaques in classical Tamil poetry. In The Macaque Connection: Cooperation and conflict between humans and macaques, ed. S. Radhakrishna, M. A. Huffman, and A. Sinha, 53–68. Springer Science + Business Media.

Radhakrishna, S., and T.R.S. Raman. 2016. Get the monkey off the back. The Tribune, August 23.

Rao, K.S., R.K. Maikhuri, S. Nautiyal, and K.G. Saxena. 2002. Crop damage and livestock depredation by wildlife: A case study from Nanda Devi Biosphere Reserve, India. Journal of Environmental Management 66: 317–327. https://doi.org/10.1016/S0301-4797(02)90587-6.

Rattan, S. 2011. Managing human–macaque conflict in Himachal, India. In Monkeys on the edge: ecology and management of long-tailed macaques and their interface with humans, ed. M. Gumert, A. Fuentes, and L. Jones-Engel, 283–284. Cambridge: Cambridge University Press.

Riley, E.P. 2007. The human–macaque interface: Conservation implications of current and future overlap and conflict in Lore Lindu National Park, Sulawesi, Indonesia. American Anthropologist 109: 473–484. https://doi.org/10.1525/AA.2007.109.3.473.

Rust, N.A., J. Tzanopoulos, T. Humle, and D.C. MacMillan. 2016. Why has human–carnivore conflict not been resolved in Namibia? Society and Natural Resources 29: 1–16. https://doi.org/10.1080/08941920.2016.1150544.

Saraswat, R., A. Sinha, and S. Radhakrishna. 2015. A god becomes a pest? Human–rhesus macaque interactions in Himachal Pradesh, northern India. European Journal of Wildlife Research 61: 435–443. https://doi.org/10.1007/s10344-015-0913-9.

Sengupta, A., and S. Radhakrishna. 2013. Of concern yet? Distribution and conservation status of the bonnet macaque (Macaca radiata) in Goa, India. Primate Conservation 27: 109–114. https://doi.org/10.1896/052.027.0113.

Singh, M., and N.R. Rao. 2004. Population dynamics and conservation of commensal bonnet macaques. International Journal of Primatology 25: 847–859. https://doi.org/10.1023/B:IJOP.0000029125.54747.ee.

Singh, V., and M. Thakur. 2012. Rhesus macaque and associated problems in Himachal Pradesh-India. TAPROBANICA: The Journal of Asian Biodiversity 4: 112–116.

Singh, M., A. Kumar, and S. Molur. 2008. Macaca radiata. The IUCN Red List of Threatened Species.

Singh, M., J.J. Erinjery, T.S. Kavana, K. Roy, and M. Singh. 2011. Drastic population decline and conservation prospects of roadside dark-bellied bonnet macaques (Macaca radiata radiata) of southern India. Primates 52: 149–154. https://doi.org/10.1007/s10329-011-0234-x.

Suryawanshi, K.R., Y.V. Bhatnagar, S. Redpath, and C. Mishra. 2013. People, predators and perceptions: Patterns of livestock depredation by snow leopards and wolves. Journal of Applied Ecology 50: 550–560. https://doi.org/10.1111/1365-2664.12061.

Thomas, L.K., and D.N. Jones. 1999. Management options for a human–wildlife conflict: Australian magpie attacks on humans. Human Dimensions of Wildlife 4: 93–95. https://doi.org/10.1080/10871209909359160.

Treves, A. 2009. The human dimensions of conflicts with wildlife around protected areas. In Wildlife and society: The science of human dimension, ed. M.J. Manfredo, J.J. Vaske, P.J. Brown, D. Decker, and E.A. Duke, 214–228. Washington, DC: Island Press.

Treves, A., R.B. Wallace, L. Naughton-Treves, and A. Morales. 2006. Co-managing human–wildlife conflicts: A review. Human Dimensions of Wildlife 11: 383–396. https://doi.org/10.1080/10871200600984265.

Vasan, S. 2001. Community forestry: Historical legacy of Himachal Pradesh. Himalaya 21: 36–45.

Watkins, C. 2006. Local ecological perceptions of chimpanzees and forest resources: A case study near Budongo Forest, Uganda. In Primates of Western Uganda, ed. N.E. Newton-Fisher, H. Notman, J.D. Paterson, and V. Reynolds, 423–437. New York: Springer.

Williams, R. 2006. The analysis of culture. In Cultural theory and popular culture: A reader, 2nd ed, ed. J. Storey, 32–40. Athens: The University of Georgia Press.
Acknowledgements
The authors thank Vijay Rajput, Sumith Lal, and Girija for their assistance in the field. They would also like to thank Neha Lakhani for insightful discussions on the subject matter of the manuscript. Shaurabh Anand was supported by an institutional fellowship during the course of this study.
Electronic supplementary material
Below is the link to the electronic supplementary material.
About this article
Cite this article
Anand, S., Binoy, V.V. & Radhakrishna, S. The monkey is not always a God: Attitudinal differences toward crop-raiding macaques and why it matters for conflict mitigation. Ambio 47, 711–720 (2018). https://doi.org/10.1007/s13280-017-1008-5
Received:

Revised:

Accepted:

Published:

Issue Date:

DOI: https://doi.org/10.1007/s13280-017-1008-5
Keywords
Bonnet macaque (Macaca radiata)

Conflict

India

Management

Rhesus macaque (Macaca mulatta)