Abstract
Small-scale fisheries of the Brazilian Atlantic Forest Coast (BAFC) depend on fish resources for food and income. Thus, if the catch diminishes or if fish species that are a target for fishers are overexploited or impacted, this could affect fishers' livelihoods. The exclusion of threatened fish species from the catch is believed to be a threat to small-scale fisheries, which is likely to be the case along the BAFC. Many fish species are currently listed as threatened or vulnerable, whereas there is not enough biological information available to determine the status of the majority of the other species. Failure to protect the BAFC biodiversity might negatively impact fishers' income and the regional economy of local small-scale fisheries. We collected data from 1986 to 2009 through 347 interviews and 24-h food recall surveys at seven southeastern coastal sites of the Atlantic Forest. We show that important species of consumed fish are currently threatened: of the 65 species mentioned by fishers as the most consumed fishes, 33% are decreasing and 54% have an unknown status. Thus, biological and ecological data for BAFC marine species are urgently needed, along with co-management, to promote fish conservation.
Access options
Buy single article
Instant access to the full article PDF.
US$ 39.95
Tax calculation will be finalised during checkout.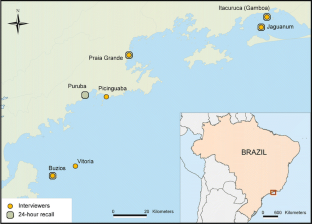 References
Andrew, N.L., C. Béné, S.J. Hall, E.H. Allison, S. Heck, and B.D. Ratner. 2007. Diagnosis and management of small-scale fisheries in developing countries. Fish and Fisheries 8: 227–240. doi:10.1111/j.1467-2679.2007.00252.x.

Begossi, A. 1992. The use of optimal foraging theory in the understanding of fishing strategies: A case from Sepetiba Bay (Rio de Janeiro State, Brazil). Human Ecology 20: 463–475.

Begossi, A. 1996a. The fishers and buyers from Búzios Island (Brazil): Kin ties and production. Ciência e Cultura 48: 142–147.

Begossi, A. 1996b. Fishing activities and strategies at Búzios Island (Brazil). In Proceedings of the world fisheries Congress, Theme 2, eds. R.M. Meyer, C. Zhang, M.L. Windsor, B.J. McCay, L.J. Hushak, and R.M. Muth, 125–141, Athens, May 1992. Calcutta: Oxford and IBH Publishing Co. Pvt. Ltd.

Begossi, A. 2006. The ethnoecology of Caiçara metapopulations (Atlantic Forest, Brazil): Ecological concepts and questions. Journal of Ethnobiology and Ethnomedicine 2006: 40. doi:10.1186/1746-4269-2-40.

Begossi, A. 2010. Small-scale fisheries in Latin America: Management models and challenges. MAST 9: 7–31.

Begossi, A. 2014. Ecological, cultural, and economic approaches to managing artisanal fisheries. Environment, Development and Sustainability 16: 5–34.

Begossi, A., and L. de Figueiredo. 1995. Ethnoichthyology of southern coastal fishermen: Cases from Búzios Island and Sepetiba Bay (Brazil). Bulletin of Marine Science 56: 710–717.

Begossi, A., and P.J. Richerson. 1993. Biodiversity, family income and ecological niche: A study on the consumption of animal foods on Búzios Island (Brazil). Ecology of Food and Nutrition 30: 51–61.

Begossi, A., and R.A.M. Silvano. 2008. Ecology and ethnoecology of dusky grouper [garoupa, Epinephelus marginatus (Lowe, 1834)] along the coast of Brazil. Journal of Ethnobiology and Ethnomedicine 4: 1.

Begossi, A., N. Hanazaki, and R.M. Ramos. 2004. Food chain and the reasons for fish food taboos among Amazonian and Atlantic Forest fishers (Brazil). Ecological Applications 14: 1334–1343.

Begossi, A., P.H. May, P.F. Lopes, L.E. Oliveira, V. Da Vinha, and R.A.M. Silvano. 2011. Compensation for environmental services from artisanal fisheries in SE Brazil: Policy and technical strategies. Ecological Economics 71: 25–32.

Begossi, A., S.V. Salyvonchyk, V. Nora, P.F. Lopes, and R.A.M. Silvano. 2012a. The Paraty artisanal fishery (southeastern Brazilian coast): Ethnoecology and management of a social–ecological system (SES). Journal of Ethnobiology and Ethnomedicine 8: 1.

Begossi, A., S.V. Salivonchyk, N. Hanazaki, I.M. Martins, and F. Bueloni. 2012b. Fishers (Paraty, RJ) and fish manipulation time: A variable associated to the choice for consumption and sale. Brazilian Journal of Biology 72: 973–975.

Begossi, A., P. Lopes, and R.A.M. Silvano. 2012c. Co-management of reef fisheries of the snapper–grouper complex in a human ecological context in Brazil. Global Progress in Ecosystem-Based Fisheries Management. doi:10.4027/gpebfm.2012.018.

Begossi, A., E. Camargo, and S. Carpi Jr. 2013. Os mapas da pesca artesanal - pesqueiros e pescadores na costa do Brasil. São Carlos: Editora Rima.

Begossi, A., S.V. Salivonchyk, and R.A.M. Silvano. 2016. Collaborative Research on dusky grouper (Epinephelus marginatus): Catches from the small-scale fishery of Copacabana Beach, Rio de Janeiro, Brazil. Journal of Coastal Zone Management 19: 428. doi:10.4172/2473-3350.1000428.

Béné, C. 2006. Small-scale fisheries: Assessing their contribution to rural livelihoods in developing countries. FAO Fisheries Circular, No. 1008. Rome: FAO.

Béné, C., M. Barange, R. Subasinghe, P. Pinstrup-Andersen, G. Merino, G. Hemre, and M. Williams. 2015. Feeding 9 billion by 2050—Putting fish back on the menu. Food Security 7: 261–274.

Béné, C., et al. 2016. Contribution to fisheries and aquaculture to food security and poverty reduction: Assessing the current evidence. World Development 79: 177–196.

De Graaf, G.J., R.J.R. Grainger, L. Westlund, R. Willmann, D. Mills, K. Kelleher, and K. Koranteng. 2011. The status of routine fishery data collection in Southeast Asia, Central America, the South Pacific, and West Africa, with special reference to small-scale fisheries. ICES Journal of Marine Science 68: 1743–1750.

Diegues, A.C.S.A. 1983. Pescadores, camponeses e trabalhadores do mar. São Paulo: Ática.

Froese, R., and D. Pauly. eds. 2016. FishBase. World Wide Web electronic publication. http://www.fishbase.org, version (02/2016).

Gerhardinger, L.C., E.A. Godoy, and P.J. Jones. 2009. Local ecological knowledge and the management of marine protected areas in Brazil. Ocean and Coastal Management 52: 154–165.

Hallwass, G., and R.A.M. Silvano. 2016. Patterns of selectiveness in the Amazonian freshwater fisheries: Implications for management. Journal of Environmental Planning and Management 59: 1537–1559.

Hallwass, G., P.F. Lopes, A.A. Juras, and R.A.M. Silvano. 2011. Fishing effort and catch composition of urban market and rural villages in Brazilian Amazon. Environmental Management 47: 188–200.

Hanazaki, N., and A. Begossi. 2003. Does fish still matter? Changes in the diet of two Brazilian fishing communities. Ecology of Food and Nutrition 42: 279–301. doi:10.1080/03670240390229643.

Hanazaki, N., R.R.N. Alves, and A. Begossi. 2009. Hunting and use of terrestrial fauna used by Caiçaras from the Atlantic Forest coast (Brazil). Journal of Ethnobiology and Ethnomedicine 2009: 36. doi:10.1186/1746-4269-5-36.

Hanazaki, N., F. Berkes, C.S. Seixas, and N. Peroni. 2013. Livelihood diversity, food security and resilience among the Caiçara of coastal Brazil. Human Ecology 41: 153–164. doi:10.1007/s10745-012-9553-9.

Jackson, J.B.C., et al. 2001. Historical overfishing and the recent collapse of coastal ecosystems. Science 293: 629–638.

Lacerda, L.D., and M.M. Molisani. 2006. Three decades of Cd and Zn contamination in Sepetiba Bay, SE Brazil: Evidence from the mangrove oyster Crassostraea rhizophorae baseline. Marine Pollution Bulletin 52: 969–987.

Lopes, P.F.M., E.M. Rosa, S.V. Salyvonchyk, V. Nora, and A. Begossi. 2013. Suggestions for fixing top-down coastal fisheries management through participatory approaches. Marine Policy 40: 100–110.

Lopes, P.F.M., S. Pacheco, M. Clauzet, R.A.M. Silvano, and A. Begossi. 2015. Fisheries, tourism, and marine protected areas: Conflicting or synergistic interactions? Ecosystem Services 16: 333–340.

McClanahan, T., E.H. Allison, and J.E. Cinner. 2015. Managing fisheries for human and food security. Fish and Fisheries 16: 78–103.

Myers, R.A., and B. Worm. 2003. Rapid worldwide depletion of predatory fish communities. Nature 423: 280–283.

Orr, S., J. Pittock, A. Chapagain, and D. Dumaresq. 2012. Dams on the Mekong River: Lost fish protein and the implications for land and water resources. Global Environmental Change 22: 925–932.

Pauly, D. 1995. Anecdotes and the shifting baseline syndrome in fisheries. Trends in Ecology and Evolution 10: 430.

Pauly, D., V. Christensen, S. Guénette, T.J. Pitcher, U.R. Sumaila, C.J. Walters, R. Watson, and D. Zeller. 2002. Towards sustainability in world fisheries. Nature 418: 689–695.

Pinheiro, H.T., et al. 2015. Brazilian aquatic biodiversity in peril. Science 350: 1043–1044.

Pinnegar, J.K., and G.H. Engelhard. 2007. The 'shifting baseline' phenomenon: A global perspective. Reviews in Fish Biology and Fisheries 18: 1–16.

Trotta, M., S. Schönhuth, T. Pepe, M.L. Cortesi, A. Puyet, and J.M. Bautista. 2005. Multiplex PCR method for use in real-time PCR for identification of fish fillets from grouper (Epinephelus and Mycteroperca species) and common substitute species. Journal of Agricultural and Food Chemistry 53: 2039–2045.

Worm, B., et al. 2006. Impacts of biodiversity loss on ocean ecosystem services. Science 314: 787–790.
Acknowledgements
We are very grateful for FAPESP Grants from 1996 to 2014 (#14/24994-8), FAPERJ (1989), CNPq (1990), and Productivity Scholarships CNPq to AB, NH, PFL and RAMS.
Electronic supplementary material
Below is the link to the electronic supplementary material.
About this article
Cite this article
Begossi, A., Salivonchyk, S., Hallwass, G. et al. Threatened fish and fishers along the Brazilian Atlantic Forest Coast. Ambio 46, 907–914 (2017). https://doi.org/10.1007/s13280-017-0931-9
Received:

Revised:

Accepted:

Published:

Issue Date:
Keywords
Biodiversity

Coastal

Conservation evaluation

Fish

Fishing

Littoral

Ocean