Abstract
Spatial prioritization could help target conservation actions directed to maintain both biodiversity and ecosystem services. We delineate hotspots and coldspots of two biodiversity conservation features and five regulating and cultural services by incorporating an indicator of 'threat', i.e. timber harvest profitability for forest areas in Telemark (Norway). We found hotspots, where high values of biodiversity, ecosystem services and threat coincide, ranging from 0.1 to 7.1% of the area, depending on varying threshold levels. Targeting of these areas for conservation follows reactive conservation approaches. In coldspots, high biodiversity and ecosystem service values coincide with low levels of threat, and cover 0.1–3.4% of the forest area. These areas might serve proactive conservation approaches at lower opportunity cost (foregone timber harvest profits). We conclude that a combination of indicators of biodiversity, ecosystem services and potential threat is an appropriate approach for spatial prioritization of proactive and reactive conservation strategies.
This is a preview of subscription content, log in to check access.
Access options
Buy single article
Instant access to the full article PDF.
US$ 39.95
Tax calculation will be finalised during checkout.
Subscribe to journal
Immediate online access to all issues from 2019. Subscription will auto renew annually.
US$ 99
Tax calculation will be finalised during checkout.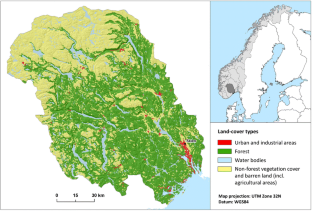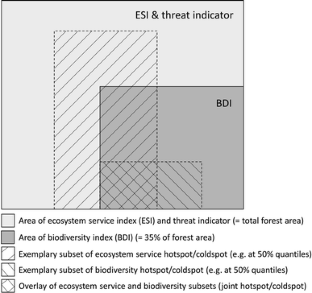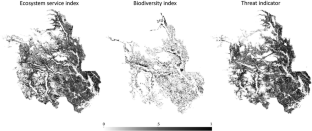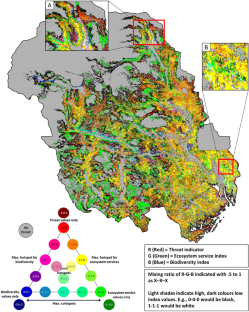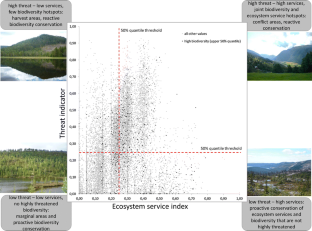 References
Allan, J.D., P.B. McIntyre, S.D.P. Smith, B.S. Halpern, G.L. Boyer, A. Buchsbaum, G.A. Burton, L.M. Campbell, et al. 2013. Joint analysis of stressors and ecosystem services to enhance restoration effectiveness. Proceedings of the National Academy of Sciences 110: 372–377.

Allan, J.D., S.D.P. Smith, P.B. McIntyre, C.A. Joseph, C.E. Dickinson, A.L. Marino, R.G. Biel, J.C. Olson, et al. 2015. Using cultural ecosystem services to inform restoration priorities in the Laurentian Great Lakes. Frontiers in Ecology and the Environment 13: 418–424.

Bagstad, K.J., D.J. Semmens, Z.H. Ancona, and B.C. Sherrouse. 2016. Evaluating alternative methods for biophysical and cultural ecosystem services hotspot mapping in natural resource planning. Landscape Ecology, 1–21.

Bebi, P., F. Kienast, and W. Schönenberger. 2001. Assessing structures in mountain forests as a basis for investigating the forests' dynamics and protective function. Forest Ecology and Management 145: 3–14.

Blumentrath, S., E. Bergseng, R. Astrup, and D.N. Barton, 2013. Using National Forest Inventories and publicly available map data for geographical mapping of opportunity costs of forestry environmental considerations. In: Lindhjem, H., Barton, D.N., Rusch, G.M., Sverdrup‐Thygeson, A., Blumentrath, S. (Eds.), Assessment of impact of proposed policy instruments for biodiversity conservation at local/municipal level—fine grain analysis for Norway. POLICYMIX Report Del. 7.1.2. NINA, Oslo.

Brang, P., W. Schönenberger, M. Frehner, R. Schwitter, J.J. Thormann, and B. Wasser. 2006. Management of protection forests in the European Alps: An overview. Forest Snow and Landscape Research 80: 23–44.

Brooks, T.M., R.A. Mittermeier, G.A.B. da Fonseca, J. Gerlach, M. Hoffmann, J.F. Lamoreux, C.G. Mittermeier, J.D. Pilgrim, et al. 2006. Global biodiversity conservation priorities. Science 313: 58–61.

Brown, C., B. Reyers, L. Ingwall-King, A. Mapendembe, J. Nel, P. O'Farrell, M. Dixon, and N.J. Bowles-Newark. 2014. Measuring ecosystem services: Guidance on developing ecosystem service indicators. Cambridge, UK: UNEP-WCMC.

Bryant, D., D. Nielsen, and L. Tangley. 1997. Last frontier forests. Washington, DC: World Resources Institute.

Ceauşu, S., I. Gomes, and H.M. Pereira. 2015. Conservation planning for biodiversity and wilderness: A real-world example. Environmental Management 55: 1168–1180.

Chan, K.M.A., L. Hoshizaki, and B. Klinkenberg. 2011. Ecosystem services in conservation planning: Targeted benefits vs. co-benefits or costs? PLoS ONE 6: e24378.

Cimon-Morin, J., M. Darveau, and M. Poulin. 2013. Fostering synergies between ecosystem services and biodiversity in conservation planning: A review. Biological Conservation 166: 144–154.

Finér, L., H. Mannerkoski, S. Piirainen, and M. Starr. 2003. Carbon and nitrogen pools in an old-growth, Norway spruce mixed forest in eastern Finland and changes associated with clear-cutting. Forest Ecology and Management 174: 51–63.

Framstad, E., and A. Sverdrup-Thygeson. 2015. Økt hogst av skog i Norge—effekter på naturmangfold, NINA Rapport 1149. Oslo: NINA.

Gough, L.A., T. Birkemoe, and A. Sverdrup-Thygeson. 2014. Reactive forest management can also be proactive for wood-living beetles in hollow oak trees. Biological Conservation 180: 75–83.

Gundersen, V.S., and L.H. Frivold. 2008. Public preferences for forest structures: A review of quantitative surveys from Finland, Norway and Sweden. Urban Forestry and Urban Greening 7: 241–258.

Henriksen, S. and O. Hilmo. 2015. Status for truete arter i skog. Norsk rødliste for arter 2015. Artsdatabanken.

Humphreys, E.R., T.A. Black, K. Morgenstern, T. Cai, G.B. Drewitt, Z. Nesic, and J.A. Trofymow. 2006. Carbon dioxide fluxes in coastal Douglas-fir stands at different stages of development after clearcut harvesting. Agricultural and Forest Meteorology 140: 6–22.

Joppa, L.N., and A. Pfaff. 2009. High and far: Biases in the location of protected areas. PLoS ONE 4: e8273.

Kareiva, P., and M. Marvier. 2003. Conserving biodiversity coldspots. American Scientist 91: 344–351.

Kati, V., P. Devillers, M. Dufrêne, A. Legakis, D. Vokou, and P. Lebrun. 2004. Hotspots, complementarity or representativeness? Designing optimal small-scale reserves for biodiversity conservation. Biological Conservation 120: 471–480.

Klein, C.J., V.J. Tulloch, B.S. Halpern, K.A. Selkoe, M.E. Watts, C. Steinback, A. Scholz, and H.P. Possingham. 2013. Tradeoffs in marine reserve design: Habitat condition, representation, and socioeconomic costs. Conservation Letters 6: 324–332.

Lee, H., and S. Lautenbach. 2016. A quantitative review of relationships between ecosystem services. Ecological Indicators 66: 340–351.

Lindenmayer, D.B., P.S. Barton, P.W. Lane, M.J. Westgate, L. McBurney, D. Blair, P. Gibbons, and G.E. Likens. 2014. An empirical assessment and comparison of species-based and habitat-based surrogates: A case study of forest vertebrates and large old trees. PLoS ONE 9: e89807.

Locatelli, B., P. Imbach, and S. Wunder. 2014. Synergies and trade-offs between ecosystem services in Costa Rica. Environmental Conservation 41: 27–36.

Margules, C.R., and R.L. Pressey. 2000. Systematic conservation planning. Nature 405: 243–253.

Maron, M., M.G.E. Mitchell, R.K. Runting, J.R. Rhodes, G.M. Mace, D.A. Keith, and J.E.M. Watson. 2017. Towards a threat assessment framework for ecosystem services. Trends in Ecology & Evolution 32: 240–248.

Moen, A. 1999. National atlas of Norway: Vegetation. Hønefoss: Norwegian Mapping Authority.

Myers, N. 1990. The biodiversity challenge: Expanded hot-spots analysis. Environmentalist 10: 243–256.

Myers, N., R.A. Mittermeier, C.G. Mittermeier, G.A.B. da Fonseca, and J. Kent. 2000. Biodiversity hotspots for conservation priorities. Nature 403: 853–858.

Naidoo, R., A. Balmford, P.J. Ferraro, S. Polasky, T.H. Ricketts, and M. Rouget. 2006. Integrating economic costs into conservation planning. Trends in Ecology & Evolution 21: 681–687.

Norwegian Environmental Agency. 2013. Naturbase. Norwegian Environmental Agency (Miljødirektoratet), Trondheim.

Orme, C.D.L., R.G. Davies, M. Burgess, F. Eigenbrod, N. Pickup, V.A. Olson, A.J. Webster, T.-S. Ding, et al. 2005. Global hotspots of species richness are not congruent with endemism or threat. Nature 436: 1016–1019.

Pierson, J.C., P.S. Barton, P.W. Lane, and D.B. Lindenmayer. 2015. Can habitat surrogates predict the response of target species to landscape change? Biological Conservation 184: 1–10.

Ricketts, T.H., K.B. Watson, I. Koh, A.M. Ellis, C.C. Nicholson, S. Posner, L.L. Richardson, and L.J. Sonter. 2016. Disaggregating the evidence linking biodiversity and ecosystem services. Nature Communications 7: 13106.

Sarkar, S., R.L. Pressey, D.P. Faith, C.R. Margules, T. Fuller, D.M. Stoms, A. Moffett, K.A. Wilson, et al. 2006. Biodiversity conservation planning tools: Present status and challenges for the future. Annual Review of Environment and Resources 31: 123–159.

Schröter, M., D.N. Barton, R.P. Remme, and L. Hein. 2014a. Accounting for capacity and flow of ecosystem services: A conceptual model and a case study for Telemark, Norway. Ecological Indicators 36: 539–551.

Schröter, M., and R.P. Remme. 2016. Spatial prioritisation for conserving ecosystem services: comparing hotspots with heuristic optimisation. Landscape Ecology 31: 431–450.

Schröter, M., G.M. Rusch, D.N. Barton, S. Blumentrath, and B. Nordén. 2014b. Ecosystem services and opportunity costs shift spatial priorities for conserving forest biodiversity. PLoS ONE 9: e112557.

Schulp, C.J.E., B. Burkhard, J. Maes, J. Van Vliet, and P.H. Verburg. 2014. Uncertainties in ecosystem service maps: A comparison on the European Scale. PLoS ONE 9: e109643.

Seibold, S., C. Bässler, R. Brandl, B. Büche, A. Szallies, S. Thorn, M.D. Ulyshen, and J. Müller. 2016. Microclimate and habitat heterogeneity as the major drivers of beetle diversity in dead wood. Journal of Applied Ecology 53: 934–943.

Storaunet, K.O., and E. Framstad. 2015. Skog. In Naturindeks for Norge 2015, ed. E. Framstad, 76–84. Miljødirektoratet, Trondheim: Tilstand og utvikling for biologisk mangfold.

Sverdrup-Thygeson, A., G. Søgaard, G.M. Rusch, and D.N. Barton. 2014. Spatial overlap between environmental policy instruments and areas of high conservation value in forest. PLoS ONE 9: e115001.

Timilsina, N., F.J. Escobedo, W.P. Cropper, A. Abd-Elrahman, T.J. Brandeis, S. Delphin, and S. Lambert. 2013. A framework for identifying carbon hotspots and forest management drivers. Journal of Environmental Management 114: 293–302.

Trizzino, M., F. Bisi, L. Maiorano, A. Martinoli, M. Petitta, D.G. Preatoni, and P. Audisio. 2014. Mapping biodiversity hotspots and conservation priorities for the Euro-Mediterranean headwater ecosystems, as inferred from diversity and distribution of a water beetle lineage. Biodiversity and Conservation 24: 149–170.

Tyrväinen, L., E. Mäntymaa, and V. Ovaskainen. 2014. Demand for enhanced forest amenities in private lands: The case of the Ruka-Kuusamo tourism area, Finland. Forest Policy and Economics 47: 4–13.

UNEP. 2010. The strategic plan for biodiversity 2011–2020 and the aichi biodiversity targets. Decision UNEP/CBD/COP/DEC/X/2, adopted by the conference of the parties to the convention on biological diversity.

Vallecillo, S., C. Polce, A. Barbosa, C.P. Castillo, G. Zulian, I. Vandecasteele, G.M. Rusch, and J. Maes, in revision. Spatial planning for investment in green infrastructure and ecosystem restoration across the EU. Landscape and Urban Planning.

Westgate, M.J., P.S. Barton, P.W. Lane, and D.B. Lindenmayer. 2014. Global meta-analysis reveals low consistency of biodiversity congruence relationships. Nature Communications 5: 3899.

Willemen, L., L. Hein, M.E.F. van Mensvoort, and P.H. Verburg. 2010. Space for people, plants, and livestock? Quantifying interactions among multiple landscape functions in a Dutch rural region. Ecological Indicators 10: 62–73.
Acknowledgements
We thank three anonymous reviewers for constructive comments on an earlier version of the paper. We thank Stefan Blumentrath for providing the data on timber harvest profitability. GMR received funding from the European Union's Seventh Programme for research, technological development and demonstration under grant agreement No. 244065 (POLICYMIX Project (http://policymix.nina.no)).
Electronic supplementary material
Below is the link to the electronic supplementary material.
About this article
Cite this article
Schröter, M., Kraemer, R., Ceauşu, S. et al. Incorporating threat in hotspots and coldspots of biodiversity and ecosystem services. Ambio 46, 756–768 (2017). https://doi.org/10.1007/s13280-017-0922-x
Received:

Revised:

Accepted:

Published:

Issue Date:
Keywords
Carbon sequestration

Carbon storage

Conservation management

Existence value

Recreation

Spatial priority setting