Abstract
In human-populated landscapes worldwide, domestic dogs (Canis lupus familiaris) are the most abundant terrestrial carnivore. Although dogs have been used for the protection of livestock from wild carnivores, they have also been implicated as predators of livestock. We used a combination of methods (field surveys, interview surveys, and data from secondary sources) to examine the patterns and factors driving livestock depredation by free-ranging dogs, as well as economic losses to local communities in a Trans-Himalayan agro-pastoralist landscape in India. Our results show that livestock abundance was a better predictor of depredation in the villages than local dog abundance. Dogs mainly killed small-bodied livestock and sheep were the most selected prey. Dogs were responsible for the majority of livestock losses, with losses being comparable to that by snow leopards. This high level of conflict may disrupt community benefits from conservation programs and potentially undermine the conservation efforts in the region through a range of cascading effects.
Access options
Buy single article
Instant access to the full article PDF.
US$ 39.95
Tax calculation will be finalised during checkout.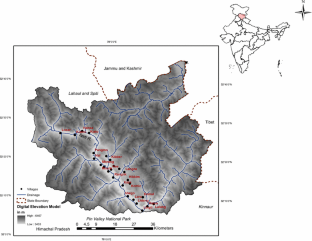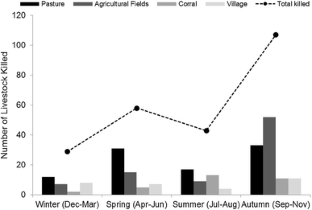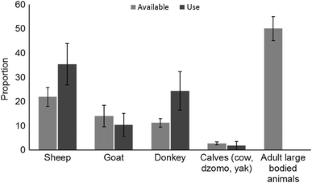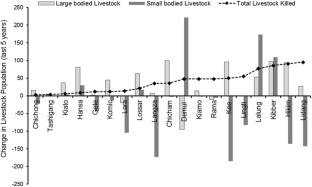 References
Abrams, P.A. 1993. Why predation rate should not be proportional to predator density. Ecology 74: 726–733.

Aebischer, N.J., P.A. Robertson, and R.E. Kenward. 1993. Compositional analysis of habitat use from animal radio tracking data. Ecology 74: 1313–1325.

Anonymous. 2011. Management plan for the Upper Spiti Landscape including the Kibber Wildlife Sanctuary. Nature Conservation Foundation, Wildlife Wing—Himachal Pradesh Forest Department and Youth Groups in Spiti.

Axelsson, E., A. Ratnakumar, M.-L. Arendt, K. Maqbool, M.T. Webster, M. Perloski, O. Liberg, J.M. Arnemo, et al. 2013. The genomic signature of dog domestication reveals adaptation to a starch-rich diet. Nature 495: 360–364. doi:10.1038/nature11837.

Bergman, D., and S. Bender. 2009. Dogs gone wild : Feral dog damage in the United States. In Proceedings of the 13th WDM conference, ed. J. Boulanger, 177–183. New York: Saratoga Springs.

Bino, G., A. Dolev, D. Yosha, A. Guter, R. King, D. Saltz, and S. Kark. 2010. Abrupt spatial and numerical responses of overabundant foxes to a reduction in anthropogenic resources. Journal of Applied Ecology 47: 1262–1271. doi:10.1111/j.1365-2664.2010.01882.x.

Bishop, N. 1998. Himalayan herders. In Case studies in cultural anthropology, ed. G. Spindler, and L. Spindler. Fort Worth, TX: Hartcourt Brace.

Blair, B.J., and T.W. Townsend. 1983. Dog predation of domestic sheep in Ohio. Journal of Range Management 36: 527–528. doi:10.2307/3897961.

Bouvier, M., and C. Arthur. 1995. Protection et indemnisation des degats d'ours aux troupeaux domestiques dans les Pyrenees occidentales: Fonctionnement, importance economique et role dans la protection de l'ours. In Proceedings on the management and restoration of small and relictual bear populations, ed. F. Bourliere, V. Barre, J. Camerra, V. Herrenschmidt, F. Moutou, C. Servheen, S. Stuart, and M. Saint Girons, 510–521. Paris: Museum of Natural History.

Burnham, K.P., and D.R. Anderson. 2002. Model selection and multi model inference: A practical information-theoretic approach, 2nd ed. New York: Springer.

Caniglia, R., E. Fabbri, L. Mastrogiuseppe, and E. Randi. 2013. Who is who? Identification of livestock predators using forensic genetic approaches. Forensic Science International: Genetics 7: 397–404. doi:10.1016/j.fsigen.2012.11.001.

Champion, H.G., and S.K. Seth. 1968. A revised survey of the forest types of India. Delhi: Manager of Publications, GOI.

Clark, T.W., A.P. Curlee, and R.P. Reading. 1996. Crafting effective solutions to the large carnivore conservation problem. Conservation Biology 10: 940–948. doi:10.1046/j.1523-1739.1996.10040940.x.

Echegaray, J., and C. Vila. 2010. Noninvasive monitoring of wolves at the edge of their distribution and the cost of their conservation. Animal Conservation 13: 157–161.

Fischer, J.D., S.H. Cleeton, T.P. Lyons, J.R. Miller, J.D. Fischer, S.H. Cleeton, and P. Timothy. 2012. Urbanization and the predation paradox: The role of trophic dynamics in structuring vertebrate communities. BioScience 62: 809–818. doi:10.1525/bio.2012.62.9.6.

Ghoshal, A., Y.V. Bhatnagar, C. Mishra, and K. Suryawanshi. 2016. Response of the red fox to expansion of human habitation in the Trans-Himalayan mountains. European Journal of Wildlife Research 62: 131–136. doi:10.1007/s10344-015-0967-8.

Goldstein, I., S. Paisley, R. Wallace, J.P. Jorgenson, F. Cuesta, and A. Castellanos. 2006. Andean bear-livestock conflicts: A review. Ursus 17: 8–15. doi:10.2192/1537-6176(2006)17[8:ABCAR]2.0.CO;2.

Gompper, M.E. 2014. The dog-human-wildlife interface: Assessing the scope of the problem. In Free-ranging dogs and wildlife conservation, ed. M.E. Gompper, 9–54. Oxford: Oxford University Press.

Goswami, V.R., M.D. Madhusudan, and K.U. Karanth. 2007. Application of photographic capture–recapture modelling to estimate demographic parameters for male Asian elephants. Animal Conservation 10: 391–399.

GRASS Development Team. 2015. Geographic Resources Analysis Support System (GRASS) Software, Version 7.0. Open Source Geospatial Foundation. http://grass.osgeo.org.

Gunther, K.A., M.A. Haroldson, K. Frey, S.L. Cain, J. Copeland, and C.C. Schwartz. 2004. Grizzly bear–human conflicts in the Greater Yellowstone ecosystem, 1992–2000. Ursus 15: 10–22.

Handa, O. 1994. Tabo Monastery and Buddhism in the Trans-Himalaya: Thousand years of existence of the Tabo Chos-Khor. New Delhi: Indus Publishing.

Harihar, A., M. Ghosh-Harihar, and D.C. MacMillan. 2014. Human resettlement and tiger conservation—Socio-economic assessment of pastoralists reveals a rare conservation opportunity in a human-dominated landscape. Biological Conservation 169: 167–175. doi:10.1016/j.biocon.2013.11.012.

Hennelly, L., B. Habib, and S. Lyngdoh. 2015. Himalayan wolf and feral dog displaying mating behaviour in Spiti Valley, India, and potential conservation threats from sympatric feral dogs. Canid Biology and Conservation 18: 27–30.

Hughes, J., and D.W. Macdonald. 2013. A review of the interactions between free-roaming domestic dogs and wildlife. Biological Conservation 157: 341–351.

Iliopoulos, Y., S. Sgardelis, V. Koutis, and D. Savaris. 2009. Wolf depredation on livestock in central Greece. Acta Theriologica 54: 11–22.

Kaartinen, S., M. Luoto, and I. Kojola. 2009. Carnivore-livestock conflicts: Determinants of wolf (Canis lupus) depredation on sheep farms in Finland. Biodiversity and Conservation 18: 3503–3517. doi:10.1007/s10531-009-9657-8.

Karanth, K.U., J.D. Nichols, N.S. Kumar, W.A. Link, and J.E. Hines. 2004. Tigers and their prey: Predicting carnivore densities from prey abundance. Proceedings of the National Academy of Sciences of the United States of America 101: 4854–4858. doi:10.1073/pnas.0306210101.

Karlsson, J., and M. Sjostrom. 2007. Human attitudes towards wolves, a matter of distance. Biological Conservation 137: 610–616. doi:10.1016/j.biocon.2007.03.023.

Korpimaki, E., and K. Norrdahl. 1991. Numerical and functional responses of kestrels, short-eared owls, and long-eared owls to vole densities. Ecology 72: 814–826.

Kumar, A., and R. Paliwal. 2015. Feral dogs of Spiti Valley, Himachal Pradesh: An emerging threat for wildlife and human life. Current Science 108: 1799–1800.

Laporte, I., T.B. Muhly, J.A. Pitt, M. Alexander, and M. Musiani. 2010. Effects of wolves on elk and cattle behaviors: Implications for livestock production and wolf conservation. PLoS ONE 5: e11954. doi:10.1371/journal.pone.0011954.

Lescureux, N., and J.D.C. Linnell. 2014. Warring brothers: The complex interactions between wolves (Canis lupus) and dogs (Canis familiaris) in a conservation context. Biological Conservation 171: 232–245. doi:10.1016/j.biocon.2014.01.032.

Miller, J.R.B., Y.V. Jhala, J. Jena, and O.J. Schmitz. 2015. Landscape-scale accessibility of livestock to tigers: Implications of spatial grain for modeling predation risk to mitigate human-carnivore conflict. Ecology and Evolution 5: 1354–1367. doi:10.1002/ece3.1440.

Mishra, C. 1997. Livestock depredation by large carnivores in the Indian trans-Himalaya: Conflict perceptions and conservation prospects. Environmental Conservation 24: 338–343. doi:10.1017/S0376892997000441.

Mishra, C., H.H.T. Prins, and S.E. Van Wieren. 2003a. Diversity, risk mediation, and change in a Trans-Himalayan agropastoral system. Human Ecology 31: 595–609.

Mishra, C., P. Allen, T. McCarthy, M.D. Madhusudan, A. Bayarjargal, and H.H.T. Prins. 2003b. The role of incentive programs in conserving the snow leopard. Conservation Biology 17: 1512–1520.

Moehlman, P.D. 1989. Intraspecific variation in canid social systems. In carnivore Behavior, ecology and evolution, ed. J.L. Gittleman, 143–163. Berlin: Springer.

Nie, M.A. 2001. The sociopolitical dimensions of wolf management and restoration in the United States. Human Ecology Review 8: 1–12.

Otis, D., K. Burnham, G. White, and D. Anderson. 1978. Statistical inference from capture data on closed animal populations. Wildlife Monographs 62: 3–135.

Pal, R. 2013. Estimates of dog abundance and livestock predation along a gradient of village sizes in the Spiti Valley, Himachal Pradesh. MSc Thesis. Guru Gobind Singh Indraprastha University, New Delhi.

Piédallu, B., P.-Y. Quenette, C. Mounet, N. Lescureux, M. Borelli-Massines, E. Dubarry, J.-J. Camarra, and O. Gimenez. 2016. Spatial variation in public attitudes towards brown bears in the French Pyrénées. Biological Conservation 197: 90–97. doi:10.1016/j.biocon.2016.02.027.

Pollock, K.H., J.D. Nichols, C. Brownie, and J.E. Hines. 1990. Statistical inference for capture-recapture experiments. Wildlife Monographs 107: 1–97.

QGIS Development Team. 2014. QGIS Geographic Information System. Open Source Geospatial Foundation Project. http://qgis.osgeo.org.

R Core Team. 2015. R: A language and environment for statistical computing. R Foundation for Statistical Computing, Vienna. https://www.R-project.org/.

Riley, S., S. DeGloria, and R. Elliot. 1999. A terrain ruggedness index that quantifies topographic heterogeneity. Intermountain Journal of Science 5: 23–27.

Ritchie, E.G., C.R. Dickman, M. Letnic, and A.T. Vanak. 2014. Dogs as predators and trophic regulators. In Free-ranging dogs and wildlife conservation, ed. M.E. Gompper, 55–68. Oxford: Oxford University Press.

Robinson, O.C. 2014. Sampling in interview-based qualitative research: A theoretical and practical guide. Qualitative Research in Psychology 11: 25–41.

Rodewald, A.D., L.J. Kearns, and D.P. Shustack. 2011. Anthropogenic resource subsidies decouple predator-prey relationships. Ecological Applications 21: 936–943. doi:10.1890/10-0863.1.

Sharma, R.K., and Y.V. Jhala. 2011. Monitoring tiger populations using intensive search in a capture–recapture framework. Population Ecology 53: 373–381. doi:10.1007/s10144-010-0230-9.

Stanley, T., and K. Burnham. 1999. A closure test for time-specific capture-recapture data. Environmental and Ecological Statistics 6: 197–209.

Suryawanshi, K.R., Y.V. Bhatnagar, S. Redpath, and C. Mishra. 2013. People, predators and perceptions: Patterns of livestock depredation by snow leopards and wolves. Journal of Applied Ecology 50: 550–560. doi:10.1111/1365-2664.12061.

Suryawanshi, K.R., S. Bhatia, Y.V. Bhatnagar, S. Redpath, and C. Mishra. 2014. Multiscale factors affecting human attitudes toward snow leopards and wolves. Conservation Biology 28: 1657–1666. doi:10.1111/cobi.12320.

Totton, S.C., A.I. Wandeler, J. Zinsstag, C.T. Bauch, C.S. Ribble, R.C. Rosatte, and S.A. McEwen. 2010. Stray dog population demographics in Jodhpur, India following a population control/rabies vaccination program. Preventive Veterinary Medicine 97: 51–57. doi:10.1016/j.prevetmed.2010.07.009.

Treves, A., and C. Bonacic. 2016. Humanity's dual response to dogs and wolves. Trends in Ecology & Evolution 31: 489–491. doi:10.1016/j.tree.2016.04.006.

Treves, A., and K.U. Karanth. 2003. Human-carnivore conflict and perspectives on carnivore management worldwide. Conservation Biology 17: 1491–1499. doi:10.1111/j.1523-1739.2003.00059.x.

Vucetich, J.A., R.O. Peterson, and C.L. Schaefer. 2002. The effect of prey and predator densities on wolf predation. Ecology 83: 3003–3013. doi:10.1890/0012-9658(2002)083[3003:TEOPAP]2.0.CO;2.

Wellenreuther, M. 2002. Response of predators to prey abundance: Separating the effects of prey density and patch size. Journal of Experimental Marine Biology and Ecology 273: 61–71. doi:10.1016/S0022-0981(02)00145-4.

Wierzbowska, I.A., M. Hędrzak, B. Popczyk, H. Okarma, and K.R. Crooks. 2016. Predation of wildlife by free-ranging domestic dogs in Polish hunting grounds and potential competition with the grey wolf. Biological Conservation 201: 1–9. doi:10.1016/j.biocon.2016.06.016.

Young, J.K., K.A. Olson, R.P. Reading, S. Amgalanbaatar, and J. Berger. 2011. Is wildlife going to the dogs? Impacts of feral and free-roaming dogs on wildlife populations. BioScience 61: 125–132. doi:10.1525/bio.2011.61.2.7.
Acknowledgements
Financial support for this study was provided through the International Foundation for Science grant to CH. We would like to thank the Himachal Pradesh Forest Department, particularly the Divisional Forest Officer, Kaza, Shri Rajesh Sharma and Range Officer, Kaza, Shri Devender Singh Chauhan for their logistic support. We would like to thank the Animal Husbandry Department, Kaza, for facilitating secondary data collection. CH would like to thank Charudutt Mishra, NCF for helping in conceptualizing the paper and Ajay Bijoor, NCF for overall logistic support in field. We thank Maria Thaker for providing useful comments on the manuscript. We are thankful to the entire NCF field crew in Kibber: Chunit Kesang, Tanzin Thinley, Tanzin Thuktan, Rinchen Tobgye, Lobzang Gyalson, Kalzang Gurmet, Chudim Dorje, Sherup, Lama Tenzing, Tashi Gonpo, Takpa Tanzin, field crew from Lalung village, and the reserve guards of Chicham and Lossar village for immense support during fieldwork. We would like to thank the respondents and herders for their support and participation in data collection. Finally, we thank the three anonymous reviewers whose suggestions have improved the quality of the manuscript.
Electronic supplementary material
Below is the link to the electronic supplementary material.
About this article
Cite this article
Home, C., Pal, R., Sharma, R.K. et al. Commensal in conflict: Livestock depredation patterns by free-ranging domestic dogs in the Upper Spiti Landscape, Himachal Pradesh, India. Ambio 46, 655–666 (2017). https://doi.org/10.1007/s13280-016-0858-6
Received:

Revised:

Accepted:

Published:

Issue Date:
Keywords
Canis lupus familiaris

Economic loss

High-altitude desert

Human–animal conflict

Human-subsidized carnivore