Abstract
Although Small Hydropower Projects (SHPs) are encouraged as sources of clean and green energy, there is a paucity of research examining their socio-ecological impacts. We assessed the perceived socio-ecological impacts of 4 SHPs within the Western Ghats in India by conducting semi-structured interviews with local respondents. Primary interview data were sequentially validated with secondary data, and respondent perceptions were subsequently compared against the expected baseline of assured impacts. We evaluated the level of awareness about SHPs, their perceived socio-economic impacts, influence on resource access and impacts on human–elephant interactions. The general level of awareness about SHPs was low, and assurances of local electricity and employment generation remained largely unfulfilled. Additionally most respondents faced numerous unanticipated adverse impacts. We found a strong relationship between SHP construction and increasing levels of human–elephant conflict. Based on the disparity between assured and actual social impacts, we suggest that policies regarding SHPs be suitably revised.
This is a preview of subscription content,
to check access.
Access this article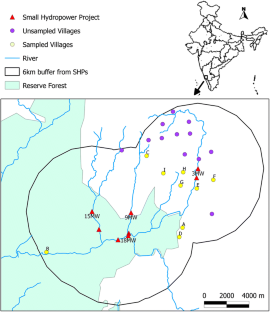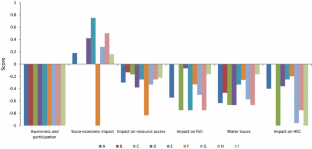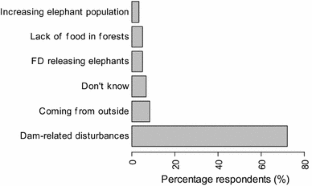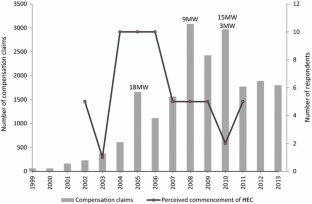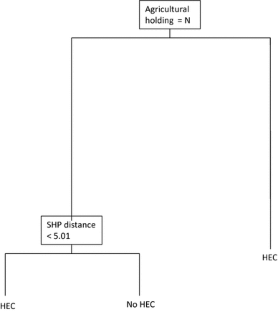 References
Abbasi, T., and S.A. Abbasi. 2011. Small hydro and the environmental implications of its extensive utilization. Renewable and Sustainable Energy Reviews 15: 2134–2143. doi:10.1016/j.rser.2010.11.050.

Ahmad, A., S. Khalid, S.H. Qaisar, and T. Gourav. 2014. The contemporary scenario of Indian renewable energy sector. International Research Journal of Environment Sciences 3: 82–89.

Anderson, D., H. Moggridge, P. Warren, and J. Shucksmith. 2014. The impacts of "run-of-river" hydropower on the physical and ecological condition of rivers. Water and Environment Journal 29: 268–276. doi:10.1111/wej.12101.

Atul Bhardwaj v. Himachal Pradesh Pollution Control Board and Others. Original Application No. 176/2014.

Baker, J.M. 2014. Small hydropower development in Himachal Pradesh. Economic and Political Weekly 49: 77–86.

Balat, H. 2007. A renewable perspective for sustainable energy development in Turkey: The case of small hydropower plants. Renewable and Sustainable Energy Reviews 11: 2152–2165. doi:10.1016/j.rser.2006.03.002.

Bamberger, M., J. Rugh, and L. Mabry. 2011. Real world evaluation: Working under budget, time, data and political constraints, II ed. London: Sage Publications.

Bariball, K.L., and A. While. 1994. Collecting data using a semi-structured interview: a discussion paper. Journal of Advanced Nursing 19: 328–335.

Başkaya, Ş., E. Başkaya, and A. Sari. 2011. The principal negative environmental impacts of small hydropower plants in Turkey. African Journal of Agricultural Research 6: 3284–3290.

Bhaumik, S. 2012. Tripura: Ethnic conflict, militancy and counterinsurgency. Policies and Practices, Mahanirban Calcutta Research Group, Report 52, Kolkata, India.

Chaurey, A., K. Lata, P. Mohanty, and A. Kumar. 2005. RETs theme—Renewable energy in South East Asia for improving access to energy (With focus on India and Nepal). The Energy and Resources Institute (TERI), Report 2003RT70, New Delhi, India.

De'ath, G., and K.E. Fabricius. 2000. Classification and regression trees: A powerful yet simple technique for ecological data analysis. Ecology 81: 3178–3192. doi:10.1890/0012-9658(2000)081[3178:CARTAP]2.0.CO;2.

Diefenbach, T. 2009. Are case studies more than sophisticated storytelling? Methodological problems of qualitative empirical research mainly based on semi-structured interviews. Quality & Quantity 43: 875–894. doi:10.1007/s11135-008-9164-0.

Dudani, S., M.D.S. Chandran, G.R. Rao, V. Mukri, H. Bhat, and T.V. Ramachandra. 2010. Biodiversity, ecology and socio-economic aspects of Gundia River basin. Energy and Wetlands Research Group, Centre for Ecological Sciences, Indian Institute of Science, Bangalore, India. http://wgbis.ces.iisc.ernet.in/energy/lake2010/Theme%201/sumesh_d.pdf. Retrieved 20 Feb 2016.

Erlewein, A. 2013. Disappearing rivers—The limits of environmental assessment for hydropower in India. Environmental Impact Assessment Review 43: 135–143. doi:10.1016/j.eiar.2013.07.002.

Fernando, P., H.K. Janaka, T. Prasad, and J. Pastorini. 2010. Identifying elephant movement patterns by direct observation. Gajah 33: 41–46.

Ghosh, A., S. Majumdar, and A. Kaur. 2012. Steady growth in small hydro power; however significant challenges remain. ICRA Limited, New Delhi, India. http://www.icra.in/Files/ticker/SHP%20note-.pdf. Retrieved 2 Feb 2016.

Gleick, P.H. 1992. Environmental consequences of hydroelectric development: the role of facility size and type. Energy 17: 735–747.

Haya, B., and P. Parekh. 2011. Hydropower in the CDM: Examining additionality and criteria for sustainability. Energy and Resources Group Working Paper ERG-11-001, University of California, Berkely, United States of America. https://papers.ssrn.com/sol3/papers.cfm?abstract_id=2120862. Retrieved 10 Jan 2016.

Hothorn, T., K. Hornik, and A. Zeileis. 2006. Unbiased recursive partitioning: A conditional inference framework. Journal of Computational and Graphical Statistics 15: 651–674.

Islar, M. 2012. Privatised hydropower development in Turkey: A case of water grabbing? Water Alternatives 5: 376–391.

Johnsingh, A.J.T., and J. Joshua. 1994. Conserving Rajaji and Corbett National Parks—The elephant as a flagship species. Oryx 28: 135–140.

Kasturirangan, K., C.R. Babu, J.M. Mauskar, K. Chopra, J. Kishwan, D. Shankar, S. Narain, P.S. Roy, A. Tyagi, et al. 2013. Report of the High Level Working Group on Western Ghats. http://www.moef.gov.in/sites/default/files/1%20HLWG-Report-Part-1_0.pdf. Retrieved 2 July 2016.

Kibler, K.M., and D.D. Tullos. 2013. Cumulative biophysical impact of small and large hydropower development in Nu River, China. Water Resources Research 49: 3104–3118. doi:10.1002/wrcr.20243.

Kosnik, L. 2008. The potential of water power in the fight against global warming in the US. Energy Policy 36: 3252–3265. doi:10.1016/j.enpol.2008.05.009.

Liu, H., D. Masera, and L. Esser. 2013. World Small Hydropower development report 2013. United Nations Industrial Development Organisation; International Center on Small Hydro Power. www.smallhydroworld.org. Retrieved 20 Feb 2016.

Millennium Ecosystem Assessment. 2005. Ecosystems and human well-being: synthesis. Washington DC: Island Press.

MNRE (Ministry of New and Renewable Energy), Government of India. 2015. Annual Report. http://mnre.gov.in/file-manager/annual-report/2014-2015/EN/Cover_Inside.htm. Retrieved 3 Feb 2016.

Molur, S., K.G. Smith, B.A. Daniel, and W.R.T. Darwall. 2011. The status and distribution of freshwater biodiversity in the Western Ghats, India. Cambridge, UK and Gland, Switzerland: IUCN, and Coimbatore, India: Zoo Outreach Organisation.

Myers, N., R.A. Mittermeier, C.G. Mittermeier, G.A.B. da Fonseca, and J. Kent. 2000. Biodiversity hotspots for conservation priorities. Nature 403: 853–858. doi:10.1038/35002501.

National Mission on Small Hydro: Enriching Remote Areas through Small Hydro (2015). http://mnre.gov.in/file-manager/UserFiles/Draft-national-mission-on-SHP.pdf. Retrieved 5 Jan 2016.

Nautiyal, H., S.K. Singal, V. Varun, and A. Sharma. 2011. Small hydropower for sustainable energy development in India. Renewable and Sustainable Energy Reviews 15: 2021–2027. doi:10.1016/j.rser.2011.01.006.

Pang, M., L. Zhang, S. Ulgiati, and C. Wang. 2015. Ecological impacts of small hydropower in China: Insights from an emergy analysis of a case plant. Energy Policy 76: 112–122.

Patton, M.Q. 1990. Qualitative research and evaluation methods. London: Sage Publication.

QGIS Development Team. 2012. QGIS Geographic Information System. Open Source Geospatial Foundation Project.

R Core Team. 2013. R: A language and environment for statistical computing. Vienna: R Foundation for Statistical Computing.

Rabanal, L.I., H.S. Kuehl, R. Mundry, M.M. Robbins, and C. Boesch. 2010. Oil prospecting and its impact on large rainforest mammals in Loango National Park, Gabon. Biological Conservation 143: 1017–1024. doi:10.1016/j.biocon.2010.01.017.

Ramachandra, T.V., M.D.S. Chandran, H. Bhat, S. Dudani, G.R. Rao, M. Boominathan, V. Mukri, S. Bharath. 2010. Biodiversity, ecology and socio-economic aspects of Gundia River basin in the context of proposed mega hydroelectric power project. Energy and Wetland Research Group, Centre for Ecological Sciences, Indian Institute of Science, CES Technical Report 122, Bangalore, India.

Ramachandra, T.V., S. Vinay, and B.H. Aithal. 2015. Environmental Flow Assessment in Yettinahole. Energy and Wetland Research Group, Centre for Ecological Sciences, Indian Institute of Science, Sahyadri Conservation Series 48, ETR 91, Bangalore, India.

Reddy, V.R., J.I. Uitto, D.R. Frans, and N. Matin. 2006. Achieving global environmental benefits through local development of clean energy? The case of small hilly hydel in India. Energy Policy 34: 4069–4080. doi:10.1016/j.enpol.2005.09.026.

Ripley, B. 2016. Tree: Classification and Regression Trees. R package version 1.0-37. http://CRAN.R-project.org/package=tree.

Schmitz, D. 2006. Developing a methodology for assessing the Sustainable Development impact of Small Scale CDM hydropower projects. Hamburg Institute of International Economics, HWWA-Report 267, Hamburg. http://www.econstor.eu/bitstream/10419/32918/1/521362091.pdf. Retrieved 3 Feb 2016.

Sharma, M.P. 2007. Environmental impacts of small hydro power projects. International Conference on Small Hydropower—Hydro Sri Lanka.

Sukumar, R., A. Desai, S. Lele, C.H. Basappanavar, C. Bist, R. Kamath, B.R. Deepak, V.V. Angadi, et al. 2012. Report of the Karnataka Elephant Task Force Submitted to the High Court of Karnataka. Retrieved 20 February, 2016, from http://www.indiaenvironmentportal.org.in/files/file/Report%20of%20the%20Karnataka%20Elephant%20Task%20Force.pdf. Final Report SCREEN RES.pdf.

The Minimum Wages Act 1948. Government of India.

Yuksel, I. 2010. As a renewable energy hydropower for sustainable development in Turkey. Renewable and Sustainable Energy Reviews 14: 3213–3219. doi:10.1016/j.rser.2010.07.056.

Wall, J., I. Douglas-Hamilton, and F. Vollrath. 2006. Elephants avoid costly mountaineering. Current Biology 16: R527–R529.
Acknowledgements
We are deeply grateful to Critical Ecosystem Partnership Fund (CEPF) and Asoka Trust for Research in Ecology and Environment (ATREE) for financial support extended to us through the CEPF-ATREE Western Ghats Small Grants Program. We also thank Dr. Siddharth Krishnan, Arjun Srivatsa and Divya Karnad for their invaluable inputs. We express our sincere gratitude to the reviewers and the editor for their comments and suggestions, which have greatly improved the quality of this manuscript.
Electronic supplementary material
Below is the link to the electronic supplementary material.
About this article
Cite this article
Jumani, S., Rao, S., Machado, S. et al. Big concerns with small projects: Evaluating the socio-ecological impacts of small hydropower projects in India. Ambio 46, 500–511 (2017). https://doi.org/10.1007/s13280-016-0855-9
Received:

Revised:

Accepted:

Published:

Issue Date:

DOI: https://doi.org/10.1007/s13280-016-0855-9
Keywords