Abstract
Most cities in developing countries fail to treat their wastewater comprehensively. Consequently, farmers downstream use poor-quality water for irrigation. This practice implies risks for farmers, consumers and the environment. Conversely, this water supply supports the livelihood of these farmers and other stakeholders along the value chains. Linking safer options for wastewater management with irrigation could therefore be a win–win solution: removing the risks for society and maintaining the benefits for farmers. However, in developing countries, the high investment costs for the required treatment are problematic and the willingness of farmers to pay for the water (cost recovery) is often questionable. Using a choice experiment, this paper gives insight into farmers' preferences for wastewater use scenarios, quantifying their willingness to pay. The case study is Hyderabad, India. Farmers there prefer water treatment and are prepared to pay a surplus for this. Considering the cost-recovery challenge, this information could be valuable for planning small on site wastewater treatment systems.
Access options
Buy single article
Instant access to the full article PDF.
US$ 39.95
Tax calculation will be finalised during checkout.
Subscribe to journal
Immediate online access to all issues from 2019. Subscription will auto renew annually.
US$ 79
Tax calculation will be finalised during checkout.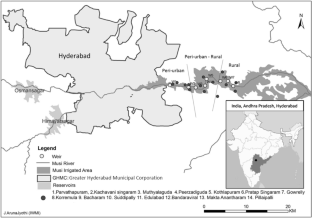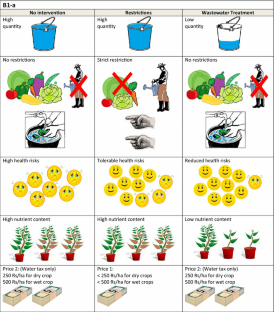 Notes
1.

TDS represents the total quantity of dissolved minerals in the water; since the major part of the material dissolved is ionic, electrical conductivity (EC) is conventionally used as a measure of TDS (McCartney et al. 2008).

2.

Para-grass is a type of grass, cultivated as fodder for buffalo feed.

3.

Water intensive crops (e.g. sugar cane and rice) are referred to as 'wet crops'; less water intensive crops (e.g. cotton and maize) are referred to as 'dry crops' (Tirupataiah, pers. comm.).

4.

USD 1 = INR 54.90 as of May 2013.

5.

"Are you aware of the health risks related to irrigating with Musi water?"

6.

"Did you experience any negative effect on your health when using Musi water? Please mention the effects".

7.

"Are you aware of the nutrient content of the Musi water, which decreases the need for fertilizer use?"

8.

"Did you experience any negative effect on the crops when using Musi water? Please mention the effects".

9.

Examples mentioned by the respondents: decrease in crop yield and in grain-filling both for paddy.

10.

The utility functions were specified as follows: U(NI) = ASC1 + A 1 * Price/U(R) = ASC2 + A 2 * S crop + A 3 * M crop + A 4 * T hlth + A 1 * Price/U(WT) = A 5 * M wat + A 3 * M crop + A 4 * T hlth + A 1 * Price, where A 1–A 5 are the coefficients and ASC no intervention (ASC1), ASC restrictions (ASC2), strict crop restriction (S crop), moderate crop restriction (M crop), tolerable health risks (T hlth) and medium water quantity (M wat).

11.

State government fixed water fees based on crop type and land size per season: wet crops approximately 500 INR/ha; dry crops approximately 250 INR/ha (Tirupataiah, pers. comm.).
References
Abu Madi, M., O. Braadbaart, R. Al-Sa'ed, and G. Alaerts. 2003. Willingness of farmers to pay for reclaimed wastewater in Jordan and Tunisia. Water Science and Technology: Water Supply 3: 115–122.

Adamowicz, W., J. Louviere, and J. Swait. 1998. Introduction to attribute-based stated choice methods. Edmonton, AB: ADVANIS.

Amerasinghe, P., P. Weckenbrock, R. Simmons, S. Acharya, A.W. Drescher, and M. Blummel. 2009. An atlas of water quality, health and agronomic risks and benefits associated with "wastewater" irrigated agriculture: A study from the banks of the Musi River, India. Report. Colombo: IWMI.

Bakopoulou, S., S. Polyzos, and A. Kungolos. 2010. Investigation of farmers' willingness to pay for using recycled water for irrigation in Thessaly region, Greece. Desalination 250: 329–334.

Ben Brahim-Neji, H., A. Ruiz-Villaverde, and F. González-Gómez. 2014. Decision aid supports for evaluating agricultural water reuse practices in Tunisia: The Cebala perimeter. Agricultural Water Management 143: 113–121.

Bennett, J., and R. Blamey. 2001. The strengths and weaknesses of environmental choice modelling. In The choice modelling approach to environmental valuation, ed. J. Bennett, and R. Blamey, 227–242. Cheltenham: Edward Elgar Publishing Limited.

Birol, E., K. Karousakis, and P. Koundouri. 2006. Using a choice experiment to account for preference heterogeneity in wetland attributes: The case of Cheimaditida wetland in Greece. Ecological Economics 60: 145–156.

Birol, E., P. Koundouri, and Y. Kountouris. 2008. Evaluating farmers' preferences for wastewater: Quantity and quality aspects. International Journal of Water 4: 69–86.

Birol, E., P. Koundouri, and Y. Kountouris. 2010. Assessing the economic viability of alternative water resources in water-scarce regions: Combining economic valuation, cost–benefit analysis and discounting. Ecological Economics 69: 839–847.

Boxall, P.C., and W.L. Adamowicz. 2002. Understanding heterogeneous preferences in random utility models: A latent class approach. Environmental and Resource Economics 23: 421–446.

Buechler, S., and G. Devi. 2003. Household food security and wastewater-dependent livelihood activities along the Musi River in Andhra Pradesh, India. Report. Geneva: World Health Organisation. http://publications.iwmi.org/pdf/H_34272.pdf. Accessed 22 Oct 2013.

Buechler, S., G. Devi, and B. Keraita. 2006. Wastewater use for urban and peri-urban agriculture. In Cities farming for the future: Urban agriculture for green and productive cities, 243–273. http://www.ruaf.org/sites/default/files/Chapter%209.pdf. Accessed 27 Jan 2014.

Census. 2011. Greater Hyderabad, City Census 2011 data. http://www.census2011.co.in/census/city/392-hyderabad.html. Accessed 22 Oct 2013.

Cheepi, P. 2012. Musi River pollution its impact on health and economic conditions of downstream villages—A study. IOSR Journal of Environmental Science, Toxicology and Food Technology 1: 40–51.

CPCB. 2009. Status of water supply, wastewater generation and treatment in class-I cities and class-II towns of India. Control of Urban Pollution series: CUPS/70/2009–10. New Delhi: Central Pollution Control Board, Ministry of Environment and Forests.

de Bekker-Grob, E.W., B. Donkers, M.F. Jonker, and E.A. Stolk. 2015. Sample size requirements for discrete-choice experiments in healthcare: A practical guide. The Patient–Patient-Centered Outcomes Research 8: 373–384.

Drechsel, P., M. Qadir, and D. Wichelns. 2015. Wastewater: An economic asset in an urbanizing world. Dordrecht: Springer.

Ensink, J.H., C.A. Scott, S. Brooker, and S. Cairncross. 2010. Sewage disposal in the Musi-River, India: Water quality remediation through irrigation infrastructure. Irrigation and Drainage Systems 24: 65–77.

Genius, M., A.N. Menegaki, and K.P. Tsagarakis. 2012. Assessing preferences for wastewater treatment in a rural area using choice experiments. Water Resources Research 48: 1e11.

Greene, W., and D. Hensher. 2003. A latent class model for discrete choice analysis: Contrasts with mixed logit. Transportation Research Part B: Methodological 37: 681–698.

Hanley, N., S. Mourato, and R. Wright. 2001. Choice modelling approaches: A superior alternative for environmental valuation? Journal of Economic Surveys 15: 435–462.

Hensher, D.A., J.M. Rose, and W.H. Greene. 2005. Applied choice analysis: A primer. Cambridge: Cambridge University Press.

Hope, R.A. 2006. Evaluating water policy scenarios against the priorities of the rural poor. World Development 34: 167–179.

Hoyos, D. 2010. The state of the art of environmental valuation with discrete choice experiments. Ecological Economics 69: 1595–1603.

Keremane, G.B. 2009. Urban wastewater use for irrigation: A case study of farmers along Musi River in Hyderabad. Karnataka Journal of Agricultural Sciences 22: 235–237.

Leas, E.C., A. Dare, and W.K. Al-Delaimy. 2014. Is grey water the key to unlocking water for resource-poor areas of the Middle East, North Africa, and other arid regions of the world? Ambio 43: 707–717.

Louviere, J.J., D.A. Hensher, and J.D. Swait. 2000. Stated choice methods—Analysis and applications. Cambridge: Cambridge University Press.

McCartney, M., C. Scott, J. Ensink, B. Jiang, and T.W. Biggs. 2008. Salinity implications of wastewater irrigation in the Musi River catchment in India. Ceylon Journal of Science 37: 49–59.

McDonald, L. 2009. Development of a protocol for measuring wastewater exposure for farmers engaging in wastewater irrigated agriculture in Hyderabad, India. MSc Thesis, London School of Hygiene and Tropical Medicine, London (unpublished).

Ministry of Water Resources, Republic of India. 2012. National water policy. http://wrmin.nic.in/writereaddata/NationalWaterPolicy/NWP2012Eng6495132651.pdf. Accessed April 2013.

National Panchayat Portal. 2013. Ghatkesar intermediate panchayat. http://www.ranghatkebp.appr.gov.in/hidden/-/asset_publisher/di5XrVERUf8s/content/about-ghatkesar/3093320. Accessed 5 Oct 2015.

Ndunda, E.N., and E.D. Mungatana. 2013. Evaluating the welfare effects of improved wastewater treatment using a discrete choice experiment. Journal of Environmental Management 123: 49–57.

OECD. 2010. Sustainable management of water resources in agriculture. Paris: OECD Publishing. doi:10.1787/9789264083578-en.

Qadir, M., D. Wichelns, L. Raschid-Sally, P.G. McCornick, P. Drechsel, A. Bahri, and P.S. Minhas. 2010. The challenges of wastewater irrigation in developing countries. Agricultural Water Management 97: 561–568.

Quitzow, R., H. Bär, and K. Jacob. 2013. Environmental governance in India, China, Vietnam and Indonesia: A tale of two paces. FFU-Report 01-2013. Berlin: Environmental Policy Research Centre, Freie Universität Berlin.

Rao, S.M., and P. Mamatha. 2004. Water quality in sustainable water management. Current Science 87: 942–947.

Raschid-Sally, L., R. Carr, and S. Buechler. 2005. Managing wastewater agriculture to improve livelihoods and environmental quality in poor countries. Irrigation and Drainage 54: S11–S22.

Rose, J.M., and M.C. Bliemer. 2013. Sample size requirements for stated choice experiments. Transportation 40: 1021–1041.

Saldías, C. 2016. Analysing the institutional challenges for the agricultural (re)use of wastewater in developing countries. PhD Thesis, Ghent University, Ghent.

Srinivasan, J.T., and V.R. Reddy. 2009. Impact of irrigation water quality on human health: A case study in India. Ecological Economics 68: 2800–2807.

Starkl, M., N. Brunner, P. Amerasinghe, J. Mahesh, D. Kumar, S.R. Asolekar, S. Sonkamble, S. Ahmed, et al. 2015. Stakeholder views, financing and policy implications for reuse of wastewater for irrigation: A case from Hyderabad, India. Water 7: 300–328.

Sur, D., J. Cook, S. Chatterjee, J. Deen, and D. Whittington. 2007. Increasing the transparency of stated choice studies for policy analysis: Designing experiments to produce raw response graphs. Journal of Policy Analysis and Management 26: 189–199.

Times of India. 2002. Ghatkesar ryots pay cess for polluted water. http://articles.timesofindia.indiatimes.com/2002-02-18/hyderabad/27111813_1_water-tax-polluted-water-musi. Accessed 30 Oct 2013.

Toze, S. 2006. Reuse of effluent water—Benefits and risks. Agricultural Water Management 80: 147–159.

Van Rooijen, D.J., T.W. Biggs, I. Smout, and P. Drechsel. 2010. Urban growth, wastewater production and use in irrigated agriculture: A comparative study of Accra, Addis Ababa and Hyderabad. Irrigation and Drainage Systems 24: 53–64.

Weldesilassie, A.B., O. Frör, E. Boelee, and S. Dabbert. 2009. The economic value of improved wastewater irrigation: A contingent valuation study in Addis Ababa, Ethiopia. Journal of Agricultural and Resource Economics 34: 428–449.
Acknowledgments
Field research for this paper was supported by the International Water Management Institute and Ghent University. The authors thank Dr. Priyanie Amerasinghe for facilitating contacts and fieldwork in Hyderabad; Dr. George Danso and Dr. Krishna Reddy Kakumanu for their comments on the choice experiment and the questionnaire. We also thank many interviewees who generously shared information. Finally, we thank two anonymous reviewers whose comments helped us to improve this paper.
About this article
Cite this article
Saldías, C., Speelman, S., Drechsel, P. et al. A livelihood in a risky environment: Farmers' preferences for irrigation with wastewater in Hyderabad, India. Ambio 46, 347–360 (2017). https://doi.org/10.1007/s13280-016-0824-3
Received:

Revised:

Accepted:

Published:

Issue Date:
Keywords
Agriculture

Choice experiment

India

Wastewater