Abstract
There is a tendency for non-native English scientists to publish exclusively in English, assuming that this will make their articles more visible and cited. We tested this hypothesis by comparing the effect of language on the number of citations of articles published in six natural sciences journals from five countries that publish papers in either English or other languages. We analyzed the effect of language (English vs non-English), paper length, and year of publication on the number of citations. The articles published in English have a higher number of citations than those published in other languages, when the effect of journal, year of publication, and paper length are statistically controlled. This may result because English articles are accessible to a larger audience, but other factors need to be explored. Universities and scientific institutions should be aware of this situation and improve the teaching of English, especially in the natural sciences.
Access options
Buy single article
Instant access to the full article PDF.
USD 39.95
Price excludes VAT (USA)
Tax calculation will be finalised during checkout.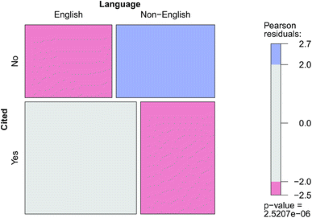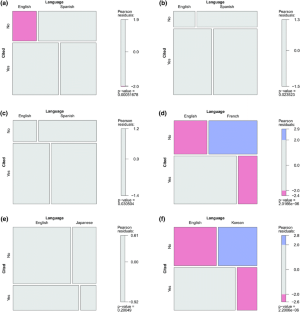 References
Agudelo, J.H. 2010. Editorial: publicar en Inglés. Revista Colombiana de Ciencias Pecuarias 24: 1.

Alberts, B. 2013. Impact factor distortions. Science 340: 787.

Ammon, U. 2007. Global scientific communication: Open questions and policy suggestions. AILA Review 20: 123–133.

Ammon, U. 2010. The hegemony of English. In World Social Science Report. Knowledge Divides. Paris: UNESCO Publishing, 154 f. http://www.unesco.org/shs/wssr.

Ammon, U. 2012. Linguistic inequality and its effects on participation in scientific discourse and on global knowledge accumulation—With a closer look at the problems of the second-rank language communities. Applied Linguistics Review 3: 333–355.

Bordons, M., and I. Gómez. 2004. Towards a single language in science? A Spanish view. Serials 17: 189–195.

Bortolus, A. 2012. Running like Alice and losing good ideas: on the quasi-compulsive use of English by non-native English speaking scientists. Ambio 41: 769–772.

Breeze, R. 2015. Citing oustide de community? An investigation of the language of bibliography in top journals. In English as a Scientific and Research Language, ed. R. Plo Alastrué and C. Pérez-Llantada, 37–58. Berlin: De Gruyter Mouton.

Clavero, M. 2010. ''Awkward wording. Rephrase'': Linguistic injustice in ecological journals. Trends in Ecology & Evolution 25: 552–553.

Clavero, M. 2011. Unfortunately, linguistic injustice matters. Trends in Ecology & Evolution 26: 156–157.

Crawley, M.J. 2007. The R book. West Sussex: Wiley.

Guariguata, M.R., D. Sheil, and D. Murdiyarso. 2010. 'Linguistic injustice' is not black and White. Trends in Ecology & Evolution 26: 58–59.

Hamel, R.E. 2007. The dominance of English in the international scientific periodical literature and the future of language use in science. AILA Review 20: 53–71.

Hamel, R.E. 2013. El campo de las ciencias y la educación superior entre el monopolio del inglés y el plurilingüismo: Elementos para una política del leguaje en América Latina. Trabalhos em Linguística Aplicada 52: 321–384.

La Madeleine, B.L. 2007. Lost in translation. Nature 445: 454–455.

Lawrence, P.A. 2008. Lost in publication: How measurement harms science. Ethics in Science and Environmental Politics 8: 9–11.

Letchford, A., H.S. Moa, and T. Preis. 2015. The advantage of short paper titles. Royal Society Open Science 2: 150266.

Man, J.P., J.G. Weinkauf, M. Tsang, and D.D. Sin. 2004. Why do some countries publish more than others? An international comparison of research funding, English proficiency and publication output in highly ranked general medical journals. European Journal of Epidemiology 19: 811–817.

Meneghini, R. 2012. Emerging journals: The benefits of and challenges for publishing scientific journals in and by emerging countries. EMBO Reports 13: 106–108.

Meneghini, R., and A.L. Packer. 2007. Is there science beyond English? EMBO Reports 8: 112–116.

Meneghini, R., A.L. Packer, and L. Nassi-Calò. 2008. Articles by Latin American authors in prestigious journals have fewer citations. PLoS ONE 3(11): e3804.

Root-Bernstein, M., and R.J. Ladle. 2014. Multilinguismo nas ciências ambientais: Ahora ya! [Multilingualism in Environmental Sciences: It's About Time!]. Ambio 43: 836–837.

R Core Team. 2015. R: A language and environment for statistical computing. Vienna, Austria: R Foundation for Statistical Computing. https://www.R-project.org/.

Sarewitz, D. 2016. The pressure to publish pushes down quality. Nature 533: 147.

Stolerman, I.P., and K. Stenius. 2008. The language barrier and institutional provincialism in science. Drug and Alcohol Dependence 92: 1–2.

Vasconcelos, S.M.R. 2007. Writing up research in English: Choice or necessity? Revista do Colégio Brasileiro de Cirurgiões 34: 62–63.

Vasconcelos, S.M.R., M.M. Sorenson, and J. Leta. 2007. Scientist-friendly policies for non-native English-speaking authors: Timely and welcome. Brazilian Journal of Medical and Biological Research 40: 743–747.

Vasconcelos, S.M.R., M.M. Sorenson, and J. Leta. 2008. Researchers' writing competence: A bottleneck in the publication of Latin- American science? EMBO Reports 9: 700–702.
Acknowledgments
We are grateful to the members of GECOMA (Grupo de Ecología y Conservación de Mamíferos) and other colleagues from IBS for fruitful discussions during a seminar series from which we developed the idea of this contribution, especially Mariano Giombini, Ilaria Agostini, and Paula Tujague. We are thankful to the colleagues that generously volunteered to compare and assess the pairs of abstracts from Revista Argentina de Microbiología - José Di Conza, Daniela Cejas, Bárbara Ghiglione, María Margarita Rodríguez, Sabrina Di Gregorio, Mariana Papalia, and Melina Ruggiero - and Revista Mexicana de Biodiversidad - Ilaria Agostini, Yamil Di Blanco, Agustín Paviolo, Carlos De Angelo, Mariano Giombini, Mauricio Núñez-Regueiro, María Genoveva Gatti, Diego Varela, Juliana Notarnicola, Mariano Sanchez, Andrew J. Noss, and Emiliano Donadio. We are very thankful to Enrique Lessa, Editor of Mastozoología Neotropical and José A. Di Conza, Editor in chief of Revista Argentina de Microbiología, for providing data on rejection rates and language of unpublished manuscripts submitted to those journals. We are very thankful to Graciela Rusch, Associate Editor of Ambio, and two anonymous reviewers for constructive comments that helped us improve this article. This research was supported by the Consejo Nacional de Investigaciones Científicas y Técnicas of Argentina (CONICET) and by the Universidad Nacional de Misiones (UNaM).
Electronic supplementary material
Below is the link to the electronic supplementary material.
About this article
Cite this article
Di Bitetti, M.S., Ferreras, J.A. Publish (in English) or perish: The effect on citation rate of using languages other than English in scientific publications. Ambio 46, 121–127 (2017). https://doi.org/10.1007/s13280-016-0820-7
Received:

Revised:

Accepted:

Published:

Issue Date:

DOI: https://doi.org/10.1007/s13280-016-0820-7
Keywords